froggiebecky


North Carolina USA
Member since 11/19/07
Posts: 99
Skill: Intermediate



Date: 3/26/12 1:20 PM

Hi everyone,

I found out last week that I have been accepted to my dream PhD program, and now I need to put together what I'm calling "The Ultimate Travel Wardrobe". The program will have me traveling between Sydney, Australia, and Edinburgh, Scotland, for three years, with some field research in the Australian rainforest. I realize that I will (and will want to) purchase clothing as I need it, but I will also be on a student budget, so I want to have most of my bases covered before I leave. (I currently enjoy a job that pays well in the U.S.)

Here's the parameters:
I'm limited to what I can put on an airplane (2 bags @ 50lbs each), but that's for everything, so clothes should take up less than that.

I'll be away for 3 years.

I must spend a year in each place, but it may not be all together (i.e, it may be 3 mos here, 9 mos there). In general, though, I need to be able to cover everything from a Scottish winter to an Australian summer, with a couple weeks here and there at a remote research station in the tropics.

For the most part, once I get to a place, I will be staying there (it won't be a few nights here and there). I'm not worried about access to laundry facilities.

In addition to climate variability, I need to be able to cover everything from lab work (t-shirts) to conferences/job interviews/evening events/dates.

I've got a few months to figure this out still, and I know that if I'm going to buy some investment pieces, now is the time to do it. At this point, I think that I am looking at a mixture of hand-made and store-bought pieces.

What would you take? And how much?





gramma b


USA
Member since 7/25/08
Posts: 3581



Date: 3/26/12 2:24 PM

I have a few pieces from Travelsmith.
You might get a good idea there for mix/match basics.
Do you have any contacts with the Univ. ladies who
could suggest fashion basics in their countries, and can you leave
some in storage until you return to the next stop?

a7yrstitch


Texas USA
Member since 4/1/08
Posts: 7056
Skill: Intermediate



In reply to froggiebecky

Date: 3/26/12 2:31 PM

Would like to suggest that you study the offerings from REI, Travelsmith and Solumbra (Sun Precautions) to get some ideas of things that you can layer for most of your daytime activities. Right now, pay particular attention to REI's discounted winter wear.

Wicking fabrics that can serve as a base layer in winter to keep you warm can also keep you cool and covered up in the summer. The mid to light weight wicking base layers that I started to wear in Pennsylvania to keep the cool damp from chilling me to the bone is the same type thing that I wear to the gym on our hot and humid days to stay cool and keep the sun off of my arms. Great stuff.

Check out Sunday Afternoon Hats.

We use bandanas from the 'Buzz Off' clothing line that is impermeated with insect repellant. Tie one around an ankle and drape another off a shirt collar or a hat.

Our scout summer camp had one amenity, porta-cans. Extremely hot and humid with little shade and tons of bugs, including ticks and chiggers. The easiest thing was to basically strip in the laundry room every day, wash and dry the clothes, and wear them the next day. The sulphur never quite left the clothing. Perhaps three changes of field clothing for a particular season would be good?

Can you keep a locker or small storage area at each location?

And, presuming you know to start figuring out what unscented products you will need. Perhaps you will be able to check online ahead of time to see what is available to purchase at your destination.

Congratulations!
-- Edited on 3/26/12 2:33 PM --

------
I have no idea what Apple thought I was saying so be a Peach and credit anything bizarre to auto correct.

a7yrstitch


Texas USA
Member since 4/1/08
Posts: 7056
Skill: Intermediate



In reply to froggiebecky

Date: 3/26/12 2:45 PM

Additional thought? Why not layer up on your evening/date wear also? Maybe a long and a short base dress in a solid combined with some chiffon layering pieces? I'm thinking of a full dress overlay in chiffon and an abbreviated jacket sort of overlay that could be worn with 'base, dresses, or with skirts/slacks.

------
I have no idea what Apple thought I was saying so be a Peach and credit anything bizarre to auto correct.

froggiebecky


North Carolina USA
Member since 11/19/07
Posts: 99
Skill: Intermediate



Date: 3/26/12 3:27 PM

Thanks for the ideas, ladies. Storage in each place is an interesting idea; I may consider that, if it looks like it will be necessary.
I should clarify: the fieldwork would only be for a couple of weeks at a time, and only a couple of trips out (I'm guessing two). One for sure, but probably not three.
Most of my time will be spent in front of a computer or at a library.

a7yrstitch


Texas USA
Member since 4/1/08
Posts: 7056
Skill: Intermediate



In reply to froggiebecky

Date: 3/26/12 4:19 PM

I like Marci Tilton's Vogue patterns for bottoms. Easy wearing and tidy in their structured approach to loose and 'bohemian'. Lots of opportunity for pockets inserted along seam lines where ever you might think would be handy. Check her website, someone inserted a pocket in a detail seam at the bottom of a pair of pants. If you're already carrying a computer and who knows what else back and forth to the library, who needs a purse.

For the limited fieldwork, I'd count on clean underwear and camisoles to keep the clothing fresh and minimize duplication on the outer wear.

Love my old high quality nylon rain poncho which is not much more than a flat piece of fabric with an inserted extra long funnel neck that can be scrunched on the neck or pulled up as a hood. Great as an airplane blanket or rolled up as a pillow. Good sun protection. Wear it under a heavier layer on super cold days to act as a windbreak. Mine is just above knee length.

Nab a small beach ball to fold up in your travel bag. Blow it up on the plane to nestle between your head/neck and the window wall. Or carry a closed cell foam pillow from REI that you can scrunch down and keep in your bag.

Baggallini discontinued the two great backpack/totes I have. Too bad. Still worth checking out their site.

------
I have no idea what Apple thought I was saying so be a Peach and credit anything bizarre to auto correct.

Coconuts


Michigan USA
Member since 12/2/09
Posts: 1407
Skill: Intermediate



Date: 3/26/12 4:21 PM

About the BuzzOff clothes- those are just impregnated with permethrin. You can buy the wash in, or spray on, versions at REI or online. The spray (I used Sawyer brand) didn't change the hand or anything on the stuff I used it on (socks, nylon pants, nylon or poly duffel bag and mesh hamper).

3KillerBs


North Carolina USA
Member since 7/1/08
Posts: 699
Skill: Advanced



In reply to froggiebecky

Date: 3/26/12 4:37 PM

What comes to my mind first is layers in firm wovens.

I say wovens because knits tend to both sag out of shape with repeated wearing/washing and develop surface pills through friction.

My inclination would be to make considerable use of linen because of its wear qualities and dirt-shedding qualities and wool on account of its light weight, its ability to be either cool or warm as the situation requires, and the fact that it needs little laundering and does not fade when washed. Silk has many virtues as well -- warmth, beauty, and the ability to pack very small.

I'm not familiar with the high-tech synthetics, but I'd avoid the ordinary synthetics -- rayon, polyester, acetates, nylon, and blends of such -- like the plague. Rayon and acetate have very poor wear and laundering characteristics, polyester doesn't breathe, nylon yellows, etc.

Polarfleece, however, is nearly the equal of wool in everything except coping with water and can be easier to launder.

If I were assembling a wardrobe where the main pieces were expected to last 3 years I'd pay a lot of attention to construction details. I'd use a lot of felled and mock-felled seams, make use of interlinings, piping, bias tape, and the like to maximize wear-resistance. And I might cough up for Carhartts if I had rough work to do on any regular basis.

If you think that there is any chance that you might gain/lose weight incorporating drawstrings, buttonhole elastic adjustments, adjustable fasteners, and the like might be a good idea.

As for specific items, ...

I'd start with 3 bottoms and 5 tops, all co-ordinated, for my weekly work and another set of 2 tops and a bottom for weekend casual wear along with a couple overshirt/cardigan/light jacket items to go all week.

Then I'd add a suit with 2 blouses for dressy/interview use and one evening piece in a very classic style.

A roomy, mid-weight jacket and a big shawl/ruana would be my choice for outerwear with a sweater or two for layering (might be best to buy sweaters in Scotland since they are bulky to pack and Scotland is known for its woolens).

Camisoles and/or tank tops are good for layering to add warmth for very little bulk. It astonished me how much warmer I was at the factory once I added a cheap, man's A-shirt as an under-layer during the winter.

Personally I find skirts more versatile than pants in adjusting for weather because I can wear one or more slips and, if necessary, layer the skirts themselves. But not all people like wearing skirts and not all job environments are appropriate for them.

Since summer things, being lighter, tend to be less durable you might want to buy most of those locally in Australia when required.

If lab coats aren't provided, a lab coat, an apron, or a couple of those smock/jacket things you see on nurses would be wardrobe insurance for the rest of your clothes.

As for color, ...

Dark clothes fade, light clothes stain, the neutrals that are supposed to hide dirt have the disadvantage of looking dirty from day one, ... .

I'd say that if you have to live with the main pieces for 3 years go for cheerful colors that you know you love unless there are professional reasons for playing it safe.

That's my 2 cents, which is probably what my opinion is worth, but I hope it will spark some ideas.

------
3KB

"The combination of physical strength and moral sincerity combined with tenderness of heart is exactly what is wanted in a husband." Amelia Peabody Emerson

goosegreen


New South Wales Australia
Member since 1/9/05
Posts: 3007
Skill: Advanced



Date: 3/26/12 7:28 PM

I think you also need to consider exactly which part of Australia you'll be in. If it's the north of Queensland, then they have a much more relaxed style there than in the big cities. Just an FYI

------
Alison in suburbia - Sydney Australia
My sewing blog: http://nosilasews.blogspot.com/
I blog for me, myself and I

Keeper of the flock - Janome MC8000, Janome MC4900QC, Elna Elina 40, Husqvarna Rose, Singer 201K, Elna Contessa, Janome My Excel 18W, Janome 634D & 534D overlockers, Janome Coverpro 1000CPX.

mmcp

Member since 5/31/09
Posts: 491
Skill: Advanced Beginner

1 member likes this.




Date: 3/27/12 6:41 AM

Congratulations! For the Scottish winter, cold and DAMP, yuck, consider silk underwear. WinterSilks makes multiple weights, both tops and bottoms, which pack to almost nothing, can be layered underneath sweaters. washed in a sink, and then dry overnight. Then take several cashmere sweaters, wear the silk layers underneath, and it's very cosy and practical.

They sell huge plastic bags for packing now that work with a vacuum cleaner to suction air out. I just sent my daughter to London for three years and it is quite astonishing how much you can get into a suitcase with one of those things--try the Container Store. I kept thinking we'd hit the weight limit but we never did, even with the books.
Printable Version
* Advertising and soliciting is strictly prohibited on PatternReview.com. If you find a post which is not in agreement with our Terms and Conditions, please click on the Report Post button to report it.
Online Class
Fun with Fitting - BODICE w Darts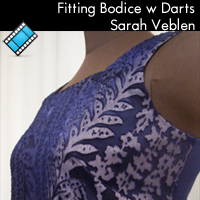 Online Class
Altering Jackets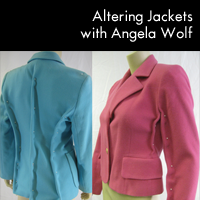 Lutterloh 2005-14

by: Mufffet
Review
Victory Anouk Paper Pattern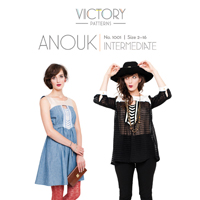 Pattern Details
Sew House Seven Rose City Halter Dress Paper Pattern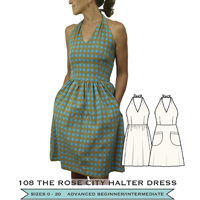 Pattern Details
New Look 6852

by: valgal
Review