avacody

Beginner
Member since 9/8/11
Posts: 31



Date: 4/11/12 9:44 PM

hi, in my quest to find a serger within my budget, I came across the singer stylist II on HSN (they have since sold out), but I did find a few vendors who carry this. There is one vendor who has offered to sell it for $268, and says that this serger " is the same machine as the Husqvarna Viking 200s at a lower price", and when I expressed my hesitation ONLY because I could find few/no reviews from owners of this serger I was told it was the same as White 2000 ATS or White 2900 serger. Does this sound right? All 3 look different to me, the viking, and the 2 whites...?

And...last question: I know the brother 1034D is hugely popular on here, I finally did figure out how to work with it BUT I did think it was a little hard with the stitch finger being out of sight, whereas this model above opens completely in the front. IF anyone on here has first hand knowledge of either or (even better!) BOTH of these 2 models, the singer 14J250 serger and the Brother 1034D serger, which one should I get? there is only a $50 price difference... PLEASE help!

Miss Fairchild


Advanced
USA
Member since 8/24/02
Posts: 7936





Date: 4/12/12 9:11 AM

Hi there! I have this machine, the Singer, and I posted a review of it . here

The price you're offered is a good one; I paid $299 for mine, with free shipping from Internet Sales, USA, formerly Sewing IN USA. To answer your questions, I have a lot more background information now than when I did the review, and I'll add to the review. But here it is:

I don't know about the machine being similar to the Viking, but I KNOW for certain it is identical to the White 734DW. How do I know? Because I acquired the White through an estate sale recently. (Now I have two sergers). The guys at Internet Sales said that the Singer was an "upgrade" of the White, but I didn't have the White at that time to compare. The threading is exactly the same, the loopers are in the same place, the knobs for cutting width, differential feed, stitch length are in the same place, and most importantly, the covers open exactly the same way; and this last reason is why I bought the Singer over the Brother 1034D. I wanted to see the loopers and how they worked; this visual was enough to give me an idea of what a serger is and how it operates. I fought hard to not buy one, for many years, thinking it was an added expense, and mostly because my old dinosaur mind can't be retrained for something new.

Some differences between the Singer and the White:
Removing and replacing needles: The Singer has separate screws for each needle, the White doesn't. When you want to put in two needles, you unscrew the one screw. Little problem, though, as I have a Singer Touch and Sew Sewing machine that uses two needles for twin needle sewing, instead of one, so I'm used to this.
Removing of stitch fingers The Singer has a stitch finger that pulls out near the blade; there are two--A and B, and B is used mostly for narrow hems, or a rolled hem. You don't have to change the needle plate. With the White, you do have to change the needle plate and adjust your cutting width. But this is because this machine is over 15 years old.
Presser foot pressure The Singer has a dial with numbers, and if you're using really thick fabrics, there is another adjusting knob near the knife. The White is just a knob on the top, like the old Singer 301 machines.
Sound of machine The Singer "klunks" over thicknesses and is a little noisy to run. The White is very quiet and doesn't "klunk". The Singer is lighter than the White, by about 3-4 pounds, so that might be the reason.
Needles to use The Singer requires Singer 2022 needles and the White can use any type of Universal. After the Singer's trip to a repair shop because it was out of time (I was using regular sewing machine needles, Organ brand), the SMG told me not to use anything but the 2022s. When I did a comparison, I noticed that the Singer needle was a tad, an eensy weensy bit shorter than the Organ needle.
Speed The Singer is pretty fast; I believe 1300 spm. The White is a little less, rated at I believe 1200 spm, and I believe mine runs slower because it sat for several years in an attic room.

In summary, I've been really happy with the Singer, although I had some problems with several versions. See my thread entitled Serger Frustration, Keep me from throwing this thing out the window! Click here I was struggling to find a happy ground, and even my friend who taught Home Ec for many years, was sorry she gave away her White 734 to her daughter (she wanted me to have it because she was so willing to see me with a serger and be happy). Once I realized the issue was with the needles and a little patience on my part, I can say I've really bonded with the Singer. Also, the threading of the loopers is very important. The book says lower looper, upper looper, right needle, left needle; in other words, from right to left on the thread tensions. However, the SMG said to thread the upper looper first and since then, I haven't had any problems.

The Singer needles are specialty, and yes, they are a little more than the usual Schmetz or Organs. But, they also are a little stronger; I believe the metal is chromium? So they are made for high speeds and for sergers. And you use just the three sizes: 11 for sheers and silks, 14 for most everything else, and 16 for the really durable stuff like denim, canvas, etc. I mostly use just three threads, so I always have several spares. And I can't recall the last time I broke a needle since I had my machine repaired. I've replaced one because it was dull, but you wouldn't believe how much I sewed with that one! Yes, the machine does use sewing machine needles, meaning they are flat on one side, but keep in mind the length differences between the 2022 needles and regular machine needles.

There's another member here on PR, pj3g, who has the same model Singer, and she was encouraging for me to keep it. Maybe we should start a thread for the Singer?

Sorry for the lengthy post, but I'm sure you can come away with some better information than when you started.
-- Edited on 4/12/12 9:12 AM --

------
"Play the cards you are dealt, but choose who is sitting at the table"..AARP magazine

SEE MY ETSY SHOP HERE: http://www.etsy.com/shop/AuntMaymesAttic
My blog: http://auntmaymesattic.wordpress.com/

avacody

Beginner
Member since 9/8/11
Posts: 31



Date: 4/12/12 11:51 AM

THANK YOU! I appreciate your lengthy answer 100% I wasn't sure where to post MY length/loaded question on here. I'd love to know how it compares to the brother, but I suppose since they are similarly priced (within $50) that maybe it's not likely that anyone on here has had both. I am going to read on the 2 links in your reply. internetsales, yes, that is who I was tentatively going to buy it from. whoever is on that end is VERRRRY prompt to respond to all of my inquiries, which I appreciate. I'm thinking for sure he never sleeps. how was your experience dealing with them?

Miss Fairchild


Advanced
USA
Member since 8/24/02
Posts: 7936





Date: 4/12/12 9:57 PM

Quote:
how was your experience dealing with them?

A+++ Other than they told me I could use regular sewing machine needles in my serger, but everything else was just fine. And yes, I too often wondered if they ever sleep; they always answered my questions promptly--either via email or on the phone.

EDITED TO ADD: I was in your same place last year--deciding between the Brother 1034D and the Singer and went with the Singer because of the way it opened in the front, and the three extra feet. The feet are about $30 each after market. But the Brother does have the free arm. I haven't used that yet, and don't really feel I need one.
-- Edited on 4/13/12 2:56 AM --

------
"Play the cards you are dealt, but choose who is sitting at the table"..AARP magazine

SEE MY ETSY SHOP HERE: http://www.etsy.com/shop/AuntMaymesAttic
My blog: http://auntmaymesattic.wordpress.com/

Miss Fairchild


Advanced
USA
Member since 8/24/02
Posts: 7936

2 members like this.




Date: 4/13/12 3:16 AM

Okay, I've checked out This Video on YouTube, and have come to the conclusion that the Viking is the same as the Singer; even down to the grey piece that shows when the door is opened (far right side). That's a pin cushion to store your needle that you're not using (like if you're working with a three thread and it will store your second needle). Even the cleaning brush on the door looks the same. The markings are different but it appears that the threading, especially of the loopers, is the same. And did you see how she removes the stitch finger? Same way on the Singer. Notice how she didn't put it back when she changed from a rolled hem.

One thing I didn't get with my serger was the scrap catcher, but I'll bet I could buy one that comes with a Viking and it would work. There's a slot in the front of the door on the Singer that looks identical to the one on the Viking where Sara inserts the scrap catcher (at 0:55 on the video)

So there's your answer!

------
"Play the cards you are dealt, but choose who is sitting at the table"..AARP magazine

SEE MY ETSY SHOP HERE: http://www.etsy.com/shop/AuntMaymesAttic
My blog: http://auntmaymesattic.wordpress.com/

Vicsguy


Advanced Beginner
Ohio USA
Member since 5/17/09
Posts: 224

1 member likes this.




Date: 4/15/12 8:03 AM

Expect to see a lot more Singer and Viking products that are identical. They are the same company now.

iyc.nyc

Intermediate
Member since 9/7/13
Posts: 1





In reply to Miss Fairchild <<



Date: 9/8/13 11:58 AM

Hi there, thanks for your immensely useful posts re the Singer. I, too, am deciding between the Singer and the Brother, and your posts are very helpful.

Re: the lack of free arm on the Singer, how do you hem/finish cylindrical pieces like sleeves and pant legs/cuffs -- do you need to first open them up/take them apart or is there a workaround or attachment that can be bought for this purpose? I'm new to all this, but would love to use this machine to hem a lot of pants and sleeves.

Thanks in advance!

Miss Fairchild


Advanced
USA
Member since 8/24/02
Posts: 7936





Date: 9/8/13 8:30 PM

To me a free arm is a "nice thing to have but not something I actually need". I've been sewing without a free arm sewing machine since dinosaurs roamed the earth.

What I do for hemming on the serger is I do two things, depending on my mood. The first thing is "rolling" the small hem around the needles; you have to go very slowly, or else extra fabric will get caught. Then go off the edge.

If the hem is very small that I can't "roll", I'll clip into a side seam about 1/2", and remove about 1/4" with the serger. Hem the hem, then stitch over the extra 1/4" that's cut away at the side seam to reinforce. This last method is my most well-used. Peggy Sagers did a similar trick on a webcast and Sandra Betzina did the same thing with a pair of pants for a Craftsy class; she was lining them and sewed both hems together on the flat.

There's always a workaround to a free arm. Ask any sewist who's been sewing since dinosaurs roamed the earth.

And Amazon had a special on this very Singer serger yesterday--$163 and free shipping. I'm sure the Brother is great too, but my Singer is my "introductory serger" as I now have another one that threads like the Brother. The Singer is such an easy threading machine! Great way to introduce someone to serging.

------
"Play the cards you are dealt, but choose who is sitting at the table"..AARP magazine

SEE MY ETSY SHOP HERE: http://www.etsy.com/shop/AuntMaymesAttic
My blog: http://auntmaymesattic.wordpress.com/

cmloesch

Beginner
Texas USA
Member since 10/1/13
Posts: 1





In reply to Miss Fairchild <<



Date: 10/1/13 9:40 PM

Hi! I was one of the people who snagged this amazon daily deal on the singer serger! I have never used a sewing machine (alone, sewed with my grandmas a child) before and have NO CLUE where to start! I have watched a few tutorials on what all the serger can do but now I'm wondering (sorry if it's a silly question), does a serger do basic sewing too? Like sewing pillow case dresses for my little girl? I know it's probably a funny question, thanks for any and all your help!!!

Carolyn
Printable Version
* Advertising and soliciting is strictly prohibited on PatternReview.com. If you find a post which is not in agreement with our Terms and Conditions, please click on the Report Post button to report it.
Online Class
More Knits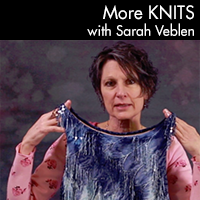 Online Class
Sewing with Slippery & Drapey Fabrics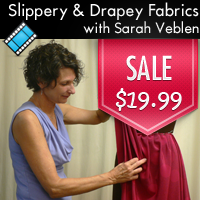 Pin-up Girls Amanda Foam Cup Bra

by: mmry
Review
Paradiso Designs Be Green Market Bag Pattern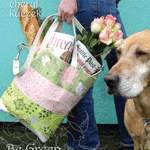 Pattern Details
ZIPPERS - A downloadable Book by Shannon Gifford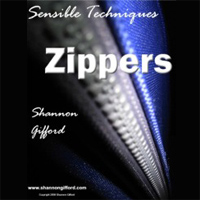 Pattern Details
StyleArc Tamara Knit Top

by: Sue Parrot...
Review