pinkcatflower


NEW ZEALAND
Member since 11/20/09
Posts: 195
Skill: Beginner



Date: 4/12/12 5:40 PM

So I had a sewing revelation (obvious to the rest of you I'm sure).
Anyway, I was making a muslin for a dress, and I'm a 6 in the bust, and a 12 in waist and hips.
So I dutifully traced my pattern carefully at a size 6 on top, tapering out to a size 10 at the waist (I didn't want as much ease as they put in so I went a size down.)

Of course when I tried it on, it was super tight in the armholes, and I realised, duhh, of course it doesn't fit in the top. I may have a size 6 bust, but my shoulders and bone structure are in proportion with the rest of me, so I should have cut a size 10!

So I've decided to re-trace and redo in a size 10. Of course I'm sure I will need a small bust adjustment too.

My question is though, if I trace the size 10 in the shoulders and armholes, should I keep the size 6 at the side seams?
Since I lack boobs, that is the part where the circumference needs to be smaller. However the side seams isn't really where the volume is missing... So should I just have size 10 side seams and a small bust adjustment? I don't even know how small busts work to be honest (lol). I wonder if it means my rib cage is smaller too, in which case the side seams would probably be smaller than a 10. Thoughts, ladies?

I even made a picture of what I mean by using a size 10 but size 6 side seams. (though come to think of it I'd probably grade to a size 8 at the bottom, then grade the midriff band from size 8 to 10 for my waist. Oh so complicated!)



P.s Here is the pattern I'm making if you need to visualise the pattern pieces I'm talking about: Vogue 8469

-- Edited on 4/12/12 5:41 PM --

------
I have a new blog: makingitwell.blogspot.com
I'd love for you to visit :)

kkkkaty


Utah USA
Member since 12/7/05
Posts: 2786
Skill: Intermediate





Date: 4/12/12 6:02 PM

well, this is a shot in the dark, but here are a couple of suggestions. First, make the best assumption you can, and then trace the pattern along those lines. Pin the tracing together (on the seam lines), and try it on. You can get a lot of information from doing that.

Second, find something similar in your closet that has a fit that you like. Ideally, it will be fabric similar to what you plan to sew. Measure it at the hip, bust, and so on, and then compare that measurement to the pattern. If it's close, allowing for possible differences in ease, you're probably ok.

You could also turn the garment inside out, fold the garment in half lengthwise, and lay it on top of the pattern, matching things like shoulders, bust points, etc (if you can). That might help also.

------
Viking Lily 545
Viking Ruby
Bernina Activa 210
Brother 1034d


Sew4Fun


AUSTRALIA
Member since 6/23/04
Posts: 4887
Skill: Advanced





Date: 4/12/12 6:17 PM

If you trace the size 10 for the entire armhole then use the size 6 at the side seam, what you are doing is making the armhole (and therefore also the sleeve) a LOT smaller. You are chopping off the length in the armhole under the arm. Not something I would recommend. Then there is the difference is length between the 6 and 10 from shoulder to underarm (the armhole depth).

As you are a beginner, I recommend tracing one size. At this stage don't try to blend sizes until you better understand how to do it. There is a lot to understand and consider when you blend sizes so it's very easy to go wrong. Tracing one size ensures your starting point is correct. HTH

------
Belinda. Melbourne, Australia
http://sew-4-fun.blogspot.com/

shajarataddurr

Member since 4/26/11
Posts: 123



Date: 4/13/12 7:31 AM

Do you only have small breasts? Or a small ribcage? Because the easiest thing to do in the first case is a SBA (Small Bust Adjustment).

meleliza


Member since 5/4/11
Posts: 817
Skill: Intermediate



Date: 4/13/12 12:57 PM

Love that pattern! If you cut the larger size, you could always baste or pin it together at the sides and adjust it where you need it. Those patterns are drafted for a b cup, so wouldn't one have to be awfully small to really need the adjustment? But there is quite a lot of ease in some of them.

------
Melanie

NhiHuynh


Member since 1/4/11
Posts: 821
Skill: Intermediate
Body Type:






Date: 4/13/12 5:45 PM

If you cut a size 10 armhole you need to cut all the way to the side seam. The way you've drawn it you're actually making the armhole smaller and the sleeve won't fit. It's smaller by the distance between the 6 and the 10 multiplied by two if you've cut the back the same way. It will add up.

I agree with others that cutting a larger size here is ok since you can take it in. You are correct that the excess for a smaller cup size is not taken in at the side seam.

Since you already have a nicely fitting muslin from another project, you should put it up against this pattern to see where you may need adjustments. Why start from scratch?



------
I finally have a blog. www.detectivehoundstooth.com :)

pinkcatflower


NEW ZEALAND
Member since 11/20/09
Posts: 195
Skill: Beginner



Date: 4/13/12 8:18 PM

Thanks for your advice! I cut a straight size 10 and will do a small bust adjustment (and yes, I really am awfully small, meleliza. lol. 'A' cup or less here!). But before I do that I need to stop procrastinating and finish my first project, haha!

Thanks for the tip about comparing patterns that already work for me, NhiHuynh :)

------
I have a new blog: makingitwell.blogspot.com
I'd love for you to visit :)

Twizard

Member since 2/11/12
Posts: 315
Skill: Advanced





Date: 4/13/12 10:13 PM

You made a dressmaker dummy duplicate of yourself. An exercise which might help you understand pattern adjustment is to pin the entire pattern together in size 10, put it on your dummy, and then start drawing on the pattern in artist pencil where it is actually too large, where you think the adjustments need to be made. Pin out the "extra paper", draw it on the pattern, and refit the dummy. If you feel like you may need more advice, take a picture of where you drew the adjustments on the paper, and of it on the dummy, and repost it.

Cute pattern. But, with this one, you can't change dart or seam size, since there isn't any in the area where you need reduction. SO:

The adjustment for small bust comes from the bust area and sometimes upper chest area depending on the pattern, not the sides. The circumference of rib cage may not be affected either. It is the cup or amount of curvature that has to be reduced. I have a small bust compared to the rest of me, and I always end up taking out "fabric" from the sides and center of the bust area, the neckline, and the inner shoulder seams. This is a lot easier on this type pattern if you pin the pattern together and pin out the gaps and excess before you cut, to avoid adding seams and darts to a design that doesn't have them. Chances are that this entire adjustment can be done in the gathering area of this pattern. But, just increasing the gathering INCREASES the curvature of the fabric. And, check the area between the breasts for fit.

Keep in mind the grainlines, and adjust it evenly so you don't accidentally pull the grainline off, or it will hang wonky. Good luck

------
Pfaff 1471 and Passport 2.0, janome 8050, bernina 830LE & 580, Viking H 100Q; sergers singer quantum lock 5, baby lock protege, pfaff 794
Printable Version
* Advertising and soliciting is strictly prohibited on PatternReview.com. If you find a post which is not in agreement with our Terms and Conditions, please click on the Report Post button to report it.
Online Class
Understanding Wool Fabrics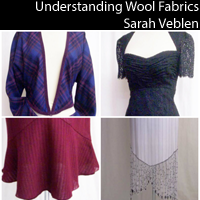 Online Class
More Knits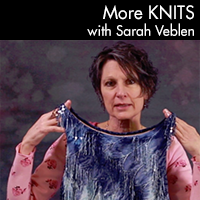 Ottobre Design Magazine 06-2009-37

by: myraminx
Review
Victoria Jones Collection Misses' Traditional Muumuu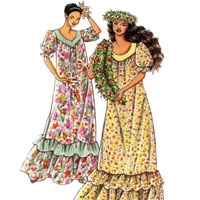 Pattern Details
J Stern Designs Womens Jeans Pattern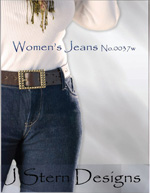 Pattern Details
Ottobre Design Magazine 01-2013-10

by: WistfulRid...
Review