marjoriekh


Virginia USA
Member since 8/28/10
Posts: 550
Skill: Intermediate



Date: 4/16/12 3:26 PM

Believe it or not, I have never starched a thing in my life.

I have some slippery fabrics on deck, and now is the time to begin. However, I don't even know how to begin.

Is there a best brand or type of spray canister? Is it better to mix your own? And, doesn't it get all over the place and make a mess of your ironing board and iron?

I iron with my board placed in front of the shelves where my stash is stored. Will spray starching likely get starch all over my stash? And I have an area rug below that I can't launder. Is that going to be a problem? Are there other considerations I don't know enough to ask about?

Thanks for helping out a starch neophyte.

-- Edited on

4/16/12 5:27 PM

--

------
marjoriekh

ShantiSeamstressing


Member since 6/11/10
Posts: 2368
Skill: Advanced Beginner



Date: 4/16/12 5:39 PM

The two brands I see and know of the most are Faultless and Niagara. That may be common in my region, though, and different elsewhere....

It shouldn't be a problem for the rug (unless you were spraying the garment on top of the rug - - but I know it will be on top of the ironing board).

To help with the iron not getting a caked starch build up, don't press

the very minute

after spraying. Wait a moment and let the starch soak into the fabric a wee bit. Then press. Have your iron as hot as the fabric will allow, and press quickly, not lingering. That will help. But I always have found that it never fully prevents all starch build up. A natural cleaner is a paste of baking soda and water; allow to sit on the soleplate, then gently rub off. Or it is very common to see a tube of iron-off cleaner at Walmart and likely similar stores. I've seen it sold through Home Sew, too. Of course I've gotten to the point with spray starch that I have two separate irons.

As far as the fabric stash...hmmm, now this I'm not sure what to suggest. It does tend to float about (much like hairspray...it's much the same, really). So I do think it might (?) be helpful to starch away from your stash. But someone here may share a helpful recommendation and it may not at all be a problem. I'm sorry I don't have a definitive thought on that....

Elona


USA
Member since 8/24/02
Posts: 10082
Skill: Advanced
Body Type:




In reply to marjoriekh

1 member likes this.



Date: 4/16/12 6:02 PM

I starch all my slippery, difficult fabrics. To do it, I lay a sheet out on the concrete patio (if I didn't have a patio, I'd just lay it on the lawn). Then I spread out my prewashed and dried fabric nice and flat on the sheet.

Next I grab my can of Faultless starch, shake it up, and spray the entire surface of the fabric. A light coating, just enough to visibly dampen the fabric, is sufficient in most cases, but if you think it needs more or you have missed some areas, it's OK to go back and spray again.

I let the fabric dry (this is pretty fast, usually only 30-60 minutes), then gather it up, spread it out on the cutting table, and get to work. I have found that if the fabric has been neatly laid out for spraying, ironing is not necessary or even helpful.

Of course, when the garment is complete, I throw it in the washer to remove the starch on a regular cycle.

------
Elona

beauturbo

California USA
Member since 5/2/09
Posts: 5551
Skill: Advanced



In reply to marjoriekh

Date: 4/16/12 6:20 PM

The cheapest kind probably is still made from corn startch and some in a bottle you use with water added into it, and use your own spray bottle. I have not bought that kind at the grocery store though for years, but maybe they still have it there.

I do think it gets all over the place if you are not careful in spraying and gets kind of layered onto your ironing board cover if you use it a whole lot and often, and totally wet a fabric though with it and also spray a lot of layers of it, and iron in between those layers of it, to make something very stiff as more a temporary stabilizer. In that case, and if you do not want to be having to wash it out of your ironing board cover a lot, then maybe put something down under it, before you use it that way, even if it is just some paper toweling or such.

tourist


British Columbia CANADA
Member since 7/23/07
Posts: 6793
Skill: Intermediate



Date: 4/16/12 6:38 PM

Be careful of the floor that you spray on. If it is a hard surface, you might find it very slippery afterward! Voice of sad experience here.

Does anyone know how to keep the spray nozzle from clogging? I have a nearly full can that I can't use because it is clogged. I like the home made stuff

like this

but it does go moldy after awhile.

------
http://bgballroom.wordpress.com to follow the progress on my next ballgown.

beauturbo

California USA
Member since 5/2/09
Posts: 5551
Skill: Advanced



In reply to tourist

Date: 4/16/12 6:59 PM

I think like a lot of things, with sprays, and if it actually uses fluorocarbons or compressed air to make it work, (like my Niagara spray starch in a can or spray paint or whatever) when done using it, you can try to turn that can upside down, and try to spray in a direction where it does not go anyplace you don't want it (like maybe into the bath tub or outside the house) to clear the nozzel a bit, and on the Niagara spray starch I use, they even say on the can, to take the nozzel off the can and rinse it out. I don't know if it works that way for all of them or not.

Maybe if your nozzel is not removable like that, you can still sort of hold it under some warm running water, and try to unclogg it more like that instead even?

CM_Sews

USA
Member since 9/18/04
Posts: 2059
Skill: Intermediate



Date: 4/16/12 7:01 PM

FYI:

There are a few non-aerosol laundry starch products on the market:

StaFlo Faultless Liquid Starch

You can dilute these with water and use them in a pump spray bottle.

And this is a new one, that you add to the rinse cycle of your washing machine:

Peal Starch

The idea isn't new; my mother was boiling Faultless Starch powder on the stove and adding it the rinse cycle of the washing machine many years ago.

A Google search will give you numerous recipes for making your own starch mixture with cornstarch.

If you are going to iron starched fabric (or clothing), it works best to spray the starch on the fabric and let is sit. When I iron yardage, I'll spray the whole piece, then fold and roll it up, and let is sit for at least 30 minutes. This allows all the fibers to become evenly damp, and they relax before you iron them, and the starch is more evenly distributed. The goal is not wet but damp.

I spent many girlhood hours ironing dampened starched clothing (BPP - Before Permanent Press). There's a process that works well, it's not quick, and almost no one knows how to do it anymore. This is not necessarily a bad thing.

CMC

unfinishedprojects


Alberta Canada
Member since 8/26/07
Posts: 811
Skill: Advanced
Body Type:






Date: 4/16/12 8:07 PM

I hang the piece of fabric on the shower curtain rod to spray it.

marjoriekh


Virginia USA
Member since 8/28/10
Posts: 550
Skill: Intermediate



Date: 4/16/12 9:48 PM

As usual, in no time lots of useful input from PR members!

I think I'm going to try Elona's method first, since it keeps the mess outside (I'll try it on the wooden deck, and since I'll be washing the garment at the end anyway, a little dirt won't hurt it

ETA: On first read I missed that Elona puts down a sheet first. Good idea. I don't really need that extra dirt.

) Elona, I assume it's important to make sure the grainlines are square when the fabric is laid out to be sprayed?

If my results aren't satisfactory without ironing, I'll cautiously move into the basement laundry room, I guess.

I used to do the ironing for my mother as a teenager in the 70s. She taught me to mist things lightly with water from a spray bottle, roll the items up and place them in a plastic bag for 1/2 hour or so, then pull them out one by one and iron. (No steam; heavy iron with cloth cord.)

My father's shirts and handkerchiefs(!), table and kitchen linens, pillowcases, my mother's cotton slips and nighties, woven cotton clothing -- it was all ironed. No starch, though.

Fast forward: My husband irons his own shirts.

He does the collar, cuffs and front band, eh voila, he's done!

-- Edited on

4/17/12 2:21 PM

--

------
marjoriekh

Elona


USA
Member since 8/24/02
Posts: 10082
Skill: Advanced
Body Type:




In reply to marjoriekh

Date: 4/17/12 1:03 AM

Quote: marjoriekh

Elona, I assume it's important to make sure the grainlines are square when the fabric is laid out to be sprayed?

Eh, I don't really fuss about that too much. I try to lay the fabric down nice and flat, and I do sort of smooth it so it forms a neat rectangle rather than, say, a trapezoid.

The truth is that the starching doesn't really make the fabric boardlike or un-fabric-ish; rather, it just provides some body, crispness, and good behavior. When I lay it out on the cutting table,

that's

when I do the full lengthwise straight-grain routine. That affects how the garment hangs. But I do not bother with trying to straighten the cross grain.

You'll see when you try it that this is a very user-friendly process.

------
Elona
Printable Version
* Advertising and soliciting is strictly prohibited on PatternReview.com. If you find a post which is not in agreement with our Terms and Conditions, please click on the Report Post button to report it.
Online Class
Restyling with Exposed Zippers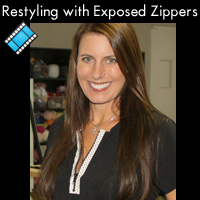 Online Class
Break your Serger Out of the Box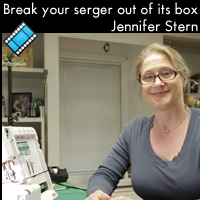 Simplicity 2267

by: HOWsMom
Review
Petite Plus Patterns Swing Coat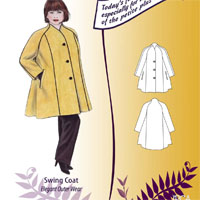 Pattern Details
SewBaby Snappy Wrap Pattern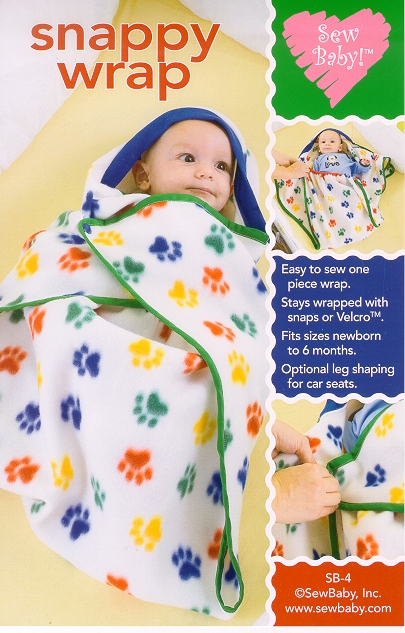 Pattern Details
Simplicity 1282

by: Jeanette L...
Review