HanPanda


USA
Member since 4/27/08
Posts: 1385
Skill: Intermediate
Body Type:




Date: 4/19/12 8:09 PM

I planted several Petunias and Snapdragons in pinks and white. I also picked two Petunias that I put in the center of my little plot that are unique: one is black with yellow stripes, the other white with a black starburst. I planted some cosmos seeds and am hoping they come through. And I planted some pea seeds! I started tomatoes and catgrass inside. The tomatoes are already popping up (yay!) but my cat is eating the catgrass already, and it isn't nearly thick enough xD;; I'm glad she is so excited about it though. I'm waiting for the weather to improve more so I can start the okra and basil, and keep changing my mind about what/where I want to plant my spearmint and parsley. I might need another terra cotta pot and keep the herbs on the porch though...

Anyway, I guess the real reason I am posting this is to ask for advice. I have never grown a garden on my own; my mother always used to help me. I'm also only using a small portion of the front yard for the garden because the dog uses the rest (

my roommate doesn't want to let him out back...I don't like it much but it's not the worst of evils so I don't worry about it.)

When do I transplant my tomatoes? How many okra/tomato plants should I worry about? It's mostly for me and my two roommates, maybe my landlords if I have plentiful plants. We don't have a large freezer, so I doubt that would be a good idea. But I'm also a student, and will take summer classes, so I don't want to bite off more than I can chew. Should I mulch? Besides preventing weed growth, what's the value in it? Should I worry about fertilizer? Does spearmint really spread like dandilions if planted in the ground? Should I plant the basil in a pot on the porch?

I've never done any of this! My mini gardens when I was growing up were usually a couple of Cosmos, Snapdragons and a cherry tomato plant. So any of you green thumbs out there who can help a gal out...I'd appreciate it!

------
I'll try anything once :)

Please excuse my typos...sometimes it is harder to go back and edit on mobile than it is worth!

minggiddylooloo


Member since 5/17/05
Posts: 2687
Skill: Intermediate
Body Type:




Date: 4/19/12 8:34 PM

Mint is very invasive, plant it in its separate pot AND make sure the pot is on a surface where the roots can't spread because it will sneak out and take over your garden.

Basil is very easy to over water. Lots of people grow it easily, DH and I have a decent green thumb but in the past have killed basil when we're able to grow more difficult plants. It is a very low maintenance plant and we might have been guilty of watering it too much... resist the urge to nourish it with liquid unless the plant tells you it needs some.

I don't have experience growing the other plants you're interested in doing in this area so I'm sure others will chime in with help.

Plan carefully your mint, otherwise you will find yourself with much more than you originally planned/wanted. I've spent hours trying to uproot mint and never fully succeeded in the battle, it always comes back.

------
I'm finally a blogger!
sewming.blogspot.com

Nikki


Maryland USA
Member since 4/8/02
Posts: 2669
Skill: Advanced



Date: 4/19/12 8:56 PM

Do not mulch with wood chips, the wood decays only slowly and will steal nitrogen from the soil. Straw bales or dead leaves make nice mulch. I am partial to fish emulsion as a fertilizer, but there are lots of options.

If you are in DC, it is a bit early to put out peppers, tomatoes, or anything else that hates cold (basil) for a few more weeks. It will be colder later this weekend/next week and these plants do not like cold nights. Technically the last frost date for this area is in early May.

When it is hot in the summer, potted plants will need to be watered at least once a day, possibly twice a day depending on pot size and how hot it is.

------
mmmmm woooool

poorpigling


Texas USA
Member since 12/28/07
Posts: 11074
Skill: Advanced



In reply to HanPanda

Date: 4/19/12 10:05 PM

You sure came to the right place.. Lots of us on PR garden..

Mulch is used not just to keep weeds down.. but also to keep the roots cool in the heat.. as well as the fact it will decompose and feed the soil. Do not use cocoa mulch.. it can be poisonous to animals.. nor should you use wood . especially cypress mulch.. as you will have cypress vines come out of it and take over. Oak leaves or compost are the best solution to mulch. Easy to make a compost pile starting with oak leaves. or you can just shred them and use them. Adding water and stirring / tossing the compost pile will help your compost along..

I NO longer use clay pots at all. They simply are not only heavy.. but do break.. and also they tend to soak up the water.. leaving less for the plants.

Myself. I plant my tomatoes using a bag of manure.. Creates flies but is wonderful for fertilizer. If course we have a lot of manure on the farm..

Mint is invasive.. as are many herbs.. either grow these in a pot or in an area they are contained within a certain perimeter.

Maybe you can temporarily fence in a small portion of your back yard for a garden. Even placing lattice around a certain area will keep the dogs out. you also have to watch for cats.. Both like to dig in fresh dirt. Container gardening.. even with tomatoes can be done anywhere.. Providing both sun and water is the key.. Vegetables are mostly water you know.

Other then manure I don't use a lot of store bought fertilizer.. just starting with good soil .. such as miracle grow.. or a combo of cheaper dirt and manure is enough for most plants to thrive. In fact wildflowers don't even like fertilizer.. and it can burn up plants in the heat of summer. so be careful.. don't overfertilize..

If you have a fence.. you have a good place to start beans and such..

So,, good dirt.. sun.. water.. but don't overwater and drown the roots.. and the right spot are the key here..

TessKwiltz


Texas USA
Member since 9/21/07
Posts: 1647
Skill: Intermediate



Date: 4/20/12 10:45 AM

Before we moved to Houston in 1998, we lived in Ohio. We were in our last house there for seven years. I spent the first two years eradicating the "volunteer" mint in all my beds. I had finally gotten rid of all of it when we got new next-door neighbors. She planted an herb garden next to our shared fence. Mint everywhere again...

I used to just throw a four-pack of tomatoes in the ground Mothers Day weekend and two months later would be up to our ears in tomatoes. I miss them. Yes, it is possible to grow tomatoes in Houston but it requires daily vigilance and I do not have enough energy for that. We also had a strawberry patch with an everbearing variety that gave us a bowl of strawberries every day for about three or four weeks. Yum!

We lost several shrubs in the backyard due to the drought, leaving me a possible space for an herb garden. But I need one that waters itself. My new irrigation controller is expandable, I've already talked to my sprinkler guy about adding another circuit for drip-irrigating an herb bed. Maybe this fall...

How do basil plants look? The best sun I have is in the front yard, if I put them in the landscaping would the neighbors notice? Or do they look weedy?

------
Tess

"I am a degenerate art supply junkie" - Jane Davenport

Miss Fairchild


USA
Member since 8/24/02
Posts: 7936
Skill: Advanced



In reply to HanPanda

Date: 4/20/12 8:47 PM

Quote:
When do I transplant my tomatoes? How many okra/tomato plants should I worry about? It's mostly for me and my two roommates, maybe my landlords if I have plentiful plants. We don't have a large freezer, so I doubt that would be a good idea. But I'm also a student, and will take summer classes, so I don't want to bite off more than I can chew. Should I mulch? Besides preventing weed growth, what's the value in it? Should I worry about fertilizer? Does spearmint really spread like dandilions if planted in the ground? Should I plant the basil in a pot on the porch?

Transplant your tomatoes just after your last day of frost. For me, it's around May 20; for you it will probably be two weeks earlier.

As to the number of tomato or okra plants, that depends especially on the type of tomatoes you are growing. If you are growing an indeterminate tomato, such as cherry, or beefsteak, or other round tomato types, they will need lots of room, many will need to be trellised (they can get over six feet of vines), and will come into fruit at different times. This is why they are great for salads. They are indeterminate, meaning their fruition time is "indeterminable".

The other type of tomato is, you guessed it, the "determinable" variety, or "determinate" These tomatoes come into fruit all at once and are great for canning. These are your romas.

I usually grow three tomato plants per year; one for the salad (indetermiante) and two for the jars (determinate) and there are three in my family.

Mulch only keeps the soil cool as well as control weeds. It can also add nitrogen to the soil, if you're using grass clippings as a mulch. It lays on top of the soil Compost, on the other hand, is rotted fertile material such as a combination of kitchen scraps, grass clippings, leaves and manure. Compost, when laid on top, acts as a mulch, but at the same time feeds the soil so you don't need fertilizer. If you are using a chemical fertilizer, such as MiracleGro, keep in mind that it uses salt as a delivery agent, so you must mix it with a lot of water. This is NOT organic. Anything that shows an NPK rating of 23 or more is not organic. (NPK is the breakdown of components that make the plants grow; N is Nitrogen, P is Phosphorous, and K is Potash. Nitrogen makes leaves, Phosphorous makes flowers, and Potash makes fruit.)

If you want organic, look for a fertilizer that has a total NPK rating of 22 or less. Organic is most often the best way to go because it lets the soil take care of itself, rather than requires you to feed it "steriods" as in chemical fertilizer. Some common organic fertilizers are fish emulsion (high in nitrogen), epsom salts, (high in phosphorous) and wood ashes (high in potash). The process takes a little more time, but it's well worth the effort.

Spearmint will not spread like dandelions; it will spread like grass. It has a root that is buried underground and will find its place anywhere; and it's true of any member of the mint family. If you want to grow a mint, which is excellent in tea, try growing it in a bottomless pot in your garden. The sides of the pot keep the roots reined in.

As to your basil, by all means plant it next to your tomatoes! Basil loves tomatoes, as do carrots. For some reason, it helps the tomatoes get off to a good start, and vice versa. It doesn't do too well in a pot, unless it's a very large one (I found this out when I tried to grow some in So. Cal.) and much prefers space. I seem to think it likes the wind hitting it.

When you plant your tomatoes, every now and then "brush" them. This means to go by and sweep your hand over them. This sets pollen for the flowers and you will have many fruits.

Hope this helps. Enjoy your garden! You're off on a great adventure. There are many gardening books out there--Square Foot Gardening by Mel Bartholomew and The Vegetable Gardener's Bible by Edward C. Smith are two of my favorites. These came after my container gardens I once grew around a swimming pool.

------
"Play the cards you are dealt, but choose who is sitting at the table"..AARP magazine

SEE MY ETSY SHOP HERE: http://www.etsy.com/shop/AuntMaymesAttic
My blog: http://auntmaymesattic.wordpress.com/

m/m


New Jersey USA
Member since 4/4/05
Posts: 622
Skill: Intermediate



Date: 4/21/12 10:41 AM

Lots of good advice here.

If you live in an older building where lead paint could have been used on the exterior, don't plant anything edible in the ground close to the building because there's likely to be lead paint chips in the soil. That means don't plant the herbs right outside the kitchen door next to the foundation.

HanPanda


USA
Member since 4/27/08
Posts: 1385
Skill: Intermediate
Body Type:




Date: 4/26/12 12:43 PM

Wow! Thank you everyone for all the help and advice and comments! It's so good to hear that people garden and sew...

I have a friend who can't understand that I do both!

Here is my "garden proper."

I'm keeping it fenced in to keep the pooches out. It's in the front yard, so everybody gets to see me gardening in my overalls at 8AM.

This is mostly flowers, but I wanted to put the tomatoes where the stakes are. I keep changing my mind on where I want to put the okra. I hear it can grow really tall, so you have to be careful not to put it where it can overshadow plants that need sunshine. All my flowers are full sun or partial shade, and the tree at the roadside provides plenty of partial shade. = I'm thinking of planting it further away from this plot, right by the sidewalk. I'll have to watch the dogs. I am not sure if they can get all the way over there, but if they can't, I think it would work.

These are the herb pots.

I put the mint in a terracotta pot. I also pulled out some of the mint my landlords had planted previously. It's a different kind, so I figure two kinds of mint can't hurt. The "empty" pot is seeded chives. I love chives! I planted the parsley in

another pot.

Tess: it depends on the kind of basil you buy. My mothers (and the kind I bought) looks like a round bush. You can cut it back to whatever size works for you if it gets too large, too. I don't think it looks weedy when you get the kind with the big, crinkled, broad leaves, but I'm probably not the best judge of that one! xD

Miss Fairchild: I am planting indeterminate tomatoes, I think. It's red and yellow pear tomatoes, which are fairly close to cherry tomatoes as far as I can tell. I have a trellis set in for it already, but it's kind of close to other plants...not sure if I'll have room for a basil bush there. I'll give it a shot anyway, see what happens. Seed packets have about a bajillion more seeds than I actually need anyway. I'll probably look to transplant my tomatoes towards the middle of May, if they're looking strong enough. I am trying to find new homes for some of the seedlings though--all thirteen popped up this year! (Anybody in the DMV want some pear tomatoes...? :P )

My landlord previously mulched with wood chips...I don't know what kind. They're all around the base of the porch. That's where I planted my peas though. Would it be a good idea to fertilize there to try to get some nutrients back into the soil? I don't mind one way or the other about which kind of fertilizer, though with food products, organic is probably good. So long as it doesn't break my fragile bank, anyway! The seedlings look like they are coming up pretty strong at the moment. Or should I just switch to a different kind of mulch once they grow up a bit more?

My landlords had a compost pile, but it doesn't really look like it's...composting much. The put out branches from their Christmas decorations it looks like, and everything is just kind of...dry and dead.

I'm feeling so clueless, but I really appreciate all the help and advice! I'm super excited about my first garden. xD I will be sure to post pictures through the summer as things come in more!

------
I'll try anything once :)

Please excuse my typos...sometimes it is harder to go back and edit on mobile than it is worth!

Miss Fairchild


USA
Member since 8/24/02
Posts: 7936
Skill: Advanced



In reply to HanPanda

Date: 4/27/12 2:58 AM

Quote:
Miss Fairchild: I am planting indeterminate tomatoes, I think. It's red and yellow pear tomatoes, which are fairly close to cherry tomatoes as far as I can tell.

Red and yellow pear tomatoes are indeterminates. Be prepared, because if your yellow pears grow anything like mine did, you'll have a bunch!

Quote:
I have a trellis set in for it already, but it's kind of close to other plants...not sure if I'll have room for a basil bush there. I'll give it a shot anyway, see what happens.

You'll need at least 4 feet high trellis (as it comes out of the soil, not sits in the pot) for your tomatoes. And make sure the trellis is wide. Basil, depending on the variety can get very large, or can sit just in front of the tomatoes.

Quote:
Seed packets have about a bajillion more seeds than I actually need anyway.

Save them. They're good for two years, if you keep them in a cool and dry place.

Quote:
My landlord previously mulched with wood chips...I don't know what kind. They're all around the base of the porch. That's where I planted my peas though. Would it be a good idea to fertilize there to try to get some nutrients back into the soil?

Grass clippings is a great fertilizer (nitrogen, which is needed for peas). How old are the wood chips? Have they started to decompose and have they been treated with anything? Wood mulch that the nurseries around me sell is treated with a chemical to keep the weeds down and isn't good in a vegetable garden, for obvious reasons. Mulch prevents weeds and keeps the soil moist; compost feeds soil.

If your garden is close enough to your kitchen, and your landlord doesn't mind, just toss your scraps on your garden and dig them in. Bananas are great in potassium; the K part, and coffee grounds contain a lot of nitrogen. Otherwise see if you can get an Earth Machine

click here

composter. They are awesome, inexpensive and don't take a lot of room.

------
"Play the cards you are dealt, but choose who is sitting at the table"..AARP magazine

SEE MY ETSY SHOP HERE: http://www.etsy.com/shop/AuntMaymesAttic
My blog: http://auntmaymesattic.wordpress.com/
Printable Version
* Advertising and soliciting is strictly prohibited on PatternReview.com. If you find a post which is not in agreement with our Terms and Conditions, please click on the Report Post button to report it.
Online Class
All About Buttons and Buttonholes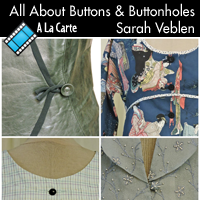 Online Class
Sewing Basics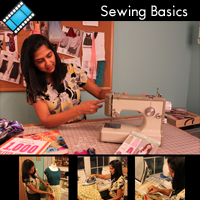 Vogue Patterns 2824

by: twistedang...
Review
Ottobre Design Magazine 01-2007-25

by: kellyhogab...
Review
Victoria Jones Collection Happi Coat & Hanten (230)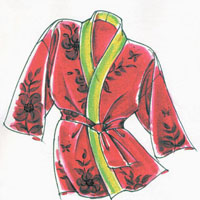 Pattern Details
Sewing Workshop Origami Skirt Pattern

Pattern Details