isakswings


Utah USA
Member since 8/22/08
Posts: 410
Skill: Advanced Beginner



Date: 4/22/12 6:44 PM

I posted a couple of weeks ago about teaching my daughter(almost 14) to sew. It's still a bit of a challenge, but I am learning if I let her do her own thing(including designing her own projects out of scraps) things go much better then if I am hovering over her. There are a few things I would do differently then she is doing(i.e, making sure the edges are finished... lol) but no harm is being done when she is playing with scraps of fabric. Now if she would stop being so rediculous when I am showing her how to do basic things, we will be good to go. Teenagers. LOL. She is starting to figure out how to fix issues as they come up. She has also designed some cute tops and accessories for some stuffed animals.

My youngest son is 11. He is loving this! They are both currently sewing on 2 different machines. The funny thing is, my 11 year old is very mechanical. He figured out how to thread the top of the machine on his own(by following the drawings and numbers on the top of the machine.) This is his first time using a sewing machine and he is off and running and is able to troubleshoot small things. The only thing he cannot do yet, is wind the bobbin. I am sure if I show him, he will be able to do it.

Anyway, I am thinking of throwing together some basic sewing supplies into medium sized bins... 1 for each kid. Any ideas on what to throw in the bins? I want them each to have their own pair of scissors, their own seam rippers, a few spools of thread, a small(very small!) fabric stash, pins and some hand sewing needles. I do not want to buy a lot of thread since I have plenty they can use, but I also want to provide them with their own kits so they can sew when they want but have their own stuff to go to instead of getting into my stuff. Any more ideas? I'm going to have them each make their own pin cushions. Thanks for any feedback you might have.

Edited to add: my daughter is sewing on her own machine and my son is sewing on my back up machine. Once I get my new machine and my current main machine is serviced, I am thinking of giving my son my back up machine. So, each kid will also have access to their own machines.
-- Edited on 4/22/12 6:46 PM --

------
I'm fairly new to sewing but I am finding it to be fun and rewarding!

isakswings


Utah USA
Member since 8/22/08
Posts: 410
Skill: Advanced Beginner



Date: 4/22/12 6:59 PM

My son just successfully wound his own bobbin! He thought it was the coolest thing EVER. He giggled the entire time. LOL! He loves this! His little stuffed animal has a sleeping bag, pillow, and jacket(some of this my daughter has made too).

I also thought of something else I should add into their sewing bins. Bobbins that fit their specific machine. Luckily, my daughter's Singer and my Brother LX 2500 take the same bobbins but once I bring my new machine home, those bobbins won't fit into their machines.

------
I'm fairly new to sewing but I am finding it to be fun and rewarding!

Ida wants to learn

Texas USA
Member since 1/2/09
Posts: 27
Skill: Beginner



Date: 4/22/12 11:06 PM

This is really a good thing. THe same principals you use for sewing can be used for other things. Check out this 1948 film.

you tube

isakswings


Utah USA
Member since 8/22/08
Posts: 410
Skill: Advanced Beginner





In reply to Ida wants to learn <<



Date: 4/23/12 0:19 AM

Thanks! I will definitely check that out tomorrow!!

I think it is a good thing too. Both of the kids are already excited about the next project. They like the idea of having their own sewing box/basket. My son is already asking for a sewing machine for Christmas! Funny kid! My back up machine is very basic. 17 stitches and mechanical. My daughter's machine is not too fancy, but is electronic and has 30 some stitches on it. He thinks the decorative stitches are very fun. He said he wants a machine like his sister's machine. We shall see if his interest continues.I think the kids sewed for about 2 hours or more today!

------
I'm fairly new to sewing but I am finding it to be fun and rewarding!

ShantiSeamstressing


Member since 6/11/10
Posts: 1910
Skill: Advanced Beginner



Date: 4/23/12 9:54 AM

What a wonderful plan! My two daughters have their own machines and I, too, put together little baskets for them with all the supplies. (Your daughter might like the pretty Prym baskets. Your son might like a craft tote or fishing tackle box.) As far as scissors ~ it's definitely up to you. My teenage daughter can use shears. My littler one is only 10 and I just happen to choose to cut for her, or have my older daughter do that (shears are so sharp....). Definitely Mom will know best on that one. But she has regular scissors for snipping threads, etc. Other than that....they have a tomato pin cushion and magnetic one; colorful-head pins; tailors chalk; seam ripper; pack of hand needles; packs of various sizes sewing machine needles; thimble; thread in black, white, and their favorite colors (because those are the colors that match the fabric choices they choose); magnetic seam guide (because their machines aren't computerized so that's okay); and ruler. Because they make a lot of doll clothes, I also got 1/4" elastic, and doll-size buckles, buttons, snaps.

As they get more into sewing, I'll be getting them a French curve and Swedish tracing paper (right now if they need STP they simply use mine).

We bought some fabric ~ cottons, in their choice of prints plus a few solids. I have to replenish this periodically.

isakswings


Utah USA
Member since 8/22/08
Posts: 410
Skill: Advanced Beginner





In reply to ShantiSeamstressing <<



Date: 4/23/12 11:45 AM

Where do you have their machines set up? Are they in your sewing area or elsewhere?My brother in law is good at making furniture, so he is going to make me a sewing table. Originally, I had planned on just putting my own machines on the table(L shape is what I am going for). However, now I am wondering if I should put their machines on it as well? OR I may buy a smaller table to put their machines on and have mine seperate from their machines. I'm okay with my kids using scissors/shears since I will make sure what ever kind I buy them are not too heavy duty. In fact, I may give one of them a pair I have and get a better pair for me!

I love the idea of a tackle box for my son. He would love that! They definitely need their own sewing machine needles because I have replaced 3 needles(between 2 machines) in one day! My daughter placed her pins vertically instead of horizontally and the sewing needle hit one. Not to mention, they need to remember to remove their pins as they go so they don't damage their needle. My daughter's machine was not sewing correctly and the only reason it wasn't, was due to a nick in the needle. The needle was straight, but the nick was causing issues. I kept the needle so I could show my son and daughter what to look for and how to trouble shoot problems like this. As soon as I replaced the needle, the machine went back to sewing perfect stitches!

What machines do your children have? I am thinking once I get my new machine, my son will end up with my back up machine(a Brother LX 2500). It is what he is sewing on now. However, he has mentioned that he likes his sister's sewing machine better because it has a few more features.

Thanks for the feedback!



------
I'm fairly new to sewing but I am finding it to be fun and rewarding!

ShantiSeamstressing


Member since 6/11/10
Posts: 1910
Skill: Advanced Beginner





In reply to isakswings <<



Date: 4/23/12 2:39 PM

Their machines are on sewing tables in their bedroom, as it's a large room. The one table actually houses my Rocketeer underneath, (but I don't use it). I bought them these chairs from Walmart, so they're comfortable and adjustable. As for their machines ~ one is a Kenmore 158, beautiful, beautiful well-maintained machine, seems as strong as a WWII tank but sews with a purr. The other machine is a nice and sturdy Singer 6211, but due to some issues with it plus the fact that I paid very little, it's not worth paying for repair. So I bought a Janome Magnolia 7318 this past week, but as I've been mentioning in the sewing machines forum, it came with a problem (grinding and banging as it sews - ). It's likely going back and another being sent in its place.

Kids Sewing is a website you might find helpful, perhaps; and she has a wonderful 12-part video clip series on Youtube about setting up a sewing room. She has tons of videos, so you might like to peek at her entire Youtube channel, too.

solosmocker


New York USA
Member since 1/23/06
Posts: 1941
Skill: Advanced



Date: 4/23/12 6:01 PM

This is fabulous! My grandsons love the mechanical aspects of sewing and can't wait to sew when they come visit. They are ten and eleven and have been at my machines since the age of five. There is not a male around who doesn't like the idea of playing with something at high speed, is sharp, and can hurt! They just seem to have that gene.

I think it is so wonderful how you are going about teaching your two children. Way to go!

------
http://lasewist.blogspot.com/

KathySews


Michigan USA
Member since 10/1/06
Posts: 4139
Skill: Intermediate
Body Type:




Date: 4/23/12 8:49 PM

I didn't see tape measures mentioned. I have both the cloth 60" and a metal 6" that I use constantly

Maia B


Illinois USA
Member since 10/27/10
Posts: 5088
Skill: Advanced Beginner



Date: 4/23/12 9:02 PM

My sons started sewing on a machine at 6 & 8 yrs old. They each have sewing baskets (the JoAnn's woven/fabric type with a plastic tray) in a puppy print. They have everything except seam rippers, which look too "stab your brother" to me. They have a Brother HS 2000, and they are allowed to use my machines when I'm right there. They've made pillowcases, stuffed animal clothes and accoutrements, and quilt blocks. Our only barrier is time, between work, school, and homework, it's hard to have time.
-- Edited on 4/23/12 9:20 PM --

------
🌸 Plenty of machines, mostly Berninas 🌸
Printable Version
* Advertising and soliciting is strictly prohibited on PatternReview.com. If you find a post which is not in agreement with our Terms and Conditions, please click on the Report Post button to report it.
Online Class
More Knits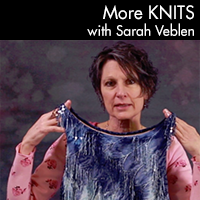 Online Class
10 Clever Techniques To Help You Sew Like a Pro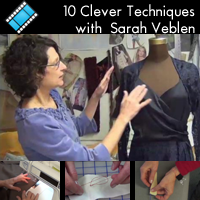 Fehr Trade 000

by: Sigrid.
Review
Sew Liberated Flora Tunic and Twirly Skirt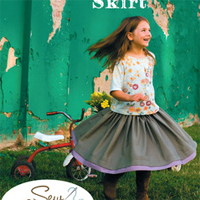 Pattern Details
Islander Sewing Systems The Ultimate Kinsale Cloak Pattern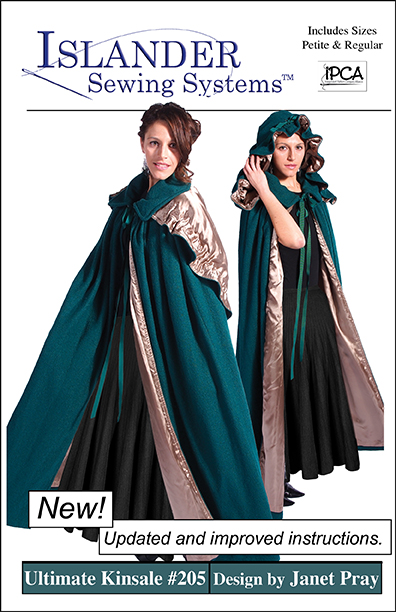 Pattern Details
Self Drafted Pattern 29655-1004

by: squirrelly...
Review