JillyBean333


Minnesota USA
Member since 10/20/07
Posts: 943
Skill: Intermediate



Subject: Any ideas how to go about getting a job? Date: 4/24/12 11:22 AM

Hi Guys,

I think I'm ready to start looking for a job...after being home for 11 years. Any ideas where to even begin?

-- Edited on

4/24/12 11:24 AM

--

------
JillyBean
http://craftysupreme.etsy.com

jadamo00


New York USA
Member since 3/13/06
Posts: 1264
Skill: Advanced

2 members like this.




Date: 4/24/12 2:14 PM

Do you think you'd like retail? A friend of mine was a stay-at-home, homeschooling mom. But even before that, she never really had any particular career or skills.

The kid went to HS this September and she was casting around for some kind of job. I didnt' know what she'd get.

She got a job in a little vegan shoe store in Greenwich Village that she used to shop at and she absolutely loves it. Her bosses are wonderful, they have a similar philosophy, they adore her (she works WAAAAY harder than the younger girls!). They even gave her the keys to the store.

She says it's like her second home. She now knows the store inside out, loves buzzing around straightening things up, is totally wonderful with customers, totally confident about the transaction/business part of it, too. It worked out really great!

j.




purplebouquet


Arkansas USA
Member since 11/16/05
Posts: 1391
Skill: Advanced



Date: 4/24/12 2:18 PM

Some of the general question that any job seeker faces apply here just the same:

What are your strengths? (We all know you've mastered deadlines to a T: Bedtime at 8! I used that line in a job interview very successfully once, so I am being totally serious.)
What would you like to do?
Part-time, full-time, freelance?
Have you researched the market and know what you can expect in terms of earnings? How does that compare to future expenses you currently don't have, i.e., childcare, professional wardrobe, taking care of the house and yard, eating out, etc.?
Do you need to earn income or do you seek the professional challenge?

This is just a small list. Once you've clarified to yourself--not necessarily on the public forum--these questions, you'll have more direction.

Good luck.

I stayed home with my kiddos for 9 years and am so glad I did. I went back to work part-time almost 7 years ago. We have all benefited from it, but the long summers are still a challenge. I don't get to take 10 weeks off just because they do, and how do we fill those days?

Claudia



Member since 12/31/69



Subject: I dont think I can do it anymore (SAHM)... Date: 4/24/12 2:23 PM

What do you like to do? Start there. Do you need to work for the money, or can you do volunteer work for something you are passionate about?

Have confidence and translate your skills as a SAHM and make them work for you. In an interview scheduling and running a house can translate to exceptional organizational skills.



JillyBean333


Minnesota USA
Member since 10/20/07
Posts: 943
Skill: Intermediate



In reply to jadamo00

Date: 4/24/12 3:35 PM

Hi Guys,

Well, I used to be a systems analyst and would LOVE to get back into that...A little scary though since my son has special needs and I know he loves to be able to come home in the afternoon.

I have kept up with the computer industry (not as much as someone who works in it 40 hours/week..but have done open source programming and such).

The volunteer thing, I just can't do anymore. Up until last fall I was volunteering 3 or 4 days/week at school for maybe 2 or 3 hours a day and it's all well and good (and it sounds bad for me to say this I know) but yet again it's me helping others to get to their goals and helping them get where they want to be and me just stagnating more and more and more.

I could do retail I think...though I KNOW I can't handle fast food. I'd prefer some sort of office job. Actually, I'd prefer a telecommuting job...then I could get my son off the bus and pick up my daughter if needed. I guess I can't really say that in an interview though. It only takes like 2 minutes to get my son off the bus though.

Oh as far as money goes I don't NEED alot of money...but I don't think it would be worth it to go work in say fast food for $9/hour because I wouldn't enjoy doing it and I would probably just be working to pay our taxes.

-- Edited on

4/24/12 3:37 PM

--

------
JillyBean
http://craftysupreme.etsy.com

Wendy J

Member since 5/18/07
Posts: 336
Skill: Advanced
Body Type:




Date: 4/24/12 6:37 PM

Have you thought about doing anything in the public school system. I'm a teacher and there are classroom assistants (many are stay at home moms looking to do something) that come into the classroom and help special needs students. They follow a student around each day going to each of their classes. They love the job and benefits and hours. You could even substitute teach. In my school district they are paid $115 a day. You choose when and where to work and can work as much or little as you want. Just some suggestions. Good luck!

Mandolin82


Washington USA
Member since 5/8/03
Posts: 1565
Skill: Intermediate



Subject: I dont think I can do it anymore (SAHM)... Date: 4/24/12 6:54 PM

A friend of mine, after working as an ultrasound technician, ended up with a job as the computer technician for the public schools. She was in charge of setting up the computer labs, etc. An advantage is that she worked the school schedule.

ryan's mom


Member since 11/30/04
Posts: 5385
Skill: Advanced



Subject: I dont think I can do it anymore (SAHM)... Date: 4/25/12 6:45 AM

I substitute teach when I want. Our school has an automated system, and I get calls all the time. It's really a great job because you can always say no if your schedule is too busy. Most jobs don't have that flexibility.

My other part-time job which is thriving this year is doing prom dress alterations. I had to put out a FB post saying thanks for your business but no more orders please. I'm swamped.

The first year I did my daughter's dress and her friend. Last year I did 3 or 4 dresses and put an ad in the high school yearbook. This year it boomed! One mom told me I was referred to as, "...the lady everyone goes to." Well, that's not true lol, but it sounded nice. I've just happened to connect with some good parents/girls who spread the word and girls who read their yearbooks.

Another helpful thing I did was to include pics (with parent permission of course) of the girls in their prom dresses in my ad. You can't underestimate how much girls want their pics in the yearbook dressed all glam

. I forgot about that, but these girls really want their pics in my ad! My name is now being dropped in wedding dress alteration circles. We'll see. If it really takes off, it's time to make the biz official. That's an all-year kind of thing.

I'm not sure if your goal is simply work or to get out of the house or both, but this year has been very good for me. It's going to be interesting to see where this all ends up during the next year.

-- Edited on

4/25/12 6:47 AM

--

------
Big 4 Pattern size 12, RTW bottom: 6, RTW jacket 8, RTW top (no size fits me well!)
Measurements: 34 HB/36 FB (34C bra)/27.5/36 (and working hard to keep it that way.)
Machines: Sewing: Elna 760, vintage Kenmore Model 33 (1967), Janome Gem Gold 3, Singer Model 99, Singer 221/Featherweight. Sergers: Babylock Imagine and Babylock Ovation. Embroidery Only: Janome 300E. Embroidery/Sewing Combo: Brother Dream machine. Coverstitch: Babylock BLCS. Straight Stitch: Janome 1600P.

If you think your sewing is better than everyone else's around here, get out of my way b****. I hate sewing snobs.

My blog: www.phatchickdesigns.blogspot.com

mssewcrazy


Mississippi USA
Member since 3/4/03
Posts: 2616
Skill: Advanced



In reply to JillyBean333

Date: 4/25/12 8:23 AM

I picked up on the volunteer part of your comment. Self employed and business owners as well as SAHM fall into that trap easily of finding one day they can't achieve their own goals due to people(school,church,community groups,etc) with the erroneous assumption that you can take off anytime and do whatever they need for you to do and on a regular rotating schedule. It is true those who can be flexible can adjust their time on occasion but truthfully there are a certain number of hours in a day and it is very easy to find you have no time of your own. I am not suggesting not ever volunteering but look hard at the hours you have and are donating and learn to say no fast so the volunteering is your choice and if on a regular repeating basis either put a stop to that or decline all the other requests for your time. Yes people get mad and talk ugly to you for saying no sometimes but it gets easier. With both self employed and SAHM the same is true-you are not doing anything productive for your own purposes if other people have you constantly occupied and it gets very stressful. If it is hard to say no,just decline all of it for a period of time and when ready to volunteer time set a limit and pick and choose. With self employed and business owners, you are not making a living if you are away from your business or a home maker is not achieving the profit side of being a stay at home such as cooking,cleaning,sewing,planning/running household. If you need the employment for economic gain and or are dissatisfied with being at home all of the same applies as to the volunteer routine. No one can do everything they would like to do. There has to be balance time wise. Also until you find something that you like, consider selling some sewing skills and actually charge a sufficient price for them like so much for a hem, adjusting men's pants waistlines that is easy as they have a back seam that is meant to be let in/out or some simple custom baby sets,personalized totes if one machine embroiders making sure they are priced so that you are making real money and not running a sweat shop. To me the hemming and embroidering purchased blanks is the easiest money for a SAHM. I did some of this as a business for extra income when the youngest was in vet school and we were rearranging the family business due to a death and there was a lot of money going out. I also worked for a person who catered and did large events now and then. I didn't have any problem with the volunteer routine as I no longer had any time. I don't do any of these side businesses any more but it woke me up to how much time I was giving away and why I was stressed trying to work in the family business and constantly stopping to go do unpaid community work. The side work and the real sewing business with the tax forms during the period I did these things got me off the unpaid schedule I was rapidly falling into. People respect a sewing as a business with set prices not someone selling something for a couple of dollars with no compensation for time and they will pay if you have the prices up front. You may not stay as busy but you will be paid for your time. Now I am really careful to say a lot of no as we are self employed again in our own business and any volunteer stuff is strictly random and my choice- not what someone else expects regularly. You might as I did find that a job even part time for a little while will get you off the phone lists so you can make some extra money and realize the $$$ value of the time people are extorting from you. Newly retired people fall fast into the trap of not having time of their own if they get out there and work for free all day,take care of grands at the drop of a hat and get stressed as well. It is better to really look at the day as a schedule and find a balance that doesn't have one 'stagnating" doing others objectives and none of your own (been there,done that). It is hard to say no but a lot easier than doing all the requests. If the extra money would be helpful then you are giving that up as well by all the volunteer activity.

PattiAnnJ


Ohio USA
Member since 12/3/06
Posts: 9028
Skill: Advanced

2 members like this.




Date: 4/25/12 9:54 AM

If money is not your need to go back to work, take a class or join a sewing/quilting guild.

You have a child who expects you to be there and if you have a job, a boss who will expect you to be there.

Try a change of pace for a day or so to see if that helps.

I meant to add - you need more interface with adults. Elementary, middle, high school and even college age is not that brain stimulating. You would be communicating below your IQ.

-- Edited on

4/26/12 5:08 PM

--

------
"Improvise, adapt and overcome." - Clint Eastwood/Heartbreak Ridge

"Isnít it a shame in todayís world you canít tell the truth. If you tell the truth youíre abrasive. If you lie youíre charming." - Bob Huggins/College Basketball Coach
Printable Version
* Advertising and soliciting is strictly prohibited on PatternReview.com. If you find a post which is not in agreement with our Terms and Conditions, please click on the Report Post button to report it.
Online Class
Fit the Tee to a T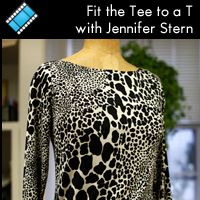 Online Class
Serging Ahead with your 5 Thread Serger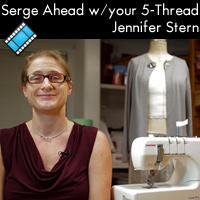 Vogue Patterns 8884 OOP

by: mdetka
Review
New Look 6208

by: Riversmock...
Review
Paradiso Designs Tiny Handbag Pattern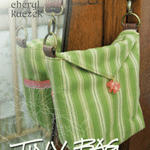 Pattern Details
Sew Chic Contance Dress Pattern (ln8404)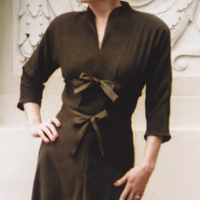 Pattern Details