lvs2sew

Intermediate
IA USA
Member since 4/25/09
Posts: 81



Date: 4/25/12 2:07 AM

Hello, This may sound crazy but, I'm still having troubles understand the suggested fabric even though I've been sewing for 4+ yrs you would think I understand it by now , Do you have to use what is suggested? Or can you just find something else you like? The reason I'm wondering is due to my local Walmart don't have allot of the fabrics on some of the patterns they suggest mine mostly carries the cottons and some silks , and jersey this pattern that I'm wondering about is asking for SUGGESTED FABRICS: Lt.Wt. Fabrics: Broadcloth, Denim, Chambray and Linen. I just still am having troubles understand the different types of fabric out there all i know is the cotton and the knit jersey due to using it so much. If anyone could help that be great the pattern I am wondering about doesn't have a review that i could find its pattern M6534.

------
"My husband said if I buy any more (fabric) he would leave me - I'll miss him."

Mel.J


Intermediate
VIC
Member since 7/30/02
Posts: 2741





Date: 4/25/12 6:45 AM

Broadcloth is usually a simple weave cotton, you may be able to find that. Chambray is a light weight denim-coloured fabric, also usually cotton. Broadcloth and chambray are the sort of things you'd see shirts made out of. Denim you probably know, is what they make jeans out of. Any material that feels similar to that would be ok, maybe look for something labelled cotton twill.
Linen, I can't explain very well, it's a loose weave & will be labelled as linen. You can get linen blended with other fibres and they'd be fine too.

I think this is your pattern?


Do you have access to any fabric shops apart from Walmart?
-- Edited on 4/25/12 6:48 AM --

------
Mel (Melbourne, Australia)

stirwatersblue


Intermediate
KS USA
Member since 12/13/08
Posts: 3217

2 members like this.




Date: 4/25/12 7:26 AM

One of the best and easiest ways to get to know fabrics is by looking at and feeling the clothes in your own closet. Think about what you're making, find something similar in your closet, and then buy fabric that feels and drapes the same way.

Also, start subscribing to clothing catalogues (Chadwick's, J.Jill, and Land's End are good ones for a wide range of styles and items). Catalogue copy will describe the fabric used in each item, so you can become familiar with what different fabrics are called, what garments they're appropriate for, and how they look/drape when made up.



------
~Gem in the prairie

lvs2sew

Intermediate
IA USA
Member since 4/25/09
Posts: 81





Date: 4/25/12 2:29 PM

Yes Mel that is my pattern and Thank You for the lesson:O

------
"My husband said if I buy any more (fabric) he would leave me - I'll miss him."

lvs2sew

Intermediate
IA USA
Member since 4/25/09
Posts: 81





In reply to stirwatersblue <<



Date: 4/25/12 2:31 PM

Wow stirwaterblue i never thought to do that with the catalogue's I've been racking my little brain trying to figure out how i can teach my self better about fabric, This is an awesome way to learn thanks very much for this tip I will have to go on a hunt for clothing catalogue's and see what i can find :)

------
"My husband said if I buy any more (fabric) he would leave me - I'll miss him."

sewinggeek


Intermediate
Member since 1/26/06
Posts: 517



Date: 4/25/12 5:08 PM

One other thing you can do is to get swatches of fabric that you are curious about. Some places will just send swatches and others you have to pay for them, but either way it is a good way to start building that library of fabric information in your brain.

PattiH

------
PattiH
Brother 4000D, Brother 650Q, Brother 1034D, Kenmore 117-841, Kenmore 158-1040, Franklin, Singers: 15-91, 66, 221

lvs2sew

Intermediate
IA USA
Member since 4/25/09
Posts: 81





In reply to sewinggeek <<



Date: 4/25/12 6:28 PM

Oh another good idea I never thought of do I just contact a fabric store? To see about swatches?

------
"My husband said if I buy any more (fabric) he would leave me - I'll miss him."

MagnoliaHoney

Beginner
KS USA
Member since 8/16/10
Posts: 245



Date: 4/26/12 2:10 AM

I see you live in Iowa. Here in Kansas, we have a shop that gives really good classes on fabrics. Even sends you home with a page with little swatches that are labeled so you know what you are looking/feeling at.

I would probably try to find some where besides Walmart to buy fabrics.

Other then that, there is a reason the suggested fabrics-weight, hang, and the way it's constructed, a pull on shirt with out buttons/zippers etc will need to have a stretchy fabric, if you tried to make it with a woven cotton you more then likely would not be able to get it on. On the other hand, if you made a pattern that suggested woven cotton with a knit, it may be way too large, as the knit stretches so much. And so on.

All that being said, I still need help too! hahaha I still have a hard time even with the suggestions matching the right fabric to the pattern to my body! IE how it will look on me!

Another suggestion I have, and I've been taking note of. Is going to upscale stores-cold water creek, dillard's, etc, and trying on all the clothes I like. (this takes a lot of time) taking note of the styles that look good on me, AND the fabriccs, the clingy fabrics look horrid on me. However, by just looking at the fabrics on the bolt I wouldn't know what was clingy and what isn't. By going to the store and trying them on, I have figured out a lot! I am still learning and still in the process but little by little I think I am finally "getting" it.

------
Visit my blog http://www.heathersprairie.blogspot.com

Dianne22


Advanced Beginner
TX USA
Member since 3/18/11
Posts: 88





Date: 4/26/12 10:49 AM

All these suggestions are great. Another one you might consider as an additional resource is Claire Shaeffer's "Fabric Sewing Guide." It's priced at about $40, but I bought mine at Half Priced Books for only $7.48. It shows pictures of garments sewn with a particular fabric, describes the fabric, tells how to handle it, what needles to use, gives stitching tips, how to press it, and soooo much more. I highly recommend it along with the other's suggestions about getting fabric swatches, and checking RTW and catalogs. Get yourself a 3-ring binder and tape a swatch of fabric to a page and write down all the notes about that swatch, i.e. fabric content such as 50% cotton and 50% polyester, or 100% linen, or 97% cotton and 3% spandex; washing instructions; width, etc. You'll wind up with a wealth of information in no time.
BTW, don't overlook buying a little fabric on-line. There are some really great resources out there at many price levels (check PR's Sewing Websites and Sewing Stores review galleries). You don't have to rely on the limited supply of Walmart. Best of luck to you.

Janie Viers


Advanced
OH USA
Member since 4/8/02
Posts: 2426



Date: 4/27/12 9:04 AM

You are not the only one with this problem. Many people will see the suggested fabrics and decide that their fabric is not specifically listed so they cannot use it for the pattern. I thing hand and weight are as important as the name of the fabric. I have had knits with almost no give that I use in place of denim, and I have had broadcloth that was so thin that it was more like voile! The is nothign wrong with askeing a fellow sewer in line at the cutting tables their opinion and why they think that way. I have used very lightweight prewashed white denim in place of heavy peau de soie satin for semi-formal wedding dress. It looked fab.

After you have sewn some patterns you can know what liberties you can take with the suggest fabric list. After you have sewn a dozen garments off a tried and true most made pattern it will let you know when a fabric is right. It is funny that sometimes familiarity does breed contempt for the suggsted fabric... all in all this is absolutely no answer to your question and I apologize for nattering on.

------
JanieV
Printable Version
* Advertising and soliciting is strictly prohibited on PatternReview.com. If you find a post which is not in agreement with our Terms and Conditions, please click on the Report Post button to report it.
Blueprints to Blue Jeans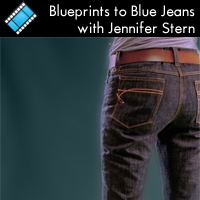 Beginners Guide to Dyeing Fabrics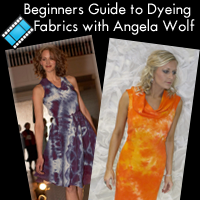 Sewing Workshop Sandra Betzina Coat

by: Lisa Laree
Review
Lorraine Torrence Designs 1920

by: tinflutter...
Review
SewBaby Twirl Top and Pants Pattern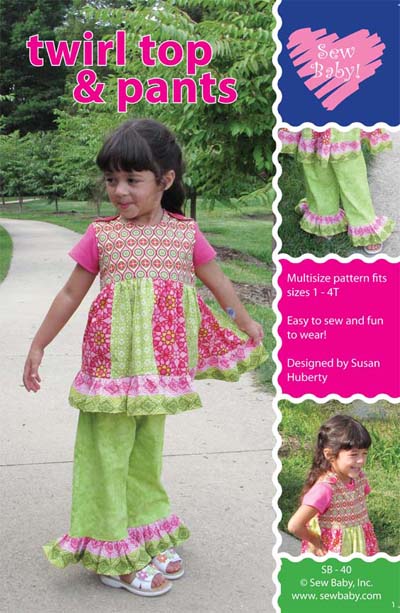 Buy Now
You Sew Girl Beauty Case Pattern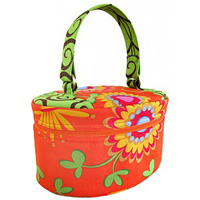 Buy Now