E.A.Y.

Advanced
Member since 1/25/12
Posts: 16



Date: 4/25/12 4:57 PM

I'm working on the Jalie stretch jeans pattern. I have a WIP
pattern review with lots of pictures of marks 1 and 2.

Now, I'm quite happy with the fit of Mark 2 (the red ones). However, in shortening the side seams (by pinching out a big tapered area of fabric on the front pattern piece, I've totally distorted the grain of the front pattern piece.

The green line is the original grain and the red is the wedge I took out of the pattern. Notice what at angle the fly is on!


So, for the red pair (made with the altered pattern) I chose to maintain the straight of the grain on the leg, and having a not-straight-on-grain fly, reasoning that the largest swath of fabric ought to win the grain-contest. It seems to work OK, but am I leaving myself open for problems?

------
Cotton: 37 yards
Linen: 6 yards
Silk: 16 yards
Wool: 15 yards
Lining: 14 yards

Fictionfan


Advanced
Vermont USA
Member since 5/19/06
Posts: 1275



Date: 4/25/12 11:40 PM

Well, if you look at various jeans in stores, you will see that the fly is sometimes on the straight grain and sometimes at an angle to the straight grain. What happens when the fly is not on the straight grain is that it gives more shaping or contouring in that area, which is exactly what you need, IMO, for your curvy shape. In effect, you are using the fly seam area as a dart, rotating that wedge that you've closed to the center front seam. If you wanted to keep the fly on grain, you would redraw the side seam to curve toward the front, rotating the dart to the side seam vertically instead of horziontally as you have it. Or you could redraw the waistline seam to curve downward toward the shortened side seam, which would rotate the dart/wedge you've removed from the crotch level to the waistline. This would mean a lower side seam and pocket, and an angled, shaped waistline instead of the fairly straight waistline seam you have there. You'd need a more accentuated contouring of the waistband, I think, but that would be more comfortable than a straighter one.

Hopefully, this makes sense to you. If not, somewhere on the worldwideweb I saw a tutorial about dart rotation. In the Hot Patterns YouTube video on the new boyfriend jean pattern, Trudy discusses the straight side seam and angled inseams and how that changes the fit from the usual straight inseams and angled or curved side seams. I didn't quite follow it, but it might be something to look at for you to understand some of what happens when you move seams on or off grain lines.

Your jeans are looking great, BTW, so I wouldn't obsess too much about it unless the jeans feel strange or uncomfortable after you've worn them a while. If the side seams are pulling or twisting, if the center front really sags or bags out when you wear them, or some other unappealing feature arises, you can work it out then. If they feel great, you've got your TNT for jeans. Denim/twill does stretch, it never stays on grain when you cut it, and I'm not sure how well it stays on grain anyway when it is worn for a while, even if you get it as straight as you can when you layout the fabric for cutting.

HTH

------
Fictionfan

MNBarb


Intermediate
Minnesota USA
Member since 4/3/10
Posts: 1540



Date: 4/26/12 7:57 AM

It looks to me like you're on your way to a great fitting pair of stretch jeans. If you're worried about the CF stretching on the bias just reinforce it with fusible interfacing as is called for in the pattern.

I am noticing on the photo of the red pair (maybe photo only, not in real life) that the center back is pulling down a little. I know this isn't the fabric you will use for the final garment but if you haven't done some moving about and sitting you might want to. There is a danger in getting a perfect pair of "standing pants", you may not be able to do anything else while wearing them! I'm speaking from experience.

------
Barb
"I have not failed. I've just found 10,000 ways that won't work." Thomas Edison
"I not only use all the brains I have, but all I can borrow." Woodrow Wilson

Miss Fairchild


Advanced
USA
Member since 8/24/02
Posts: 7936





Date: 4/26/12 8:38 AM

I'm in agreement with FictionFan, and I'd like to add that the grainline, to me, has always been important for the legs hanging straight. I'm sure you've had pants where one or both the inner leg seams will come forward when you walk; this is due to the grainline being off. Remember pantyhose doing this?

The tilt caused by your wedge also tilts the front, which I know from my Bonfit days, is called "waistline stance", and is normal.



------
"Play the cards you are dealt, but choose who is sitting at the table"..AARP magazine

SEE MY ETSY SHOP HERE: http://www.etsy.com/shop/AuntMaymesAttic
My blog: http://auntmaymesattic.wordpress.com/

E.A.Y.

Advanced
Member since 1/25/12
Posts: 16





1 member likes this.



Date: 4/26/12 9:08 AM

Quote: MNBarb
I am noticing on the photo of the red pair (maybe photo only, not in real life) that the center back is pulling down a little. I know this isn't the fabric you will use for the final garment but if you haven't done some moving about and sitting you might want to. There is a danger in getting a perfect pair of "standing pants", you may not be able to do anything else while wearing them! I'm speaking from experience.


Thanks, everyone for confirming my instinct abt grainlines.

I will keep the "standing pants" problem in mind! love that phrase "standing pants"

Kind of like my perpetual conversation with my husband:
Me: "Well, they fit but they aren't comfortable."
Him: "Then they don't fit."
Me: "Ok, they ZIP but they aren't comfortable"
Him: "Then they don't fit."
Me: "Hey, if I don't have to lie on the bed to zip then up than they fit."
Him: "Huh?"


------
Cotton: 37 yards
Linen: 6 yards
Silk: 16 yards
Wool: 15 yards
Lining: 14 yards

Fictionfan


Advanced
Vermont USA
Member since 5/19/06
Posts: 1275





Date: 4/26/12 12:54 PM

------
Fictionfan

schmammy


Texas USA
Member since 12/5/06
Posts: 1024





Date: 4/30/12 10:21 AM

After scouring PR and other sites, I finally discovered your photo and felt so much relief! Relief that I am not alone in needing that wedge to get a decent fit. Here is what my current alteration looks like: (see below)

Notice the huge amount I had to add to the back crotch depth! When I first attempted to tissue-fit this pattern (any pants pattern), the difference between where the pattern waist and my own waist occur is huge...like between 3 and 5 inches! I've done deeper scooping and it doesn't help bring the center back up to my proper waist. This is the only modification that effectively addresses the problem. Well, at least from the ones I've tried so far. I am VERY open to other suggestions for addressing this problem.

------
Indecision may or may not be my problem. -Jimmy Buffet

http://chihuahuaonmylap.blogspot.com/

woggy

Advanced Beginner
Pennsylvania USA
Member since 8/15/04
Posts: 710





Date: 4/30/12 12:44 PM

schammy,

The alteration you did is correct for your body if you are long between your waist and the end of your fanny.

You have added inches to your crotch depth or rise as it is also called.

Many pants patterns today, especially Burda's are short in the rise for my figure. I am very long in the back between my waist and the end of my flat fanny. My crotch depth is at least 11 3/4 inches. Many of the Burda patterns are drafted to sit below the waist. These styles do not fit me at all.

I have noticed other pattern companies starting to sell pants patterns that are longer in the torso part of the pants.

It has taken a long time for these companies to start drafting patterns that don't sit 2-3 inches below someone's waist. I am so tired of the Brittany Spears "show as much as my stomach when I wear pants" look - but then again I am a senior citizen and do not have Brittany's shape - never did for that matter.

Good luck with your pants journey.

Woggy

schmammy


Texas USA
Member since 12/5/06
Posts: 1024



Date: 4/30/12 10:37 PM

Woggy, thank you so much for the support! Did you also notice the wedge I had to pin on the pattern? That's the part I sort of winged it on. I finished the pants today and feel ok about the fit in the torso. There's always some fine tuning, of course. But I'm ready to cut and stitch another pair, so I'd say I'm pretty darned close!
-- Edited on 4/30/12 10:38 PM --

------
Indecision may or may not be my problem. -Jimmy Buffet

http://chihuahuaonmylap.blogspot.com/

Nancy K


Advanced
New York USA
Member since 12/28/04
Posts: 8502





1 member likes this.



Date: 5/1/12 10:04 AM

Most jeans have a slanted cf since they don't have darts and in effect this is a dart. If this works for your figure that's fine. Grain matters in the length, ie the legs. You do have to make sure that the grain is balanced when you do a lot of altering, but that only happens in the leg. You fold the leg in half and make sure that the hem matches and that the inseam and outseam match as far up as they will. The fold line is the new grainline. The grain must be perpendicular to the floor, but it really only makes a lot of difference in pants or long garments.

-- Edited on 5/1/12 10:08 AM --

------
www.nancyksews.blogspot.com
Printable Version
* Advertising and soliciting is strictly prohibited on PatternReview.com. If you find a post which is not in agreement with our Terms and Conditions, please click on the Report Post button to report it.
Online Class
Clone Your Favorite Garment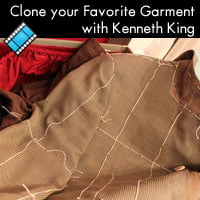 Online Class
Fun with Fitting - SKIRTS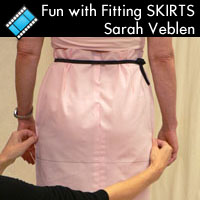 Violette Field Threads Stella

by: busymomof3
Review
Sewing Workshop Soho Coat Pattern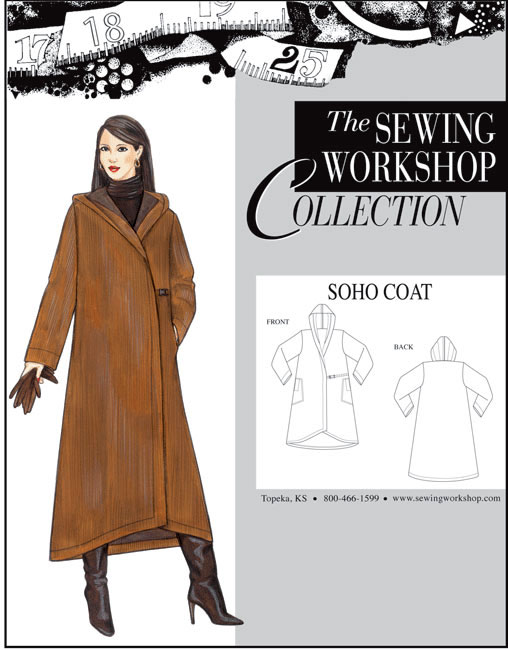 Pattern Details
Sewing Workshop Village Bag Pattern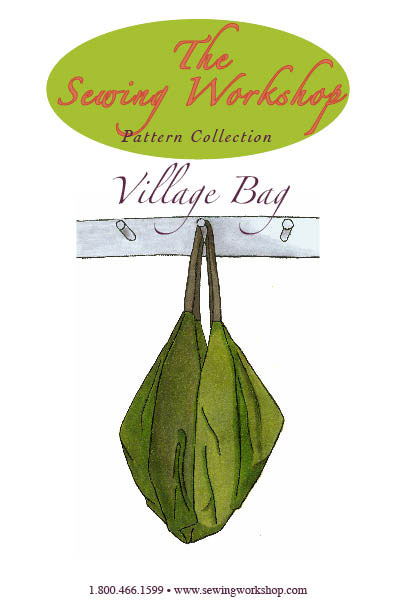 Pattern Details
Marfy 2264

by: yorkshire ...
Review