CSY


California USA
Member since 2/1/03
Posts: 301
Skill: Advanced



Date: 4/26/12 7:54 PM

I keep various types of elastic on hand. My clear elastic died in the storage box. I think it was purchased less than 5 years ago. When I pulled it-it just fell apart. Dead! Got me to thinking. Which elastic will last the longest in a garment (not a swimsuit)? What is the expected shelf life of elastic? If the clear elastic is dead after a few short years on the shelf than I want to be sure I buy it from a retailer with a good product turnover. I am thinking of using the elastic to stitch into a knit top neckline to stabilze it and keep it from drooping. Now I'm not so sure its a good idea. Please share your experiences with different types of elastic.



Member since 12/31/69



Date: 4/26/12 8:46 PM

I have some with real rubber that doesn't hold up well, but some I've got from the 70s/80s is fine.

Several rolls are 5 years old or better and they are like brand new. None clear elastic, however, since I don't like it in RTW.

LauraTS


California USA
Member since 7/10/06
Posts: 2258
Skill: Advanced Beginner



Date: 4/26/12 10:34 PM

I've had elastic in several garments give up the ghost, but I'm assuming that was worsened by drying in the dryer. I've not yet had unused elastic in my sewing area go bad, but I'm sure it all does eventually, based on formulation and the heat it's exposed to, etc.

------
I've moved! Visit my new sewing blog at http://chiralcraft.wordpress.com

Do you sew from KnipMode? Join us at http://groups.yahoo.com/group/knipmode_english/


wendyrb

California USA
Member since 12/30/11
Posts: 4182
Skill: Advanced
Body Type:


1 member likes this.




Date: 4/27/12 2:07 AM

Great question. I was just cleaning out some old notions and found clear elastic that was not clear by any stretch of the imagination. Pun intended. Then there was the day I just finished teaching rambunctious 6th Graders when I felt something funny on my ankles. I was pretty stunned to look down and spy my 1/2 slip. Thank the Lord, 12-year olds are entirely self absorbed- I made it out of the classroom undetected! The beloved slip was one I had shortened at the waist about 12 years ago. It's seen many a wash day. Given my line of work, it would be good to know how iffy my elastic is.

------
Always keep your words soft and sweet, just in case you have to eat them. Andy Rooney

Pfonzie- my honey Pfaff Creative Performance and Pfaff Passport, Bernina 930 and 830, Evolution and Enlighten sergers

wendyrb

California USA
Member since 12/30/11
Posts: 4182
Skill: Advanced
Body Type:




Date: 4/27/12 2:07 AM

Sorry double post.

-- Edited on

4/27/12 2:08 AM

--

------
Always keep your words soft and sweet, just in case you have to eat them. Andy Rooney

Pfonzie- my honey Pfaff Creative Performance and Pfaff Passport, Bernina 930 and 830, Evolution and Enlighten sergers

beauturbo

California USA
Member since 5/2/09
Posts: 5551
Skill: Advanced



In reply to CSY

Date: 4/27/12 2:52 AM

Not as long as you would hope sometimes, even if it is stored dry and in a dark place with no dust on it. I have not had any elastic, just bought as plain loose elastic, actually go bad at all in maybe 10 years or so that I have noticed, but once in the 1980's when I participated in Jazzercise dance/exercise classes and had tons of rather expensive leotards and leggings and such, then packed them all away for maybe 15 years or so, when I later took them out to re-wear some of them, truely the elastics in a lot, just had not fared all that well. The actual fabrics were mostly still just fine though. And they did have good and expensive elastic in them, just since most of them were the good Danskin or Capizo brands and such.

Swimsuit elastic is traditonal made of real cotton and real rubber, and I think lasts a long time, but probably would not if exposed to a lot of heat all the time, and maybe sitting in a sunny place on a shelf or something. Just because most things of rubber, are for sure, kind of light sensitive most times.

I do know elastic sewing thread, like to put in your bobbin for shirring, does not last well forever either just on a spool, or made up and sewn into something sometimes.

I think most people just toss and throw away their underware with elastic in it, often way before the elastic goes bad, but if you used it enough or just had it long enough over a long period of years, even not worn at all sometimes, some of that is going fail and loose it's stretch eventually too.

I sort of pretend all my elastic has a shelf life (not sure how long for each, each time though) and I do have a lot purchased of all sorts of kinds over the years. Amd all sitting in my sewing stash. But I would assume it has a limited shelf life, of some sort for each kind, just sort of like thread even does most times. So if you are stock piling it, and want it to last as long as humanly possible, probably best to keep it away from huge temp changes and dust off it and maybe in a enclosed darker kind of drawer or a box where not exposed to the most direct sunlight I would think.

I know I have had some of that clear see through/sew through kind of elastic for over 5 years though, maybe even 10, and mine seems still fine and not falling apart or anything. It could have really even been just a bad batch from the get go maybe even on yours. As how would you ever know, if you never even took it out of the package and handled it all that time even?

If really concerned over it, I think I would just buy smaller quantities of it, and use it up then buy more. And from some place that has kind of a lot of business and rapid turnover even. But at the same time, maybe that means not buying elastic on huge commercial rolls on ebay or such, or from places going out of business tht have been closed up for long periods of time or even found at thrift stores or garage sales and such without getting to touch or stretch it all first, or just from companies that may have gone out of business, or had it in some storage locker or something like that too.

I think it would be neat if they at least had some date on it, for each kind, even a very general one each time, that said something like best used before xx/xx/xx, but probably depends on how stored each time, and also I can see how they just would not want to do that too!

CSY


California USA
Member since 2/1/03
Posts: 301
Skill: Advanced



In reply to beauturbo

Date: 4/27/12 11:36 AM

I think dating it when purchased is a good idea. Don't think I will be buying it in advance of a project anymore. Also makes me think of the wisdom of stitching it into a seam vs. making a casing where it can be removed when it gives up the stretch and recovery.

I am puzzled about the clear elastic though. Thought it would last a whole lot longer as it has been recommended for swim suits. But then again who knows how long it sat on the merchant's shelf before I bought it.

Barbara3


USA
Member since 5/22/06
Posts: 1590
Skill: Intermediate



Date: 4/27/12 11:37 AM

I always store my sewing elastic in ziplock bags. I recall reading somewhere (reliable) a few years back that airtight storage keeps elastic from deteriorating. I always have several kinds on hand, some of which are currently about 5 years old, and have not had problems with any of them - at least not yet.

Pinkytoo


Nevada USA
Member since 6/23/06
Posts: 3047
Skill: Advanced



In reply to CSY

Date: 4/27/12 12:03 PM

It really depends on where you live. Low humidity, hot climates are murder on elastic (and rubber bands, and pencil erasers...)

------
Sewing is my therapy!

beauturbo

California USA
Member since 5/2/09
Posts: 5551
Skill: Advanced



In reply to CSY

Date: 4/27/12 12:48 PM

The swim suit kind of cotton and rubber is more impervious to effects of chemicals in pools and such I think, (but then I once used non swim suit kind of elastic in a swim suit, wore it in a natural sulfur hot springs and did have to hold that swim suit up after about a hour or so, way back when I first started sewing) but actually I don't think most people even keep and wear a swim suit that long or for decades either. Because if it's made of nylon/lycra it most times get's more pool sidewalk abraision on it, or goes out of style, or maybe the person changes body shape, before they even have a chance to wear it just for years and years.

Notice all the heirloom kind of clothes people collect from about any decade, most times just don't have much elastic in them at all. I do think there is a reason for that! And if you have leather shoes/boots with any kind of elastic gusset in them, that is usually the first place to go even. If I was making something out of all natural fibers, that I wanted my family to keep and have for decades and decades, and pass down through a bunch of kids, then I think I would put any elastic, more in a casing than sewn down the middle of the elastic. A lot more easy to replace that way or just more easy to make shorter if getting stretched out, by just pulling it up tighter then!

I do like some of the newer uses for that clear elastic though. People/factories are doing neat things with it, by roll hemming it into their serger finishes and stuff. But even when I see that in the stores, it's mostly on some thinner polyester knit or such, and I don't think the idea there is to just keep and wear those clothes for decades either, so probably does not matter all that much. I will put it into the necklines of knit tops and in particular knit wrap blouses and such, and so far those have not failed for me, but none of them are decades old either.

The plain rubberish elastic (with no cloth covering at all) I see in swimwear though, is not that clear thin stuff sold in fabric stores, it's more solid, most times white and more cut sheet rubber or such. I don't know where you get that, I've never really wanted it enough, to get any?
Printable Version
* Advertising and soliciting is strictly prohibited on PatternReview.com. If you find a post which is not in agreement with our Terms and Conditions, please click on the Report Post button to report it.
Online Class
Beginners Guide to Sewing Jackets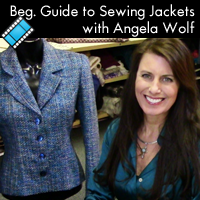 Online Class
Understanding Knit Fabrics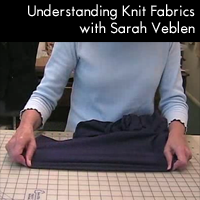 Jalie 2449

by: cleverkitt...
Review
Simplicity 4032

by: Laurasuper...
Review
Petite Plus 303 Pattern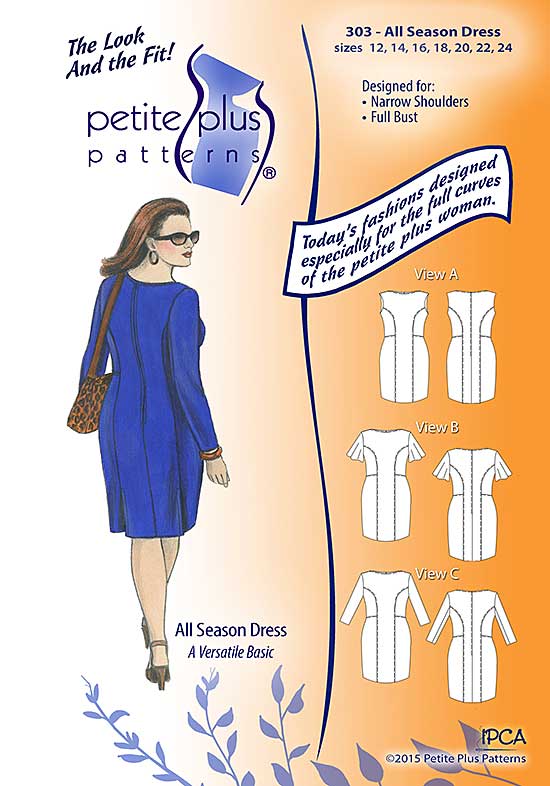 Pattern Details
Victoria Jones Collection Pattern 101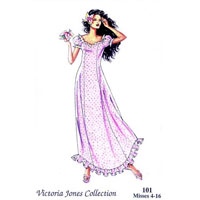 Pattern Details