Warbler


Advanced
VT USA
Member since 4/15/07
Posts: 3535



Date: 4/28/12 8:14 PM

Should it include patterns I am collecting fabric to make? I have 3 tops that are waiting to be quilted. One of them is giving me problems because it is not square. It is off by 5/8 inches on two adjacent sides. I have not figured out where I need to make adjustments and it is driving me mad. I wanted to enter this quilt into a show this year but I am afraid I will not get it done on time. The other two are for family.

The patterns I am waiting to start are Fresh Picked Posies by Piece O' Cake Designs. I am going to use a turn under fusible machine applique technique.

The other pattern is Bali Wedding Star bed runner by Judy Niemeyer. I am planning to start with the bed runner and if I like that pattern I can get additional paper templates to make the quilt



And this Cherry House pattern using Kona Solids... yum!

-- Edited on 4/28/12 8:46 PM --

------
Janome MC6600 Bernina 240 Juki MO735 Singer 201-2 Singer 221-1

SewPerfect


Advanced
NC
Member since 1/6/04
Posts: 190

1 member likes this.




Date: 4/28/12 11:39 PM

What beautiful projects you have planned, I like them all. Piece O' Cake has always had the loveliest designs, they came to my guild a few years ago.

------
Happy Seams to you....until we meet again!
In the corral: Pfaff Quilt Expression 4.2, Bernina 930 Record, Brother PQ1500S, Singer 15-91, Singer 221 Featherweight, Pfaff serger

Warbler


Advanced
VT USA
Member since 4/15/07
Posts: 3535





In reply to SewPerfect <<



Date: 4/28/12 11:50 PM

I'd love to hand applique but my hands shake to much. I am planning to give this one to one of my sister's children. The fabric is along the lines of this fabric by Kate Spain, not the same line but similar color palette.



------
Janome MC6600 Bernina 240 Juki MO735 Singer 201-2 Singer 221-1

Sonoma33


Intermediate
CA USA
Member since 5/10/09
Posts: 1851





Date: 4/29/12 3:31 AM

I don't dare include the quilts not yet started even if I have the fabric. Except maybe one or two of those. Otherwise the list might seem overwhelming. I already had to post a list so that I wouldn't start anything else until I got some of these done.

Currently in progress--piecing only:

1. A large twin sized disappearing 9 patch for my youngest daughter--The top will be finished tomorrow--I'm down to the last border and sewing the back together.



2. 12 blocks done, 12 to go on a quick and easy log cabin. If I just had a weekend free, I could get this done.



3. Small quilt for 5yo. Ready to bind.

4. Cheater easy baby blanket--I used a cute panel and just added borders. Back from the long arm quilter ready to bind.

5. Potential Quilt--I took a class to learn storm at sea. I liked the class/pattern and fabric enough I might actually make this one sometime soon:



6. Rag Quilt. It is on haitus--I just am not motivated to work on it. But I have all the fabric, everything cut, and I just need to sew it. I'm not sure what my issue is--I need to make myself finish it--but it's so boring!

7. Flower Box Medley - Ongoing (past) BOM. I didn't get it done during it's normal BOM time, so I've decided to make one block a month now and get it finished. I LOVE this pattern! I had surgery in the midst of the BOM, and I thought I'd get so much done while I was home recovering, and instead I got nuthin accomplished. At All.

8. Flower Power quilt pattern from the Thoroughly Modern Dresden Book--Current BOM at my local quilt shop. I loved this pattern before I knew about it being the BOM, so I was excited. So far I'm staying with the group this time round. Super fun pattern.

9. Sylvias Wedding Sampler - My friend M. is graciously and extremely generously helping me through the blocks of this quit. She is teaching me techniques and showing me how to go about the blocks. I am so excited about this, as I've so much to learn in quilting. I have completed 4 blocks so far, and I'm working on the 5th. I just learned how to do flying geese! And before that, I did a y seam.

10. Ok fine, I'm going to mention one more--but it won't be started for a while until I get my list a bit smaller. BUT, I purchased all of the fabric to do a Bold and Beautiful quilt that is on the Bernina site. It will utilize the cutwork tool, and applique--and perhaps even embroidery. I choose the Breezy colorway in blues, grays and browns, and this quilt will be for ME! I am super excited about it, as it will really utilize the 830 features--plus I really love the quilt.

------
Berninas 830LE ♥ Artista 630PQE ♥ 930 Record ♥ Juki TL2010Q ♥ Pfaffs Creative Performance ♥ Passport 2.0 ♥ Singers 221 ♥ 301 ♥ 500a ♥ Kenmore 1040 ♥ Elna 'Grasshopper' ♥ Tacsew T500 ♥ Babylock Evolution

Sonoma33


Intermediate
CA USA
Member since 5/10/09
Posts: 1851





Date: 4/29/12 3:37 AM

You sister has lucky children! Whomever gets this quilt might think they are the favorite though! I know I'd feel lucky to get this quilt.

------
Berninas 830LE ♥ Artista 630PQE ♥ 930 Record ♥ Juki TL2010Q ♥ Pfaffs Creative Performance ♥ Passport 2.0 ♥ Singers 221 ♥ 301 ♥ 500a ♥ Kenmore 1040 ♥ Elna 'Grasshopper' ♥ Tacsew T500 ♥ Babylock Evolution

Cat n Bull


NC USA
Member since 2/17/06
Posts: 4454



Date: 4/29/12 12:15 PM

LOVE your projects!

I can only work on one at a time, I can not mentally shift between projects like that. So right now, only one in the works.

My oldest daughter's sorority colors are double blue and gold, so I am making her a modified Sexy Hexy Love by Amy Butler, using Moda's Summer Breeze 11 fabrics. So far it is going OK, I cut the sashing pieces on the lengthwise grain, and the pieces they are attached to are cut on the crosswise grain, so that is turning out to be a challenge to get them to lay flat.

http://www.amybutlerdesign.com/pdfs/Sexy_Hexy_Love_Quilt.pdf

http://www.fatquartershop.com/Summer-Breeze-II-Moda-Fabrics-Sentimental-Studios.asp

here is the first block, without the center hexy:


I am going to take more pics later. Today is my 23rd wedding anniversary and my grandson's 2nd birthday party, so I have lots to do!

------
Cathryn

Learn To Sew


Advanced Beginner
Member since 4/12/05
Posts: 11372



Date: 4/29/12 5:08 PM

Ummm, none. Well, I am working on making a cotton belt for a bathrobe. That is not quilting. It is the only thing I am currently working on. My currentl belt has always been too short and it drives me nuts. I am trying to figure out if I want to interface the belt for a little firmness or not. It is, after all, just a medium purple batik belt for my bathrobe. To be able to tie the bow, I need more length. So, I make a new one.

Warbler,
Where did you measure the quilt? Why don't you try measuring in 5 places side to side and top to bottom and not the 3 places we usually measure in. I am thinking is this would tell you more of where it is out of square, as you would be measuring more often.

Sonoma,
Pretty. Love the blue log cabin prints. I just can't see the disapering 9 patch. I do not See the pattern, is what i mean. I know, that is why it disappers...

Cat,
Happy Anniversary. Your Grandson is 2 already? Oh my goodness. How he has grown.



------
I really enjoy quilting. I love to play with fabrics, colors and pictures. I recently discovered how much fun applique can be. As I love making pictures, landscape quilting can be challenging, but seeing the picture come to life is so rewarding.
Bernina 630, my main machine
Pfaff 2036, my class machine
Babylock Molly
Bernina 1200DA serger
Unique Sewing Cabinet 450L

Maia B


Advanced Beginner
IL USA
Member since 10/27/10
Posts: 4612



Date: 4/29/12 5:11 PM

If I haven't started sewing, I consider it a planned project, not a work in progress. If I haven't touched it for a couple months, it's a UFO.

I have two queen-sized tops currently awaiting pressed and seamed backing before being sent out to be long-armed.

I have an easy Bento Box quilt top in progress.

I have an OLD sampler quilt that I lost interest in years ago, but I occasionally make a new block for it when I'm bored or need to try out a block. Rather than finish it up at crib-sized, I have just made peace with this approach. And why not? It'll be bed-sized eventually.

I have a few gorgeous hand-appliqué blocks in the same colors. Same idea as above. I make one occasionally and add it to the stack.

I have a shop-based BOM from ages ago. Not my colors at all, no passion for it. But I make a block for it occasionally, and when I run out of fabrics for it, I'll make the blocks I have into a top and give it to SOMEONE.

I have an orca quilt with 9 blocks made and I'm just creatively stuck on how to set them. This is one of only two UFOs that I feel guilty about not finishing, yet.

I have a paper-pieced Carol Doak center of a baby quilt top that just needs borders. But I need to draft them to get the look I want. I stopped working on it when the baby was a boy, and the top is very pink. God willing, I'll finish it one day for the mom, who is a BFF, and will totally understand, lol.

Now, I have fabric collections started for dozens of ideas, but those don't count until I start sewing. I have I Spy squares cut for a quilt for my younger son, but I'd rather make something else for him.

Oh, and my mom and I make a block or two for a Civil War Tribute quilt, when we can.

------
🌸 Plenty of machines, mostly Berninas 🌸

Cat n Bull


NC USA
Member since 2/17/06
Posts: 4454





Date: 4/29/12 5:42 PM

Quote: Warbler

Should it include patterns I am collecting fabric to make? I have 3 tops that are waiting to be quilted. One of them is giving me problems because it is not square. It is off by 5/8 inches on two adjacent sides. I have not figured out where I need to make adjustments and it is driving me mad. I wanted to enter this quilt into a show this year but I am afraid I will not get it done on time. The other two are for family.

The patterns I am waiting to start are Fresh Picked Posies by Piece O' Cake Designs. I am going to use a turn under fusible machine applique technique.

The other pattern is Bali Wedding Star bed runner by Judy Niemeyer. I am planning to start with the bed runner and if I like that pattern I can get additional paper templates to make the quilt

And this Cherry House pattern using Kona Solids... yum!

-- Edited on

4/28/12 8:46 PM

--


I REALLY love that bedrunner pattern!

I just saw a youtube tutorial on a double wedding ring that was really fascinating. I definitely added it to my list of I WILL make this.

I actually bought a pattern, to make for my youngest daughter. (My grandson's Mommy). She is not girly at all, and as soon as I saw it I KNEW it would be perfect for her.

Reflections My Way by Sharon Jasper

------
Cathryn

Miss Fairchild


Advanced
USA
Member since 8/24/02
Posts: 7936



Date: 4/29/12 7:56 PM

Ew boy. Are we talking about Quilting Works in Progress or Sewing Works in Progress, or both?

As to quilts, I make quilts for a hospice center at a hospital and I ALWAYS have something in the works. Whether it be a PIGS (Project in a Grocery Sack) or a true top, I'll have about four. Right now it's a continuous corner log cabin block, using 2" strips, a Nancy's Weathervane using Fun and Done Quilt as You Go, a yellow log cabin, QAYG, with 14" blocks, a Colonial star quilt, a string pieced purple heart quilt, and a red quilt with either a Turning Twenty or Disappearing Nine Patch block.

Now, as to sewing....Hmmm. Four shirts, a pair of pants, (just finished my fuschia cords, and they're sooo soft!), a blouse made out of a damask tablecloth, and a French silk princess seam blouse (ala Kwik Sew pattern)

Now don't get me started into thinking that if I've looked at a pattern and decided to make something from my stash that that's a WIP--then I'll be over the top!

------
"Play the cards you are dealt, but choose who is sitting at the table"..AARP magazine

SEE MY ETSY SHOP HERE: http://www.etsy.com/shop/AuntMaymesAttic
My blog: http://auntmaymesattic.wordpress.com/
Printable Version
* Advertising and soliciting is strictly prohibited on PatternReview.com. If you find a post which is not in agreement with our Terms and Conditions, please click on the Report Post button to report it.
Sew a Designer Unlined Jacket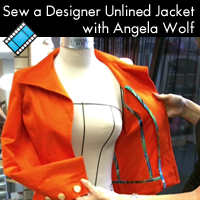 Expert Sewing Techniques for Jackets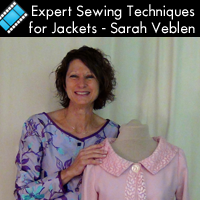 No Pattern Used Susan 1

by: Baja Susan...
Review
Sewing Workshop MixIt Shirt, Top & Tank Pattern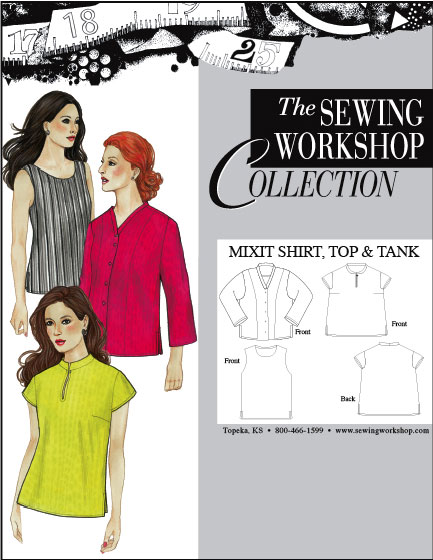 Buy Now
Ultrasuede Jacket DVD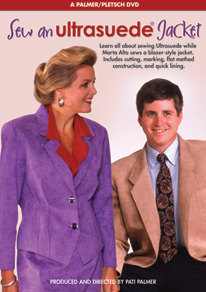 Buy Now
Burda 7318

by: Lori V
Review