Jane Misslich

Intermediate
WI USA
Member since 5/3/06
Posts: 7

1 member likes this.




Date: 5/3/12 4:43 PM

I spent last Sunday in my sewing room and two days later I woke up with my back muscles so sore I could hardly breathe!!

Evidently, I'm sitting at my machine in the wrong way. I've read all those articles on "ergonomic" sewing spaces and measured my elbows to the floor, etc. etc. but I find that this happens to me a lot.....after I sew for several hours, my back muscles hurt. Obviously, I need to change the height of my sewing table. Right now, it's a little higher than even with my bent elbows because I have trouble seeing to thread the needle (65-year-old eyes!). I get up quite frequently to iron or to measure something or to try something on so it's not like I'm sitting there frozen for hours.

Any suggestions? Thanks in advance for any advice......

Jane

heathergwo

Advanced Beginner
CA USA
Member since 11/14/11
Posts: 958

2 members like this.




Subject: sewing pains Date: 5/3/12 7:35 PM

Definitely lower your table, that could make a big difference.
Do you have a good chair? Maybe the one you're sitting on is really old and beat up? Make sure you have a decent chair. You could even try a stool as they really make you use your core muscles and after awhile you could build up those (abs & back).

Otherwise, I'd suggest using ibuprofen or something to help with the pain... you can take up to 800 mg as long as you don't have any major liver or kidney problems.

Good luck!

------
Brother Innovis 1250D
Babylock Enlighten
Singer Curvy 8763
Brother 1034D
Janome 385.19606
Brother 2340CV

Miss Fairchild


Advanced
USA
Member since 8/24/02
Posts: 7936





In reply to Jane Misslich <<

1 member likes this.



Date: 5/3/12 7:58 PM

I had your problems until I had a "well" made in my sewing desk that would put the machine flush on the top of the desk. It's possible that with your machine, it's high. My desk is 30" high, but the machine sits in it. The height of the machine bed is about 3" on most of my machines, and if my machine had to sit on top, I'd be having the same problems as you--again.

What I can suggest in the meantime are two things: Get a chair that raises and lowers and raise it to the highest setting. Raise your foot pedal by putting something under it, such as a book or a door stop. And second, learn to like a chiropractor....one that uses the Palmer method (drop table as opposed to sublaxations/adjustments)

------
"Play the cards you are dealt, but choose who is sitting at the table"..AARP magazine

SEE MY ETSY SHOP HERE: http://www.etsy.com/shop/AuntMaymesAttic
My blog: http://auntmaymesattic.wordpress.com/

a7yrstitch


Intermediate
TX USA
Member since 4/1/08
Posts: 5829





In reply to Jane Misslich <<

1 member likes this.



Date: 5/3/12 8:30 PM

A long handled serger needle threader along with a magnifying glass will help you to be able to lower your machine. Propping the front of your machine up with door stops or old time gum erasers might help you see into the machine to see your work without hunching over.

Try enhancing your lighting into the machine area.

Consider the height iof your cutting surface.

Use a timer and force yourself to switch up your activities.

And reevaluate your conditioning/stretching program.

For the short term, once you get past the initial period of your 'injury' the 3M Thermacare heat packs from the pharmacy are amazing. Even the small ones are very effective. Rather than adhering it to my skin, I stick it to the inside of a garment that is close fitting. If I use one on my neck. I either adhere it to a mock neck top or wrap inside a long thin scarf to wrap around my neck.

We have both slept with the heat packs but would suggest you try one during the day first to check for sensitivity.

Best wishes. Hope you get relief soon.



------
I have no idea what Apple thought I was saying so be a Peach and credit anything bizarre to auto correct.

CM_Sews

Intermediate
CA USA
Member since 9/18/04
Posts: 1738

2 members like this.




Date: 5/3/12 8:49 PM

Great suggestions! I would add:

I sometimes find myself "bending over" into the sewing space. This will tweak the small of my back and my shoulders. This is partly because I tend to "tense up" as my concentration is so sharply focused on my project. I also tend to "lean in" when I can't see well. A good adjustable chair makes a big difference in my comfort. Also, I can adjust it a slightly up and down a bit during a sewing session so I don't "freeze" in one position the whole time.

I have special "sewing glasses" that are stronger than my regular reading glasses. This brings the needle area into very sharp focus and I don't find myself straining (and bending over) to see what I'm doing. My ophthalmologist suggested this: different glasses for reading and for what he calls "close work". He told me to just go into the local Big Drug Store and try on glasses and test them out for close work by testing the focus on something about the same distance away as the stitching area of my sewing machine. My reading glasses are 2.0, and sewing glasses are 2.5. That doesn't seem like much difference, but it makes a big difference when I sew!

I deliberately set up my ironing board away from the sewing machine so I am forced to get up out of the chair to press things.

CMC

Cerisa

Beginner
AUSTRALIA
Member since 8/26/08
Posts: 188

2 members like this.




Date: 5/3/12 10:54 PM

Even when you do set up your sewing workstation to ergonomically optimal standards, you need to get up from your chair every thirty minutes to take a short postural break - and to perhaps undertake some neck, shoulder and back stretches. Ergonomically optimal standards include working with your arms at a 90 degrees or greater angle at the elbows, feet flat on the floor, back straight into the back of the chair with lumbar support to support the natural s-curve of the spine, no arms on the chair, good lighting so that you are not bending forward as a consequence of visual issues and avoidance of prolonged twisting to the side (e.g. looking to the left to read pattern instuctions whilst sitting in front of the sewing machine).

Changma


Advanced Beginner
NY USA
Member since 2/20/12
Posts: 738

2 members like this.




Subject: sewing pains Date: 5/4/12 0:05 AM

I was having back pain too, until I made two changes:
First,I cut at the the dining room table, which was too low, so I bought the highest bed risers (those plastic things that raise the bed about 5-6 inches). My second idea was to get one of those ergonomic back pads for my chair...that very bright green one that sells on some of the sewing sites. It helps me sit up straighter. Both have helped a lot. I also get up often.


Fictionfan


Advanced
VT USA
Member since 5/19/06
Posts: 1267

1 member likes this.




Subject: sewing pains Date: 5/4/12 1:06 AM

Instead of lowering your table, you could get an office chair that you can raise or lower to the right height. You should also be able to angle the seat so that when you are leaning forward to use the machine, you have better support for your back by having less strain because your hips and low back won't be as flexed, and your mid and upper back should be less strained. Having the machine tilted as well may help a lot, provided it doesn't vibrate too much to tolerate the angle. Someone else already mentioned having your cutting area high enough so that you don't have to bend over the table. My counter-height table was the best investment I made, outside of my sewing machines, for my sewing room. I would hate to go back to cutting on a floor or the dining room table. Ouch!

You might also want to stand up and reach for the sky, bend down to touch your toes as well as you are able, and bend side to side every half hour or hour of sewing so that you move in directions that your body is not being held in while you sew, stretching those muscles that you may be straining.

And of course, there are always sit-ups for strengthening your tummy muscles to support your trunk so that your back muscles don't have to do as much work.

If you haven't had your vitamin D level checked, you might want to consider it, or just add vitamin D if you aren't taking any. Most people living at your latitude require 800-1000 IU of vitamin D daily for sufficient levels. Vitamin D is necessary for well-made connective tissues, strong muscles, and for keeping inflammation down. The darker your skin and the less sunlight you get, the more you will need. Melanin, the pigment in your skin, blocks UV, so you make less vitamin D. Also, if you wear sunblock, you won't make any vitamin D, even if you are in the sun.

HTH
-- Edited on 5/4/12 1:08 AM --

------
Fictionfan

SewPerfect


Advanced
NC
Member since 1/6/04
Posts: 190

2 members like this.




Subject: sewing pains Date: 5/4/12 1:15 AM

I use to have multiple issues with soreness/stiffness etc after sewing. I resolved this by buying an inexpensive sewing table that let my machine sit down into it, purchased an insert made for my machine (table + insert was $200), so all is flush and smooth when I sew. My table is the exact height of my elbows so I can sit up straight. A quilting teacher, at my guild's retreat this year, said when she looked out over a classroom most students looked like chickens flapping their wings because the classroom tables are always too high for most people, therefore it causes you to scrunch up your shoulders and lift your elbows up/out to compensate for the too high table.

I don't know if you wear glasses or not, but if you do, see if you can have a pair of glasses made just for sewing. I have to wear double the strength of my regular reading glasses when I sew, that way I do not have to bend or crane my neck!

I sit on an regular office chair, with rollers, the one I purchased has an extra thick seat cushion, really helps when you're sitting for long stretches.

And lastly, I do 'shoulder checks' as I sew. That is to say, I am conscious of my body posture. Am I bunching up my shoulders around my ears? Then time to breathe deeply and relax my shoulders. Is my stomach forward and my back arched? Suck stomach muscles in and straighten back. After you do these checks for a while you start doing them without really thinking about it at all.

------
Happy Seams to you....until we meet again!
In the corral: Pfaff Quilt Expression 4.2, Bernina 930 Record, Brother PQ1500S, Singer 15-91, Singer 221 Featherweight, Pfaff serger

MagnoliaHoney

Beginner
KS USA
Member since 8/16/10
Posts: 245

1 member likes this.




Subject: sewing pains Date: 5/4/12 1:57 AM

I also find having the machine flush with the table helps a lot. In fact just bought another table for another machine so I don't have to worry about this.

I bought these back chair rest things from Dollar Tree that are nice too. My local fabric store has them on ALL their chairs. I had been seeing them at dollar tree for a while and didn't think anything of them (I mean it was dollar tree after all) so then I spent a whole day at a sew in at the fabric store and to my amazement the same chairs that usually hurt me did not-they had the dollar tree back things on them. I asked the shop owner if they were from dollar tree and she said yes, right away I went to dollar tree and bought them for every chair in the house! hahaha I'm not even joking. I've had two back surgeries and a lot of back pain, so anything that helps!

Then I haven't tried it yet, due to only just finding out about them, and also money being tight, but I have heard creative feet help with many disabilities including back pain while sewing. So that's going to be my next investment!

Also I must say cause I am so short (only 4' 8") that the knee presser foot for sure is more kind to my back then a foot presser...

------
Visit my blog http://www.heathersprairie.blogspot.com
Printable Version
* Advertising and soliciting is strictly prohibited on PatternReview.com. If you find a post which is not in agreement with our Terms and Conditions, please click on the Report Post button to report it.
Blueprints to Blue Jeans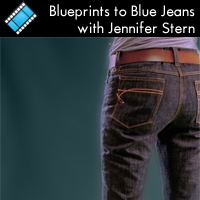 Bust Adjustments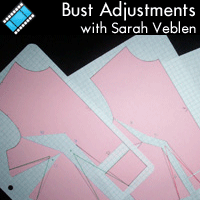 No Pattern Used Frankenfrenchy

by: arianamani...
Review
McCall's 5252

by: Passion4Se...
Review
PerfectFuse Sheer Black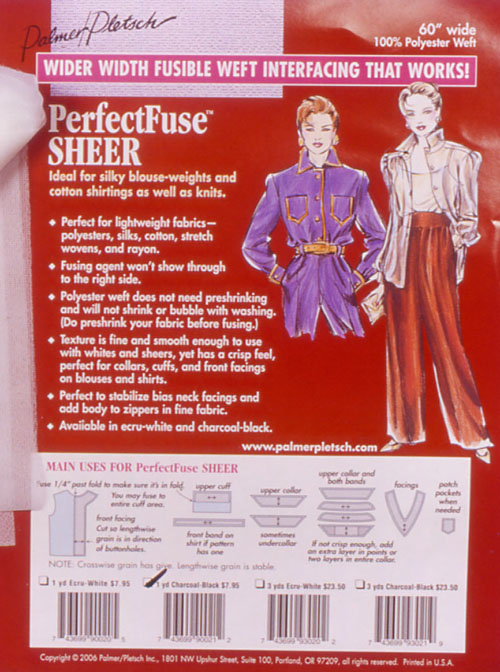 Buy Now
Sewing Workshop Trio T-Shirt, Top & Pants Pattern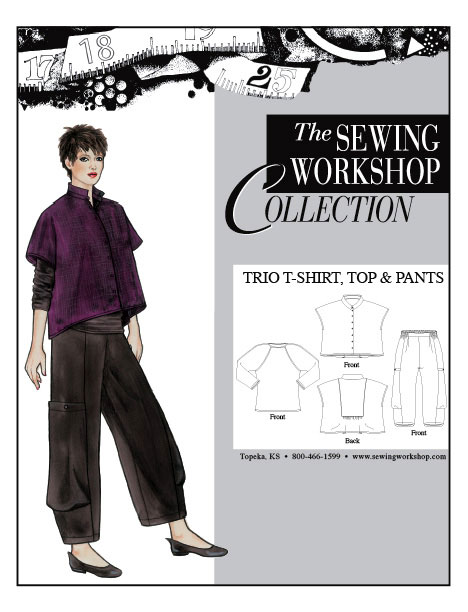 Buy Now