jadamo00


Advanced
New York USA
Member since 3/13/06
Posts: 1264

2 members like this.




Date: 5/19/12 1:56 PM

Why I love living in Jackson Heights, Queens, NY

This morning, Saturday, the neighborhood had a "Shred Fest", our local politician arranged for a truck in front of the Post Office so we could all shred our personal papers for free. Pretty fun meeting up with all the neighbors on a sunny spring morning as we waited on line to get shred. My upstairs neighbor, David, didn't even shave yet, and he almost died when I shouted him out!

Walked up the block to the fabric store. On the way, I ducked into a flea market held by the local high school and scored this and that: an Ikea lamp for $1, a chunky square greenglass vase for $2, a tiny Christmas tree for 10 cents, and votive candles in glass cups that are painted to look like leopard, tiger and cheetah (a buck). Also, an unopened, never-used set of Williams Sonoma Gingerbread House cookie cutters that I'll bet cost $30 new -- $2!

Found some wonderful, wonderful lining fabric for my Stella McCartney rip off raincoat. $1 a yard!



Jackson Heights is wildly multiethnic with 167 languages spoken here. Lots of different people set up impromptu food stands on the street and the cops don't seem to bother them much. I toasted the day with a carrot-mango-pineapple shake for $3: stood right there as they juiced it for me from fresh produce.

On the way home, I noticed THE FIRST PEACHES at the greengrocer. These are usually Georgia peaches: not huge showy free stones -- small, but gorgeously sweet. So I bought 10 to make a fresh peach pie today, but I think I'll need more peaches, so I'll make the crust today and let it rest in the fridge and tomorrow, I'll score more peaches on my way home from church.

...and I guess I'm gonna need ice cream now for that pie.

So? How are YOU doin' today?!



j.









-- Edited on 5/19/12 5:55 PM --

Sweetsong


Advanced
Michigan USA
Member since 12/26/05
Posts: 1056



Date: 5/19/12 2:23 PM

Gorgeous here in Michigan. The rose bush by the back door has a wonderful fragrance. Tied it back so it won't keep bopping us when we come through the gate.

Trying to identify a tree I *thought* might be a fruit tree, but is most likely a "weed" tree. Going to clean out the area in front of our pet grape vine that grows on our fence and the tree will have to go. (the vine doesn't have grapes, but does a fantastic job of giving us privacy in the summer so it stays) Clippers and wheel borrow will be my friends.

Went to the local orchard this am to buy my last large bag of apples until fall.

While up town I noticed the trees they planted to shade the bench up town has issues. I think they either over mulched it and/or failed to water it enough. Going to mention that to the town offices on Monday.

Bought ecru caulk to replace what came off behind our sink. Has to wait until before bedtime so it can cure overnight.

Want to clean up kitchen before weeding, but dh fell asleep in the kitchen chair and really only one person can occupy that room at a time. Have to wait for that, too.

LOVE having the windows open, but it's still cool enough to enjoy.





LynnRowe


Advanced
British Columbia CANADA
Member since 3/9/09
Posts: 9300



Date: 5/19/12 2:53 PM

...Vancouver, BC.

You can ski the mountains in the morning, and swim, sail, or laze on the beach in the afternoon. I can see the ocean on three sides, and can walk to the water on any of the sides within minutes. A short drive and I'm in the mountains...or in the desert. They don't call it "Beautiful BC" for nuthin'!

We even have palm trees. What more could anyone want?!



------
I heart Panzy, Pfaff Creative Performance, the sewing machine love of my life!
And Baby (Enlighten serger), Victor (BLCS), Rupert (Pfaff 2023-knits expert) Ash (B350SE-Artwork), Kee (B750QEE-Panzy's BFF), Georgie (B560-Kee's baby sister) and the Feather-Flock!

Most of all, I heart Woo (HimmyCat). Until we meet again, my beautiful little boy. I love you.

KensingtonCrab

Advanced Beginner
South Carolina USA
Member since 2/13/09
Posts: 990





Date: 5/19/12 3:08 PM

Columbia, SC beautiful sunny day--most welcomed after what seemed to be a week of rain!

The shake sounds delicious and what fun to score those things at the flea market! I wish we had a shred fest day here. Just yesterday I pulled out my little shredder and it would jam after a few old checks inserted--so frustrating.

Today we are tackling the garage! 3 loads to Goodwill! Feels good! I am in a 'urge to purge' mood....except fabric

------
Carpe diem!

Sharon1952


Advanced
Massachusetts USA
Member since 7/1/08
Posts: 3100
Board Moderator





Date: 5/19/12 3:21 PM

Perfect here in Bridgewater, MA also. Total sun and 70s. I spent my morning with 30 other women of all ages sewing quilts for the children of El Arco, Guatemala- a village adopted by my church.

Now I'm checking the boards and seeing what the NYC PR weekend is up to. I'm sure they are getting educated by Kenneth King- a great teacher and talented seamer.

------
Sewing: A creative mess is better than tidy idleness. ~Author Unknown


tourist


Intermediate
British Columbia CANADA
Member since 7/23/07
Posts: 6371



Date: 5/19/12 8:01 PM

I agree with LynnRowe! And we are far enough north that we can enjoy this lovely weather until nearly 9:00 pm these days.

------
http://bgballroom.wordpress.com to follow the progress on my next ballgown.

Re Becca


Intermediate
Member since 9/12/05
Posts: 2201

1 member likes this.




Date: 5/19/12 8:34 PM

I love Houston! My roses are still in bloom and my peppers and tomatoes are just about ready to pick.
I have at least 2 huge fabric stores to chose from when I need that perfect shade of pink linen. And, I haven't needed a snow shovel since I moved here 11 years ago.

------
http://beccabeckstuff.blogspot.com/

Damn the muslin, full speed ahead!

lareine


Intermediate
NEW ZEALAND
Member since 11/10/06
Posts: 1070

1 member likes this.




Date: 5/20/12 1:38 AM

I love living in Christchurch. We have been through a lot here since September 2010 but it brought a lot of people closer together and the future is full of possibilities. I wouldn't wish living through a major earthquake on anybody, but being part of the rebirth of a modern city in the western world is very exciting. I can't wait to see what Christchurch becomes when they finish demolishing buildings and start creating new ones again.

rivergum


Advanced
AUSTRALIA
Member since 12/17/06
Posts: 1570





Date: 5/20/12 1:44 AM

Best wishes to you, Lareine, I really feel for you. Glad something good is coming out of this. Go Christchurch!

------
Taking in is happier than letting out.

Sydney, Australia

seaside sewer

Advanced
UNITED KINGDOM
Member since 6/23/09
Posts: 327

1 member likes this.




Date: 5/20/12 2:56 AM

Caithness Scotland
We are having some lovely sunny weather, still cool, but at least it's dry.
Almost all my veggie seeds are sown, onions sprouting, leeks, celariac, calabrese nearly ready to plant out. Daylight from 4am to 11pm.
I have sea views from my windows, hill views from my garden. Deer on the hills. Sheep very noisy in the fields close by, have been watching the lambs being born.
Very few people, but those who are here are the best, little traffic, no noise, unless you count birdsong and animal noises

------
Bernina sewing machines 750, 440, 215, 1008. Bernina overlocker/serger 1150MDA
Pfaff Creative Performance
Janome embellisher
Singer featherweight 221K white
Frister and Rossmann Cub 7
Printable Version
* Advertising and soliciting is strictly prohibited on PatternReview.com. If you find a post which is not in agreement with our Terms and Conditions, please click on the Report Post button to report it.
Fun with Fitting - PANTS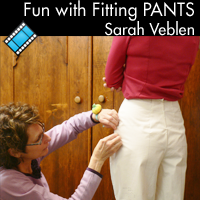 Altering Jackets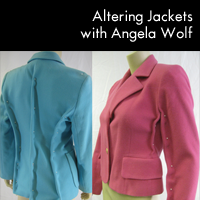 Sewing Workshop Sandra Betzina Coat

by: Lisa Laree
Review
No Pattern Used none

by: Learn To S...
Review
Favorite Things Lounge Around Pattern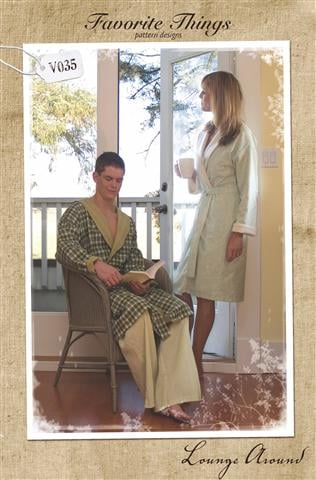 Buy Now
Ultrasuede Jacket DVD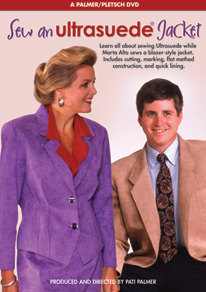 Buy Now