Aless


South Australia Australia
Member since 11/29/02
Posts: 2148
Skill: Advanced
Body Type:




Date: 5/24/12 10:45 PM

I was wondering if anyone has had any experience with the Handeze brand of knitting support gloves (used for other issues too)? I checked out their site after finding the name mentioned on a well-known knitting pattern/yarn site. As my arthritis has totally stopped my knitting atm, I am pretty desperate to find a way round the problem.

My most affected joints are all joints of left thumb, but also centre joint of the left 'pointer' finger (but all fingers are involved to some degree). I knit with the 'throwing' style, and might have to change that, but in the meantime I thought these gloves could possibly help. They are not cheap, even for one, so I'd appreciate feedback if anyone has any experience/knows anyone who's had experience with this type of aid.The specific glove I'm looking at is the 3/4 finger style.

I have a rheumatologist and am on special meds, so doing the best I can with it overall. TIA.

------

Aless(Adelaide,South Australia)

You will do foolish things, but do them with enthusiasm.- Colette

Elona


USA
Member since 8/24/02
Posts: 10082
Skill: Advanced
Body Type:




Date: 5/25/12 1:31 AM

I have had joint problems in my hands due to occasional flares of Reactive Arthritis, which of course is not the same thing as Rheumatoid Arthritis or its kin, but my experience with gloves of

this type

is that all they do is offer a little compression and warmth. That's good if swelling is the only problem, but not good if the joints themselves need to be immobilized for comfort.

My doctor instead prescribed for me splints with the specific capacity to brace the affected fingers, along

these lines.

I suspect it could be both more effective and economical (in terms of insurance coverage) to ask your doctor about this, and perhaps about an appointment with an occupational therapist who can watch you as you knit, the better to see what kinds of motion you need support for.

------
Elona

Aless


South Australia Australia
Member since 11/29/02
Posts: 2148
Skill: Advanced
Body Type:




In reply to Elona

Date: 5/25/12 2:53 AM

Thanks, Elona. I have both osteo and psoriatic (auto-immune type) arthritis, and while I have quite a lot of pain in the thumb joints, the rest are going better than could be expected, thanks to the meds. I already do have a splint such as you've described (both long and short versions) which I bought through my physiotherapist. I always wear the short one when I go grocery shopping. I don't always feel the pain right 'then' (without it), but pay for it by the time I get home.

I guess I was trying to find out whether the Handeze (made for warmth/support, not compression) was successful for any knitters (considering the dexterity required too) -I don't know any doctors etc who knit.

------

Aless(Adelaide,South Australia)

You will do foolish things, but do them with enthusiasm.- Colette

Elona


USA
Member since 8/24/02
Posts: 10082
Skill: Advanced
Body Type:




In reply to Aless

Date: 5/25/12 3:18 AM

I knit quite a lot, Aless, and have actually tried these gloves when my hands were hurting. The mitts felt vaguely warm--pleasant that way, I guess--but they did nothing to support or help the inflamed joints as far as I could tell.

However, I have found them to be rather nice for driving and quite useful for keeping my hands from getting sunburned when I'm fishing. I keep a pair in the car now.

------
Elona

dawn so cal


Illinois USA
Member since 1/6/11
Posts: 354
Skill: Intermediate



Date: 5/25/12 5:05 AM

I havenīt tried those gloves, but have tried others. I agree that they donīt help a lot, maybe a little.

Have you ever tried wearing amber jewelry? I have unexplained joint pain (possibly from breastfeeding), maybe arthritis. I wear an amber necklace all the time, and itīs not so bad. If I take it off for a few days, the pain always comes back. You might want to consider that.

------
www.dawnberries.blogspot.com
2012: 78.5 yards sewn from stash
20 tees, 1 sweater, 1 jeans upcycled
103 items sewn
2013 unknown (not much)
2014
March 10 yds




Aless


South Australia Australia
Member since 11/29/02
Posts: 2148
Skill: Advanced
Body Type:




In reply to dawn so cal

Date: 5/25/12 8:21 PM

Thanks Dawn. I haven't tried amber, but have tried haemetite-no success. I think my joints are too far gone. Base thumb joint has holes in the bone- quite decorative really, in a row.....

------

Aless(Adelaide,South Australia)

You will do foolish things, but do them with enthusiasm.- Colette

Aless


South Australia Australia
Member since 11/29/02
Posts: 2148
Skill: Advanced
Body Type:




In reply to Elona

Date: 5/25/12 8:28 PM

Thanks again,Elona. I'm not sure if the gloves you linked to are the type of Handeze I'm looking at.I'll give a link a go....

these gloves

(I'll post and check.)

Your advice is excellent though-I need to research before paying out quite a lot of money for even one, here in Australia.

ETA: Well, the photo worked! (I can try an address link for whole page if this is not enough info.-let me know.) They also come in a beige colour, but are same seaming etc, of course. Do they look like yours?

-- Edited on

5/25/12 8:31 PM

--

-- Edited on

5/25/12 8:32 PM

--

------

Aless(Adelaide,South Australia)

You will do foolish things, but do them with enthusiasm.- Colette

Elona


USA
Member since 8/24/02
Posts: 10082
Skill: Advanced
Body Type:




In reply to Aless

Date: 5/25/12 11:05 PM

That looks like a Neoprene cuff, which mine don't have. That would add more warmth. The body of the glove looks the same, apart from the blue color, although I suspect that for the sake of a more 'orthopedic' appearance, the manufacturer might have used a heavier grade of lycra than mine.

I understand the impulse to buy something so simple, that might also be helpful, but if cost really is a factor, I cannot recommend too strongly that you run this item by your doc or your physical therapist or OT.

------
Elona

Aless


South Australia Australia
Member since 11/29/02
Posts: 2148
Skill: Advanced
Body Type:




In reply to Elona

Date: 5/26/12 4:46 AM

I'll try again with the page link I was attempting to show last time.(I'm not experienced enough with making links...

)

Handeze 3/4 finger glove info

As I'm not happy when I get 'ripped off', I won't go ahead with this until I'm sure it's what I want. The technology they are claiming sounds OK. I don't know how neoprene is made. My thumb-only splints are neoprene though. I use mine for long grocery shopping sessions (I only shop fortnightly) and for sleeping, if the thumb is really bothering me. My physio (a couple of years older than me) uses them herself for sleeping, as she thinks she/we might be sleeping ON our hands, causing morning pain in our thumbs specifically. With our summer nights, that

does

get hot!!

I have tried knitting with the shorter (high wrist) splint, but it really got in the way. Have you used one when knitting?

------

Aless(Adelaide,South Australia)

You will do foolish things, but do them with enthusiasm.- Colette

Elona


USA
Member since 8/24/02
Posts: 10082
Skill: Advanced
Body Type:




In reply to Aless

Date: 5/26/12 1:41 PM

I just read the blurb on the link, which says this:

"The Handeze Support Glove traps your natural body heat, which stimulates blood circulation in wrist, hand and fingers. This reduces swelling and helps maintain flexibility.

The form-fitting design provides additional support for the muscles, tendons and ligaments of the hand and wrist.

The unique Med-a-Likra process on the four-way stretch fabric provides three main proven pain relievers – HEAT, SUPPORT and MASSAGE."

In a nut shell: The gloves are made of a puffy elasticized material that is warm and offers a bit of compression. That's it, IMHO.

I have indeed done some knitting while wearing my splint with the thumb spica. It can be done, though it's clumsy, and none of the velcro on the thing had better be exposed, either. Come to think of it, this is one case where light lycra gloves

over the splint

might be useful!

However, I use the Continental method when knitting (no right-hand throw--left index finger manipulates the stitch), and that may make a difference, because although my left thumb whines at me, I have no pain in my left index finger.

I think your physiotherapist is right on about sleep positions. I do know that when I sleep, I have a tendency to curl my hands and wrists up under my chin in that fetal position, and I have read that this is actually pretty common. Certainly it is the reason that it's helpful to sleep with the braces during really bad flareups.

------
Elona
Printable Version
* Advertising and soliciting is strictly prohibited on PatternReview.com. If you find a post which is not in agreement with our Terms and Conditions, please click on the Report Post button to report it.
Online Class
Clone Your Favorite Garment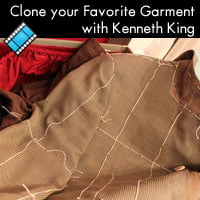 Online Class
Sewing with Slippery & Drapey Fabrics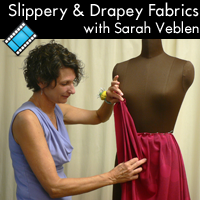 Vogue Patterns 1194

by: pjgirl10
Review
BurdaStyle Magazine 09-2013-125

by: French.Sea...
Review
Sew House Seven Alberta Street Pencil Skirt Paper Pattern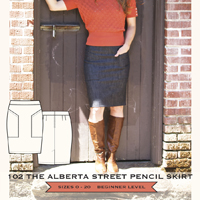 Pattern Details
Sewing Workshop Mimosa Top & Pants Pattern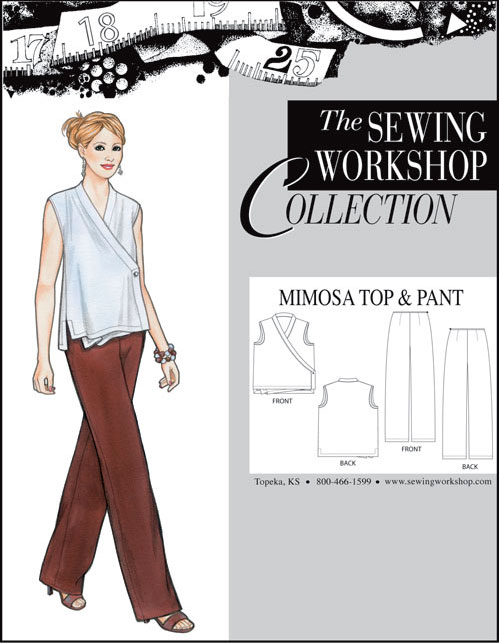 Pattern Details