brissie71


Member since 11/6/07
Posts: 801
Skill: Intermediate



Date: 5/25/12 6:10 PM

I've been trying since the start of the year (this time round, anyway) to develop a TNT pants pattern. Every time I feel like I'm close, it just slips through my fingers.

I've stayed with the same pattern (Style Arc Linda) so that I haven't had to start from scratch. I have even been to two sewing lessons (so far) to get help fitting this pattern, and I'm STILL not there...close, though.

Everyone else seems to have had such great success with this pattern, but it's not working for me. I've made so many changes, it hardly resembles the original pattern any more - but the good news is, that it's closer to fitting me properly now.

I feel like I'm circling the quilting drain.

So my question is, if you are a plus-sized apple shape figure with (very) full thighs (and calves), do you have a pants pattern that fits you well? AND, would you mind sharing your alterations with me?

------
Kelley (Brisbane, QLD)
http://simplesewist.blogspot.com.au/

Aless


South Australia Australia
Member since 11/29/02
Posts: 2148
Skill: Advanced
Body Type:




In reply to brissie71

1 member likes this.



Date: 5/25/12 10:38 PM

Hi Kelley(again)! This might not be what you want, but I have done a trial pair of pants with the Sure Fit pants system, and I was

thrilled to bits!

with the back. It is [and I haven't gone any further (sewing for others taking precedence atm)] THE best fit ever/maybe even perfect!!, straight from the pattern I generated (hand drew

) from the basic instructions(DDH measured me 2 days in a row to make sure that he was right-he was!). I was able to identify, by myself, straight away that I need the front to be a size smaller, so that's the next thing to work on, but it looks pretty simple. Glenda (owner) gives amazingly fast feedback (definitely NAAY) and so far, this is the first time I've

ever

been able to get the back of pants to fit perfectly first time. I was truly

stunned

!! My 'best' pair of pants (Burda) took

six

trials before they fitted me............................

I'm not quick to spend money (except on wishes

aka

patterns

) but this was worth every cent !!!
ETA: I saw a recent photo of you on PR, and you are amazingly like me in shape.
-- Edited on 5/25/12 10:39 PM --

------

Aless(Adelaide,South Australia)

You will do foolish things, but do them with enthusiasm.- Colette

brissie71


Member since 11/6/07
Posts: 801
Skill: Intermediate



In reply to Aless

Date: 5/25/12 11:01 PM

How do you go about getting the Sure Fit system? It sounds intriguing. It's interesting that you say you need a smaller front. When I took my Style Arc Linda pattern to my sewing teacher to get her help in fitting it, she kept mentioning how small the front pattern piece was. Apparently, I may need a larger front than back? I wouldn't even know how to begin to tell that.

I just sewed up a muslin of the Perfect Plus pants from Kathleen Cheetham's book and it looks like it's got promise. Certainly doesn't look like I'm going to have to invest 3 months of my life in it to get it to fit acceptably!

Wouldn't it be great if we were the same shape? Two people working on the same issues are sure to come up with better solutions!

------
Kelley (Brisbane, QLD)
http://simplesewist.blogspot.com.au/

MagnoliaHoney

Kansas USA
Member since 8/16/10
Posts: 245
Skill: Beginner



Date: 5/26/12 0:28 AM

I'll be watching, I'm a apple too. I bought a hot patterns capri I am going to try first, then I want to try the Petite Plus pants as well. I'm a apple and very short.

------
Visit my blog http://www.heathersprairie.blogspot.com

brissie71


Member since 11/6/07
Posts: 801
Skill: Intermediate



In reply to MagnoliaHoney

Date: 5/26/12 1:15 AM

Quote: MagnoliaHoney
I'll be watching, I'm a apple too. I bought a hot patterns capri I am going to try first, then I want to try the Petite Plus pants as well. I'm a apple and very short.

Surely together we can figure this out!

I've been working on the Petite Plus pants today and they are looking pretty good, I think. I'm just going to give the muslin a quick press and try them on again before transferring changes to the pattern.

The only downside I can see is that the legs are very full. I know I have thick legs, but I want to have the option for a pant with a closer fit to wear with the loose tops I favour. That's why I originally started with the Linda pattern. I find if I wear a loose top with wide leg pants, it's not a good look.

I'm not too confident that I could slim the legs of this pattern down successfully. However, I think it's a great pattern if I want to wear a closer fitting top.

------
Kelley (Brisbane, QLD)
http://simplesewist.blogspot.com.au/

brissie71


Member since 11/6/07
Posts: 801
Skill: Intermediate



In reply to Aless

Date: 5/26/12 1:18 AM

Quote: Aless

I have done a trial pair of pants with the Sure Fit pants system, and I was

thrilled to bits!

with the back. It is [and I haven't gone any further (sewing for others taking precedence atm)] THE best fit ever/maybe even perfect!!, straight from the pattern I generated (hand drew

) from the basic instructions(DDH measured me 2 days in a row to make sure that he was right-he was!). I was able to identify, by myself, straight away that I need the front to be a size smaller, so that's the next thing to work on, but it looks pretty simple. Glenda (owner) gives amazingly fast feedback (definitely NAAY) and so far, this is the first time I've

ever

been able to get the back of pants to fit perfectly first time. I was truly

stunned

!! My 'best' pair of pants (Burda) took

six

trials before they fitted me............................

I'm not quick to spend money (except on wishes

aka

patterns

) but this was worth every cent !!!

ETA: I saw a recent photo of you on PR, and you are amazingly like me in shape.
-- Edited on 5/25/12 10:39 PM --

I've had a look around on the net and it looks pretty impressive. What kit/s and/or stuff did you get? Are the pants a fuller leg or could they be slimmed down, do you think?

Sorry to pepper you with questions, but if we're a similar build and this has worked for you, I'm all over it!

------
Kelley (Brisbane, QLD)
http://simplesewist.blogspot.com.au/

MagnoliaHoney

Kansas USA
Member since 8/16/10
Posts: 245
Skill: Beginner



Date: 5/26/12 1:19 AM

Yeah from the looks on her site that is my major concern as well. I generally wear straight legged pants, however, her's seem to look wider then that, but I don't know.

------
Visit my blog http://www.heathersprairie.blogspot.com

brissie71


Member since 11/6/07
Posts: 801
Skill: Intermediate



In reply to MagnoliaHoney

Date: 5/26/12 2:35 AM

Only one way to find out, I guess!

------
Kelley (Brisbane, QLD)
http://simplesewist.blogspot.com.au/

Aless


South Australia Australia
Member since 11/29/02
Posts: 2148
Skill: Advanced
Body Type:




In reply to brissie71

Date: 5/26/12 4:19 AM

I haven't got as far as checking out the leg fit, as such, but from what I remember reading elsewhere(a fitting book?), a slimmer leg can be done from the knee level down. My legs are chunky but I do have a bit of ankle shape, and my calves are heavy but shaped. Too skinny, and the fabric catches on my calf muscle.....LOL!

It took a lot of g___s to ask, and let, DDH do my measurements for SF, but I'm (like you) desperate to get some well-fitted pants. I got him to measure me twice to make sure that he was accurate- he was!

The Burda's I mentioned were suggested by Vonne initially (BURDA WOF), and I couldn't be happier with them. They fall from my buttocks straight down, from the side view. I've been trying to find the same micro-crepe (SL's) for the last 6+ years since I first made them, as I absolutely dread them falling to bits. They have a basque waistband and front zip, and fit soooo comfortably. I could make more of them, but like you, I'd like some slimmer fitting pants too.(If you know of a swishy but full-bodied micro-crepe source, let me know!!)

I was so impressed with the comments about SF that I'd read in all sorts of places, that I went ahead and ordered the dress kit too. Haven't touched it yet. I haven't made a day dress I've liked (I've made ONE...) since I became a plus size. I DO have patterns....

SF has specials quite often (get on their newsletter list), so I got some 'extender' pamphlets when they were on special (they show variations on the basic pattern). I specifically asked Glenda if I should get the shirt or the dress pattern, as I would make shirts the most. She replied (quickly- excellent customer service) that I'd be better off with the dress kit as it has a bust dart, but the shirt doesn't.

Sorry I'm sounding a bit vague, but it

was

last year that I bought them (Christmas presents) and haven't looked at everything (except pants) in detail since. I know I ordered more of the vellum, as I can see myself using a lot of it, with time. Postage costs because of the width of the the larger roll, but it's totally worth it. When I bought the pants kit, a smaller roll of vellum (plenty to do the pants, plus some over) was included in the kit. You can buy extras at any time.

Kelley-how tall are you? I know that plenty of taller women use PP patterns successfully, but it made me wonder about your height. I'm 165cm tall.HTH.

------

Aless(Adelaide,South Australia)

You will do foolish things, but do them with enthusiasm.- Colette

Aless


South Australia Australia
Member since 11/29/02
Posts: 2148
Skill: Advanced
Body Type:




In reply to MagnoliaHoney

Date: 5/26/12 4:34 AM

Hi Heather- if you are at all worried about adjustments, Glenda is more than happy to advise...even using Skype!!!

.....and she has started a blog to help her clients if they want to go that way.

I have emailed her with questions quite a few times, before even buying anything, and she answers very promptly and carefully. This is a small business- staff wise- and I think that's its great strength. Glenda IS the face and 'mastermind' of the business. The patterns are drafted to YOUR measurements alone, so you start from scratch as it were. After that, if you need to finesse anything, Glenda's there to provide that backup. She really does want to help (and, no, I have never met her

)-I'm just very impressed with her approach to her business.

Her videos are

fantastic

!! And...it is really very easy to do. The hardest part, for me, was trusting my DDH to take

accurate

measurements (we did that twice, to make sure LOL), and finding a wall to draw up the actual pattern on the vellum. I couldn't find one that I could tape to, so I went horizontal, and used a large tabletop instead. Worked out fine, as I cut out on it anyway. HTH.

------

Aless(Adelaide,South Australia)

You will do foolish things, but do them with enthusiasm.- Colette
Printable Version
* Advertising and soliciting is strictly prohibited on PatternReview.com. If you find a post which is not in agreement with our Terms and Conditions, please click on the Report Post button to report it.
Online Class
Leather 101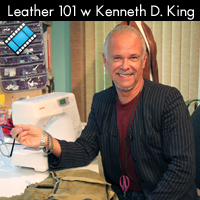 Online Class
Put it on the Bias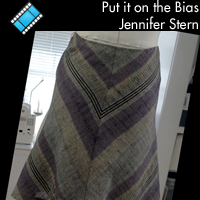 Simplicity 2150

by: jjhallum
Review
SewBaby Travel Nappers Pattern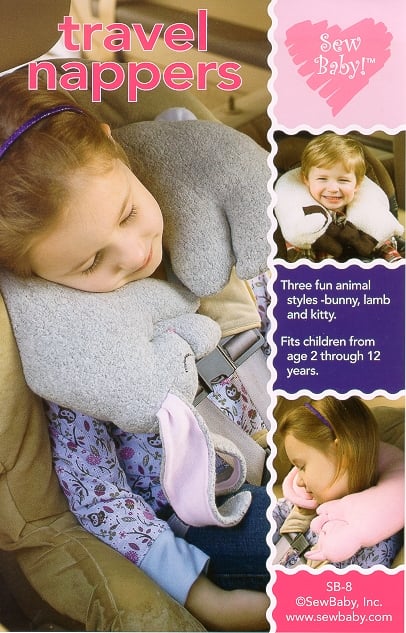 Pattern Details
Embellishments - A CD book by Kenneth King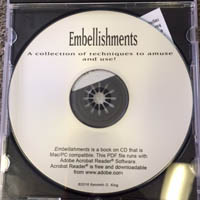 Pattern Details
Jalie 2794

by: procraftin...
Review