edster


Oregon USA
Member since 2/19/10
Posts: 144
Skill: Advanced Beginner



Date: 5/27/12 3:08 AM

I have now ruined my second gymnastics leotard. Aargh! Everything is absolutely perfect, until the dreaded coverstitch. This is the last step before the a leotard is finished. Turn and coverstitch the elastic. It gets me every time! The main problem sewing over the seams. The foot gets caught up after sewing over the seams, then doesn't progress and then come the inevitable skipped stitches. It is extremely frustrating. I have even snipped the seam so that after folding over, the seams point in opposite direction, but to absolutely no avail.

I'm using a Juki 735. I had increased foot pressure to High because that is what the manual suggests for skipped stitches. Should I instead reduce it to Low so that the foot doesn't get caught up on the seams?

I reduced the needle tensions just slightly ( 1/4 below the mid point of the recommended range) to account for the thickness of stitching through lycra and elastic. The stitch seems fine otherwise. I used to have more issues with dropped stitches until I put a thread net on the looper thread, and then my stitch quality improved dramatically.

Can someone please give me some pointers on how to coverstitch over elastic? What changes do you make to your settings for foot pressure, needle tension?

It is so discouraging to have an otherwise perfectly assembled leotard, just to mess up on the coverstitch. I have unpicked the stitches and tried again, but eventually I have just sewed some reinforcing stitches with my sewing machine. Not sure if that is enough to keep the stitches from unraveling, but I figure I will run the leo thru the wash a couple of times to see.

Does anyone have any advice for me? Please???

------
Kenmore 158.14101
Juki MO-735
Juki TL2010Q

Sew4Fun


Victoria Australia
Member since 6/23/04
Posts: 4892
Skill: Advanced
Body Type:




In reply to edster

Date: 5/27/12 3:19 AM

Yes, definitely decrease the presser foot pressure. Don't increase it! Also what size and type of needle are you using, and is it brand new?

------
Belinda. Melbourne, Australia
http://sew-4-fun.blogspot.com/

SheBear0320


Manitoba Canada
Member since 4/8/08
Posts: 5272
Skill: Advanced



In reply to edster

1 member likes this.



Date: 5/27/12 10:22 AM

Are you using a "hump jumper" to get over the seams? This technique in addition to decreasing pressure has made my coverstitching a dream on those elasticized leg, arm and neck openings.

I actually found that the "Jean-a-ma-jig" that I use for seams on my sewing machine is too thick so I had to find something else for the coverstitch -- some people use a pad of post-it notes which they make to the appropriate thickness. I happened across a Oxmoor House point turner in my notions box that was the perfect thickness and the skipped stitch problem I originally had has been solved. I keep it by the coverstitch machine so that it is always handy.

------
Sheila
"sewing very slowly to fill an empty closet"
Stash Tally: net +38.5 yds (2014)
2015 Stash Tally: 106.5 yds out/122.875 yds in (net +16.375 yds)

2016 Stash Busting:
24.125 yds sewn (as of 05/27/16)
9.75 yds purchased (as of 05/27/16)


tourist


British Columbia CANADA
Member since 7/23/07
Posts: 6747
Skill: Intermediate

1 member likes this.




Date: 5/27/12 12:01 PM

I have taken the "when in doubt, leave it out" approach. I do the Kwik Sew zigzag, turn, zigzag method. Easy, quick, less thread bulk and far less frustration than I was having with my CS. But yes, the bump jumper helps a lot.

------
http://bgballroom.wordpress.com to follow the progress on my next ballgown.

michelle_01


Georgia USA
Member since 3/23/04
Posts: 280
Skill: Intermediate



In reply to edster

Date: 5/27/12 12:28 PM

I know this isn't the answer you were looking for but my best advice is to use the 3 step zig zag on your sewing machine. I've made leotards and I just spend so much time messing around with my coverstitch tension, that I find it quicker to just to do it the other way. The 3 step zig zag works great. You just sew the elastic to the wrong side on the leotard using this stitch. Then turn it and stitch on top using the same stitch. It makes a nice, clean, stretchy finish.

SheBear0320


Manitoba Canada
Member since 4/8/08
Posts: 5272
Skill: Advanced

1 member likes this.




Date: 5/27/12 1:13 PM

Having given the advice above, I will say that I use the zig zag method a lot on the athletic performance apparel I do -- I tend to serge my elastic onto the leg openings, etc and then turn and zig zag. I use the coverstitch more for hemming and decorative features.

But I always use some form of "hump jumper" -- my Janome DC3050 has the feature on the side of zigzag foot that levels out the foot for going over the humps (it's a little black button on a spring on the right hand side of the foot).

------
Sheila
"sewing very slowly to fill an empty closet"
Stash Tally: net +38.5 yds (2014)
2015 Stash Tally: 106.5 yds out/122.875 yds in (net +16.375 yds)

2016 Stash Busting:
24.125 yds sewn (as of 05/27/16)
9.75 yds purchased (as of 05/27/16)


beauturbo

California USA
Member since 5/2/09
Posts: 5262
Skill: Advanced



In reply to edster

Date: 5/27/12 2:43 PM


Cover stitches (or any kind of stitches) don't go over huge lumps and bumps all that well. they jam up, and get real small, from being physically stuck on the lumps and bumps, and would start skiping stitches too. I actually would not apply elastic and also try to turn and cover stitch it on, all at once, no matter what machine I was using. On your machine, I would actually 3 or 4 thread overlock that elastic on there first, then turn it, and then cover stitch it down afterwards. And when you are putting the elastic on with the overlock first, you would have to be going to have to stretch it in some places.

Also, if lumps and bumps is a problem at all, I would not apply the elastic flat, with any end pieces of elastic over lapping other end pieces of it. Especially not where you have an already existing leotard seam crossing. I think that is way too thick to sew over. I think you should make your elastic in the "round" first, by abutting it's edges, and sewing together, with a sewing machine, and not right there on the overlocker at all.

So since your coverlock stitch seems just fine, if you are not sewing over a huge lump or a bump, then it is just fine, and the lumps and bumps is the issue. I see no point at all in changing any tensions or pressure foot settings just for when you get to just those lumpy places, as I can't see how that would help at all. Instead, you just need just less lumps and bumps. When you get to places that seams intersect with each other, and it's kind of "iffy" right there, you don't need to sew over those fast and pedal to metal at all, you can always stop sewing before hand, and just slowly and carefully turn the fly wheel right there by hand instead. And use a hump jumper piece of plastic, or a piece of folded up cardboard as a jig right there too, if you want.

If you get to a place that is too lumpy and bumpy, you might really skip a stitch, but much less likely to do that, if you do some stuff to reduce all the lumps and bumps first. If you skip maybe a few stitches on some crossed seams, I see no need to pick the whole thing out. You could just go back with a hand needle and thread, and catch and fasten down those few loose skipped stitches from the back side of the work, right there by hand, afterwards too.

If you don't have an Schmetz system EL x 705 needle in there, I would for sure, put one of those in too. The deeper scarf makes better cover stitches and helps prevent skipped stitches over using just some kind of regular sewing machine needle.

Maybe practice first, on a bunch of scraps, just with each new fabric and elastic combo on everything and each new garment first, each time, so you don't have to keep unpicking the real thing.

Also I think you do need or at least might want, liquid fray stitch. But just liquid fray stitch is not going to be enough to hold some cover stitching all by it's self, through wearing and washing a lot. If sewing that cover stitch over elastic in the round, you are going to have to over lap a few stitches, then pull all the thread tails to the back and tie off. Even after that, I think I would hit it with a dot of liquid fray check on the back there afterwards. And of course, don't pick any lumpy or bumpy places, as the place you are going to start and stop and overlap your few stitches of cover stitch either. Maybe try some of those things.




Nonette


Hawaii USA
Member since 3/11/09
Posts: 317
Skill: Advanced
Body Type:




In reply to beauturbo

Date: 5/27/12 4:39 PM

"If you don't have an Schmetz system EL x 705 needle in there, I would for sure, put one of those in too......."

The Juki MO735 uses JLx2 needles according to the manual and when i was having skipped stitches, a Juki service tech told me to use JLx2 needles when coverstitching. They are hard to find but Juki mailed me a package after sending customer service an email.

beauturbo

California USA
Member since 5/2/09
Posts: 5262
Skill: Advanced



In reply to Nonette

Date: 5/27/12 7:21 PM

You could use a JLX2 needle, if you could find one. As you said they are hard to find, because I don't think even most brick and mortar sewing machine stores that even sell Juki MO735 machines, even bother to stock them. And big chain places like Joann's and Hancocks Fabrics, I have not seen them on the hang tag shelves there either. I think that is because, shape, size and configuration wise, they are just shaped, the same length and have a deeper scarf, than a regular sewing machine needle, just like the elna ELX705 ones. So then you got the difference if it has a brand name of Schmetz or Organ on it, and what color the package might be. And just what brand name you might prefer, and just whom gets your needle money each time, Schmetz or Organ.

I tend to use Schmetz EL X 705 ones just because I don't want to have to buy stuff over the internet and then mailed to me, and like to just be able to get in a car and run down to a store to get something. I also overlock and cover stitch on a Babylock, some elnas and some Juki segers, and I find it easiest to just use the same Schmetz system EL x705 needles in all of those, and just for just about everything. But really, on any of them, I could use any brand of flat backed 15 X1 sewing machine needle, in between sizes of maybe 12 or 14 for most stuff. But for cover stitching I like the ones made for that, with a deeper scarf, as I do tend to get less dropped stitches that way. If I just leave a Schmetz EL X 705 needle in any of those machines, then I can actually overlock, or cover stitch, sew on knits or wovens and don't even have to switch out to a different kind of needle for each little thing at all.

When I do that, the only time I might really need to switch out to a different needle is if my thread was kind of thick, and I might want more a top stitching kind of needle with a one size larger eye for the needle instead. But, you could probably do the same kind of thing with a JL x2 needle branded and named by Organ instead.

So I actually would buy and use either the Schmetz one or the Organ one, just depending on whatever was sold close to me, and I could just hop in the car, drive over to and get actually.



edster


Oregon USA
Member since 2/19/10
Posts: 144
Skill: Advanced Beginner



In reply to Sew4Fun

Date: 5/28/12 3:05 AM

Thanks for all the replies. I have been busy today making up a new, even more lovely specimen than the others, to be led to possible death by coverstitch. In fact this leotard is so lovely I am considering whether I should go out an buy a new machine that has the 3 step zig zag.

I think my old Kenmore machine might have the 3 step zig zag, but in my experience using the regular zig zag to attach elastic, this machine does not like sewing through stretchy materials. I am using a stretch needle I still get lots of skipped stitches.

But back to the coverstitch issues. I am using the JLx2 needles already. While agonizing over this issue I looked at an old leotard I had replaced the leg elastic on. No skipped stitches - and thinking back, I recall that I was very careful to stretch the fabric a lot before and after coverstitching over the seams. It worked then... maybe I wasn't stretching enough this time.

I am definitely going to do a lot of test stitching over seams + elastic before I subject my next victim, uh leotard, too the coverstitch. I hope I can report back with good results.

Thanks!

------
Kenmore 158.14101
Juki MO-735
Juki TL2010Q
Printable Version
* Advertising and soliciting is strictly prohibited on PatternReview.com. If you find a post which is not in agreement with our Terms and Conditions, please click on the Report Post button to report it.
Online Class
Blueprints to Blue Jeans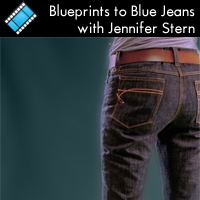 Online Class
Pattern Work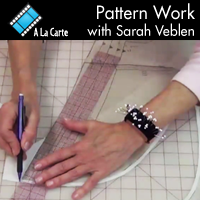 Vogue Patterns 2883 OOP

by: BeulahBirt...
Review
Islander Sewing Systems Cape D Elegance Paper Pattern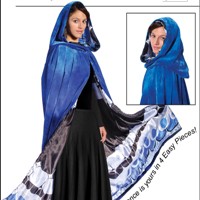 Pattern Details
9 inch Bent Handle Scissors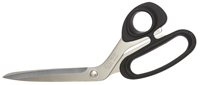 Pattern Details
McCall's 4583

by: Carol Till...
Review