JRicks

Member since 6/3/12
Posts: 2



Date: 6/3/12 12:01 PM

I'd like to start out by saying this is my first post here, and this is my first day actually visiting the site. I apologize if this is in the wrong section, or if I'm using the wrong terminology, or just being a pain in the rear. I appreciate everyone who helps me in my endeavor, and any and all help is appreciated.

So, one of my friends asked me to make a cosplay outfit for her for the upcoming expo we have this year near where we live, and I'm curious as to how exactly to go about doing it.

I have the idea in my head, and I have a design scrawled out on paper of the outfit type that she showed me she wanted, and I believe I know about how to go about making it, but I'd like to run my ideas past some people before I go about making a fool of myself and wasting fabric I suppose?

Sometime over the next couple of days I'm going to go make a dress form of her out of duct tape, fill it with stuffing and seal off the arm and neck holes with the expandable foam type deal, but after I get the dress form made, how exactly do I go about using it? I've always made my stuff without a form of any sort, but this is one of the first things I've done that required this type of effort.

The outfit design that I chose for this moment is 3 different types of fabric all sew together in the top to get the look that she wants, and I was curious as to how to go about stiching them together in a way that will make them fit well in the final fitting?

Should I start with one main piece of fabric and just add the others on top of that as we go? Is there a certain way that I need to cut the fabric to make it wrap around the body in a better way then starting out with a square and pinning and cutting as needed? Is there a better way to go about making sleeves to sew on to the body then just pinning the fabric around a replica/her arm and then sewing it?

I apologize if I sound ignorant or am just asking too many questions, it's just something that I want to be done right and it's something that I've had an interest in for a long time but never quite seem to find the answers to the questions I have, so why not start here?

Again, I greatly appreciate any and all help.

JEF


Intermediate
Member since 7/27/05
Posts: 2728
Board Moderator





Date: 6/3/12 10:11 PM

Welcome to PR!

Can you tell me what cosplay is or post a picture of what you might be doing?

I find a pattern and then change the pattern rather than trying to drape a creation into being. Of course, if you know how to drape then have at it!

If you are using a stretch fabric, you normally want the greatest stretch to go around the body.

When you talk about adding fabrics together, is it basically color blocking that you're talking about or something different? If color blocking, I would take your pattern and draw extra grainlines on it. Then, draw lines where you want to color block, include little notes of "add seam allowance here" and then cut them apart. When you cut the pattern pieces out of the fabric, honor the grainlines you drew and it should come out OK.

JEF

------
"The trouble with quotes on the Internet is that you can never know if they are genuine." --Abraham Lincoln

JRicks

Member since 6/3/12
Posts: 2



Date: 6/4/12 5:27 AM



This is the picture that I have to work with, I'm trying to decipher how to do it over the next couple of days before I go buy too much fabric.

Kind of a naive question, but when you say pattern, you're talking about the fabric wrapping around the body right? My best understanding is the way the fabric is cut allows it to wrap around the body better, but what has me at the moment, is how you go about getting the seam lines and all to match up and line up with the body as well, and exactly how to cut the fabric to fit. This is the picture that I found off a website I've been reading for a little while where I got my understanding:


When I"m adding the fabrics together, in the first picture, when I look at it now I just see two, one type of fabric around the stomach area, and the other in the chest and shoulder area, but that's excluding the hem, and that will make up the vest. As for the tiers of draped cloth that goes down by the hip, I intend for it to be connected to the vest, and the 'belt' not actually really be too much of a belt at all and just stay connected to the vest as well.

It may be color blocking that I'm talking about, I'm not actually familiar with that term though. If it's covering up another piece of fabric with another, then that's what I was intending.

Thanks for the reply, definitely brought my hopes up a lot.

I apologize for the image size, I tried to find a smaller version but I could not, it shocked me when I viewed the post.
-- Edited on 6/4/12 5:29 AM --

stirwatersblue


Intermediate
Kansas USA
Member since 12/13/08
Posts: 3582



Date: 6/4/12 1:00 PM

Hi, and welcome to PR! I'm a costumer, too.

JEF, cosplay is making/wearing costumes of recognizable characters--mostly characters from anime and video games.

When I'm making a replica of a costume, I break it down into its component parts. Usually layered costumes (like real clothes!) like this are made up of separate and distinct PIECES, not just everything stitched together. So I would start by taking your Zelda picture and identifying every single item she's wearing, from the cloak to the leggings to the leg bindings to the corset to the tunic, etc. And then plan to make (or buy, if you can) each piece separately.

For example, where you just see a vest, I see a vest (in green), covered by an underbust corset (in olive), with a belt (two tones of brown). I would assume that the hood and the asymmetrical skirt are also part of the green "vest," so that's how I would construct that layer--a sleeveless, hooded tunic with an asymmetrical skirt on one side. If I were trying to minimize pieces, I might choose to interpret the belt as a layer of trim/contrast to the corset (the "color blocking" you're talking about)... but honestly, a belt would be easier!

Whenever possible, it's nice to use existing patterns if something can be adapted, but I do draft a lot of my own patterns, and I've gotten pretty good at draping on myself--which is what you're talking about, with wrapping the dress form in fabric. Here's a great tutorial on the basics of draping, which will help you see how to get started manipulating fabric so it fits to the body. You'll want to adapt her method for the exact garments you're making, but it will be easier to see how to do that after you understand draping a little better. And here's a list of other tutorials on draping that might help you.

Have fun! I'm working on our costumes for Comic-Con this summer--Indiana Jones, Van Helsing, the Bionic Man, and more! Part of the fun is working out what all the pieces are, tracking down the best images you can find, and figuring out just HOW to do it all!



-- Edited on 6/4/12 1:06 PM --

------
~Gem in the prairie
Printable Version
* Advertising and soliciting is strictly prohibited on PatternReview.com. If you find a post which is not in agreement with our Terms and Conditions, please click on the Report Post button to report it.
10 Clever Techniques To Help You Sew Like a Pro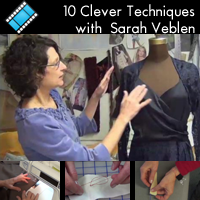 Restyling with Exposed Zippers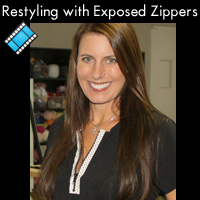 Simplicity 2812

by: yummymummy...
Review
New Look 6097

by: QuiltSewSe...
Review
Lolita Patterns Spearmint Paper Pattern
Buy Now
Beginner Sewing Lab 101 - A downloadable Book by Shannon Gifford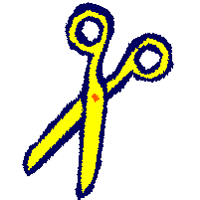 Buy Now