solveg


Minnesota USA
Member since 2/16/12
Posts: 366
Skill: Beginner



Date: 6/8/12 2:38 AM

I am having a heck of a time truing my fabric. I've watched many videos, and they make it seem so simple, but it always looks like they're working with 1/2 yard of fabric. How are you supposed to handle 3 yards at one time?

Secondly, I guess you're not supposed to rip fabric anymore to find the grainline, but if you cut it, what's the point of lining up those edges, since you may have cut them off-grain?

Thirdly, if you are measuring from the selvage to the grain arrow on the pattern piece, wouldn't the material be on-grain if you simply ironed the fabric with the selvage matching?



Member since 12/31/69



Date: 6/8/12 3:33 AM

Well, I never have ripped it.

I snip into the lengthwise selvedge and pull a thread, cut on that "line" that's left, and then fold longwise and straighten out on a flat surface. If it's really on grain, once it's folded it will match, and is then ready to use.

And the method I use is here: http://digitalcommons.unl.edu/cgi/viewcontent.cgi?article=1002&context=extensionhist which explains it, knits and how to fix it.

As to more length, it takes practice is all, and taking it a smallish chunk at a time to true it takes some time, but it's totally doable.

To the third thing...if it's not on grain to begin with, then the whole thing will be off grain even matching up parts of it. (At least that's what I was told. I might be wrong.) I got some cotton stripes that was horribly cut by the ladies and was off grain, woven, and I had a heck of a time getting it on grain. Even placing my pattern piece on it like you said still left it wonky. It took a wile to get it right, but the grain on it was just off and it never did true up 100%. (Luckily it's a ruffle.)

LynnRowe


Member since 3/9/09
Posts: 11120
Skill: Advanced





Date: 6/8/12 8:35 AM

Depending on the fabric, I either tear the fabric or pull a thread on the cross grain. For knits, I thread-trace the grain line.. When I have a lot of yardage, I work on a yard at a time; just fold the excess out of the way.

No, ironing with selvedges aligned will not mean your fabric is on-grain, and may make the fabric even more off-grain. Many selvedges are more tightly woven than the fabric itself, and are off-grain or pull the fabric off grain. Often enough I cut the selvedges right off the fabric completely.

For woven fabrics (except twills), pulling a thread and cutting along the ditch of where the thread was will give you a perfectly on grain straight edge to work from.

------
I heart Woo (HimmyCat). Until we meet again, my beautiful little boy. I love you.

solveg


Minnesota USA
Member since 2/16/12
Posts: 366
Skill: Beginner



Date: 6/8/12 10:21 AM

But.... every technique I've seen involves looking at all 4 corners of the fabric at one time. How do you square up the middle of a 4 yard cut of fabric when you can't see either end?

NhiHuynh


Member since 1/4/11
Posts: 821
Skill: Intermediate
Body Type:






1 member likes this.



Date: 6/8/12 11:37 AM

If you can tell us what kind of project and type of fabric you're working on, maybe we'll be able to help you better. Most of the time I'm cut starting at one of the ends because I sew mostly garments. So even if it's a long length of fabrics, I'm only dealing with an end portion at the time.

Here's something to try and I've done with curtains. Find the grain at one of the ends and measure into the length of the fabric to where you need to figure out the grain and mark with a pin on each selvedge. Then I would fold the yardage lengthwise so the selvedge edges are together and adjust until the fabric is laying flat. If there's bias the fabric will be twisted and the fold won't be straight. My pins should match up. Lastly, on some fabric I can see the grain, so I'll either follow by eyeballing or tracing with chalk or thread. I did this for curtain panels but this doesn't mean my hem looked even because that'll depend on the leveling of the rod.

------
I finally have a blog. www.detectivehoundstooth.com :)

petro


France
Member since 6/24/07
Posts: 2857
Skill: Advanced



Date: 6/8/12 11:52 AM

To find grain I pull a thread. To attempt to true off grain wovens I use a second person and a large room or garden. Me and helper sort of tug, release, tug, release, holding the corners or edges and pulling diagonally. You can get a fabric with about three inches off true to shape up like this, but I don't do this very often, because its such a pain. Off grain fabric is often not worth using, at least not for an important project. Off grain knits are a hopeless case IME.

------
http://patternpandemonium.wordpress.com/




Member since 12/31/69



Date: 6/8/12 12:01 PM

I know that with the method I use, once it's trued on one end, folded lengthwise and smoothed out, it doesn't need to be looked at all at once. Pretty much what NhiHuynh said: I garment sew and use one end, and like Lynn, I cut the selvedges off wovens.

When I have to stretch it into submission, I do it about 3/4 yard at a time, and in my own mind stretch it as if I am dealing with corners then fold it on itself. At that point, it's finding the grain once, seeing where it is, and either thread tracing it or just straightening it on the line (since you get practice at it, you can start to see the threads you're looking for).

4 yards winds up having to be pulled 5-6 times, then folded with the above method lengthwise, smoothing and usually repeating once or twice.

solveg


Minnesota USA
Member since 2/16/12
Posts: 366
Skill: Beginner

1 member likes this.




Date: 6/8/12 12:07 PM

OK, what NhiHuynh said sounds doable....

The technique with 2 people sounds impossible for the average person to do very often. The fabric you see in places like Joanne's has so much sizing in it that I don't know how to even check if the grain is good.

Thanks guys. Like painting a house (and most other stuff) I'm finding that preparing everything for a project is more work than the actual sewing. Washing everything, ironing, truing, and fitting. Makes me tired before I even start!

LynnRowe


Member since 3/9/09
Posts: 11120
Skill: Advanced





Date: 6/8/12 2:11 PM

I only put on grain enough fabric length for what I need at the time. The rest of the yardage I just fold up out of the way. Yu don't need the entire yardage to be on grain at the same time unless you're cutting the entire yardage at one time.

------
I heart Woo (HimmyCat). Until we meet again, my beautiful little boy. I love you.

Elona


Member since 8/24/02
Posts: 8976
Skill: Advanced
Body Type:






3 members like this.



Date: 6/8/12 5:03 PM

Since I was taught to sew just shortly after dirt was invented, I learned all the stuff you describe about straightening grain and squaring cut edges, and for about ten years, I actually practiced it religiously.

However, over time, one thing became obvious:

During processing, the fibers and fabric are exposed to tension, heat, and finishing chemicals. In my experience, grain tends to be permanently set at the factory, and in spite of a home sewistís pushing, pulling, diagonal tugging, steam pressing, and so on, the fabric will revert to the factory settings the instant the fabric gets washed and dried.

So, when making a garmentódrapes and curtains and good handkerchiefs are something else--this is what I do, instead of going nuts by the book: I pre-wash and dry the fabric to reveal its true nature and then lay it out, folded lengthwise. Like others here, when working with very long lengths of fabric, I fold the excess loosely on the end of the cutting board or support it on a chair, to keep it from stretching and distorting the part Iím working on.

With wovens, I pay major attention only to the lengthwise grain. I align the selvedge edges perfectly parallel to each other or actually on top of each other. I then slide the selvedges to the right or the left while checking and smoothing the center fold, where there should be no wrinkling or rippling at all. When the center fold is smooth, I eyeball the grain there, and itís usually right on the money. However, due to a crooked cut at the store or something that happened to the fabric at the factory, the cut edges will usually not be parallel to each other. Often they wonít line up at all, but the result is just a small amount of wasted fabric, so I ignore the wonky parts completely, except maybe to cut out a little facing, etc. there, paying attention to the lengthwise grain in that immediate area.

In the case of good woven fabrics (apart from twill weaves, which are also another story). I have found that just minding the lengthwise grain gives me a garment that hangs well from the get-go.

Knits I have found to be a slightly different kettle of fish, in that the selvedge edges may not be parallel to each other when I get the center fold on the straight grain. A lot of stretching and distortion of the selvedges seems to occur during the processing of knits, and it seems worse in lightweight, open knits. In these cases, I use a bright light and sometimes a magnifier to find and chalk-mark the straight grain. I lay the main pieces out nearest this region, treating anything right near the stretched-out, distorted selvedges just as waste fabric. If the lengthwise Ďgrainí is OK but the crosswise stitches are visibly distorted, itís a manufacturing flaw; it is not correctable and a garment made from it will never hang well. A couple of times, I have gotten a refund from the seller. A few times, I have thrown the fabric out.








Printable Version
* Advertising and soliciting is strictly prohibited on PatternReview.com. If you find a post which is not in agreement with our Terms and Conditions, please click on the Report Post button to report it.
Online Class
Break your Serger Out of the Box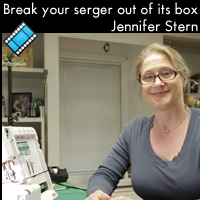 Online Class
All About Buttons and Buttonholes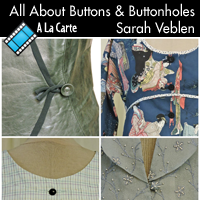 BurdaStyle Magazine 02-2012-117

by: inkstain
Review
Simplicity 2881

by: janelouise
Review
Fit For Art Trouser Details for Eureka Pants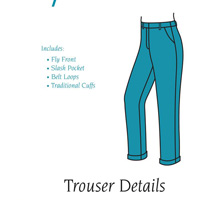 Pattern Details
Jeans for Real People DVD Set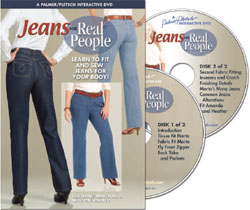 Pattern Details