My gal pals and I designed these three dresses based on our comic characters of choice: Catwoman, Harley Quinn, and Poison Ivy. The girl in green and myself (in red/black) did all the sewing and designwork, and we each took care of our own accessories and styling.
(Photo was taken by my friend, Pat Gavin.)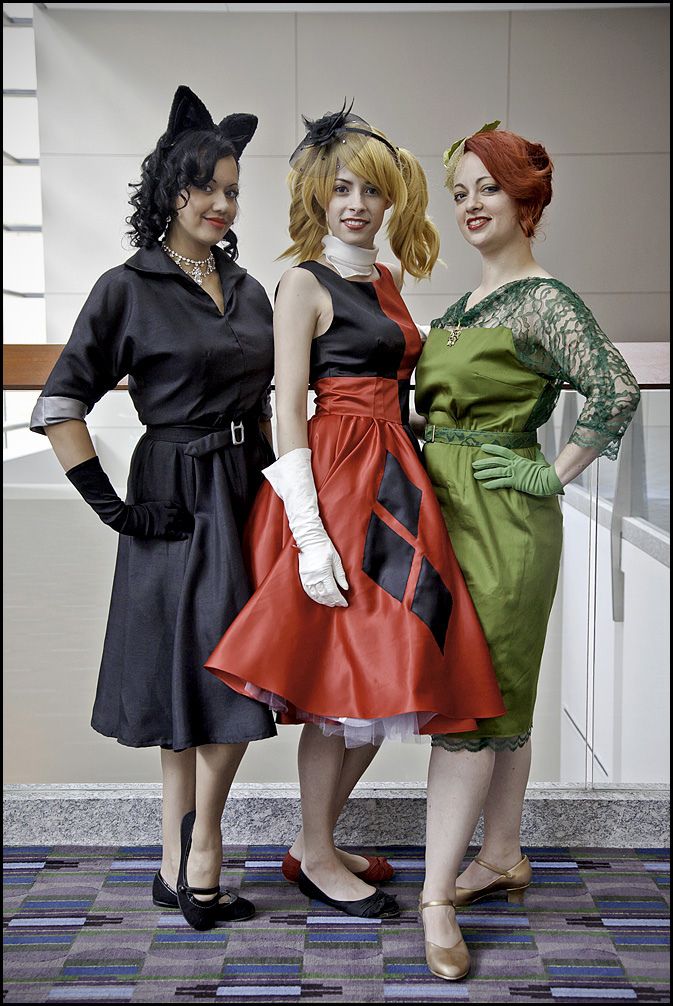 On my Harley Quinn dress, I used two patterns: Butterick 6582 and 5748. I liked the darts on the former and the neckline on the latter, so I spliced the bodice patterns together. The skirt is a two-circle skirt gathered on the waist. Initially I had trouble with the waist of the dress making me feel larger than I actually am, but I dropped the waist by about two inches and it fixed that problem entirely. The skirt has a super narrow hem. I folded it up once and measured all the way around to make sure I had the same length, sewed, and trimmed the excess down to about 1/32" away from the stitching. I folded it up once more and did a 1/8" hem to finish it off. It really made a lovely difference, and I didn't have any of the traditional bunching or gathering issues I usually face when I hem circle skirts. The entire bodice is lined. It made me feel clever, so I lined the red part with red lining and the black part with black lining. I folded it under and tacked it in place on the seam allowance of the skirt and bodice so that no raw edges would be hanging in that area. I didn't line the skirt because I felt like it was too much material to do a lining for. There are three diamonds on the front and three on the back; I ran a long hand running stitch around the edges once I placed them, then did a very small, tight zig-zag around the edges. It looks really beautiful and I'm so proud of it. xD
Other details: I made three petticoats and a slip to wear underneath the dress. Oh my goodness petticoats are ridiculous @__@;; It's just so tedious to make them...very glad I did, but it was tough! The collar is white silk with a hand rolled hem. The gloves are vintage 1950's white kid leather, but my grandmother gave me a pair of my great-grandmother's wrist length gloves that I will likely wear next time instead.
The green dress was made by the wearer herself; she used a McCalls pattern, I think, and just made some design changes.
The black dress was made by the redhead and I together; we lined the bodice with silver (another classic color for Catwoman) so you see the pop when the sleeves are rolled up. The collar actually stands straight up, but the girl wearing it preferred to keep it down.
I think for next time, I want to make a tiny pillbox hat with netting on it, rather than wearing the headband. The headband was cute, but I didn't feel like it was quite period appropriate enough.
Anyway, I think I am the most proud of this costume than of anything I have every sewn.
I hope you all enjoy it! <3
------
I'll try anything once :)

Please excuse my typos...sometimes it is harder to go back and edit on mobile than it is worth!