goodworks1

Advanced
IL USA
Member since 7/19/03
Posts: 3620
Login to reply to this post

Date: 6/26/12 5:01 PM

Nine Simple Patterns for Complicated Women
by Mary Rechner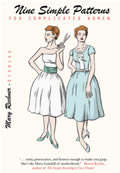 I found it here while looking for another book.

NAYY
-- Edited on 6/26/12 5:02 PM --
------
blog: goodworks1.wordpress.com

Cathy Loves Fabric

Intermediate
USA
Member since 4/16/04
Posts: 1839
Login to reply to this post

Subject: Have you read this book? Im fascinated by the title and cover Date: 6/26/12 9:41 PM

This book is going on my recommended book list. It sounds delightful and relevant. Thanks for the tip.

------
My hope is to sew to the very end. They'll find my head slumped over my precious Kenmore 19606 and have to pry the seam ripper from my cold, dead hands.