jynclr

Member since 12/20/11
Posts: 881
Skill: Intermediate

1 member likes this.




Date: 7/12/12 4:59 PM

http://dallas.craigslist.org/dal/art/3063270471.html

This is a link to a quilt, with embroidery in the middle, that is 50x67 and they're selling it for ... get this.. $40.

WTF??

Do these people NOT VALUE THEIR TIME???? My beau's father is a quilter. He has made some amazing quilts. When you consider time and talent, there is NO WAY his quilts can cost $40.

I sent the link to my beau just now. He said, "No, people do not value their time." He also mentioned that, well, sadly, no one will pay more than that anyway since you can get TWO for that price at WalMart that are just as warm. (The obvious of his statement was that people don't care about quality or craftsmanship.) I then mentioned that maybe the red triangles were probably just glued on or something. But still, materials alone! (At least quality materials ...)

I just don't get people who don't place a dollar value on their time when they sell items. It is clear when you see the price of the item and what it could possibly take to make it. That, or these folks are trying to compete with foreign labor.

We have such a cheap society. I swear.

-- Edited on

7/12/12 5:00 PM

--

------
Evelyn: Pfaff Creative Performance


PattiAnnJ


Ohio USA
Member since 12/3/06
Posts: 9029
Skill: Advanced

1 member likes this.




Date: 7/12/12 5:23 PM

Does look like it could be a misprint. Supplies alone would be $40 or more.

------
"Improvise, adapt and overcome." - Clint Eastwood/Heartbreak Ridge

"Isnít it a shame in todayís world you canít tell the truth. If you tell the truth youíre abrasive. If you lie youíre charming." - Bob Huggins/College Basketball Coach

ryan's mom


Member since 11/30/04
Posts: 5385
Skill: Advanced

2 members like this.




Date: 7/12/12 5:25 PM

This reminds me of the time a woman came up to me and asked where I got my fleece cape with hoodie (reversible too!). I told her I made it. She asks, "Can you make me one?" I said, "Sure, it will cost about $120-$130."

Shocked look follows. I said, "You can get something much cheaper at Walmart." Really, if you don't value my time, I don't value yours. I don't think she'll find a reversible, MM 200 and 300 weight fleece cape with hood at Walmart tho lol.

You know how much this woman wanted to pay me? $20!!! My fleece was at least $60 for the one I made. Unbelieveable. My favorite phrase learned (from here) that I've used since then..."You can't afford me."

And then I see crafters selling bags in finer stores in my area. One is extremely experienced with 40 years of sewing experience using imported fabrics from Italy in the same shop as a crafter that appears to have one or two months of sewing experience. Compare the bag construction of both, well it just can't be done. The other crafter's stitching is horrendous with construction techniques that look like the bag was sewn by an 8-year old. That bad!

And what is the store owner selling both bags for? The Becky Home Ec-ey bag is $40, and my friend's bags are $40-$60.

------
Big 4 Pattern size 12, RTW bottom: 6, RTW jacket 8, RTW top (no size fits me well!)
Measurements: 34 HB/36 FB (34C bra)/27.5/36 (and working hard to keep it that way.)
Machines: Sewing: Elna 760, vintage Kenmore Model 33 (1967), Janome Gem Gold 3, Singer Model 99, Singer 221/Featherweight. Sergers: Babylock Imagine and Babylock Ovation. Embroidery Only: Janome 300E. Embroidery/Sewing Combo: Brother Dream machine. Coverstitch: Babylock BLCS. Straight Stitch: Janome 1600P.

If you think your sewing is better than everyone else's around here, get out of my way b****. I hate sewing snobs.

My blog: www.phatchickdesigns.blogspot.com

jynclr

Member since 12/20/11
Posts: 881
Skill: Intermediate



In reply to ryan's mom

1 member likes this.



Date: 7/12/12 6:17 PM

Quote: ryan's mom
You know how much this woman wanted to pay me? $20!!! My fleece was at least $60 for the one I made. Unbelieveable. My favorite phrase learned (from here) that I've used since then..."You can't afford me

Oh yeah. That's my favorite phrase too. It sounds .. uhm ... "uppity," I am sure, coming from me. But really!

I learned that as a software developer, especially when people find out I've also worked as a web application developer.

"Oh, I just need a couple of pages."

Right. Sure. And those couple of pages expand to a whole site and they want email, and eCommerce, and they don't even want to do their own content, they would want ME to do it. That's one thing I was taught by other senior level software developers when I started my career. Many warned me that people are going to want me to write software for them and so I learned to start pricing myself by the hour with a some hour minimum.

That got people off me REAL quick. It's like, "Hey, I do this for a living, that means it's not free." And people have NO CONCEPT of what it takes to develop software. NONE.

I have found that art, photography, sewing, and a few other creative activities (because trust me, software development, while it is engineering, it is CREATIVE too) are arts/activities that people Do. Not. Get. what it takes to develop and come up with a final item/product/software.

Custom work takes time. And QUALITY custom work is the culmination of one studying one's craft and years of practice, sometimes DECADES.

Amusing story. For our anniversary, I made the beau a little paper craft art piece of our dog. I mentioned to him that piece cost AT LEAST five thousand dollars, and he laughed, smiled, and nodded. Why that much? The years of learning how to make it come out as good as it does (we don't just swirl our hands in the air and VOILA art!), the supplies, equipment, time learning equipment, software, etc. etc. Yeah, he got all that. (BTW, he's HUGE on people demanding what they're worth in time also.)

Some people don't get that. And that's why I get so ... well, simulatenously annoyed and dismayed when I see ads like the one I linked above. Because what ends up happening is that more often than not someone will say, "Yeah, but I saw a custom quilt on Craigslist for $40. Why should I buy yours for $400?" SMH.

------
Evelyn: Pfaff Creative Performance


JJane


Canada
Member since 10/30/10
Posts: 3525
Skill: Advanced Beginner



Date: 7/12/12 6:24 PM

The whole thing is just sad.

A lot of people want excellent quality for next to nothing. Then many companies want to sell us crap and not stand behind their products / services and then charge us an arm and a leg.

birdmcfarland


Pennsylvania USA
Member since 8/1/08
Posts: 964
Skill: Intermediate

1 member likes this.




Date: 7/12/12 6:26 PM

I was just in Bushmills, North Ireland. I'd been looking for a hand-knitted sweater but had been there almost two weeks and found nothing. I gave up figuring even if I did find one, the knitter would have to charge $400 at least to make any money.
Anyway, I walked into a yarn store and in the way back were a few sweaters. I picked up a beautiful cardigan and asked the price. 75 pounds. Huh? Seriously? That's about $119, American. I spoke to the ladies working there and one of them had made it. She said it takes her about a week to make one. Needless to say I bought it and felt like I'd gotten the steal of the century!
I don't know how they get away with making them so cheaply. I think they must be the type who can knit in their sleep.
-- Edited on 7/12/12 6:27 PM --

justgail


Member since 1/19/06
Posts: 849
Skill: Intermediate



In reply to jynclr

Date: 7/12/12 6:30 PM

I kept re-reading the ad for any indication that these are a fundraiser for the school, with fabrics and time donated.

It's too bad, it's a nice little quilt, but I agree, it would most likely be hard to sell them for more than $40. Too much comparison with things at big box stores, not thinking about time/quality involved.

------
justgail.wordpress.com

Valerie Jo


Missouri USA
Member since 8/2/09
Posts: 755
Skill: Advanced Beginner

1 member likes this.




Date: 7/12/12 10:38 PM

Well, how do you like the "so called friends" that expect you to make things for free?

They may supply some of the materials which usually aren't enough. You think, surely they'll offer at least enough to pay the rest of the materials. Wrong. I was like OMG, really? They think you just either wave a magic wand (not too much time doing that) or don't even think about it (that they should pay you). And just for one more insult, they don't thank you (only because you wonder if they even recognize that you made it???)! OMG, again! Thank goodness that was long ago but never forgotten. But others tried it as well, but I wasn't baited.

Then, you give someone a gift and they love it (nothing to do with the above). A relative tells her "wow, that's really nice (and that was a nice compliment to me) - she said that I could probably make $45 making those (large crazy quilt bag)" It cost me more than $60 with all the embellishments. I don't blame the relative. She didn't know and was really trying to compliment me.

That's my 2 cents and true stories.

petro


France
Member since 6/24/07
Posts: 3112
Skill: Advanced

1 member likes this.




Date: 7/13/12 2:31 AM

I am upset when I see good work priced down like that quilt. My guess is that everyone is conditioned by our living in a world controlled by corporations. Those doing some faceless, thankless office job, naturally think that someone sitting at home stitching something isn't 'working'. Buying something in a large store, we somehow manage to be blinkered as to its true value, and not see cr***y making or inadequate materials, being absorbed into the whole hype of advertising and the grandeur of the shopping palaces. Commerce of all kind has lost its human face. Then there's the question of budget. How many of us can afford a custom made item of any sort - handmade furniture, not Ikea, tailored clothes, good food cooked in real restaurants? Buying cheap and factory produced gives us the opportunity to substitute change and innovation for quality.

------
http://patternpandemonium.wordpress.com/


MarthaA24

California USA
Member since 4/4/08
Posts: 682
Skill: Advanced

1 member likes this.




Date: 7/13/12 3:03 AM

I noticed the ad said "I have only 3 of these left", it is possible that they originally sold for more and now the person is selling them for less just to get them sold.

------
Martha
Printable Version
* Advertising and soliciting is strictly prohibited on PatternReview.com. If you find a post which is not in agreement with our Terms and Conditions, please click on the Report Post button to report it.
Online Class
Fun with Fitting - BODICE w Darts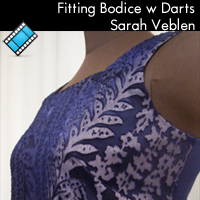 Online Class
Break your Serger Out of the Box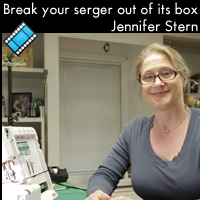 Folkwear 232

by: patternadd...
Review
Jennifer Stern The Perfectly Fitted Shirt by the Cup-Full Pattern ( Size 6-14(Cup A-DD) )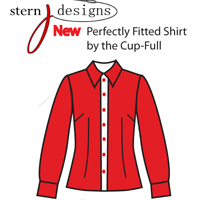 Pattern Details
PerfectFuseTailorUltra Black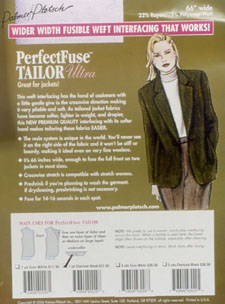 Pattern Details
Butterick 5988

by: halleyscom...
Review