stirwatersblue


Member since 12/13/08
Posts: 4518
Skill: Intermediate
Body Type:




Date: 7/12/12 5:56 PM

Does anyone have a link to one? I need 8 yards (288 inches) of 2" binding for a skirt, and I'm trying to figure out if I have enough of the fabric I want to use for it. I've read that cross-grain binding (selvage to selvage) is the most economical way to cut binding, but I can't seem to find a calculator for it, and I don't trust my own math!

The 2" Clover bias tape tool calls for strips cut three-and-seven-eigths inches wide.

Thanks!!

------
~Gem in the prairie

Miss Fairchild


USA
Member since 8/24/02
Posts: 7936
Skill: Advanced



In reply to stirwatersblue

1 member likes this.



Date: 7/12/12 8:46 PM

Ah! A quilting question for my memory!! 288 inches divided by the WOF (45 or 54 or 60 inches) will give you the number of strips you need to cut. Multiply the number of strips you need to cut by 2" (which is your binding width) and that is the amount of fabric you need to have.

Example: I need 144 inches of binding and I have fabric that is 45" wide. 144/45 = 3.2 (round it up to 4 strips) I want 2" binding, so I multiply the 4 strips by 2"--I need 8" of fabric.

Cross grain binding is not only economical, but it also stretches a little, which is much needed when going around a corner on a quilt.
-- Edited on 7/12/12 8:47 PM --

------
"Play the cards you are dealt, but choose who is sitting at the table"..AARP magazine

SEE MY ETSY SHOP HERE: http://www.etsy.com/shop/AuntMaymesAttic
My blog: http://auntmaymesattic.wordpress.com/

Sharon Rose

Indiana USA
Member since 3/10/11
Posts: 346
Skill: Intermediate
Body Type:




Date: 7/13/12 5:46 AM

did your 288 inches include the extra needed to seam the strips? if not, you'll need to add a little extra to cover the seams to piece the strips.

clt3

Member since 2/6/06
Posts: 1225
Skill: Intermediate



In reply to Miss Fairchild

Date: 7/13/12 9:29 AM

Absolutely correct except the binding cut width is 3 7/8" (I would probably just use 4).

------
Singer 66-16. Singer 600e, Kenmore 158.1913 , Viking 1100, Brother 4000D, Brother Quattro traded for Brother PR1000!, Bernina 930, Bernina 1130, White 634DE gave away to a friend,
Babylock Evolve, 2 Featherweights ,Pfaff Creative Performance,Janome Coverpro 1000CPX








stirwatersblue


Member since 12/13/08
Posts: 4518
Skill: Intermediate
Body Type:




Date: 7/13/12 1:01 PM

Thanks so much, Miss Fairchild!! That was math even I could wrap my brain around! (And CLT, I was wondering about that, too. Thanks for double-checking.) Sharon, I ALWAYS forget about things like seam allowances, so I'm really glad you pointed that out! LOL

So it looks like I'll need about 3/4 yard if I go with 2" binding... I might experiment with the binding width using that nifty long-pin-in-the-ironing-board technique and see if I can squeeze out a little more mileage from my yardage.

Thanks!

------
~Gem in the prairie

CM_Sews

USA
Member since 9/18/04
Posts: 1972
Skill: Intermediate



Date: 7/13/12 1:29 PM

I am baffled as to why across grain binding is considered more "economical" than bias binding. I've heard this many times, but it makes no sense to me. If I am cutting fabric into 2-inch strips, it shouldn't make any difference which direction I cut.

I suppose if the bias binding is made via a method where part of the fabric is discarded, then there is indeed waste. If you cut individual strips, then sew them together, and trim the excess fabric from the seam allowance, then there is waste. If you cut a "corner" off of the fabric to create a bias edge, and discard the "corner", then that would also waste fabric.

I use The Dread Pirate Rodgers Continuous Bias Tape method. Except for an undersized strip I might have to trim away on one side, there is no waste with this method. (Even when you cut strips across the grain, when you get to the end of the yardage, you may be left with an undersized strip.)

Shelly Rodgers provides her formulas for determining how much bias you can get out of a piece of fabric. I've plugged those formulas into a spread sheet so that I can enter the size of my fabric, and the width of bias tape I want, and I know how many yards I'll get. If I know how many yards I need, I'll experiment with the fabric length and width entries to determine the size of the fabric required to produce that many yards of bias tape.

I add a step that I first saw Liz Porter demonstrate on a Fons and Porter TV show - by mostly, but not completely, pre-cutting the strips. I explained how to do that in How to Make My Own Bias Tape PR thread.

This basic method is often explained as requiring a square of fabric. However, as Shelly Rogers points out, a rectangle works perfectly well, and I myself have made bias tape this way many times with a rectangle of fabric. Take your time to actually mark all the lines as instructed; you'll be glad you did. Still, within 30 minutes I can have yards and yards of bias tape.

CMC

DonnaH


Texas USA
Member since 10/1/03
Posts: 1945
Skill: Intermediate



Date: 7/13/12 2:25 PM

DPR has basically the same technique as the one I found at Colette Patterns (tut is here), but more verbose!

So try the Coletterie version (also included in the Colette Sewing Handbook) if you find the other confusing.

stirwatersblue


Member since 12/13/08
Posts: 4518
Skill: Intermediate
Body Type:




In reply to CM_Sews

Date: 7/13/12 2:55 PM

Quote: CM_Sews

I am baffled as to why across grain binding is considered more "economical" than bias binding. ...

I use

The Dread Pirate Rodgers Continuous Bias Tape

method. Except for an undersized strip I might have to trim away on one side, there is no waste with this method.


I'd always thought that, too (that bias was more economical). But according to the Dread Pirate Rodgers's yardage requirements chart, I'd require almost two yards of fabric for the amount of bias binding that I would need, versus the 3/4 yard of fabric for cross grain. Granted, it's also telling me to cut the strips almost nine inches wide, which I admit is a number I have to rewrap my brain around every time I make bias tape.

------
~Gem in the prairie

CM_Sews

USA
Member since 9/18/04
Posts: 1972
Skill: Intermediate



In reply to stirwatersblue

Date: 7/13/12 4:33 PM

I plugged your numbers into my Dread Pirate Rodgers (DPR) Bias Tape Calculator spreadsheet. For 4-inch wide strips, with usable fabric width of 42-inches (selvedges removed) and 28-inches fabric length (3/4-yard) measured on the selvedge edge, you should get 294-inches of cut bias strip.

The Desirable Finished Width measurements on the DPR web page are for French Fold binding or Double-Fold binding. The terminology and measurements for different types of bias binding are always confusing.

You say you need 288-inches of 2-inch binding, and that you are using a Clover bias tape maker that requires 4-inch strips (approximately). When you put the 4-inch binding strips (bias or straight grain) through the bias tape maker, you'll have 2-inch single-fold binding. Fold that binding in half again (this is the double fold), meeting folded edges to each other and press, and now you have 1-inch double-fold binding.

8 3/4-inch strips will provide 2-inch double-fold binding. Remembering that Shelly Rodgers desirable binding widths relate to quilts, which also have batting, I think she's built in some "turn of the fabric over the edge of the quilt and around the batting" ease.

The Dread Pirate Rodgers calculations for bias strips work for me. I just figure out how wide I want my strip (no matter how I'm going to fold it later), and plug in the numbers.

CMC
-- Edited on 7/13/12 4:37 PM --
-- Edited on 7/13/12 5:02 PM --

stirwatersblue


Member since 12/13/08
Posts: 4518
Skill: Intermediate
Body Type:




Date: 7/13/12 5:13 PM

THANK YOU!

This is one of those stupid tasks I have to re-teach myself every time I do it, because it positively will not stick in my brain. And that was the best description of double-fold vs single-fold bias tape I've ever seen. In my head... well, I can't even explain what I'm thinking in my head, but it doesn't take the down-the-center fold into account with the measurements. To me, that seems like it's still 2" of tape, whether it's flat (applied flat like a stripe) or folded (to use as binding). This is brilliant.

ETA: Anyway, I still think I'm going with the cross-grain, because I think the fabric will behave a little better for me. It has holes pierced in it, and I'm fussing with the seam allowances, and a bunch of other stuff, and for some reason, lopping off vertical strips just sounds like so much less work than continuous bias! Which I can ABSOLUTELY NEVER seam together neatly.



-- Edited on 7/13/12 5:20 PM --

------
~Gem in the prairie
Printable Version
* Advertising and soliciting is strictly prohibited on PatternReview.com. If you find a post which is not in agreement with our Terms and Conditions, please click on the Report Post button to report it.
Online Class
Fun with Fitting - BODICE w Darts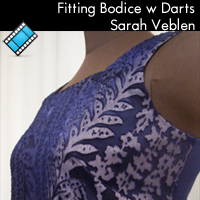 Online Class
Restyling with Exposed Zippers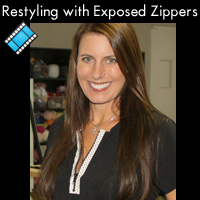 McCall's 6896

by: Sandjjdesi...
Review
BurdaStyle Magazine 07-2010-104

by: Elizabeth ...
Review
Shapes Six Sense Skirt Pattern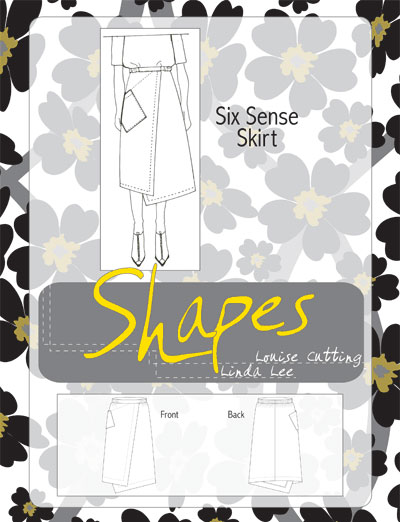 Pattern Details
Favorite Things Uptown Coat Pattern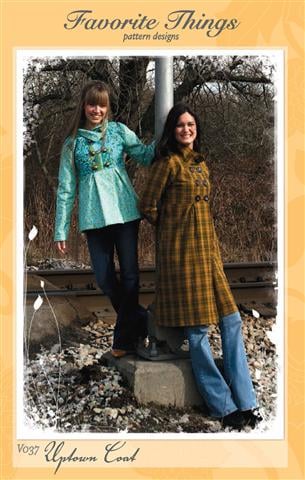 Pattern Details