ann70821

Member since 5/20/12
Posts: 2



Subject: 1st machine--mechanical/electronic/computerized Date: 7/19/12 1:44 PM

I'm in the market for my first sewing machine and I'm wondering if I should look at a mechanical machine or hold out for an electronic or computerized one.

Any suggestions?

Ann in Baton Rouge
-- Edited on 7/19/12 1:46 PM --

lisalu


Member since 10/5/08
Posts: 2758
Skill: Advanced Beginner



Date: 7/19/12 1:54 PM

1. What kind of sewing will you be doing? (simple clothing, tailoring, drapery & upholstery, embroidery, craft projects, saddles, awnings?) And with what kinds of fabrics? (silks, leathers, everything in between?)

2. What is your budget?

3. What is your personal preference?

There is no one-size-fits-all answer for every need. Define some parameters such as what types of projects and fabrics you have in mind and what your sewing goals are (hobby or business?) Then you will get some more helpful suggestions.

ann70821

Member since 5/20/12
Posts: 2



Date: 7/19/12 2:12 PM

Good points, Lisalu. Here's a bit more information:

I'm a beginning sewer. I would like to do simple clothing and some craft projects. I do a great deal of hand needlework and would like to be able to finish my own pieces into throw pillows, wall hangings, quilted table runners and such without sending them out for professional finishing.

Fabrics--I suspect most garment fabrics, except heavy ones. No children here, and neither the hubby or I wear jeans, so I don't think I'll be having to sew over that thick felled seam!

Because I enjoy my hand embroidery so much I'm not really concerned with the machine's ability to embroider.

Budget--I'd like to keep it under $500, if possible.

I don't now if I have a preference--not much experience with either type of machine.

I am quite certain that I won't be stitching up any saddles in the foreseeable future! ;-)

Ann in Baton Rouge

One other thing--I work at the local JoAnn fabrics, and so I see the Viking machines all day long...based on the current sale prices, any one of the Emeralds would fit into my budget. The models at our store are the 116, 118, and 183. But I'm not 'bound and determined' to buy a Viking--tomorrow I'm going to go look at Baby Lock machines, and we have an outstanding Bernina dealer in town, too.

-- Edited on 7/19/12 2:18 PM --

Elona


USA
Member since 8/24/02
Posts: 9966
Skill: Advanced
Body Type:




In reply to ann70821

Date: 7/19/12 4:09 PM

I think it depends on what you want from a machine, and part of figuring that out involves bringing in some sample fabrics of the type you'd be likely to use and test-driving a number of sewing machines. Even better, if you have an adult ed sewing class in town, they often supply the machines, so you can start to get a feeling for what you like and dislike.

If you are sure that all you want is a simple mechanical, a beautiful old Bernina 830 Record, entirely mechanical, built to last for ages, with a gorgeous stitch quality, can be found within your budget if you shop carefully. I have one that I got at a good price from a highly rated ebay vendor, but then, having owned this machine in the past, I knew what to look for. There is nothing electronic on this honey: No screens or programs. You use dials and one lever. Even so, my Berninas, though over thirty years old, have never broken down or given me a moment's worry. In fact, I actually congratulate myself every time I go into the sewing room.

If you do indeed have a good Bernina dealer in town, I'd ask him if he has any in the store for you to check out.

But the key to satisfaction will prove to be thoughtful shopping and quite a bit of hands-on testing, rather than relying on a salesperson doing a demo for you.

------
Elona

arianamaniacs


Board Moderator
Austria
Member since 6/11/04
Posts: 1879
Skill: Advanced
Body Type:




Date: 7/20/12 9:36 AM

It's the same question as "clutch or automatic"? Do you want to learn the real hard basics the way things used to be, like switching around levers to get button holes, fiddling around with scrollers to get tension right for each project, opening up an under the machine pocket to change out the spool, then go mechanic.

I personally would recommend a computerized. There are many within a good budget range that offer lots of useful extras, like cutting off your extra threads, threading your needle, 1step buttonholes and still have good stitch quality. Don't be sucked into spending more for elventy billion extra stitches. You won't use that stuff. Just take stock of the features you will use everyday. Do you quilt? Check about a knee-lever.
Remember that your first machine will not be your last, so don't buy one now that you think you will need in 20 years. Since you are a beginner, buy one step up from the cheapest (you don't want to have to buy a new one next year either). In a few years if you still like it, you will better be able to decide what features are the most important to you.

------
http://mystartupadventures.blogspot.com/

Mufffet


Vermont USA
Member since 8/14/05
Posts: 13547
Skill: Intermediate



Date: 7/20/12 9:43 AM

This decision depends on you and how the machines feel to you. Many people say to learn on a mechanical because sometimes it can show you how the settings etc. work and what you are actually doing, but I myself think that today's computerized machines offer so much more. They are, in general much quieter than mechanicals, and they have nice features like stop/start, needle up/down, multiple stitches, and sometimes mirroring and a button for "Fix" which ties off the stitches. But again, try them out! GO over and try the Vikings - see which ones you like. Babylock offers a nice clutch of models as well, and the Bernina 300 series is a really nice line of machines, so if you shop around, try both types of machines, and then see what you like, you will do well with any one of the brands you mention. If there is a Janome dealer, try them as well, as Janome offers many very good machines at all price levels.

------
"Be kind whenever possible. It is always possible."
--Dalai Lama

I have sewing machines

lisalu


Member since 10/5/08
Posts: 2758
Skill: Advanced Beginner



In reply to arianamaniacs

Date: 7/20/12 12:41 PM

Good analogy! I drive a stick shift...and I am partial to mechanical sewing machines. I like the more direct relationship with my machine that comes with moving levers, turning dials, lifting the presser foot, threading the needle....all of it. I feel more in control of my sewing experience with the hands on functions. And I can fix almost any problem myself. I have been sewing for 30+ years on vintage Singers and I have N.E.V.E.R had to take a machine in for servicing! There hasn't been anything I couldn't adjust or fix on my own with a screwdriver. I even enjoy using the mechanical attachments like the automatic buttonholer.

But that doesn't mean everyone would enjoy that kind of sewing experience. It really depends on your personal style and your sewing goals. I enjoy the process of sewing more than the finished product. For me that enjoyment comes from using my mechanical machines (and some people who like it even more basic than I do use a treadle!) But a computerized machine might be a better bet for someone who is more interested in the finished product and the quickest route to getting there; for someone who counts on the machine being in the shop for maintenance and repairs on occasion and is fine with that; and for someone who feels like they are getting more value from all the bells and whistles.
-- Edited on 7/20/12 12:43 PM --

heathergwo

California USA
Member since 11/14/11
Posts: 958
Skill: Advanced Beginner



Date: 7/20/12 12:56 PM

I would vote for a computerized machine.

I've only been sewing for one year and all I've ever used is a computerized, but for me there was no other way to go.

With the computerized, you're not trying to figure out how to use the machine - or at least not for very long. You figure out the features and what buttons do what and you're off and sewing. And there are so many features you can get for a low budget these days. The needle up/down button, auto thread cutter, knee lift, auto threader and one-step buttonhole are, to me, MUST HAVES!

Computerized machines are easy to use, easy to maintain and relatively inexpensive. In fact, there are so many available in your price range that it will probably be hard to decide!

Go to the various dealers in your area and test drive the machines that are in your price range. See which ones you like the best AND which dealer you like the best. A good dealer can be invaluable. You should also get classes from the dealer to teach you how you use your new baby.

BL are good, Brothers, Janome, maybe even a Juki or Singer. Berninas and Pfaff's are probably out of your budget unless you find a good quality used model which is another possibility as well.

HTH!

------
Brother Innovis 1250D
Babylock Enlighten
Singer Curvy 8763
Brother 1034D
Janome 385.19606
Brother 2340CV

Sibilance7

Member since 8/10/11
Posts: 590
Skill: Intermediate



Date: 7/20/12 2:33 PM

I agree 100% with Muffet and Heather. I sewed with a mechanical for about 8 months when I first started sewing, and the day I got to stop fighting with that thing and start using a computerized machine, I was so happy! I was able to sew more and was happier doing it. I love all the features that make the sewing part effortless. Now, if I could get some sort of computerized iron to make ironing effortless . . .

That being said, it is really important to try each kind of machine out. Different people prefer different things, and you may find you like the solid feel of a sturdy mechanical better than the features of a computerized machine. Any dealer should have both for you to try out. Good luck finding a machine that suits you!

------
My blog: www.feministstitch.com

I sew on:
Olivia, my Pfurple Pfaff Creative Performance
Pfaff Passport 2.0
BabyLock Evolution

Printable Version
* Advertising and soliciting is strictly prohibited on PatternReview.com. If you find a post which is not in agreement with our Terms and Conditions, please click on the Report Post button to report it.
Online Class
Serging Ahead with your 5 Thread Serger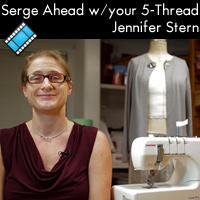 Online Class
Bust Adjustments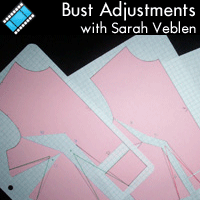 Alabama Chanin Alabama Chanin Tee

by: degnancy
Review
StyleArc Barb's Stretch Pant

by: GeoP
Review
DVD - Will this fabric work for you?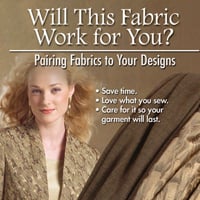 Pattern Details
You Sew Girl 100mm Shell Purse Pattern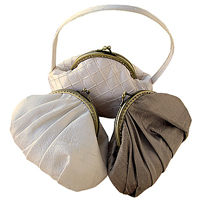 Pattern Details