solveg


Minnesota USA
Member since 2/16/12
Posts: 366
Skill: Beginner



Date: 8/9/12 1:10 PM

Tell me if my conclusion is correct.

A friend was going to sell me her viking 936 for a couple hundred dollars. I initially said "yes" because I thought it was a good price. However, now that I've been learning more about sergers from the posts here on the board, I have come to the conclusion that using a serger is like doing the New York Times Crossword Puzzle in INK.

Am I correct?

In THAT case, then sergers are only for experienced sewists, or people who are making bedsheets.

There. I said it. Someone tell me I'm wrong on this.

PattiAnnJ


Ohio USA
Member since 12/3/06
Posts: 9220
Skill: Advanced



In reply to solveg

Date: 8/9/12 1:21 PM

Wrong.

You get out what you put in and I am not talking just textiles.

Negative thoughts = negative results.

Positive thoughts = positive results.

That's my philosophy and it has worked very well for me over my past 69+ years!

-- Edited on

8/9/12 1:23 PM

--

------
OLD CHINESE PROVERB: I HEAR & I FORGET; I SEE & I REMEMBER; I DO & I UNDERSTAND.


DonnaH


Texas USA
Member since 10/1/03
Posts: 2536
Skill: Intermediate



In reply to solveg

Date: 8/9/12 1:21 PM

Since I have VERY little serger experience, feel free to take this with a grain of salt (or a whole shasker!)...

I would disagree with this.
Sewing machine:serger is NOT like driving a car:flying a plane

It's just a different machine that works better for some things, and has it's own rules/issues. For some things, using a serger will make it much easier. Knits, for example. In fact, I am currently debating which entry level (aka cheap) model to purchase.

The comparison is more like would you use a flat head or phillipshead screwdriver - with a flat head you can turn a phillips screw - but it's a lot more difficult. The flathead is your basic sewing machine - there are some things that it wasn't really meant to do, but has stitch functions that can get a similar result. But a serger will get the result much faster and easier.

(I used one once upon a time while working in a costume shop. I mostly remember it was fun.)

Kippysan


Member since 4/19/11
Posts: 370
Skill: Intermediate

1 member likes this.




Date: 8/9/12 1:28 PM

Uh, I'm going to say I disagree with your assumption, Solveg. I've read several of your postings (checked out your marvelous robe) and I believe you are the sort of brave sewer who would buy the Viking serger (assuming you are comfortable forking over the money) and after finishing just a couple of seam allowances while working on your next project you will come running back here to post: Why did I wait so long to get a serger!!!!!!!!!

Seriously, there is a learning curve as far as 1) threading the machine and 2) perfecting the stitch. But, there are videos on YouTube as well as all the folks here who can help with any learning curve issues you might have (which I doubt).

I sew garments, quilts, American Girl doll clothes, pursemaking home dec stuff, etc., and I use my serger no matter what I'm working on. Yes, I guess its mostly to finish seam allowances - but it does such a fabulous job on that one specific task that I think its one of the most important tools in my sewing room!

HTH

Kippy

nicegirl


District of Columbia USA
Member since 5/10/06
Posts: 1727
Skill: Intermediate



Date: 8/9/12 1:43 PM

A serged seam is only a commitment if you're using the serger for construction. For wovens, I generally just use the serger for seam finishing after sewing and pressing the seam as per usual. It doesn't take away any flexibility in later changing your mind on the fit/seam allowance. This method sticks with doing the crossword in pencil.

For knits, I usually construct with a serger, which is an ink pen commitment! But if you're not sure about fit, you can always sew by regular machine first and then once you've fitted it go back and serge over the machine stitching.

You'll love having a serger!

------
http://theslapdashsewist.blogspot.com
=================
2007: purchased 115+, sewed 105+
So close to parity, yet so far

Trying again in 2008
Yards purchased: 133
Yards sewn: Somewhere around 95

2009? I give up

solveg


Minnesota USA
Member since 2/16/12
Posts: 366
Skill: Beginner



Date: 8/9/12 1:55 PM

It's in Kansas, so I won't be picking it up until the fall.

OK, I deem myself proven WRONG! It's good that if you really really want to be safe, you can use the serger after construction. When you read about them, they don't really bring that fact up.

Because me and my seam ripper are developing a deep and meaningful relationship, so I don't think I'll be feeling cocky with my sewing technique any time soon.

Thank you for your input!

a7yrstitch


Texas USA
Member since 4/1/08
Posts: 7517
Skill: Intermediate



In reply to solveg

1 member likes this.



Date: 8/9/12 2:13 PM

If your friend's machine has been maintained, it would be a fabulous serger for you at that price.

The Viking online thread guides are a little hard to get to but once you find them they are very easy to follow. The little thread cone becomes animated to illustrate its color coded path. Okay, you may need reading glasses, but that's the only problem you'll have with following the online reading guide.

You could ask your friend to help you get started.

I am about to sell a 936. Hubbie was happy when I indulged myself with a Babylock Evolution last month. But the 936 is nothing to sneeze at. You'll enjoy the more open harp while you get used to using serger.

I used my original Pfaff serger for about 25 years. The Babylock is super easy to use but I think there is a lot to be said about the understanding of the process that is obtained by using a serger with settable tensions for each of the threads.

Our guys were young kids when I first started using a serger. Although I am kind of nuts about seamed finishes even my youngest commented on how much more polished some of the knit garments looked with serger finished seams.

I think you will want to take advantage of the opportunity. Should you decide on a specific serger later you should be able to sell it with little or no loss. At the price consider it as a monthly rental to yourself - cheap!

And, it's not just for knits.

I wouldn't tie using a serger to experience level. You would have enjoyed running your striped seersucker garment pieces through the serger before construction for a nice finish on the edges. If the stripes you matched hadn't been so persnickety, you would probably have also enjoyed making most of your seams in the serger too.

Seriously, if you can balance yourself on that rock to get the best review photo of your robe, you can handle a serger. Before you 'check' it out, look online for sample stitches so you know what you should expect.

------
I have no idea what Apple thought I was saying so be a Peach and credit anything bizarre to auto correct.

tourist


British Columbia CANADA
Member since 7/23/07
Posts: 6793
Skill: Intermediate



In reply to solveg

Date: 8/9/12 2:15 PM

Go for it, Solveg. You won't regret it. You can, as others have said, baste then serge. Yes, you will be frustrated and yes, you may have the odd mishap, but there are kajillions of ways to make big, horrible mistakes without a serger, right? Never fear- your relationship with your seam ripper will endure at least until you use it so much it goes dull and you need to replace it.

------
http://bgballroom.wordpress.com to follow the progress on my next ballgown.

Miss Fairchild


USA
Member since 8/24/02
Posts: 7936
Skill: Advanced



In reply to solveg

Date: 8/9/12 2:21 PM

After being a dinosaur for many years and doing my best to convince people, especially my former SIL, not to buy one, I did buy one. And I must say, it's a lot of fun. I've used it to make several knit pants and tops, and to finish the seams on several jackets and corduroy pants. I've also used it to make pillow cases for a homeless shelter. But it can be a bear to rip stitches, so use it after construction if you're fearful.

With it you could finish the seam allowances if you make another robe, sew some nice knits and a few other things. What made me change my mind? Well, I bought a Janome fancy schmancy machine from a friend and when I saw how s-l-o-w the overedge stitch was, the one used to finish seams, the serger piqued my interest. Now I'm trying to reorganize my sewing room to find a way to keep the serger up full time. (Oh, I should use this in the plural term, as I have two..)

------
"Play the cards you are dealt, but choose who is sitting at the table"..AARP magazine

SEE MY ETSY SHOP HERE: http://www.etsy.com/shop/AuntMaymesAttic
My blog: http://auntmaymesattic.wordpress.com/

LynnRowe


Member since 3/9/09
Posts: 11276
Skill: Advanced



In reply to solveg

3 members like this.



Date: 8/9/12 3:07 PM

Totally wrong. (sorry!)

For example, anyone can learn how to use a Babylock Imagine, Imagine Wave, Evolve or Evolution in less than 15 minutes.

Some sergers are more difficult than others, due to level of threading and/or tension-setting difficulty, but they're ALL easier than trying to sew and/or hem knits on most sewing machnes, and NONE of them are any harder for an experienced seamster than for one who has never sewn a stitch in their lives.

Nice try though, for attempting to get out of the serger and coverstitch SMAD.

-- Edited on

8/9/12 3:10 PM

--

------
I heart Woo (HimmyCat). Until we meet again, my beautiful little boy. I love you.
Printable Version
* Advertising and soliciting is strictly prohibited on PatternReview.com. If you find a post which is not in agreement with our Terms and Conditions, please click on the Report Post button to report it.
Online Class
Expert Sewing Techniques for Jackets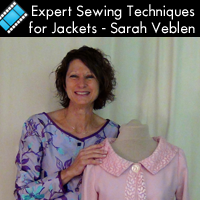 Online Class
Beginners Guide to Dyeing Fabrics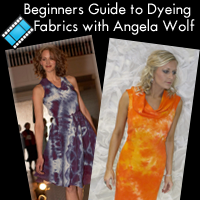 Butterick 5925

by: Helen near...
Review
SewBaby Sleeve Saver Smock Pattern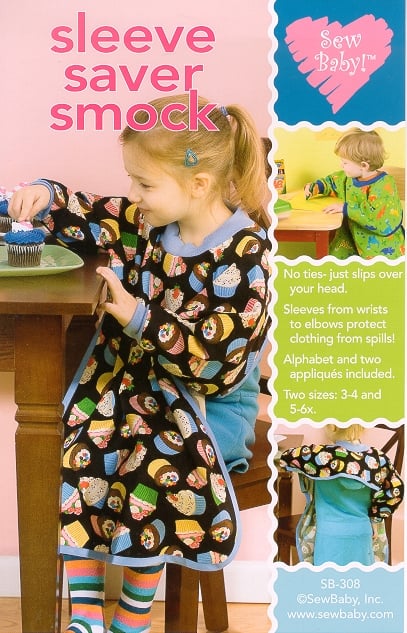 Pattern Details
J Stern Designs Top with two collars and a Peplum Pattern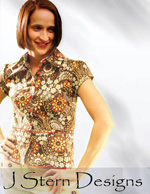 Pattern Details
New Look 6323

by: Restonshop
Review