ahrizel


Beginner
Member since 4/22/12
Posts: 300

1 member likes this.




Date: 8/9/12 5:53 PM

Okay, making costumes for the niece and nephew for the renaissance faire. Didn't seem that bad, a shirt and pants for the boy, bodice chemise and skirt for the girl. Except, of course, I've never made a collared shirt before. But at least it's a loose fitting thing that will help hide mistakes. The bodice isn't simple, though, and it gives me nervous fits thinking of it. But the skirt is just a 4 gore and the chemise is a peasant dress, they are simple. But I need to finish the bodice with bias tape, which I need to make. It's not supposed to hard, right? First time for this. But still, doable.

But I forgot about the husbands pants I need to do. They are at least simple elastic waist ones at least. And I need to make myself a new skirt too. Another gore skirt, not too bad, but the items keep adding up. And oops, my old bodice doesn't fit!! So I need to do a new one. But the patterns aren't my size, so I'm going to draft a conic block pattern. Found the instructions online, no idea how much fun that will be. At least I'm going to skip all the boning, as it won't fit me next year-thank the weight loss surgery this summer for that.
Now that I look at the whole list I'm having a slight panic attack. I was thinking 2 days ago that I was doing well. Already started the projects. Usually I'm starting 2 days before they need to be finished. I was so proud.....
You know what they say about pride going before a fall. They need to be done by the 17th. And the kids(teenagers really) need to be done sooner, because I have to check fit and hems on them. I took measurements, but still.
I think I'm in over my head. Oh, and the new sewing machine arrived and I just put it too work today, so I have to get used to that too. This should be a very interesting week

JEF


Intermediate
Virginia USA
Member since 7/27/05
Posts: 2603
Board Moderator





Date: 8/9/12 10:25 PM

Wow - I got out of breath just reading your post! I have nothing to say except "Good Luck!!"

JEF

------
"The trouble with quotes on the Internet is that you can never know if they are genuine." --Abraham Lincoln

Marie367

Intermediate
Ohio USA
Member since 5/28/11
Posts: 2391





Date: 8/9/12 10:46 PM

This sounds like something I would have gotten myself into and then half-way through thought "this was stupid, why did I do this to myself?" I always find that things work out though. On the plus for you, I think it is easier to make things new than alter already made items. I don't have any other encouragement except try to have fun! Good luck!

solveg


Beginner
Minnesota USA
Member since 2/16/12
Posts: 366



Date: 8/10/12 0:09 AM



Wow! I'd come over and help if I lived close to you! Maybe not use the new machine right now (that sounds hard to do)....but it should decrease the panic level....

NhiHuynh


Intermediate
California USA
Member since 1/4/11
Posts: 781





1 member likes this.



Date: 8/10/12 1:16 AM

Wowee that's a lot of stuff to sew. Unless you're a super fast sewer and having nothing else going on I would encourage a plan B.

It may be a good idea to make just a few pieces. Send the husband and kids out to a thrift store or something for the rest.

Or you can put some of them to work on their own garments. Cutting, sewing, threading needles etc. I assume you have 2 machines now with the new one.

Or they can help out my doing all the cooking, cleaning, chores etc so you can sew, sew, sew.

Good luck!

------
I finally have a blog. www.detectivehoundstooth.com :)

sj3663

Beginner
Member since 12/2/09
Posts: 35



Date: 8/10/12 6:56 AM

Wow! Yes--like NhiHuynh said, someone else is going to need to do the chores. Sounds like a challenge.

Good luck! You can get that bias tape thing, if I can. With your list, though, it may be worth it to purchase some and save yourself a task if you can find the right color!

ahrizel


Beginner
Member since 4/22/12
Posts: 300



Date: 8/14/12 1:53 PM

Well the massive sewing project is in progress. The shirt, chemise, skirt and pants are all done. I'm particularly proud of the shirt, not that it's perfect or anything. But it's my first collared shirt and it actually looks like the pattern-and it fits my nephew thank goodness. The bodice is tonight's project, princess seams with nowale corduroy should be a joy. Making the bias tape was a disaster, purchased bias to the rescue.
I have the husbands pants left, they are easy. My bodice which I have to make the pattern for, that is going to be a challenge. And my skirt, which shouldn't be hard once the color is right. The linen was white, which I dyed green. It wasn't very dark, so I dyed it navy over the green-end result a very ugly grey color. Yuck! So it's being bleached as I type and will be dyed a dark navy over it then. I really, really hope it looks okay.
I've actually made some accessories, little pouches for the kids(who are teenagers) to go with the outfits. I wish they could help me with this, they would if they could. But they live over an hour away and neither knows how to sew. My husband has offered to help with a few little bits, he can sorta sew a straight seam, but that is it. He'll put the grommets in the shirt and go through and trim all the excess threads.
I have been using the new machine exclusively, this is the Singer's today's special from 2 weeks ago. I have 30 days to decide if I'm going to keep it and I want to put it through the wringer to test it. So far, so good actually. Even made a leather pouch with it. But I have more torture testing in store for it before the final decision At least it has been easy to learn to use, thank goodness for that.
This is actually going better then I thought, even with the bias tape debacle and fabric dying fun. I think my skills are slowly improving, and my sewing speed certainly has. I'm at home so I can sew all day, that helps a lot too. I'm just glad I'm getting these done, I've been promising the kids costumes for several years. And they are nice kids and grateful for them. This is still insanity, but it looks like the insanity may actually get done, which is nice. I'll post reviews of the patterns with pictures when I'm done with them, at least the stuff that I used a pattern for.
Mary

solveg


Beginner
Minnesota USA
Member since 2/16/12
Posts: 366



Date: 8/14/12 2:31 PM

I can't wait to see pictures and here the closing write-up. You are going to have soooo much more confidence with your sewing after this.

stirwatersblue


Intermediate
Kansas USA
Member since 12/13/08
Posts: 3326



Date: 8/14/12 5:03 PM

You have my sympathy and support! Two summers ago, I decided that my entire family needed "Much Ado About Nothing" garb for fair--with just under 8 weeks to make two skirts, two bodices, two vests, and two shirts--most of it drafted or draped *from scratch!* Not to mention sourcing all those different varieties of white fabric! But I managed it, the other 3 were thrilled, and we looked fantastic. Whew!

While you're working on your last bits, I'm rustling up a new doublet for FIL, a new shirt for DH, and a new chemise and skirt for myself. Sounds downright manageable when I type it all out!

Good luck! Press on!

------
~Gem in the prairie

ahrizel


Beginner
Member since 4/22/12
Posts: 300



Date: 8/14/12 6:25 PM

Ooh, if your Much Ado About Nothing outfits we're styled like the movie, they would be really nice, love that movie and the costumes in it. Since you do historical sewing, a quick question-have you drafted your own block for a bodice/corset? Because that's what I'm doing tomorrow. None of the big4 pattern companies have one in my size, so I have to improvise. If I can't do it my husband is going to bring out the duck tape Depending how my niece's bodice goes tonite, I may wish I had done this for hers. This is doing wonders for my confidence in sewing, I've actually finished stuff I thought I couldn't, and it even looks right. And as I said, it's been a good trial for the new machine. There will be pictures, have to take them at the faire with the kids modeling. And the weather looks cooperative, not so hot that we should pass out. I actually like it better in the fall, the costumes are made for that kind of weather. 60 and cool works very well with long skirts and cloaks. Of course, last year the last weekend was cancelled by a nor'easter, that was a little much.
Mary
Printable Version
* Advertising and soliciting is strictly prohibited on PatternReview.com. If you find a post which is not in agreement with our Terms and Conditions, please click on the Report Post button to report it.
Sewing Facings and Developing Facing Patterns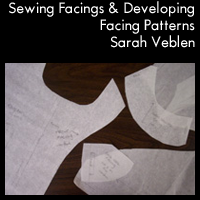 Clone Your Favorite Garment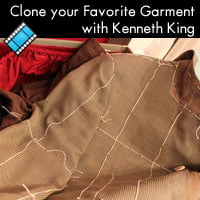 Wild Ginger 1101

by: SandraB
Review
Petite Plus 651 Pattern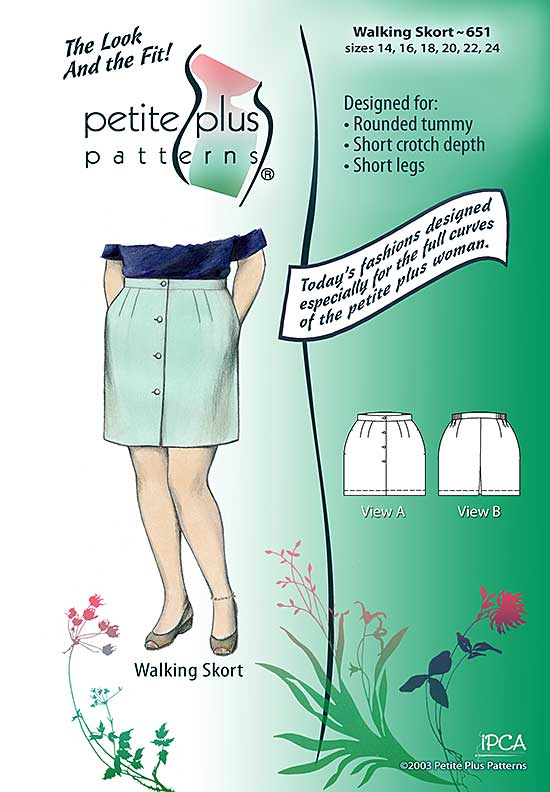 Buy Now
Islander Sewing Systems Renaissance Cape Pattern Pattern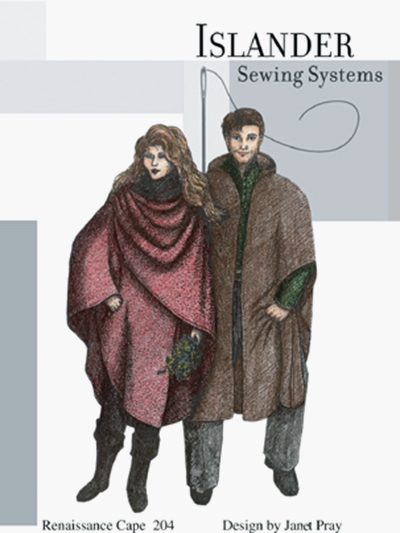 Buy Now
Butterick 6775

by: Cation Des...
Review