ahrizel


Beginner
Member since 4/22/12
Posts: 300



Date: 8/16/12 4:48 PM

I"ve been on the massive costume sewing project with the nightmare nowale cord. So I finally finished the outfit-skirt and bodice. i put them both in the wash to get rid of the marks from cutting and sewing. I pull them out to find a fiasco-several seams shredded! The ones on the skirt are fixable, but the one in the back seam of the bodice is a big problem. I can try handsewing it, which I'm not very good at. Or doing a wide satin stitch over it, maybe up the entire seam to make it look more uniform. And these seams were sewn and overcast with overcasting foot. All of them. Just to understand I mean I have open seams, several of them each several inches long. I can't believe it. I"m letting them air dry now, certainly wasn't going to put them in the dryer. If I had a prayer of getting them done, I'd get new fabric and do the whole thing over. But this needs to be done by tomorrow night, I just can't see that happening. I hate giving her what is going to be a disposable outfit, but I think I'm going to have to for the faire. My only consolation is I can make her something else that won't fall apart in a few weeks so she will have it. Any suggestions for fixing this mess??
Mary

nicegirl


Intermediate
District of Columbia USA
Member since 5/10/06
Posts: 1724

2 members like this.




Date: 8/16/12 4:53 PM

Ugh, it sounds like you got saddled with low quality fabric that no amount of skill can salvage.

For this weekend's wear, before resewing the seams reinforce the fabric along both sides with strips of medium-weight fusible interfacing. I find that the tricot/knit interfacing fuses better than the non-stretch. Zigzag the fabric along the shredded fibers to the interfacing. Then sew the seam again, double or even triple stitching if possible. If it won't look too terrible, press the seam allowance to one side and "topstitch" over the seam with a wide zigzag that catches both pieces of fabric (e.g., front *and* back at side seam). This should keep it intact for the fair.

If she wants to wear it more than once, she'll have to hand wash and air dry--this can't go back in the wash machine.
-- Edited on 8/16/12 4:53 PM --

------
http://theslapdashsewist.blogspot.com
=================
2007: purchased 115+, sewed 105+
So close to parity, yet so far

Trying again in 2008
Yards purchased: 133
Yards sewn: Somewhere around 95

2009? I give up

PattyE


Intermediate
Member since 9/7/10
Posts: 1675





Date: 8/16/12 5:00 PM

Quote: nicegirl
Ugh, it sounds like you got saddled with low quality fabric that no amount of skill can salvage.






That's what I was thinking too...it's not you, it's the fabric. But unfortunately you are the one who has to fix it. So sorry you're having such a time with your project.
beauturbo

Advanced
California USA
Member since 5/2/09
Posts: 3532





Date: 8/16/12 5:53 PM

Bummer! Must be rotten fabric or was exposed to something bad and changed, or just made bad in the first place. I think best thing you can try to do, is to reinforce, and just know if it gets though even the one wearing, that's probably just it. I hate to think it, but if the fabric is ripping out at the seams, probably if you just held it and gave some good yanks, it might even fall apart anyplace else too.

Maybe test that, with some left over scraps that are not in the outfit.

I think just damage control, and reinforcing with something ironed on underneath is probably a good idea, to try to get even one wearing out of it, then next might be her wearing something thin but to prevent a wardrobe malfunction even under it, like a leotard or something, just in case. Other than something ironed onto it, sometimes people try to reinforce weak areas of old and getting rotten fabric or some old lace that might be falling apart or such with even some new netting under it, and I guess maybe you could try to use some nylon net or something under it and then darn the fabric to it, but at that point I think the item is more a display item, and not something that can be worn anymore.

Sounds like it really is your fabric, (as sounds like it did rip and fall apart even where no stitching) but just in case it's your thread, or your thread also, better to start pulling on your thread too, and see if it snaps and breaks more easy, than normal thread maybe. Even thread has a shelf life and goes brittle and dried out and bad sometimes, and it could be/have been exposed to something also.
Especially maybe if all the problems are only where you thread was stitched, but I do remember you saying it even happened just next to stitching instead, when you tried to thread some elastic though, so that's probably not it.

ahrizel


Beginner
Member since 4/22/12
Posts: 300



Date: 8/16/12 6:22 PM

Oh, it's the fabric. It's been a mess since I started using it. She'll have a chemise-a long peasant dress underneath it. And I may quick make her some bloomers, she may need them. White muslin is fairly sheer. The thread is new gutterman, don't think it is the problem. I've been using it throughout my sewing projects, nothing else has unraveled, even with washing. Her chemise and her brothers shirts, both made of cheap muslin, sewed washed and dried just fine. The fabric is ~5 years old, from Joann's originally. It's been an absolute fiasco since I started cutting it. The bodice is lined and interfaced-that part is fine. The skirt is bias bound on the bottom edge and the waistband. The waistband that started ripping when I first put in elastic, which required tearing out and massively reinforcing it before I redid it. That part did stay together in the wash. I'm going to have to do similiar work on the skirt seams. The back of the bodice, oy vey!!! I still think my best bet is a wide satin stitch over the entire length of the seam. Almost all the other seams on the bodice are biased finished thank God. The back is split because I didn't have enough fabric to cut it on the fold per the pattern. This is going to be a 'hold it together long enough to wear it' project. I hate that after all the time it took, but it has to be done. Oh well, another learning experience......
Mary

Courtney Ostaff

Intermediate
West Virginia USA
Member since 11/23/10
Posts: 664



Date: 8/16/12 10:52 PM

Have you thought about gluing it?

solveg


Beginner
Minnesota USA
Member since 2/16/12
Posts: 366

2 members like this.




Date: 8/16/12 11:01 PM

Oh, you've been through the wringer with this project. I'm so sorry it's been so bad.

This is a single occasion set of clothes, right? Can you just put masking tape behind the seam and be done with it?

I remember when I was 5, the dog ate part of my birthday cake right before my party. My mom cut a filler piece with upholstery foam and then iced the whole thing. No one ever knew!

ahrizel


Beginner
Member since 4/22/12
Posts: 300



Date: 8/17/12 0:29 AM

I don't think glue or tape would work, the skirt is just too heavy. You might be able to glue the back of the bodice, but I think it would look fairly bad, maybe glue the threads in place then stitch over it??? Don't know, right now it looks like major reinforcing and stitching. The skirt is reasonably fixable, I just need to restitch and re-reinforce it-again. The bodice is going to be noticeable, I don't think that is possible to miss the repair. The corduroy is burgundy and the bias is navy blue. I'm thinking after I overstitch the the ripped area of butting 2 pieces of the bias back to back over the seam. Kinda make it looks like there is supposed to be bias covered seam in the back. Don't know if it will cover the whole thing, but it might help. The skirts will go a little off kilter, but it's very full. Should help hide a multitude of sins. Never a dull moment, but I would kill for some dull moments right about now Oh well, back to the insanity in the morning.....
Mary

solveg


Beginner
Minnesota USA
Member since 2/16/12
Posts: 366





Date: 8/17/12 1:00 AM

Where exactly did you get this fabric from? Is there another name for no-wale corduroy? Cotton velvet?

ahrizel


Beginner
Member since 4/22/12
Posts: 300



Date: 8/17/12 8:55 AM

It looks like a cotton velveteen. It's from Joann's, but a good 5 years ago. It's a very pretty looking fabric, but looks are deceiving. A closer inspection last night revealed more damage then I originally thought. Therefore, despite the insanity it will cause, this means a new outfit. The same bodice pattern, but not a gore skirt. I don't have a pattern for it, so I would need to hem it on her. Not going to happen-she lives over an hour away. So a simple rectangle gathered waist skirt it is. I have fabric for the bodice, not fancy just twill but it will work. Just need bias tape and more thread for it. I have to get more fabric for a skirt, don't have anything in the stash that will work. Fortunately, that skirt will go together quickly. The bodice I'm doing the same pattern, not the easiest, but after doing it once it will be easier. And I know the approx fit of this on her, I tried the basted lining on her for fitting. The whole project will take, oh 4-5 hours. Dear lord, what a day. Oh, and I still have to finish my bodice, which hopefully won't be too bad. Update tonite.....
Mary
Printable Version
* Advertising and soliciting is strictly prohibited on PatternReview.com. If you find a post which is not in agreement with our Terms and Conditions, please click on the Report Post button to report it.
Fun with Fitting - BODICE w Darts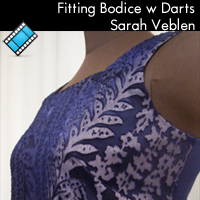 The Technique of Underlining Garments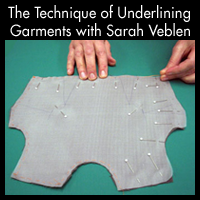 Self Drafted Pattern 218360-1001

by: QuikSew
Review
New Look 6127

by: SteffieMar...
Review
Bluegingerdoll The Ava Jacket Paper Pattern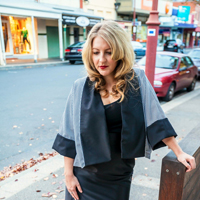 Buy Now
You Sew Girl SEWING CLASS 1 - Shopping Bag Pattern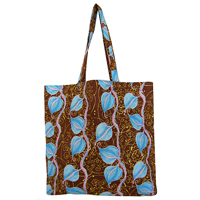 Buy Now