nestle

Intermediate
California USA
Member since 6/30/11
Posts: 72



Date: 8/19/12 1:19 PM

I've been trying for over a year to love the 3160 enough to buy it, but numerous bad reviews scare me. and I think I would like to try embroidery, but not sure. Then I read here about the Coverstitch machine and I KNOW I want one of those. I am now able to buy a 9700 Janome but that would clean me out and I accidentally went into a Babylock dealer and like the ElLURE, Plus or plain. The price is better and it has an automatic thread cutter, which I love on the 3160. and I could get a Janome 1000cpx and still be in that budgeted amount. Or maybe a Babylock Coverstitch and trade in my Juki MO634, although that 22 year old is still perfect and has never even burped! I feel very loyal to Janome because my current machine is also 22 and never any problems, a New Home 15S. And then I run into Buy a Bernina! What to do. what to do. HELP!!

LynnRowe


Advanced
Member since 3/9/09
Posts: 9426





1 member likes this.



Date: 8/19/12 1:31 PM

I'm not much into "brand loyalty", I just want the best machine for me for whatever particular use the machine is for.

Personally, I think Babylock's sergers and coverstitch machine are simply the best. Pricey, but when you have it for ages, love using them and don't suffer the frustrations so often encountered with other brands, the price becomes very reasonable.

For garment sewing, I prefer Pfaff, as the IDT makes sewing knits very easy. With the incredibly gorgeous stitching of the new Creative Performance, I'm also branching out to dabble in quilting and embroidery.

If I were a serious quilter/embroiderer, I would look at the Babylock machines.

And a ton of sewers/quilters/embroiderers would have totally different preferances.

Try out whatever machines you can, and pick the one(s) that suit you best.

Better to get one really good machine now, and save up for another later, than to split your budget and get two lesser machines, imo. However, you may find that two machines you really love do fall together within your budget.

Window shop machines first...then sit and consider the budget as compared to your fave machines.

------
I heart Woo (HimmyCat). Until we meet again, my beautiful little boy. I love you.

horsegirl


Intermediate
Michigan USA
Member since 11/18/07
Posts: 288



Date: 8/19/12 2:12 PM

I have loved all my Babylocks, especially the (Imagine) serger and the coverstitch. Super simple to thread, so I use them all the time (whereas I avoided my Huskylock because of finicky threading issues, especially when changing stitches back and forth).

That being said, I found the CPX1000 surprisingly nice, and I know there are many loyal fans here. The BL just felt solid and very sturdy, and I love the clear instructions BL provides with all the products. Having had a couple machines with incomprehensible manuals, that means a lot to me.

It is overwhelming to shop for machines, and it also too easy to overbuy, especially with brands with enormous product lines and new models all the time. I think that is another reason BL appeals to me--I can deal with the more limited but comprehensive list of machines in their line. Those jumbo jetliner sewing/embroidery combos scare the heck out of me. Too much like NASA mission control....

------
My Years of Sewing Fearlessly

Babylock Decorator's Choice
Babylock Quilter's Choice
Babylock Sashiko
Babylock Imagine
Babylock Coverstitch
Singer 500a "Rocketeer"
Janome 673
Elna Lotus SP
Singer 27 treadle
Singer 99

PattiAnnJ


Advanced
USA
Member since 12/3/06
Posts: 7654

1 member likes this.




Date: 8/19/12 2:32 PM

Go Baby Lock!

------
"Improvise, adapt and overcome." - Clint Eastwood/Heartbreak Ridge

Mufffet


Intermediate
Vermont USA
Member since 8/14/05
Posts: 11424





Date: 8/19/12 3:24 PM

Sounds like you need to take a deep breath and step back. Keep saving. WHen you are ready to test each and every machine, go do it. Go see the Berninas and see what you get for your money and how you like the feel. go see that Babylock - you may want a Babylock sewing machine and a Babylock serger. Why replace your JUKI though as you will not really get anything in trade - all these trades really don't get you much. Before you "trade in" ask the dealer about a price if you pay cash and don't burden him/her with a trade in - you may get a pleasant surprise - I know I did back when I bought my Viking. NOT trading got me a full 150 discount. In effect, the trade in "deal" fromt he dealer is covered by the sale price of the machine you buy. Sigh.

There is no hurry. New machines are coming our all the time, and if you are good now, you don't need to hurry - take your time, shop around and test out whatever machine seems to appeal to you. :)

My advice isn't very enabling, but it makes sense...

Edited for typos...I may just stop editing...why not blame this tiny keyboard....
-- Edited on 8/19/12 3:25 PM --

------
"Be kind whenever possible. It is always possible."
--Dalai Lama

I have sewing machines

Screaming Mimi

Advanced
California USA
Member since 3/13/10
Posts: 69



Date: 8/19/12 6:33 PM

About a year ago, I went to the dealer to look at the Janome (which I was pretty set on), and figured as long as I was there I'd have a look at the Baby Lock Ellure Plus. Came home with the Baby Lock, and I absolutely love it!

arianamaniacs


Advanced
Austria
Member since 6/11/04
Posts: 1498



Date: 8/20/12 2:59 AM

If you don't know how much you're going to get into embroidery, then I advise against it. I thought the same thing when I bought my Brother 1500D. I had visions of embroidering rennaissance gowns, but I've used the embroidery unit about 10 times to embroider some disney stuff on onesies. That was 5 years ago.
For the price you're paying extra for this functionality, you'd be better off getting a better sewing machine.

PattiAnnJ


Advanced
USA
Member since 12/3/06
Posts: 7654



Date: 8/20/12 7:44 AM

Don't "embroider" too much anymore, but did find the embroidery machine creates perfect quilting; motifs or stippling (that's meandering).

------
"Improvise, adapt and overcome." - Clint Eastwood/Heartbreak Ridge

LuceLu


Advanced Beginner
New York USA
Member since 8/4/06
Posts: 1583



Date: 8/20/12 9:13 AM

You sound overwhelmed. Maybe you should focus on one type of machine at a time. Hold on to your Juki, particularly since you have had it a long time and are familiar with it. Write down your "must haves" for a sewing machine. If you want an option for embroidery, write that too. Consider how much you plan to embroider. Most people who embroider find they need at least a 5x7 field capability, the 4x4 is not enough.

There are specials on machine models that have been upgraded with new models. For example, my Pfaff dealer has Creative Vision machines on clearance with embroidery packages for about $3,000. I'm sure Janome has 11000SE trade-ins on clearance too since their 12000 came out. Brother just came out with a TOL so they may have some trade ins as well. Brother and BabyLock's machines are hauntingly similar, they differ slightly in the designs they hold and color of trim. Bernina machines will always be a higher price for the features they offer. However, with their new models coming out there will be plenty of people selling their old models or dealers having some trade-ins or floor models at a discount.

Once you narrow down your list to 3 different machines, go sew on them and test out your fabrics etc. Evaluate the dealers selling them. Ask as to the availability of classes, what kinds of classes are offered, what are the shop hours -- are they open enough hours when you are available? Then make your decision. Then spend lots of time and projects sewing on your new machine; schedule your classes and practice with the accessories. Once you have a good handle on it and feel you are using it to your best --then evaluate if you need another machine like a coverstitch. You might do quite well enough with the stitches on your sewing machine. Plus your attention is not divided and you can focus.

Learning one thing at a time is a good strategy for gaining mastery, these computerized embroidery machines are quite complicated and have many features and accessories to explore and utilize. Later on, someone who overpurchased will be selling their coverstitch and you can snap it up at a discount when you are more flush with time and money.

RipStitcher


Advanced
Member since 5/28/12
Posts: 2863



Date: 8/21/12 0:53 AM

Two months ago, I was where you are now. Have fun with that!

All kidding aside, I knew going into this that I wanted to be able to play with everything... garments, quilting, home dec & the ability to do embroidery at some point. But it's absolutely necessary that I can construct quality items.

I looked at combo machines. Almost bought a Viking Designer Diamond Deluxe (and soooooooo glad I didn't!)

I decided to take about 6 classes at different places within 50 miles from me. This gave me a chance to spend a few hours on different machines. And more than that... (this is a biggie for me) ... it gave me a chance to see how the different dealers treat folks. Just hang out in these places for a few hours and you'll get a really good reading on the place. Are people comin' in happy? Or not? Do they know what they're talkin' about? Or blowin' it out their @$$es??

Maybe that isn't important to you. That's cool. But, IMO, this is a much more difficult thing to do than what is involved in buying a car! Buy a car = never having to see that dealer again if you don't want to! But what if that's where you intend to get fabric, classes, etc? I would prefer to have a fun time with all of this.

And don't get me started in the disparity of pricing... I digress.

So in the end... I decided I didn't want to depend on a combo machine. I want to be able to sew while one machine embroiders... and if the embroidery thingie goes down and needs service, I don't want to not be able to sew while it's in for repairs. So early on, I pretty much decided I'm better off with two machines.

Then... *for me*, the most important first step in choosing equipment was to be able to sew ANYTHING and do it well and have it be enjoyable. So these big, wide throat machines really got my attention.

I'm also a junkie for the process of sewing. It feels good to work with the machine. So, **for me**, I don't like machines that sound clanky or rattley. My Elna 62 purred for almost 40 years... and I sure am not going to have something now that sounds like a jackhammer. That ruled out a few machines right off the bat! lol

So in the end, as you can see on this board, I wound up buying a Janome 7700QCP (the "Horizon"). It was a convoluted trip getting to this point... because I was sooooooo ***not*** open minded in the beginning.

I now have a killer sewing machine. And I shopped until I wound up getting this league of machine down from $3,000 MSRP to a price of $2,000 in the end.

So the next step is figuring out what I want for an embroidery machine... and it will be GREAT to not have to be concerned with how it sews... lol... I already got that handled.

So for you.... I think you should figure out what exactly you think you're really going to be doing on your machine(s)... and then tackle it from that direction to see what machines would deliver up a great experience for you.



------
Video of how the Bionic Gear Bag works is here: www.BionicGearBag.com
Neglected personal blog is here: www.RipStitcher.com
Share pics on Instagram: RipStitcher

Tool junkie at heart!

Bernina 880 Sterling Edition & Bernina 550qe

Next up:
Babylock Sashiko
Babylock serger
& a new-new Sewmobile - see my last #sewmobile in Instagram
Printable Version
* Advertising and soliciting is strictly prohibited on PatternReview.com. If you find a post which is not in agreement with our Terms and Conditions, please click on the Report Post button to report it.
Serging Ahead with your 5 Thread Serger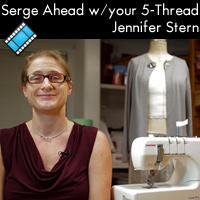 The Contemporary Couture Jacket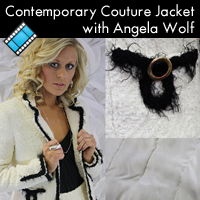 Vogue Patterns 1022

by: FreyaStark
Review
Ultrasuede Jacket DVD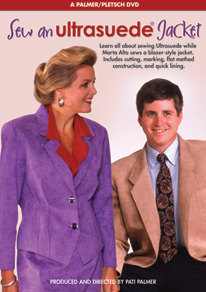 Buy Now
Sewing Workshop Siena & Cortona Shirts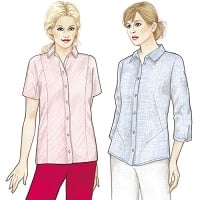 Buy Now
HotPatterns Fringe Festival Knit Top

by: Stacie Thi...
Review