Leu


Advanced Beginner
NY USA
Member since 1/21/10
Posts: 335



Date: 8/23/12 11:38 AM

Hello, wise and all-knowing message board.
My husband and I have talked about this quite a bit, but I thought I would throw it out there to get your thoughts.

I've not sewed for my two boys at all (4 and 1). I bought Kwik Sew's Sewing for Toddlers a while back but this is my dilemma--> My sewing is squeezed in between everything else that I do for my family and my sewing is for things I need / want to wear this week. A swim suit for the beach. A t shirt for the park. A cotton dress for a road trip. I don't shop because I hate it and I have no time. So, my husband and I agree, since I'm always about a season behind in my sewing anyhow, why add more to my plate? Besides, the boys are hard on their clothes and grow so quickly. Plus, I find a lot of their clothes at the NYC version of garage sales, "tag sales," where I get complete wardrobes for $20 (shoes, pants, shirts, toys, all 50 cents each).
But! Just last week, I finished a purse for the handbag contest (see it here ). It was so fabulous to sew quickly and without worrying about fit! No FBA. No rounded shoulders to worry about. No awkward hems. So now I'm wondering if sewing up some pjs or t shirts for the boys wouldn't be nice in-between projects to increase the "joy of sewing" amid some of the frustrations of sewing for myself.

Maybe this is just my excuse to buy cute knits?

All of this was brought on by some really crazy thoughts after seeing laminates on sale on all the www fabric sites, "I could make us all raincoats!" I *know* that's some crazy talk, but it did get me thinking about this debate again.

What do you think?

Leu sews in NYC

A Beginners Needle


Advanced Beginner
CA USA
Member since 9/3/09
Posts: 481





1 member likes this.



Date: 8/23/12 4:18 PM

So probably not the answer you want to hear, but you have to do what you think will make you happy! You know what they say, Happy mom/wife, happy life.

I have a 2 year old and I work full time, so my sewing time is extremely limited. (I can usually get in a couple of hours a week). But I do sew for my little man. I do it for a few reasons:

1. It makes me extremely happy to see him wearing something that I made for him.
2. Fit isn't a real issue at this age.
3. It's a good way for me to practice different techniques, and well, if the shorts/shirts etc are less than perfect, he wears them anyway!

I don't try to make his entire wardrobe. I wouldn't have the time even if I wanted to. So I made a few special pieces or things that I can't get in a store for him. (for example, I wanted some knit footie PJs for him, but could only find fleece in his size - so I made some).

If you feel you really want to give it a shot, then pick out something simple but fun for your 4 year old and see if you enjoy sewing for your boys.

My 2cents anyway.

------
Tina

In my Sewing Room:
Pfaff Creative Performance - Pfurple!
Juki F600
Brother PRW420
Juki 735 Serger

gramma b


USA
Member since 7/25/08
Posts: 3005

2 members like this.




Date: 8/23/12 4:40 PM

Start with the easy PJ pants for boys that age. Some patterns have no side seams, which makes them even quicker. Sew them in fleeces, flannels, knits, poplin, cord-- good for around-the-house. Let them pick out their favorite characters, planes, trucks, etc. Plus you can re-purpose those adult tag sale finds for kids.

I have 4+ GK's under 5, 1 boy. It was fun trying boy clothes for a change. I make shorts for summer (or PJ's) paired with a basic T from Hobby Lobby, then add a patch or stripes on the shirt made from the pants fabric. Buying those sturdy T's is easier/cheaper--with the 40% coupon they're around $3.

Another fun thing is if they like to draw monsters etc., copy their drawing for a stuffed toy--they think that's really cool for a bedtime buddy. You can get ideas from the Monster toys seen on Etsy.
There is a Blog and a book on Sewing for Boys for more ideas.
-- Edited on 8/27/12 7:03 AM --

JeanM


Intermediate
VA USA
Member since 6/25/05
Posts: 174





Date: 8/23/12 7:07 PM

If it's fun for you, by all means do it! Kid's clothing is generally easier to fit and quick to sew.

For my older son, I sewed some just for the fun of it, probably until he was about 10 to 11 years old.

For my younger son, I sew more because of necessity - he's quite skinny (up to about a year ago, he could still fit into size 2T...he's 8 1/2 now) and I have not been able to find pants, shorts, swimsuits that fit - if I buy to fit his waist, everything is too short (crotch length, leg length, etc.) - so I have been sewing his pants, shorts, swimsuits for several years now... I do an occasional shirt for him for fun - he likes picking out fabric and buttons for shirts - but an oversized top isn't nearly the challenge that an oversized waist is!

I use Ottobre Magazine patterns for him - the details are cute and I enjoy sewing them (but details can be omitted if I'm after speed-construction for those times when his legs are suddenly 3 inches longer!), and the multi-sizing makes it fairly easy to trace off the sizing that he needs - I typically use a smaller size for most of the widths, and a larger size for all the lengths.



Courtney Ostaff

Intermediate
WV USA
Member since 11/23/10
Posts: 664





1 member likes this.



Date: 8/23/12 7:42 PM

I adore sewing for my daughter. It's so much easier, because the fit issues aren't as bad (she's a little skinny, so I do have to make that alteration). It's quicker, because there is less to sew--smaller clothes=shorter seams. Plus, it's fun to sew something that would be OK on a little one but that you would never wear as an adult. (Like a striped, polka dot, multicolored skort And, when they're little, they still adore everything you do. "Oh, thank you mommy!!"

skae


Advanced
Member since 4/23/07
Posts: 3208





Date: 8/23/12 8:24 PM

kwik sew all the way. I sewed for my son jeans coats sweatshirts and t shirts. Saved a bundle on sewing them. When i went shopping i just looked for t-shirt material or other fabrics I i will need for the fall. I loved making him jeans. I had trouble finding jeans for him when he was small he was a skinny little one.
These are some of the patterns I have.

pattern 1031

this one 3367

pattern 450

pattern 863

pattern 1577

this one was one of my sons favorites. I used windbreaker fabric for them. But you can use light weight denim to.

I used this pattern too. elastic waist.
I like kwik sew for my kids when they we're little they fit and didn't have to make adjustments. We even got creative with the pants and sweatshirts and tees.
hope this helps.

------
Ecclesiastes 11:7,8 Nothing on earth is more beautiful than the morning sun. Even if you live to a ripe old age, you should try to enjoy each day, because darkness will come and will last a long time. (CEV)


momtoesther


Intermediate
Member since 2/13/11
Posts: 69



Date: 8/23/12 8:56 PM

90% of my sewing is for my kids and that is how I got back into sewing. I really enjoy fast projects and love zipping along through knits on my serger. My girls have clothes that fit well, wear well, and are appropriate for their age. My oldest wears a size 6 for length but a size 3 for width so if I didn't sew for her she would never have clothes that fit.

sew2006


Advanced
ON CANADA
Member since 6/24/06
Posts: 2034







Date: 8/23/12 10:14 PM

By all means if it makes you happy go for it. I would only purchase enough fabric for a project and sew it up right away....kids fabric can't be stashed. I've had great intensions over the years to sew for friends kids and years later still have fabric pieces. What about a pillow and matching pj pants so they have something special for bed time.

------
Janome10001, Babylock ESG3, Brother ULT 2001, White 634D serger, Pfaff 1472, Singer featherweight, Singer 14T957Dc, Bernina FunLock 009DCC coverlock, Brother PQ1500S, Janome CP900.

Mikgirl


Member since 2/24/10
Posts: 306

1 member likes this.




Date: 8/24/12 0:44 AM

I sew for my 3yr old son and 1yr old daughter.
Kids clothes are smaller so much faster to sew!
Whenever I have a slump I sew kids clothes to get my mojo back.

I mostly sew bottoms for my son, since I'm not good with sewing knits for tops.
I've sewn an aloha shirt and that was fun.
Sometimes I get lazy and go to the store but whenever I see shorts or pants on sale for $6.99 or something, I think "I can probably sew two out of $6.99/yd fabric..." and can't bring myself to buy.

I also upcycle my husband's boardshorts to my son's shorts.
He gets a rip here and there but the overall fabric is still good.
I keep the original side seams, and sometimes the pockets so all I have to sew is the inseam and waistband.

solosmocker


Advanced
NY USA
Member since 1/23/06
Posts: 1439



Date: 8/24/12 5:15 PM

Truthfully, when my kids were little, I didn't sew them a stitch till first grade when I could grab some time. I was blessed with a mother in law who brought me bags of very high end children's clothing , all barely touched hand me downs. I never had to buy then a stitch until they hit school. That was my quilting phase instead. It was just too frustrating to try to sew on the machine when they were little. I found I could be happy, however, with five minutes of hand sewing/quilting here and there. It's amazing how fast all those little five minute increments added up and I got a lot done.

------
http://lasewist.blogspot.com/
Printable Version
* Advertising and soliciting is strictly prohibited on PatternReview.com. If you find a post which is not in agreement with our Terms and Conditions, please click on the Report Post button to report it.
10 Clever Techniques To Help You Sew Like a Pro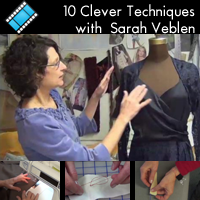 Blueprints to Blue Jeans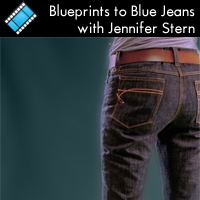 New Look 6648

by: Lynnelle
Review
Other BYHandLondon

by: House of P...
Review
Sew Liberated Lola and Lolita Aprons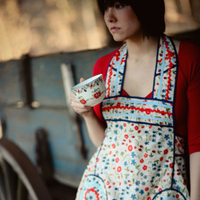 Buy Now
Candice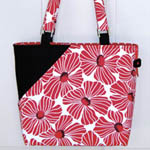 Buy Now