Leoladysw


Intermediate
Kansas USA
Member since 6/14/12
Posts: 160

4 members like this.




Date: 8/23/12 2:13 PM

Sigh.....a couple of minutes ago, I bought a Reliable V100 steam iron off Ebay for my sewing room!

And it is not that I needed an iron, I had just bought a Shark 1568 steam iron on clearance from Walmart for my master bedroom with an over the door fold up ironing board.

My old GE steam iron will live in the guest bedroom with an over the door fold up ironing board.

My niece recently moved into her first apartment a few months ago, and I in an excess of generosity gave her my best [although cheap & lightweight] ironing board. Then as life often does, I decided to start sewing seriously again and I rediscovered this site. I was frustrated with the instability of my beloved but broken vintage wood and iron ironing board in my sewing room.

I started eyeing my niece's ironing board and regretting my generous zeal. My sister nipped that idea in the bud and I kept my eye open for a bargain.

Desperately, I looked at the ironing boards leaning against the side of the building at my favorite thrift shop. The sturdiness of the first one caught my eye. It was a lot heavier than the new versions they sell today, and wonder of wonders, the leg supports have steel rods reinforcing them on all points. The manager came out while I was debating, and her comment that she would sell it to me for $1 clinched the deal.

Then I had to find a portable ironing board that was not tippy for my children's sewing class. Again the thrift shop came through with a table top board with a built in iron rest for $1. I have a couple of cheap steam irons that will do for the kids.

Do you see what you folks have done to me?

I was a normal person minding her own business before I started lusting after sewing related stuff like this. Is this a form of SMAD?
-- Edited on 8/28/12 10:14 AM --

------
Six Elna Lotus/Stella sm [kid's sewing classes]
Elna 33C SP sm, Pfaff 1473 CD sm, Viking 6030 sm, Singer Sphinx 127 sm, Singer Lotus 127 sm, Bernina 830 Record, Nelco J A-38 sm, Necchi Lelia 515 sm
http://leoladyshousecollectiblesandgardens.blogspot

loti


Advanced
Florida USA
Member since 5/27/04
Posts: 3634





5 members like this.



Date: 8/23/12 2:56 PM

I totally understand and sympathize, when I started sewing again 5 years ago, I only had 1 tub of fabric and 4 sewing machines. Now I have 12 sewing machines and at least 12 tubs of fabric, as well as a tabletop ironing board (which I really love btw), several ironing hams, overflowing button stash, 2 dress forms and .... well all I can say is run now, log off and don't look back, or embrace the madness.

------
"A girl should be two things: classy and fabulous."
Coco Chanel

Stash Sewn in 2011 148.5 Yds
Stash Sewn in 2012.... counting...

http://adonising.blogspot.com

poorpigling


Advanced
Texas USA
Member since 12/28/07
Posts: 11066





1 member likes this.



Date: 8/23/12 2:59 PM

Leoladysw


Intermediate
Kansas USA
Member since 6/14/12
Posts: 160





Date: 8/23/12 3:06 PM

Quote: loti
I totally understand and sympathize, when I started sewing again 5 years ago, I only had 1 tub of fabric and 4 sewing machines. Now I have 12 sewing machines and at least 12 tubs of fabric, as well as a tabletop ironing board (which I really love btw), several ironing hams, overflowing button stash, 2 dress forms and .... well all I can say is run now, log off and don't look back, or embrace the madness.


I have taken the bait, swallowed the hook, and I can't break the line.

I'm just saying........you guys are a bad influence on me and I am hooked like crack cocaine.

------
Six Elna Lotus/Stella sm [kid's sewing classes]
Elna 33C SP sm, Pfaff 1473 CD sm, Viking 6030 sm, Singer Sphinx 127 sm, Singer Lotus 127 sm, Bernina 830 Record, Nelco J A-38 sm, Necchi Lelia 515 sm
http://leoladyshousecollectiblesandgardens.blogspot

skae


Advanced
Member since 4/23/07
Posts: 3282





Date: 8/23/12 3:07 PM

Oh aren't we just here.
We put on look what we got today! This is where i bought mine!
That little smad just get started and we go and try to find.
Well I just ordered me some new scissiors today this is the web pag.kai scissors
I ordered this 3 piece gift set. I looked at the scissors seperately and they would of costed more. Free shipping too!

this is the scissors that come in the gift pack.
GSP – 3 piece Serrated Patchwork Gift Set GSP

GSP

Kai Scissors


Includes the following:
1 N3210 (8" Patchwork Scissors)
1 N3160 (6" Patchwork Scissors
1 N3120 (4 1/2" Patchwork Scissors)
So if anybody need new scissors they are really nice and i use my others two a lot.
Buy the gift sets here.
Take a look maybe you neeeeed a NEW scissor!!!!!


------
Ecclesiastes 11:7,8 Nothing on earth is more beautiful than the morning sun. Even if you live to a ripe old age, you should try to enjoy each day, because darkness will come and will last a long time. (CEV)


loti


Advanced
Florida USA
Member since 5/27/04
Posts: 3634





Date: 8/23/12 3:10 PM

I bought some of these years ago when I was into cross stitch they are fabulously sharp still.

Oh uh, see what I mean, really it's just not safe here.

------
"A girl should be two things: classy and fabulous."
Coco Chanel

Stash Sewn in 2011 148.5 Yds
Stash Sewn in 2012.... counting...

http://adonising.blogspot.com

Leoladysw


Intermediate
Kansas USA
Member since 6/14/12
Posts: 160





1 member likes this.



Date: 8/23/12 3:11 PM

I ought to report this post for contributing to the delinquency of a senior citizen!

Tempting me unmercilessly to get rid of my huge collection of Gingher scissors to replace them with Kais is a felony! I won't, I won't, I won't...........

------
Six Elna Lotus/Stella sm [kid's sewing classes]
Elna 33C SP sm, Pfaff 1473 CD sm, Viking 6030 sm, Singer Sphinx 127 sm, Singer Lotus 127 sm, Bernina 830 Record, Nelco J A-38 sm, Necchi Lelia 515 sm
http://leoladyshousecollectiblesandgardens.blogspot

skae


Advanced
Member since 4/23/07
Posts: 3282





1 member likes this.



Date: 8/23/12 3:14 PM

once you buy one you will never go back to your collection of gingher scissor ever again. They are light and fit the hand and cut like a knife going through butter. That is how smooth they cut.
Now don't you wish you had a pair.


------
Ecclesiastes 11:7,8 Nothing on earth is more beautiful than the morning sun. Even if you live to a ripe old age, you should try to enjoy each day, because darkness will come and will last a long time. (CEV)


Miss Fairchild


Advanced
USA
Member since 8/24/02
Posts: 7936



Date: 8/23/12 3:32 PM

Where are Kais made? Japan, maybe, or Korea? I believe Ginghers are made in the US. The price for the Kai 8" dressmaking shears is a little less than what I paid for my Ginghers in the same size; I really like the handles on the Kais.

------
"Play the cards you are dealt, but choose who is sitting at the table"..AARP magazine

SEE MY ETSY SHOP HERE: http://www.etsy.com/shop/AuntMaymesAttic
My blog: http://auntmaymesattic.wordpress.com/

skae


Advanced
Member since 4/23/07
Posts: 3282





In reply to Miss Fairchild <<



Date: 8/23/12 3:42 PM

KAI scissors are made in Japan.
The black handle KAI scissors and shears are made of fine stainless steel with vanadium. KAI Scissors are hand polished and balanced allowing for fatigue-free cutting on all types of fabrics. Soft ergonomic handle grips and hardened stainless steel blades offer superior cutting action.

These versatile scissors can cut lightweight fabric including silk without fabric slippage on the blades or cut multi-layers of fleece, denim, cotton and polyblend fabrics. KAI original scissors, KAI dressmaking shears, KAI 5000 series, and the KAI 7000 series scissors continue to be a favorite in the sewing and quilting industry.
Don't you want one!!!!!!!



------
Ecclesiastes 11:7,8 Nothing on earth is more beautiful than the morning sun. Even if you live to a ripe old age, you should try to enjoy each day, because darkness will come and will last a long time. (CEV)

Printable Version
* Advertising and soliciting is strictly prohibited on PatternReview.com. If you find a post which is not in agreement with our Terms and Conditions, please click on the Report Post button to report it.
Fun with Fitting - BODICE w Darts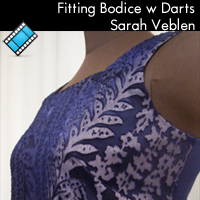 The Contemporary Couture Jacket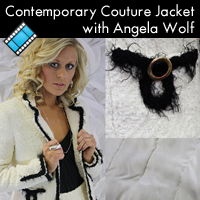 Vogue Patterns 1164 OOP

by: FreyaStark
Review
Simplicity 1784

by: j Renee De...
Review
Sewing Workshop Helix Tee and Pants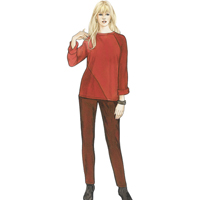 Buy Now
Chelsea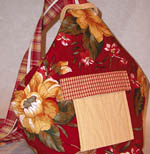 Buy Now