Kim12469


Montana USA
Member since 3/27/08
Posts: 2714
Skill: Intermediate
Body Type:




Date: 8/30/12 5:57 PM

I've relocated and taken a new job working out of my house. At first it was kind of cool, but now I am going crazy. Not only don't I know anyone here but I don't get out for work and my boyfriend works long hours and wants to be at home when he isn't working. I don't blame him at all! But I am starting to wither here alone. I want to sew because that usually makes me feel better but then I look at my fabric and get more sad because I have no where to wear anything I make.

I need to get out more. I've joined the local Junior League but they only meet once a month. And despite having a work at home job, they are very strict in my hours...8-5 with lunch from 12-1 so it leaves me litte flexibility. We have a Y membership but yet again...scheduling issues.

Ugh...so suggestions on what to make that might help lift my spirits or suggestions on how to get out more would be appreciates.

My daily wardrobe has been diminished to Orphan Annie wear :-(

------
http://kimsewsilly.blogspot.com/

Julia C


USA
Member since 7/1/07
Posts: 1326
Skill: Advanced Beginner
Body Type:




In reply to Kim12469

1 member likes this.



Date: 8/30/12 6:15 PM

How about new jeans & tops to wear with them? Are you still running? Then maybe running/exercise clothes.

n45

Maryland USA
Member since 6/26/03
Posts: 253
Skill: Intermediate

1 member likes this.




Date: 8/30/12 7:55 PM

Have you tried meetup.com?
There's meet-ups for almost every interest- learning a language, fitness, etc. Many groups meet monthly so if you join a few, you will have something to look forward to at least a few times a month. Maybe think of this as an opportunity to sew things that are really distinctive and fun, because you don't need to wear them in to an office on a weekly basis. Forget about basics! You can also take on more projects like outerwear or activewear or even lingerie. All of that will get worn.
-- Edited on 8/30/12 7:57 PM --

stirwatersblue


Kansas USA
Member since 12/13/08
Posts: 5325
Skill: Intermediate
Body Type:




1 member likes this.




Date: 8/30/12 8:34 PM

I work from home, too, and totally understand where you're coming from.

But. There is no reason you can't make and wear beautiful clothes JUST FOR YOURSELF. Who says you have to wear your pjs to work at home?! I'm not saying make a ballgown, but why not start with a cute top, a beautiful blouse, or a topper (jacket, cardigan, etc) that you can wear to work, even if nobody but your dog sees you? (Or, if you ARE determined to wear home-only clothes, then make yourself THE most beautiful silk bathrobe ever, or a pair of absolutely decadent pyjamas from the most gorgeous fabric in your stash!) Take a look at the Soft Surroundings thread for some great inspiration for how to make non-office-wear that's comfortable *and* beautiful.

As for going out... any chance of a sewing class you could go to? That's one place I like to put my fun clothes to work!

(My DH is an attorney, so on the weekends he dresses DOWN. But when I go out, I like to pull out my fun clothes. It drives him crazy! LOL)

------
~Gem in the prairie

marec


Arizona USA
Member since 5/11/08
Posts: 5589
Skill: Intermediate
Body Type:




In reply to Kim12469

Date: 8/30/12 9:50 PM

Hi Kim! I totally get what you are going through as I live in the middle of nowhere. I dress for meetings, or going to the stylist, or out to lunch. I am making this next:

I can wear it as a tunic or with a top over or under it. I will be the best dressed Safeway shopper. :-)

------
my blog: http://kf-biblioblog.blogspot.com/
Stylish 60- http://www.pinterest.com/maresea/style-evolution/

petro


France
Member since 6/24/07
Posts: 3149
Skill: Advanced



Date: 8/31/12 3:33 AM

I make stuff for me for which I have no occasion. OK, I don't make myself a ballgown, but, as I don't go out to work and rarely do anything more exciting than shop for groceries or walk on the beach, I could kit myself out with sweats and joggers from Decathlon once a year and pawn my sewing machine. The most practical recent makes have been linen pants, a couple of pairs, and extra nice Tee shirts, but I do dresses, jackets, the occasional coat. I've made silk tops - how great they feel! I've made silk pjs - luxury. In some ways not working away from home gives more options, you don't have to wear the office uniform. Find some great fabric and churn out some lovely tops at least!

------
http://patternpandemonium.wordpress.com/


a7yrstitch


Texas USA
Member since 4/1/08
Posts: 7391
Skill: Intermediate



In reply to Kim12469

Date: 8/31/12 9:54 AM

Can you walk at lunch and have a mini brunch and a mini lunch at break times? You will eventually meet folks if you walk a regular route.

How about a class away from the Y if they don't have anything that fits your schedule? But the Y will be the same. If you have a regular schedule in the workout room, folks will get to know you and become friendly.

Any other interests; photography, chess, martial arts, ping pong or mixed league volleyball? Paddle sports? We finely got a recreation center here like the one we were used to in our home town. Our library system is county based so there is a variety of programming that is separate from and in addition to the city offerings. Some large churches recognize the need for adults to socialize and welcome all comers.

We just got back from Hawaii; our favorite place for unscheduled eating overlooked a lagoon and marina and had inside and outside seating. Their idea of 'Happy Hour' was appetizers at half price all day on Tuesdays. It was obviously a favorite hangout for locals, a place that you would meet folks if you showed up consistantly enough to be recognized. Surely your boyfriend would agree to a weekly outing.

And check around for family pubs or sports bars. A bar is a bar where I live in Texas and in my Texas hometown. When we lived in Pennsylvania, the local pubs and sports bars were gathering places for the whole family with drinking areas separated and great family food. People went there to eat and gather. Reminded me very much of the pub my great aunt and uncle owned in Wisconsin, no big deal for a young girl to drop in for a great sandwich. More like going to a great deli than a bar.

Make yourself some great casual wear. Even if it is something that is multifunctional - you know, walk in it, drop your kid off for gymnastics, go to the store. Choose nice fabric and be meticulous in your construction. The quality of the casual garment will make it more versatile. And, it will pull attention to you in a good way as you become acquainted with your new community. It will also make you feel good about yourself which will show in your face and in your stance, making you more approachable.

If nothing else appeals to you, leave your house everyday at lunch. Find a favorite spot to eat one day a week and a favorite spot for another day. Wear those great casual clothes you have made. Be regular so people can recognize you when they see you again. On the other days choose other outings, a packed lunch in the same park on the same day of the week, a brown bag library book group or concert, your banking done in the lobby on the same day of the week at lunchtime.

Get yourself out and keep it regular so folks have a chance to find you.

I took a look at your blog and want to add that it will also be encouraging to your son to have mom dress and prepare for each business day even though your office setting has been relocated to your home and become more casual. Our children definitely notice these things and pick up on all the subtleties that are tied in with them.

-- Edited on

8/31/12 9:57 AM

--

------
I have no idea what Apple thought I was saying so be a Peach and credit anything bizarre to auto correct.

sarah in nyc


New York USA
Member since 1/8/05
Posts: 1939
Skill: Advanced



In reply to Kim12469

2 members like this.



Date: 8/31/12 10:09 AM

i work out of my house. I generally make simple clothing that can be worn from anything from cleaning the toilet to a cocktail partly...knits in simple shapes are easy to sew and are hugely versatile.. in general the prints tend to look more casual and the solids dressier..at this point most of what I put on my back has been sewn by me...

When I was on college my painting teacher admired a piece I was working on, he said, make 100 more of them.

i thought he was nuts but I realize that working out the same idea over and over again with variations allows you to both master the idea as well as explore variations around the basic idea. Play with the shapes that work best on you.

you also sound kind of stressed and depressed...exercising is great for both. Work out first thing in the morning.Even 20 minutes 5-6 days a week will help you feel better. I work out at home...it probably matters less what you do as long as you are doing something.

it's all small steps.

------
sarah in nyc
www.sewnewyork.blogspot.com

gramma b


USA
Member since 7/25/08
Posts: 3984

4 members like this.




Date: 8/31/12 10:28 AM

Retireds have the same problem. Church childcare got very tiring, then did other volunteering, but intrusive paperwork and other people asserting "control" issues proved annoying.
I mainly go out for groceries, library, garage sales, casino bus, re-purpose shopping, small grandkid activities, casual dining.

Gave up all shoes but flats, sandals, winter boots and made some money off consignment shops. Downsized house requires little decor except for change-outs in pillows, curtains, plants, pix.
We live on a street full of 1/2 widows, but they stay banded together in groups of 3-4, and gatherings got stifling when it was all too-much-info health talk of theirs, relatives, acquaintances. One could go on for hours just about issues with her priests and who-got-to-be-in-charge-of-the-altar.

I made long A-line skirts for summer, cooler than pants and feminine feeling. Tops of course, GK sewing, and now sweater-knit cardis for winter when I need 2 layers--H & I fight over thermostat controls summer and winter! I don't make pants and prefer the comfort of leggings for winter.

A little diversion--I just read the fall Vogue book is over 900 pages for $5.95! 600+ are advertising, but fun to look at the un-real people/fashions in it, then use for a doorstop. I'd be happy to dress like that cozy layered Swedish Gundrun site mentioned on another Thread, altho it may take too much thought for my brain, which is taken up with trying sewing techniques...

Where is that tunic pattern or others like it?!


Kim12469


Montana USA
Member since 3/27/08
Posts: 2714
Skill: Intermediate
Body Type:




Date: 8/31/12 11:39 AM

Thanks for all the replies!

Yes, its been a hard transition for me. I've worked out of the house now for 20 years. I often worked a bizarre schedule which gave me several weeks at home at a time, but by the end of that time I was SOOOO ready to go back to work.

I think that it would be easier if I was home and didn't work at this point because then at least I could get out during the day and take some classes, hang out at the Y, etc. But with the strict work schedule, it's nearly impossible.

I do walk at lunch, taking a dog for a mile or two, but it's very solitary as well. I bought a new mountain bike and my boyfriend and I are going out often doing that which I really like, but once again pretty solitary. I am extroverted and need the human contact which this currently is not affording. I've thought about finding something very very part time to get out like a couple hours a week to work retail but I just don't think it will work.

I decided to cut out a dress last night and I guess if it just makes it to Walmart then so be it. I need to do something.

------
http://kimsewsilly.blogspot.com/
Printable Version
* Advertising and soliciting is strictly prohibited on PatternReview.com. If you find a post which is not in agreement with our Terms and Conditions, please click on the Report Post button to report it.
Online Class
Clone Your Favorite Garment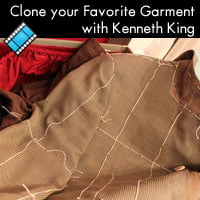 Online Class
Altering Pants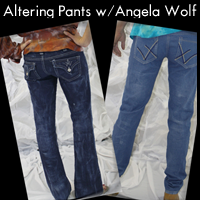 HotPatterns 1121

by: michellep7...
Review
Sew Chic Spin Skirt Pattern (ln1209)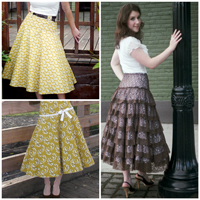 Pattern Details
Paradiso Designs Xine Basket Bag Pattern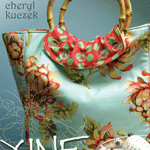 Pattern Details
BurdaStyle Magazine 02-2013-109

by: Elizabeth ...
Review