HOWsMom


Member since 8/27/12
Posts: 308
Skill: Advanced Beginner
Body Type:




Date: 9/5/12 12:31 PM

I often pick up mystery materials at local thrift shops - a piece here, a piece there.

How can I tell what they are made from ?

I'm such a dummy :(

------
http://dolladilly.blogspot.ca/

HOWsMom


Member since 8/27/12
Posts: 308
Skill: Advanced Beginner
Body Type:




Date: 9/5/12 12:33 PM

Sorry - hit "post" too soon.

Just as an example.

Here is a doll dress I made from some mystery material - it's white, shiny on one side, frays easily, and it's quite light weight.

------
http://dolladilly.blogspot.ca/

Elona


USA
Member since 8/24/02
Posts: 9762
Skill: Advanced
Body Type:






In reply to HOWsMom

Date: 9/5/12 2:03 PM

You're not a dummy at all. Many people don't know about the 'burn test' in which you put a flame to a scrap of your fabric and identify its major components by the smell, the speed of burn, and the nature of the ash that's left behind.

Here's

a link with many descriptions of how to do this.

------
Elona

stirwatersblue


Kansas USA
Member since 12/13/08
Posts: 5285
Skill: Intermediate
Body Type:




Subject: Looking for tips on how to tell what kind of fabrics mystery materials are made from Date: 9/5/12 2:16 PM

Don't worry; my DH has been around me sewing for years and years and STILL has trouble telling knits from wovens!

Are you looking for specific fiber content, like Elona describes? Or are you trying to educate yourself about basic fabric types?

Your dolly is wearing satin. Most likely it's polyester or acetate. There are many different types of satin--from heavy, lustrous fabrics meant for special occasions (like wedding gowns); to lightweight, inexpensive costume satins (they always go on sale leading up to Hallowe'en); to lining fabrics. But they all have that distinctive shiny face and fray like crazy. :)

There are a lot of ways to learn about fabrics. One of them is inside your own closet. Another I recommend is reading catalogues--they typically have good descriptions of the fabrics used, and you can start training your eye to match up fabrics and the projects they're suitable for. Another way is to go to fabric stores and touch everything, checking the signage or bolt ends for fabric and content. Notice how types of fabric are divided--apparel, quilting, special occasion, home dec. Read pattern envelopes for fabric recommendations, and follow the PR reviews by fabric type (I've never tried this, but every review has the name of the fabric, and a link to other projects using the same stuff).

And, of course, just sew more!

You'll pick it all up in time. But you'll still have the occasional piece that stumps you--even when you know fabric really well. (I can usually tell the fiber content by touch alone, but every so often I still run across something whose name I don't know.)

------
~Gem in the prairie

HOWsMom


Member since 8/27/12
Posts: 308
Skill: Advanced Beginner
Body Type:




Date: 9/5/12 3:02 PM

As with most learning processes, I'd like to start with the basics, and move on from there.

Knit vs. Woven (I have a rough idea, but it's probably wrong *LOL*).

Cotton vs. Polyester vs. Wool vs. Rayon vs. ???

And eventually - what is the difference between things like cotton broadcloth and quilters cotton ?

------
http://dolladilly.blogspot.ca/

Fruzzle


Member since 1/26/07
Posts: 388
Skill: Intermediate



Subject: Looking for tips on how to tell what kind of fabrics mystery materials are made from Date: 9/5/12 4:09 PM

There are a couple of good reference books out there--I have Sandra Betzina's Fabric Savvy, which is excellent if you *know* what the fabric is (tells you things like what size needle, what kind of thread, how to wash), and if you browse through it, you will get to recognize different kinds of fabrics when you see them.

HOWsMom


Member since 8/27/12
Posts: 308
Skill: Advanced Beginner
Body Type:




Subject: Looking for tips on how to tell what kind of fabrics mystery materials are made from Date: 9/5/12 4:11 PM

I'm seeing her name around here a lot - I"ll have to look her up :D

------
http://dolladilly.blogspot.ca/

stirwatersblue


Kansas USA
Member since 12/13/08
Posts: 5285
Skill: Intermediate
Body Type:


1 member likes this.




Subject: Looking for tips on how to tell what kind of fabrics mystery materials are made from Date: 9/5/12 4:18 PM

Ok, first: Can you tell the difference between a T-shirt and a blouse? That's knit vs woven. They're made by different processes, on different machines. Wovens are done on looms, and all have some version of the "over/under/over/under" weave you probably did in elementary school crafts (ever make a potholder out of those stretchy loop things?). Generally speaking, they are flat and don't really stretch (GENERALLY SPEAKING. There are stretch wovens, which we won't even get into.). Common fabrics that are woven: muslin, quilting cotton, batiste, twill, canvas, denim, shirtings, satin, suiting.

Knits, on the other hand, are knitted. Like with knitting needles--only on an industrial scale. They are knitted into interlocking loops of fibers, which give them a built-in stretchiness that makes them suitable for things like T-shirts, sweaters, and underwear. Common kits would be jersey, interlock, ponte, sweater knit, etc. The amount of stretch is a crucial factor in selecting knits, and they're generally described as two- or four-way stretch (does it stretch up and down as well as side-to-side?).

Wool, cotton, polyester, silk, rayon, linen, etc are FIBERS. They're what fabric is made of.

Then there are TYPES of fabric, which can be made from different fibers. Let's take the satin in your doll dress (a woven) for an example. That's probably a satin made from polyester. You can also buy satin made from silk.

For a knit example, let's go with something called jersey. Jersey can be made from cotton, rayon, or silk (etc). They're all knits, but will feel significantly different based on the fiber content. If you have any newer RTW knit tops that feel exceptionally soft and have really great drape, they're probably some kind of rayon jersey (which has been extremely popular in RTW for the last several years).

Honestly, you can READ about fabric for years, but getting your hands on the stuff is every so much more educational. I wrote an entire novel about the 18th c. woolen industry, and struggled with the difference between "woolen" and "worsted" wool--UNTIL I actually got enough samples of the two types in my hand, and could feel the very obvious differences.

------
~Gem in the prairie

HOWsMom


Member since 8/27/12
Posts: 308
Skill: Advanced Beginner
Body Type:




Subject: Looking for tips on how to tell what kind of fabrics mystery materials are made from Date: 9/5/12 4:25 PM

That's actually pretty clear as a starting point.

T-shirt vs. blouse I can tell the difference (and I feel slightly better as that was what I thought for knit vs. woven - I was afraid I had them backwards though).

I think I'm going to have to take a day and walk around Fabricland just feeling the different fabrics - probably a good thing to take my daughter with me so she can learn too.

They probably wouldn't take to kindly to me taking up a bunch of fabrics and asking for a 6-inch by 6-inch piece from each would they ? *lol*

------
http://dolladilly.blogspot.ca/

stirwatersblue


Kansas USA
Member since 12/13/08
Posts: 5285
Skill: Intermediate
Body Type:




Subject: Looking for tips on how to tell what kind of fabrics mystery materials are made from Date: 9/5/12 4:40 PM

No, they wouldn't--but a lot of online vendors offer free (or inexpensive) swatches! That's an excellent way to start a learning collection.

------
~Gem in the prairie
Printable Version
* Advertising and soliciting is strictly prohibited on PatternReview.com. If you find a post which is not in agreement with our Terms and Conditions, please click on the Report Post button to report it.
Online Class
All About Buttons and Buttonholes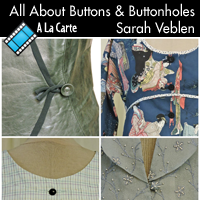 Online Class
Beginners Guide to Sewing Jackets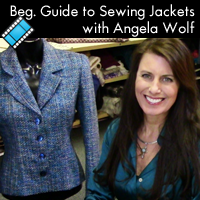 No Pattern Used custom Regency stays

by: StephiLuna
Review
Pamela's Patterns New Necklines & sleeves Pattern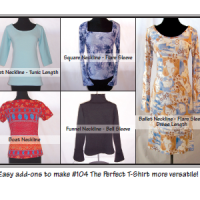 Pattern Details
Beginner Sewing Lab 103 - A downloadable Book by Shannon Gifford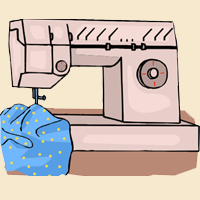 Pattern Details
New Look 6049

by: Natasha Jo...
Review