Ariadne


Texas USA
Member since 7/27/08
Posts: 146
Skill: Intermediate



Date: 9/7/12 1:56 PM

That you really love the work of some of their designers?
Or that you're excited by some of the patterns?

I just bought some new Simplicity patterns. Super, super-nice, fresh, modern patterns.

Karen Z, whomever she is- has some of the most thoughtful, careful designs I've seen. I bought two skirt patterns just b/c her name was on them. I've wanted skirts like this, but I knew there were pitfalls from shabbily drafted patterns, with inept construction recommendations. Hers are really nice.

Is she a star that I'm not aware of, b/c I live under a rock? I can google marcie tilton and come up with all sorts of things, but Karen Z- there's nothing. Is she an in-house designer they decided to promote because she's good at what she does? Or is she independent, and they license her work, like Sense and Sensibility?

I'm really excited for sewing this fall, based on these patterns! Simplicity has really done some great work in the last year!

lakaribane


Haiti
Member since 7/23/07
Posts: 3508
Skill: Advanced Beginner
Body Type:




In reply to Ariadne

Date: 9/7/12 3:21 PM

FACE.BOOK.

I've tested this theory 3 times in the past 4 months with US companies and it is the no 1 way to get them to react fast.

And that was for criticism. I imagine they would be too happy to respond to praise via the same channel.

------
Morphology: Petite at 1m53 (5'), Burda size altered 19 or altered 38, Big 4 size 10 or 12 depending on ease;
Alterations: Petite, Narrow Shoulders, Slim Arms, Narrow waist, Increase Back Crotch Depth. Considering: Forward Neck/Rounded Upper Back, Slight Swayback;
Style: Feminine, Colorful, Fitted, Clean lines;
Favorite Garment type: Dress;
Favorite Colors: Purple, Navy, Brown, Shocking Pink, Coral, Aqua;
Favorite Fibers, Weaves or Patterns: Cotton, Linen, Cotton Silk blend, Seersucker, Swiss Dot, Lawn, Denim, Stripes, Chevron, Window pane Plaid, Bias;
Blog : http://fashionmate.blogspot.com
Pinterest : http://pinterest.com/lakaribane/

marymary86


Member since 7/20/08
Posts: 4004
Skill: Intermediate



In reply to Ariadne

Date: 9/7/12 7:04 PM

What pattern numbers did you buy? I want to look!

------
Mary
www.homemoneygame.wordpress.com




Rhoda K


Alabama USA
Member since 8/22/05
Posts: 2408
Skill: Intermediate
Body Type:




Date: 9/7/12 7:27 PM

Puddeetat


Member since 2/2/11
Posts: 22
Skill: Advanced



Date: 9/7/12 10:26 PM

Let them know through Facebook. I've gotten great response.
-- Edited on 9/7/12 10:28 PM --

Ariadne


Texas USA
Member since 7/27/08
Posts: 146
Skill: Intermediate



Date: 9/8/12 10:59 AM

okay, the first one I bought was 4014, the dress and jacket. I would have skipped this, except I saw a blog post where someone turned it into their own LBD. It looks like a typical sheat dress, but the bust adjustment! It has princess seaming, and then it has an additional small dart in the front section. This lets me know that the princess seam lines aren't going over the bust point, for one. For two, with two separate shaping methods, it's possible to get a lot of control on shape without sacrificing the grainline of the fabric. It's also lined, and the instructions for lining are in the pattern. That's a really nice change of pace. The designer thought out what she designed the dress for, and provided all the details. And, well, I like the very subtle flounce at the bottom. I can see engineered straight sheaths all day long at the business clothes store. This went that extra step, for something really special.

Ann Romney had a shirt-dress with princess seams that she wore for the nomination. She's beautiful. The dress is an Oscar de la Renta. The princess seam lines over the bust, with the really big shaping for her mom- bosom caught the klieg lights in really unflattering ways. It is literally the first time she hasn't looked stunning, so it's the dress, not her. She would have been better served by Karen Z's shaping methods.

So then I was looking for Karen Z patterns. The next was 5914, which, again, looks like a plain pattern. However, when you get to the construction details, It's a whole 'nother ball game. Stay-stitching, first. All the pieces, they tell you the direction, instead of just general illustrations. It has a shaped inner yoke. That can be almost standard- but then it goes the next step. When sewing the inner yoke to the outer fabric, she recommends sewing twill tape on the seam. That brings an immense amount of control. I've sewn skirts with petersham tops, I've bought skirts with twill-tape tops. I've bought skirts with shaped inner facings. The shaped facing is nice, but it can roll, for one. For two, the seam gets distorted during the day. Twill- tape only, on the top, sort of cuts in at the waist, and also doesn't bring a lot of control to the skirt fabric. So, combining the two, and sandwiching the twill tape inside the fabric- you get a padded twill- line, you get fabric control from the shaped panel, and you get a definite waist from the twill-tape. That's a really nice detail. I've seen other dresses with this silhouette, but not the nice inner construction.

I have to go, but 2152 has nice construction details, too. Even though it's plain, it really rocks it's sublety. I could make and wear every view, and I'd look great each day of the year.

3533- it turns out it's not new, but 3533 looks fresh. The top and dress are lined. The top- you sew from the side-seams, so there's some float if you cut the lining a shade smaller than the outer. The shrug has french seams, so you don't have seams hanging out the back like shrugs sold at department stores. The little jacket- I've seen versions of this in lace-weight wool, recently. I'd wear any of the styled outfits.

1772 is a dramatic dress, playing on the Twilight wedding gown. I wouldn't do the dress, necessarily, but I'd love to do View B in pieced sweater knits, at tunic length. I'd look pulled together. Most of the actresses I've seen on TV are wearing pieced tee-shirts or sweaters, so I'd look like them. But I'd know I was wearing a salute to Twilight, during the day, around people who "hate Twilight" but love my sweater. I could follow the cutting lines- and do different pieces of knit for each sleeve top, each forearm piece, a different piece for the fichu, a different type for the back oval, add lace- there are directions for that, and maybe even embellish with buttons, and I'd have a really nice pieced sweater, like what's being shown in fashion magazines and on TV. There isn't a bust dart, so it wouldn't look like a shirt engineered to look like a teeshirt, and it has a subtle belling, so it would be a graceful tunic, instead of a block. Marc Jacobs did dresses like that with his train show, so I'm expecting it will filter out as the silhouette of choice over the next few years.

There's others, but that's why I'm loving the Karen Z designs a lot. A lot. A lot.

marymary86


Member since 7/20/08
Posts: 4004
Skill: Intermediate



In reply to Ariadne

Date: 9/8/12 12:10 PM

Thanks for all the details. I looked up each one and every one you mentioned is one sale right for $3.99 on the Simplicity site.

Here's 5214 for example.

------
Mary
www.homemoneygame.wordpress.com




Ariadne


Texas USA
Member since 7/27/08
Posts: 146
Skill: Intermediate



Date: 9/8/12 1:53 PM

I'm not on facebook, so could someone tell them about the love, or copy the post, or something? If I email customer service, will it end up in a trashbasket as a form letter somewhere?

I mean, really, I love these designs, and I'd really like to know more about her, how she learned, what she writes, does she do web-casts- you know, the whole "big fan" treatment. There's a mind at work, here. An experienced, careful, precise, elegant mind. She ought to be famous, whomever she is.

beauturbo

California USA
Member since 5/2/09
Posts: 5551
Skill: Advanced



In reply to Ariadne

Date: 9/8/12 2:30 PM

I'm not so sure she actually exists as a ready to wear clothing designer?

Maybe it's just a Simplicity label and line instead? For one of the more regular Simplicity pattern designers? Sort of like a book writer, uses a pseudonym and ghost writes novels under different names?

I have never seen any of her ready to wear clothes in any of the stores. I have made Simplicity 5914 the very classic six gored skirt 3 or 4 times over the years though. That pattern is even pretty old I think, I may have even had that one for 4 or 5 years.

Ariadne


Texas USA
Member since 7/27/08
Posts: 146
Skill: Intermediate



Date: 9/8/12 7:24 PM

I haven't seen anything online, either, or on TV like, say Nancy Ziemann.

I don't think she's a composite person, or a line, b/c they have standard directions for how to make gored skirts, or how to work the top of a skirt. These depart from all the other methods I've seen, in really pleasing ways. Her method with the stabilizing stitch, the shaped inner thing, and the twill tape, isn't even in the Reader's Digest version of h/t. The two-part shaped bust on the sheath, I've only seen in couture patterns. There's usually princess seaming, or bust darts, but not both.

I would think, as well, since there are so few designs, she's a person. Andrea Schewe has named patterns. Sense and Sensibility has one dress pattern. Andrea Schewe makes costumes. I made one shirt from a costume pattern. It turned out really nice- well- fit, good proportions. That's when I stopped looking at the styling as much, and started looking at the technical drawings more often.

The new patterns aren't karen Z. they're the new ones, maybe new this year- I've been under a rock- but they are really nice. The costume dress referencing twilight has a bell-shape, rather than a straight up and down, or waist stay then flounced skirt, like so many previous designs, for instance. It's piece-y.

I like the whole outfits they present, in the sew stylish collections. I can picture making the whole outfit in the pattern envelope, rather than mating four or so different patterns, to get the same look. some of the pieces can be really plain by themselves, but put together they really sing. I mean, the summer one with the neck wrap-1920- I wouldn't have bought any of them by themselves, but put together, that's a look I'd like to be seem in public in. 2148, the same thing. Singly, they are pretty plain, but together, they really look good. That's more of a fall outfit.

The sparkly outfit- 3533- I've seen single pieces that are similar- in high end stores. The finishing on the inside- floating the inner-lining- is a detail that, say, Forever 21 isn't going to do on a sequin top, but a top from Nordstrom's would. I wouldn't have thought of it on my own, so I'm glad someone else has, and put that in the directions.

I'm just really pleased, is all. I quit pattern-collecting for a few years, b/c they all seemed off and shabby. They are really well-designed and constructed now. They also seem of the moment, rather than playing catch-up. I appreciate being ahead of the Old Navy markdown- lot curve.
Printable Version
* Advertising and soliciting is strictly prohibited on PatternReview.com. If you find a post which is not in agreement with our Terms and Conditions, please click on the Report Post button to report it.
Online Class
Beginners Guide to Dyeing Fabrics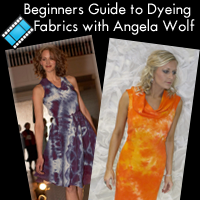 Online Class
Clone Your Favorite Garment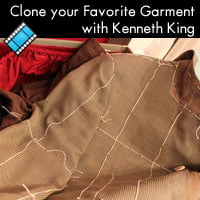 Simplicity 2701

by: JenYard
Review
Victory Lola Paper Pattern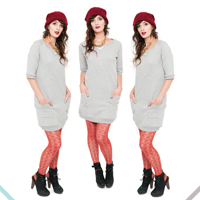 Pattern Details
Islander Sewing Systems Men's Classic Dress Shirt Pattern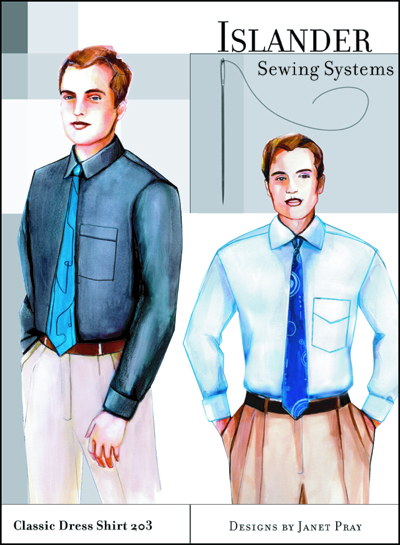 Pattern Details
Bernina MyLabel Dress

by: annenet
Review