marymary86


Intermediate
Georgia USA
Member since 7/20/08
Posts: 3429




Date: 9/7/12 6:01 PM

For big 4 I go by my high bust measurement.

For Jalies, I read to go by your full bust measurement.

I learned Kwik Sews get fuller in the bust as the size goes up.

How about Burda? I'm thinking about a knit T shirt ... I'm a 36E bra and usually have to do a FBA. Do I start with my full bust measurement?

And more important - how do y'all know this stuff?

I need some instant gratification!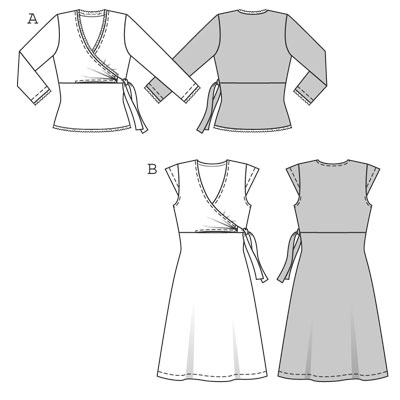 -- Edited on 9/8/12 11:50 AM --
------
Mary



Elona


Advanced
Member since 8/24/02
Posts: 8760
In reply to marymary86 <<
1 member likes this.



Date: 9/7/12 6:25 PM

With Burda, you don't choose a 'size.' Having made a lot of Burdas, I'll reply with my usual advice. Burda patterns are seriously multisized. Since most women are, too, being one size in the shoulders, another in the bust, still another in the waist and so on, there is no reason to choose one "size" and religiously trace it off. Instead, I stronglysuggest using the measurement chart that is somewhere inside every Burda pattern or World of Fashion mag. Finding this chart and using it exactly--that is, exactly the way the instructions say to do it--takes a bit of time, so people sometimes skip it, but it is a very important step in getting a personalized pattern, and those who skip it often wonder what the heck happened to their fitting efforts.

So, using the aformentioned chart, take the measurements that Burda suggests--including the unusual neck circumference--and, in the series of columns of measurement/sizes, circle those nearest your own. For example, if your bust is a size 42, circle that. If your waist is a 38, circle that. If your hips are a 40, circle that 'size." Then, when you trace off your own pattern, taper gradually from one set of size lines to another (it's OK to trace between the lines if your measurements fall between sizes).

My experience is that Burda is drafted closer to a C-cup than the Big Four patterns. For example, I am a 34C to 34D, and I do not have to make the FBA I need with Vogue. Therefore I suggest caution in thinking about adding a FBA right off the bat.

To get a true idea of how Burda fits, I always recommend to people that when they tissue-fit or sew their first Burda muslins, they rely on the measurement chart and do not try to second-guess Burda by making a FBA at this point. If you throw that into the mix on the first try, you will not have any idea how the unaltered sloper fits you, and you defeat the purpose of that very cool measuring system.


-- Edited on 9/7/12 6:28 PM --
lakaribane

Beginner
HAITI
Member since 7/23/07
Posts: 2400



Date: 9/8/12 8:00 AM

I was raised with Burda (34 and 8 months, currently) and I agree with Elona's advice.

For circumference measurements (bust, waist, hips), I'm a Burda 38/19 EXCEPT I'm Petite with Narrow shoulders so I usually shorten accordingly and trace down to a 32 in the armscye and sleeve heads.

I also agree with doing a test garment in the bust size that is yours, just to see how things go. I'd probably do the same with a blouse or dress bodice that has bust and waist darts, if I were you. Just to see.



------
Fashion Maté, where I blog about what I (eventually) sew : http://fashionmate.blogspot.com
Addicted to Pinterest? Me too! : http://pinterest.com/lakaribane/
Restart06


Intermediate
USA
Member since 10/29/06
Posts: 2496



Date: 9/8/12 9:34 AM

Thank you all for the advice. I just cut out a mockup of a Burda coat, oversized and I did measure myself and added 1" seam allowances on my mockup. You both just verified I did the right thing. Thanks!!! (cause I was putting it off as I wasn't sure)

------
There is no easy way! quote from my Grandfather
Sharing is caring!







marymary86


Intermediate
Georgia USA
Member since 7/20/08
Posts: 3429






Date: 9/8/12 11:48 AM

I'm glad the advice helped you.

I'm about to cut out a Burda T-shirt so I'll just go by bust size too.

My waist and hips are bigger but I know if I went by them the T wouldn't fit right through the neck and shoulders (I'm scrawny there). It's easy to add width to a blouse so I'll add generous seam allowances there and fit those when I try it on.

I'm a little concerned about the width of the upper arms but I never heard that as a general complaint (as I have with Jalie and some StyleArc styles). I guess you just have to accept that first garment from a new to you pattern company may have some surprises!

------
Mary



Elona


Advanced
Member since 8/24/02
Posts: 8760





In reply to marymary86 <<



Date: 9/8/12 12:08 PM

Mary, Burda's measurement chart includes the biceps or upper arm. If you use it, you can find what size you are there. Then you can measure the actual pattern in that size to compare with your own upoer arm.

Please do follow Burda's instructions about all this. Remember that your pattern, like you, will not be a single size.