lakaribane


Haiti
Member since 7/23/07
Posts: 2579
Skill: Advanced Beginner
Body Type:




Date: 9/10/12 9:36 PM

I was just visiting my SIL and Bro in Canada and she asked me for advice on what to wear to my cousin's wedding next month.

Cousin is getting married at 10h am in NYC next month.

My SIL is about my height, 5' but she's short in the legs with a normal back length, it seems. She's very self-conscious about her behind so she wears tunic length tops. Broad shoulders as witnessed by the drag lines in her raglan sleeve top. Small bust (that's another thread right there, watch for it).

Being a nurse, her schedule is a bit hectic so we couldn't go shopping together during my short stay. Also, she just started working so now has some disposable income...and an empty closet, poor thing! (I have stash, LOL!)

Anyway, what does one wear in NYC in mid-October to a daytime wedding? She doesn't want long sleeves.

And, if you are a similar shape, what sort of dress would you wear? I'd like to send her links to suggestions. Patterns or RTW welcomed.

She bemoans her lack of a personal style and doesn't know where to start. I would say conservative, modest, few prints. Loves yellow, green and orange.

Thank you in advance.

------
Morphology: Petite at 1m53 (5'), Burda size altered 19 or altered 38, Big 4 size 10 or 12 depending on ease;
Alterations: Petite, Narrow Shoulders, Slim Arms, Narrow waist, Increase Back Crotch Depth. Considering: Forward Neck/Rounded Upper Back, Slight Swayback;
Style: Feminine, Colorful, Fitted, Clean lines;
Favorite Garment type: Dress;
Favorite Colors: Purple, Navy, Brown, Shocking Pink, Coral, Aqua;
Favorite Fibers, Weaves or Patterns: Cotton, Linen, Cotton Silk blend, Seersucker, Swiss Dot, Lawn, Denim, Stripes, Chevron, Window pane Plaid, Bias;
Blog : http://fashionmate.blogspot.com
Pinterest : http://pinterest.com/lakaribane/

stirwatersblue


Member since 12/13/08
Posts: 4197
Skill: Intermediate
Body Type:




Date: 9/10/12 10:57 PM

I was just at Dress Barn today and saw this:



But looking at it again, I'm wondering if it's not really weddingish. It's a really heavy, figure-flattering ponte knit, and the straight skirt would probably be easy to shorten for her height. I wish I'd had time to try it on (may go back, not that I need such a dress!), but as a 5'4" hourglass-turning-into-a-pear, thought it was adorable. Here's the link.

***
More to the point, what are *you* wearing to cousin's wedding?!

------
~Gem in the prairie

Lalena


North Carolina USA
Member since 12/1/03
Posts: 21
Skill: Advanced



Date: 9/11/12 7:17 PM

Wow--I think the dress pictured by Stirwatersblue really hits the nail on the head in a number of ways. I too am petite, with an average-to-long torso and short legs, so I look for dresses that give the appearance of a higher waist in order to make my porportions better. This dress does just that: the dark band over the waist makes the bottom "portion" (legs) appear longer. In addition, a small bust is enhanced by tucks, gathers or pleats in the bodice. The dark colored skirt minimizes one's bottom, if that is the concern of your cousin's, and the style seems a nice mix of elegance and casual, for a morning wedding. Personally, I'd want long sleeves in Oct, because I get cold easily, but a shawl or short sweater could serve instead.

jadamo00


New York USA
Member since 3/13/06
Posts: 1264
Skill: Advanced



Date: 9/11/12 9:39 PM

Yes, she's gonna need a wrap, sweater or shawl in October.



j.









-- Edited on 9/11/12 9:43 PM --

lakaribane


Haiti
Member since 7/23/07
Posts: 2579
Skill: Advanced Beginner
Body Type:




Date: 9/13/12 9:03 AM

Hey everybody, thank you for the comments.

@Stir, I'm not going. My cousin is not a regular emailer/caller and I ran out of vacation days (and money!) already so can't make it.

My SIL did say she didn't want a straight skirt, though. I think the swayback + butt situation might make a puddle there.

But I will send her the image and the very good selling points you guys provided, esp about the neckline details.

Feel free to add further input.

------
Morphology: Petite at 1m53 (5'), Burda size altered 19 or altered 38, Big 4 size 10 or 12 depending on ease;
Alterations: Petite, Narrow Shoulders, Slim Arms, Narrow waist, Increase Back Crotch Depth. Considering: Forward Neck/Rounded Upper Back, Slight Swayback;
Style: Feminine, Colorful, Fitted, Clean lines;
Favorite Garment type: Dress;
Favorite Colors: Purple, Navy, Brown, Shocking Pink, Coral, Aqua;
Favorite Fibers, Weaves or Patterns: Cotton, Linen, Cotton Silk blend, Seersucker, Swiss Dot, Lawn, Denim, Stripes, Chevron, Window pane Plaid, Bias;
Blog : http://fashionmate.blogspot.com
Pinterest : http://pinterest.com/lakaribane/

DonnaH


Texas USA
Member since 10/1/03
Posts: 1758
Skill: Intermediate







In reply to lakaribane <<



Date: 9/13/12 2:12 PM

I disagree w/ the dress because of the shape of the skirt. Pencil skirts on women who have large hips tend to emphasize the largeness! An A-line or even circle skirt would be better (NOT a gathered skirt, though). The high waist and bright color on top are on target, though.

Have her look a Trinny and Susannah's body shapes - she is probably really a "skittle" (I am a bell - similar except longer legs and shorter torso).

Here are their basic recommendations:
Keep away from:
Short cut jackets that emphasise your bum.
Cropped trousers.
Pencil skirts.
Stretch trousers.

Take a look at:
Anything for your top half that has some colour or detail to draw the eye upwards.
Fitted dresses with flared skirts.
Shorter fitted jumpers.
High heeled shoes to make those legs longer and slimmer.

And they also say to stay away from above the knee skirts because they will draw attention to saddlebags.

Also - for NYC in Oct, she will definitely need some kind of wrap/sweater/jacket. There can be warm days (even in the 80s), but it can also be 50s and rainy - and that's actually more likely. At 10 AM, the frost may be gone (if there was some overnight), but even on a sunny day it will still be shadowy and cool on most Manhattan streets.

ETA - the actual location and formality of the wedding matter more than the time of day. In NYC people dress formal or casual based on where they are going more than the time of day. No one really dresses up for a Broadway show unless it's a big opening or they are attending a party after, for example.

If the wedding isn't formal, then a dress you'd wear to a nice luncheon (or even a pantsuit) would be OK. But a wedding at a big church with lots of bridesmaids might call for something more.


-- Edited on 9/13/12 2:18 PM --

halleyscomet


Pennsylvania USA
Member since 3/27/07
Posts: 1699
Skill: Intermediate





In reply to lakaribane <<



Date: 9/17/12 6:04 PM

What about Burda 7628?

Burda 7628
-- Edited on 9/17/12 6:06 PM --

mhk3boys


North Carolina USA
Member since 11/22/08
Posts: 276
Skill: Intermediate



Date: 9/20/12 7:37 PM

Pretty Halleycomet! That would be pretty in the color fabric you think she would look great in!
-- Edited on 9/20/12 7:38 PM --

------
Relax, don't get your elastic all twisted up in your waistband!
Hell hath no fury for the poor soul that sews an ill-fitting garment! Thank God for Surefitdesigns.com!

sew4grands


Member since 2/23/09
Posts: 363
Skill: Intermediate
Body Type:




Date: 11/1/12 7:01 PM

I am 5'1" and made and wore a sheath dress for my son's wedding a couple of years ago. It is made of a poly blend fabric, I lined it and love wearing it. I also made a lace shawl to wear with it. Min was long, but of course she can make her dress any length.
I will try to post a pic, but no promises, I haven't got the hang of posting pics here.
Nancy B

------
Nancy B.
I sew with 4 Brothers and a Featherweight
Babylock Serger

Printable Version
* Advertising and soliciting is strictly prohibited on PatternReview.com. If you find a post which is not in agreement with our Terms and Conditions, please click on the Report Post button to report it.
Online Class
Understanding Wool Fabrics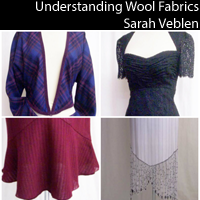 Online Class
Fun with Fitting - PANTS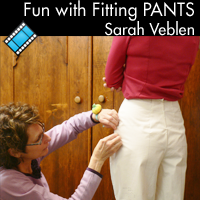 StyleArc Darcy Woven Pants

by: dinagideon
Review
Newport Tote Paper Pattern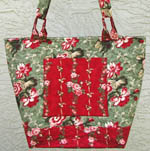 Pattern Details
Sewing Workshop Eureka Top & Skirt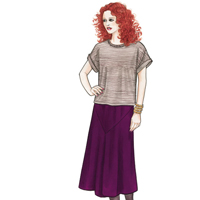 Pattern Details
McCall's 6545

by: MinaLMcGra...
Review