moussy

Member since 8/3/12
Posts: 3



Date: 9/12/12 8:59 AM

I've outgrown my cheapy Walmart Singer and am looking to upgrade to a machine that can grow with me. I love the ability to tap my foot and drop the presser foot on the Viking and may even consider going up to an 875 to get the thread cutter. However, the Pfaff ambition 1.5 gives me just as many stitches and the IDT system. It seems like a really quality machine. I currently sew garments for my daughter and her dolls. Quilting would be in the future (if I gain an interest). I feel like these two machines are apples and oranges. Oh, and I'd have to do a floor model or show model machine to keep the Viking reasonable. Any thoughts?

a7yrstitch


Intermediate
Texas USA
Member since 4/1/08
Posts: 6121





3 members like this.



Date: 9/12/12 11:54 AM

Gather all of your fabric swatches and purchase some more difficult to sew fabrics. Test the Pfaff Creative Performance that folks are posting about on PR. Ignore the embroidery aspects and any fancy stitches that would be part of that price range.

Focus purely on the stitching and fabric handling.

I haven't tried one yet but have discussed the feed system with the dealer who sold me my Pfaff from the long ago 1200 series (I have the 1229). She explained that the handling of the new PCP is superior since they went back to the 1200 series feed system.

Once you stitch on the PCP, if it performs for you as I think it will, use that stitching and fabric handling as your guide and standard for purchasing. Be sure to take some really long strips of slippery fabric and some stripes or plaids that have been pinned to give you a taste of working with the IDT.

If you are happy with the PCP, then try the other Pfaffs. Don't be shy, tell the dealer you want the exact same feed system in a machine with fewer bells and whistles. They may not have that this year, but ask anyway.

If you test machines and find that you prefer the stitching on the PCP, perhaps you could find a nice used machine to use while you wait for Pfaff to put the old excellent feed system back into more of their machines. I'd hate for you to miss out on something that has worked extremely well for me for three decades.

I won't bother with a machine without built in dual feed.

------
I have no idea what Apple thought I was saying so be a Peach and credit anything bizarre to auto correct.

PortlandMaine


Advanced Beginner
Maine USA
Member since 1/29/11
Posts: 2275



Date: 9/12/12 12:22 PM

I had an ambition and liked it -

The Viking does have the sensor foot!

If you are looking at the newer cheaper Ambition against the more expensive Viking -- Id say get the cheaper one .. if you are looking at the Ambition 1.5 against the Viking -- I understand why its a hard choice.

What kind of sewing do you do now -- and think you will do in the future -- If you are a quilter -- I might choose the extra bed space.

If you make clothes -- I really think the cheaper Ambition essentail will do just fine!

But - its up to you.





------
Quilting up a storm!


clotheshorse


Intermediate
British Columbia CANADA
Member since 3/24/10
Posts: 780





Date: 9/12/12 12:41 PM

I have both Vikings and a Pfaff. Although I really love the hover and foot tap feature, if I had to choose, I would pick the IDT of the Pfaff. I do both garment sewing and quilting. I'm awaiting my newly purchased Creative Performance which offers both features. If you are mainly sewing garments, I think the IDT is more valuable than the hover, thread snips etc. That's just my preference, it's best to go and try the features as much as possible and bring the type of fabric you typically sew with. Both Viking and Pfaff are good quality machines.

------
Viking D1, 1+, Pfaff 7570, Singer 503 Rocketeer, 66, 15-91, 301, Featherweight 6 Flock, Babylock Enlighten & CS and Pfaff Creative Performance

kerri Y

Intermediate
Member since 5/6/04
Posts: 258





Date: 9/12/12 1:07 PM

My ambition 1.5 starting acting up after 6 months with a big knocking sound that the dealer traded in right away. Up until that time it just made a clicking noise as the bobbin thread was pulled off the bobbin, it seemed to pull the bobbin up against the bobbin case cover. I never thought the machine climbed over thick seams very well and the idt foot would get caught up in cross seams if I wasn't careful. I opted for the pfaff smarter which I did not really enjoy sewing with. The auto thread cutter had to be adjusted, other than that it worked as it should. I sold it.

I had really hoped I would love the idt foot as others do, but I never thought it worked that well for my type of sewing, mostly quilting, hemming jeans but basic sewing was fine. It was not very compatible with chain piecing which I do a lot of. Both pfaff's would chew a beginning of a fabric if I wasn't quite careful.

I have since purchased a Viking with exclusive sensor system. for me it is worlds better. it feeds the beginnings of fabric without any sucking down of the ends. I hope it keeps stitching as beautifully as it does because I really love it. The slight hover feature of the presser foot is such a nice feature for me.

I wish I could give a better experience with the ambition 1.5


-- Edited on 9/12/12 7:34 PM --

Mufffet


Intermediate
Vermont USA
Member since 8/14/05
Posts: 11384



Date: 9/12/12 1:18 PM

Well, hard to say, but I have to lean toward the Ambition. The IDT. FABULOUS. Having sewn on the newer Vikings just recently I wasn't impressed by some things. For example - you need a few menus in before you can set tension. That doesn't make sense as tension really is something more given to a dial or slide or something easily controlled as you need tweakable easily tension. AND I realize the machine I used was probably set up incorrectly and I should have had a half hour to reset things, but on the whole I wasn't going to shell out for that machine which is what the dealer would have wished. AND I don't care for the auto presser foot lifty thing at all. I want to control that myself. Now the Ambition, on the other hand seems smooth and even at the least expensive in the Ambition line I got a sense of solidity. But, buying is so subjective, and there are things i love about Vikings, so it has to be your choice on which you prefer to sew on and bond with. Really it is. :)
-- Edited on 9/12/12 1:19 PM --

------
"Be kind whenever possible. It is always possible."
--Dalai Lama

I have sewing machines

moussy

Member since 8/3/12
Posts: 3



Date: 9/12/12 1:53 PM

I popped in and talked with the owner again today. She actually believes the Pfaff is a better machine for my needs even though it is the least expensive of the ones I tried. I think I like the look of the Viking (with its pretty extension table) but feel the Pfaff is a more quality machine between the two. I can get the Ambition 1.5 for $900 right now. I think I'm leaning in that direction.


moussy

Member since 8/3/12
Posts: 3



Date: 9/12/12 1:54 PM

Oh, and I'd live to try the Creative Performance, but am afraid I'd fall in love and that price range isn't in the cards just yet!
-- Edited on 9/12/12 1:54 PM --

RipStitcher


Advanced
Member since 5/28/12
Posts: 2849





Date: 9/12/12 2:51 PM

I know how you're feeling.

I started searching for machines early this summer, and my desire at the time was to fall in love with either a Viking or Pfaff - and the dealership here - because it is only 2 miles from my house.

If they teach classes at your Viking/Pfaff dealer, I suggest you take a class or two - and it doesn't matter what the class is about! lol - Just use the opportunity to play with those machines without feeling rushed, etc. See if you can come early or stay late to goof around with some test items.

I did that with both the Viking and the Pfaff... and wound up going 60 miles away to buy the Janome Horizon instead.

No regrets. I saved loads of money and got a machine that is more capable of doing the things I do - which is a wide variety - including very tiny stuff as well as working on heavy items. I don't want a sewing machine to limit me.

You mention doll clothes... and I do some tiny things that are akin to that... so pay special attention to how the machine behaves when you're starting a seam. *That* was one of the biggies of why I went with the Horizon.

I suggest you take a few items that are examples of your most challenging things you're doing now - and see how the new machines handle it.

The auto presser foot thingie was not important to me - old dogs, new tricks - I had never had one - but the Horizon has a knee lifter which is fabulous, IMO (I like it better than an all-or-nothing electronic choice). Now I wouldn't want to live without it. More often than not, like someone else said, I want to be in control of lifting the foot... and with the knee lifter, it's even better than a button because I can still use two hands to position what I'm working on. That is a big advantage when working with uber-tiny things or big heavy things.

Just last night, I did about 200 little 1 inch pieces for a quilt... and as someone else mentioned, the IDT wouldn't have been an advantage for that kind of work. But the way the Horizon feeds, the Accufeed on it made working those tiny squares very accurate - from the very first starting stitch. The machine feeds the fabric straight so I don't have to.

If you can possibly look at Janomes, now is a good time. They're introducing new machines in 2 weeks (assuming you're in the US) ... so there are lots of discounts for the Horizon out there now.

I totally understand your choice between those two machines - 'cuz I started there, too. I'm just very glad I didn't wind up with either of them. If you want to see detail on working on the tiny things - find my Janome Love Fest thread here.. or the one I just wrote about feeding systems - 5mm vs Wide Track thread. Both show pics of some of the things you might want to evaluate.

These are all lovely machines... don't stress... just have fun looking at all of them. You'll find one that does it all. :)

The dealer here wanted $4,000 for the Creative Performance. The Horizons can be had for $2,000.

Last thing... make sure when you're out doing the test drives that you are using appropriate settings, needles and feet for the tasks at hand.


------
Video of how the Bionic Gear Bag works is here: www.BionicGearBag.com
Neglected personal blog is here: www.RipStitcher.com
Share pics on Instagram: RipStitcher

Unashamed of being a self confessed tool junkie! Currently love my: Bernina 550qe, ElnaPress & Oliso Iron - crazy thing but I love it! ...and a fleet of Macs, iPads, iPhones.

Next up:
Babylock Sashiko
Bernina 880 Sterling Edition
Babylock serger
& a new-new Sewmobile - see my last #sewmobile in Instagram

stirwatersblue


Intermediate
Kansas USA
Member since 12/13/08
Posts: 3559

2 members like this.




Date: 9/12/12 4:59 PM

I just want to say... both are probably really nice machines, but there's no hurry. You know you need an upgrade, but don't rush yourself into a decision that's stressing you out. (BTDT!) I ended up taking almost a year before deciding on my upgrade (from a bargain basement Brother). I test drove, I pondered, I waited, test drove some more... and when I finally found my machine, I knew it. If I'd rushed myself, I would have ended up with a machine I didn't love (wanted the machine by Christmas and had found one that did everything I wanted, but I hadn't bonded with it. So I waited just a bit longer before making up my mind.). I'm sure that Bernina would have been just fine... but the machine I ended up with, I *love.* :)

Enjoy the process--this hobby of ours is supposed to be fun! (Not that I haven't lost sleep over sewing before myself! LOL)

------
~Gem in the prairie
Printable Version
* Advertising and soliciting is strictly prohibited on PatternReview.com. If you find a post which is not in agreement with our Terms and Conditions, please click on the Report Post button to report it.
Online Class
Fun with Fitting - PANTS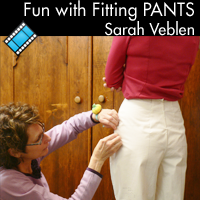 Online Class
Clone Your Favorite Garment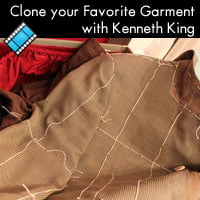 Ottobre Design Magazine 04-2010-7

by: jent
Review
THE COLLARS - A CD Book by Kenneth King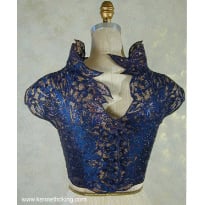 More Info
Sew Liberated The Emmeline Apron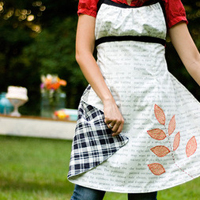 More Info
New Look 6901

by: CurlyCraft...
Review