Claire in Montreal


Advanced Beginner
Quebec CANADA
Member since 1/22/08
Posts: 1160



Date: 9/22/12 3:14 PM

I've been thinking I'd like a stand-alone coverstitch machine.

As expected, no matter what you research, you have lots of people both for and against all given options. At some point in the last few weeks, I'd read enough negative comments on the Brother that I was talked out of one. Why wasn't I also paying attention all the POSITIVE comments ? duh !

Since then I've found out that my newly discovered fabric store has a Sewing Machine sales department. They sell and service Bernina, Singer, Brother, Janome AND Babylocks ! They carry the Babylock and Brother CS machines. Today I went with the intention of trying them out.

The sales lady was very helpful and spent about an hour with me but I left empty handed.

I tried and liked them both. They were both really quiet. The stitches were comparable. Both would do a double or triple CS. ...and they all looked good. They were both easy to thread. I'm sure my clumsiness will disappear with practice LOL

Hubby expected me home with a new toy. I have to think on big purchases and no matter how you look at it, this would be a big purchase.

The Brother is $599 and the Baby Lock is $1399. I have no idea if these are 'good' prices or not. But haven't come across any other dealers either.

If I buy the Brother, the store allows 3 months to decide if you like the machine. If you want to upgrade to a higher $ machine in that time frame, they will apply the entire price of the original machine against the cost of the upgraded machine.
They have classes for both machine.
Service is in-house.
Brother has a 2yr warranty
Babylock has a 1yr warranty.

All things seemingly being equal, that fancy jet air threading costs an extra $1000.

So, any opinions on whether I upset the budget a little bit with the Brother or use up a few years' worth of Birthdays and Christmas with the Baby Lock ?


------
Claire
1seamatatime.blogspot.com

Kenmore / Necchi BU Mira
Singer 99 (3) / HD110 / 66 (RedEye) / 127 Treadle / 15-90 / 221

hazelnut


Beginner
USA
Member since 1/7/09
Posts: 2310





In reply to Claire in Montreal <<



Date: 9/22/12 5:44 PM

I am exactly where you are with this decision - well not exactly - I never saw or was able to test drive the Brother and that's one of the main reasons I'm leaning very heavily towards the BL, even after Sew4Fun's (and others) recommendations. Most everyone seems to love their BLCS (I really haven't read any negatives) and since I can't test the Brother for myself.... I'm not one who likes to pay extra (esp. $1K) for brand names or perceived value (or even just jet-threading one looper), so that extra grand has been holding me back too. I would like to think I'm getting a "longer-lasting and more responsive" machine. If money were no object or I had a guarantee, it would be a much easier decision!

I'm not exaggerating a whole lot when I say I feel like the village idiot when it comes to fussing with sewing machine adjustments, and the more I need to tweak, the worse it gets. Every machine I own I've had to learn on my own, which is probably part of the problem. With the BL I would have dealer support. I'm hoping the BLCS will last until I die or quit sewing, whichever comes first -lol.

I have the Brother serger and have been happy with it, however I am also looking at the BL sergers - particularly the Enlighten. While the Brother serger *is* easy to thread, and on a good day I can do it in minutes, I find that when my "village idiot" comes out to play, I can easily spend 20-30 min. or more threading and rethreading as threads keep breaking with the first few stitches. My eyes are not that good anymore even with glasses nor my fingers and hands as nimble, and there are times I've gotten very frustrated trying to thread it. I haven't read of much frustration going on from the BL's owners. LOL It's a lot of extra $$$ for sure, but if it worked well, it would be worth it over the long-term. I think you have to ultimately go with your gut (and your pocketbook). If I were in your shoes I'd probably ask the store if I could trade from the Brother CS to the BLCS within the first year if I found I didn't like it. That would be the ultimate solution for me. Good luck on your decision. I hope you get some good responses here, 'cause I'll be looking forward to reading them too.

BTW, that BLCS price is what they sell for around me - in fact they have been pricing out from $1299 - $1599. I've found one store selling it for $1199 as a holiday sale promotion (with feet and workbook) and servicing (cleaning) for 2 years, so I'm really salivating again. Of course, he could be leave town next week, so that could be more of a perceived than real value...

Claire in Montreal


Advanced Beginner
Quebec CANADA
Member since 1/22/08
Posts: 1160





Date: 9/22/12 6:32 PM

Well, I would have dealer support for both, so that is bonus in my favor. Glad to know the price is only 'normal' expensive

I also have vision problems and am VERY nearsighted - the progressives the Dr upgraded me to a few years ago are a pain in the neck - I'm on my second pair and I hate trying to figure out where my best line of sight is for everything - it hasn't ever become intuitive. Threading needles can be a nightmare, as you know, and my serger is horrible. I'm used to it but the lower looper still gives me fits, there's a guide that never even comes close to being visible and I always have trouble with it.

i don't know about your Brother serger, but the coverstitch has a wonderful feature for the lower looper. You thread all the guides and when you're ready for the looper you turn the wheel till the looper is at the furthest to the right it will go. Then there's a button or knob or something that you push (or twist, I didn't do it myself, the saleslady did it when I got there) that bumps the looper right out where you can see it and thread it REALLY easily !!! For me, that was a fabulous feature. And it's mechanical so I'm thinking if it needed fixing, it would probably be more economical. If the jet air goes, that would likely cost a pretty penny to fix. Just guessing since I have no real way to know for sure.

There was also a needle threader - a plastic thingy with a metal extension that you lay the thread in then push it through the needle eye - it gives a loop that you can grab with your tweezers. In my shop, this comes with the BabyLock but you can buy one separately (I meant to buy one, but forgot )

------
Claire
1seamatatime.blogspot.com

Kenmore / Necchi BU Mira
Singer 99 (3) / HD110 / 66 (RedEye) / 127 Treadle / 15-90 / 221

SewPaula


Advanced Beginner
Missouri USA
Member since 2/18/04
Posts: 422



Date: 9/22/12 6:57 PM

Well, I have one of each and I think that they are both good machines that will give you lots of great hems and bindings, so it really does come down to what you are willing to pay for a machine.

I prefer the BLCS. As you mentioned, they have the same stitches, but the BLCS just feels (to me, anyway) to be a sturdier, smoother-operating machine. I had no problems threading the Brother, so the jet-air threading was not a selling point (but I love it on my Imagine), but the fact that the tensions are automatically released when you raise the presser foot is sweet.

The biggest point for me was being able to purchase generic binders and use them on the BLCS without having to either modify the machine or use Blu-Tack (which never really worked that well for me.)

The nice thing about the Brother is that the double fold binder comes with the rudder foot which is great for keeping your binding under control. All the feet are clear for the Brother while the BLCS has solid metal feet. If you want the clear foot for the BLCS, you need to purchase that separately.

The binders are the only attachments I found useful for either machine, though I could see a use for the belt loop maker.

I'm not helping much by saying you can't really go wrong with either machine. Whatever you choose, I hope you love it and have lots of great clothes made with it.
-- Edited on 9/22/12 6:58 PM --

------
If I were a sewing machine, all I would have to do is lift up my foot and all my tension would be gone.

Sewing with my lovelies: Pfaff Ambition 1.5 Kenmore 385.19365, Babylock Imagine and BLCS, 4 Brothers (PE150, PE770, 1034D, 2340V), and a chorus of vintage Singers

andye

Beginner
Virginia USA
Member since 5/9/09
Posts: 1881



Date: 9/22/12 7:04 PM

Babylock BLCS2 manual

Brother 2340 manual

The babylock does 1500 stitches per minute, the brother only does 1000.




------
Bernina B330
Feet: 1,2,3,3A,4,5,7,8,10,13,16,18,20, 29,32,35,37,50,64,70,71,82,85,86, 92



hazelnut


Beginner
USA
Member since 1/7/09
Posts: 2310





In reply to Claire in Montreal <<



Date: 9/22/12 7:35 PM

Quote:
Well, I would have dealer support for both, so that is bonus in my favor.

That's good! I might be more inclined to go with the Brother then, esp. if you didn't find the manual tension releases to be problematic for you. I keep worrying about that the most, since SM tensions and me have such a dark history LOL.

Quote:
the progressives the Dr upgraded me to a few years ago are a pain in the neck - I'm on my second pair and I hate trying to figure out where my best line of sight is for everything - it hasn't ever become intuitive

I've been wearing progressives for about 15 yrs. The ones I have now are the best I've had to date, but they are still a pain-in-the-neck to focus (literally). I have herniated discs in my neck and surgery was suggested a year or two ago. I've put that surgery off by investing in a pair of no-line bifocals - for use at both the computer and for reading/sewing. They have been working out better than expected, though I am limited in how far I can see when I get up to walk (only up to 6 feet out or so). It has helped my focusing, but when my eyes get tired or dry, they get blurry and nothing works but resting them. I think that's why the BL appeals to me (particularly the serger) over the long haul - vision, etc. will only get worse. If the BLCS had self-threading needles, I'd scoop it up in a minute! I also feel if the machine would last twice as long as the Brother, with less hassle, then it's definitely worth twice as much. (In fact, I don't understand why the Brother CS is > twice as much as the Brother serger!) Seems like it does less work for more $$. Probably another thing that bugged me about it's price in comparison.


Quote:
There was also a needle threader - a plastic thingy

Thanks for mentioning this - I will look into it - I could definitely use that for the serger and my vintage SM's.
Rowena B


Intermediate
AUSTRALIA
Member since 10/2/02
Posts: 55



Date: 9/22/12 8:01 PM

While ease of threading a coverstitch machine is important for some I find the most important question to ask is how does it sew over a seamline?
You are going to want to sew hems in the round.

I had a Bernina 1300dc ages ago that would more often than not skip a stitch or 3 going over the side seam, no matter how much I tried to adjust it. The Elna 945 wasn't much better. So about 5 years ago in a fit of frustration I went and bought a used Siruba F007 coverstitch machine (industrial). Best thing is it rarely misses a stitch over those seams.

I realize that is not an option for most people, so would strongly suggest taking samples of what you most sew to try if you can.

I also learnt recently just how horrible my Elna 945 seams had become in knits after getting a Babylock Enlighten. (resisted for years because of the high price they sell for here in Australia)

Anyway just my thoughts.

-- Edited on 9/22/12 8:05 PM --
-- Edited on 9/22/12 8:07 PM --
-- Edited on 9/22/12 9:17 PM --

------
Perth, Western Australia

sewsally


Intermediate
Washington USA
Member since 8/18/02
Posts: 1324



Date: 9/23/12 1:44 PM

I have the BL and love it.
I have tried the Brother and hated the manual release.
I have tried the Janome and its fine and has a larger harp space than the BL. I think it uses standard needles too.

hazelnut


Beginner
USA
Member since 1/7/09
Posts: 2310





Date: 9/23/12 2:16 PM

Quote:
I find the most important question to ask is how does it sew over a seamline? You are going to want to sew hems in the round.

Oh, absolutely, your are right in this being the most important feature! I *think* Claire felt they both sewed equally well (I hate to speak for others, I have a hard enough time expressing my own thoughts in posts) and was looking for other reasons to justify the additional cost (as am I)!

I also visited a Bernina dealer to check out the 009DC that Sue (QuiltSewArt)? had recommended. It's sale price was over $1000, almost equal to the BLCS and it was more limited in stitching applications. Sue had said she experienced no skipping with hers - but when the saleslady demonstrated this machine over folded denim, it kept skipping over the thickest seam she folded. She said she probably had the wrong needle in and I will defer to her wisdom. But for the same price (almost) I think you'd be able to do a lot more with the BL (or so I presume) and I personally wouldn't want to be limited to one size CS at that price either, with sewing being equal. I couldn't justify an industrial at my level of sewing. lol I'm glad you are enjoying your enlighten - I would love one of those too. Thanks
Claire in Montreal


Advanced Beginner
Quebec CANADA
Member since 1/22/08
Posts: 1160





Date: 9/23/12 3:39 PM

Hazelnut, you understood me perfectly, that was exactly it - the sewn seams were equally well done. BUT, I'm glad Rowena mentioned the seam bumps because we didn't sew anything in the round, on either machine...only just rectangles of fabric. I'll probably ask to see them sew over seam bumps the next time I go in.

------
Claire
1seamatatime.blogspot.com

Kenmore / Necchi BU Mira
Singer 99 (3) / HD110 / 66 (RedEye) / 127 Treadle / 15-90 / 221
Printable Version
* Advertising and soliciting is strictly prohibited on PatternReview.com. If you find a post which is not in agreement with our Terms and Conditions, please click on the Report Post button to report it.
Sew a Designer Unlined Jacket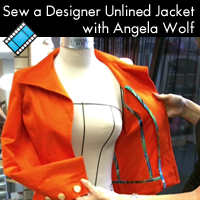 The Contemporary Couture Jacket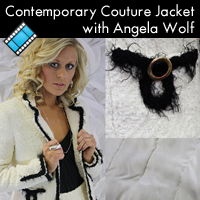 McCall's 6441

by: Karen Carr
Review
Vogue Patterns 8248

by: halleyscom...
Review
Sewing Workshop Verona Jacket & Coat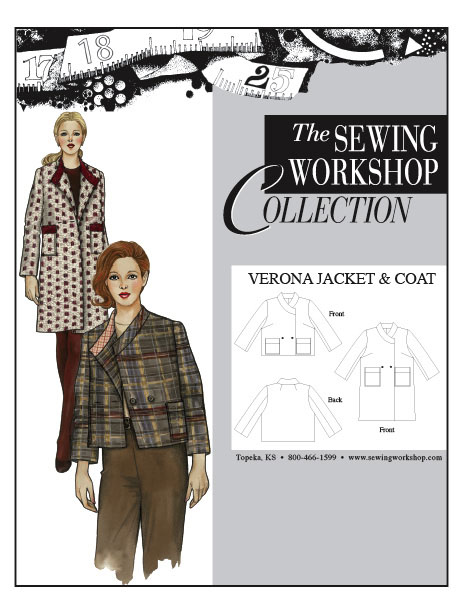 Buy Now
Christine Jonson Wrap Top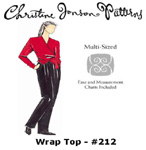 Buy Now