Sibilance7

Intermediate
Member since 8/10/11
Posts: 570



Date: 9/22/12 6:22 PM

So, why exactly is the software you can get from Pfaff, Bernina, etc, so expensive? Especially when there's Embird? I don't have any software currently and I'm pretty sure I'm going to go with Embird based on what I've heard here, but why is there such a massive price difference? Will I be missing crucial things if I get Embird instead of Pfaff's 5D or TruEmbroidery for my Creative Performance? The software is just so expensive. This is something that I've never understood about software like Adobe's either, when there's GIMP around for free that can do practically everything Photoshop can do.

------
My blog: www.feministstitch.com

I sew on:
Olivia, my Pfurple Pfaff Creative Performance
BabyLock Evolution


PattiAnnJ


Advanced
USA
Member since 12/3/06
Posts: 7652





In reply to Sibilance7 <<

1 member likes this.



Date: 9/22/12 6:50 PM

My guess is because they can. Some think they have to buy the same brand of software as their embroidery machine.

It all starts with the same basic elements.

All you need is a product that allows you to view, edit and convert formats.

Add digitizing if you are into that or just get Stitch Era, which is practically free at Coleman and Company

------
"Improvise, adapt and overcome." - Clint Eastwood/Heartbreak Ridge

clotheshorse


Intermediate
British Columbia CANADA
Member since 3/24/10
Posts: 781





In reply to Sibilance7 <<



Date: 9/22/12 7:05 PM

I agree with PattiAnnJ, it's because they can. What I find really annoying is that they have announced the pre sales for TruEmbroidery for Mac and have their hands out for deposits, but aren't willing to give out all the details about the product. I have been on the TruEmbroidery website several times and they just give out vague little tidbits about what the software actually does and no exact price was given ( the last time I looked anyway). The Canadian dealers won't have information and training until late Oct or Nov. I decided to go with Embrilliance.

------
Viking D1, 1+, Pfaff 7570, Singer 503 Rocketeer, 66, 15-91, 301, Featherweight 6 Flock, Babylock Enlighten & CS and Pfaff Creative Performance

Sibilance7

Intermediate
Member since 8/10/11
Posts: 570



Date: 9/22/12 8:32 PM

Yeah, that's kind of what I guessed - just because they can.

It seems counterproductive to me. If I didn't frequent these boards so I could learn about the cheaper software, I might just think embroidery was prohibitively expensive and not even consider an embroidery machine. It's certainly not a cheap hobby, what with threads and stabilizers and such, but a $2000 expensive right out of the gate on top of the cost of the machine and embroidery unit probably discourages a lot of people from even thinking about it.

------
My blog: www.feministstitch.com

I sew on:
Olivia, my Pfurple Pfaff Creative Performance
BabyLock Evolution


andye

Beginner
Virginia USA
Member since 5/9/09
Posts: 1913

1 member likes this.




Date: 9/23/12 1:53 AM

Embroidery software for the professional market is absurdly expensive Bernina's software is a tweaked version of DecoStudio-- meaning that it can save to .ART, among other things.

-- Edited on 9/23/12 1:56 AM --

------
Bernina B330
Feet: 1,2,3,3A,4,5,7,8,10,13,16,18,20, 29,32,35,37,50,64,70,71,82,85,86, 92



Screaming Mimi

Advanced
California USA
Member since 3/13/10
Posts: 69



Date: 9/23/12 2:36 AM

I too think it's because they can. What really annoys me is that this expensive software is usually way more than the home embroiderer needs. Most don't need digitizing features -- in fact learning to digitize is an extremely long learning process, and certainly not something one can successfully learn until they understand all the aspects of embroidery, and designs. I've also yet to see an auto digitizer that really works the way it's advertised. Yet, they make it sound so easy! What's way easier, and much cheaper is to have your design digitized by a professional.

Most home embroiderers don't need or use more than lettering, and editing that will allow them to combine designs & text, and make adjustments to designs. That alone can be overwhelming for the newbie to learn. That's why I always suggest that the buyer doesn't buy any software until they've used the machine a little bit...get an understanding of the basics, and then you're much better equipped to shop for software.

sewinggeek


Intermediate
Colorado USA
Member since 1/26/06
Posts: 520

1 member likes this.




Date: 9/23/12 5:27 PM

Embroidery software is what is called a vertical software market, i.e. there is a small market for the software. To recoup programming costs the price for embroidery is very high. These products are from companies whose primary business is selling sewing machines and only incidentally embroidery software. The overhead and expenses for these companies is usually higher than that of the smaller embroidery companies, whose only business is creating embroidery software. Big company = higher expenses = higher cost. Small company = lower expenses = lower cost.

I own Embird and Brother's PEDesign. I prefer PEDesign. It is not perfect, but I just like the way it works better. I use Embird mostly for its cataloging features.

Like most other things in life, rather than looking solely at the cost of something, you need to look at the software itself, what it does, how it does it, etc. I used just Embird for years before I bought PEDesign, but I have no regrets in buying PEDesign. For me, it works better.

------
PattiH
Brother 4000D, Brother 650Q, Babylock Enlighten, Babylock Coverstitch, Kenmore 117-841, Kenmore 158-1040, Franklin, Singers: 15-91, 66, 221

Michele Lommasson


Advanced
New Mexico USA
Member since 7/23/07
Posts: 1347





In reply to Screaming Mimi <<



Date: 9/23/12 7:48 PM

Some home sewers really like to digitize their own designs; I fall into that category. It isn't as hard as you think to learn digitizing.
It's nice that it's available. Most embroidery software have several levels to choose from, so that you can sellect what you need. Some sewers will be interested in only editing existing designs, others will wish to have full digitizing capabilities.
It is a pretty small market, so prices tend to be high. Sewers are not a huge segment of the general population, machine embroiderers are an even smaller portion of that. As a consequence, prices tend to be high.

------
Michele Lommasson

SouthernStitch


Intermediate
Member since 8/24/02
Posts: 10450



Date: 9/25/12 12:16 PM

I enjoy digitizing, or learning it anyway. While I lament that I don't do it enough, someday I will have the time. I find the software that I paid dearly for was worth every penney. It really does make digitizing and most other chores a lot easier with all of the features it has, and the education that comes with it. It's based on the $10K Wilcom program. Just the ease of doing certain things that took up so much time before is a snap now with the software I have.

With Embird I would have had to pay to learn it online, as the documentation I found to be poor. I know there are Yahoo groups, (this was before YouTube as well) but I didn't find them helpful when just starting to learn how to digitize. They were fine once you were up and going. The search function on yahoo groups suck, and it's hard finding mesages about your specific problem. Many times the answers assumed you knew something else, or were cryptic. I just got very frustrated.
I did use the Designers Gallery for a while and really liked that one too.

Part of what I paid for was excellent education. Two to three hour classes once a month for 7 months. That's worth something.
But, that's ME. Most folks I agree do not fall into that category of wanting to digitize. So, if that's not you, then you'll be fine with a much more inexpensive editing program!

------
Bernina 780, and 530
Juki TL2010
Babylock Evolution
Singer 403a

When life gives you green velvet curtains, make a green velvet dress.

annenet


Advanced
USA
Member since 8/2/03
Posts: 2449



Date: 9/26/12 8:16 AM

Alot has to do with the R&D that goes into it.
I agree with Southern Stitcher - it's the enjoyment factor for me. I like being able to do whatever I want to do.
Home versions are based on pro version in a lot of cases. If you ever look up the pro versions they are wayyyyyyyyy more expensive!
Also I got a very good class from my dealer which would not have come with a less expensive version. I also find upgrading when the new software comes out every few years takes the bite out of the price.
I just ordered the paintworks program and because I have the cutworks program I only needed a few things. And my dealer gave me 25% off. So for me it's all about having the tools to do whatever I want!

------
So many projects, not enough time
At my house in VA:
Bernina 1010, Activa 220, B580, B780
Singer 201-2, 221, Bernina Serger 1300MDC, BL Enlighten, BL Sashiko, BL Cover Stitch, Consew 75T

At my Lake House in PA:
Bernina Artista 165E, Singer 503A. Bernina Serger 1100d

http://sewingtechie.blogspot.com/
Printable Version
* Advertising and soliciting is strictly prohibited on PatternReview.com. If you find a post which is not in agreement with our Terms and Conditions, please click on the Report Post button to report it.
Clone Your Favorite Garment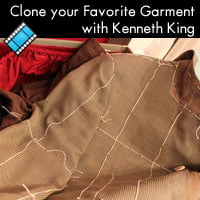 Sewing with Slippery & Drapey Fabrics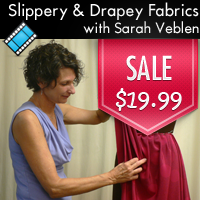 Kwik Sew 3247

by: Larisa
Review
SewBaby Quick Kitchen Gifts Pattern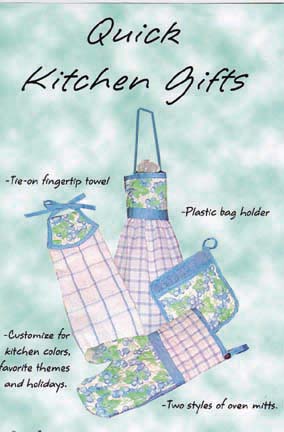 Buy Now
Bluegingerdoll Odette Dress Paper Pattern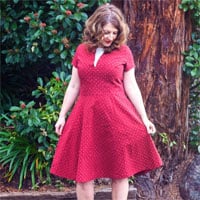 Buy Now
Simplicity 9469

by: Trephas200...
Review