avatrx


Advanced Beginner
Illinois USA
Member since 12/16/05
Posts: 567





Date: 9/23/12 7:59 AM

I just gave up on a blazer pattern because nothing seemed to work right despite the fact that my measurements were almost identical to the pattern envelope.

I used the measurement around my full bust to pick the size pattern. Should I have used the measurement taken above the bustline? If I did that, the waist and hips would be too small.

I should know this stuff, but I've concentrated mainly on pants, so making fitting tops (shirts, blazers, etc) I just assumed that the three main measurements 43-34-43 would be the ones I'd use to pick the correct pattern size.

I used the amazing fit Simplicity 2446. once I reduced the side seams, the jacket body fit great, but the armholes were huge, the shoulders were wayt too broad, on and on. I didn't go thru the sew, then tear out and resew because I don't have anyone to help fit me here and my measurements should have worked. waist and hips were fine but everything above the waist was horrible.

jadamo00


Advanced
New York USA
Member since 3/13/06
Posts: 1264





Date: 9/23/12 8:35 AM

Yes, the bust-size thing is WAY WAY OFF, especially on the Big 4 patterns -- and according to the Big 4: those are supposed to be your full bust measurements. According to my full bust, I'm a size 10. But 10 is huge. I'm really an 8 but sometimes, I go down to a 4!

Luckily, the patterns are now multisized: on the tissue, find the bust mark and extend it to a horizontal line on fronts and backs. Now, measure the tissue to find out the REAL bust measurement of the finished garment (and make sure to deduct the seam allowances).

Brace yourself for the shocking difference from what they TOLD you the finished garment bust measurements were.

If you're like me, you'll be the next size smaller than the pattern envelope tells you.

Sorry. We have to start shouting this from the rooftops...

j.






-- Edited on 9/23/12 8:37 AM --

avatrx


Advanced Beginner
Illinois USA
Member since 12/16/05
Posts: 567







Date: 9/23/12 9:55 AM

Thank you for the info. So I understand this: use my full bust measurement, but compare that to the actual pattern. would I need to do that with the waist and hips also? The biggest issue I had was the shoulders and how to correct for that. Truthfully? everything was goofy. The shoulder seams were way too wide and I don't know how to measure that from something I own to a pattern, the armholes were huge. If they were the right size (pulled to where they should have been) I would have needed to increase the bust circumference. Which size should I go by for the jacket? bust? hips?

I wish Peggy Sagers had a pattern similar to the Simplicity. She sizes her differently and bases the size on the finished product. sizes which you determine by measuring something that fits you well. I have a RTW blazer that I just love! I would never risk taking it apart to make a pattern, but everything about it fits me perfectly. I've had it for years. It's a size 14 - Worthington made of some type of Rayon/Silk or similar. I was really hoping for a fit similar to that, but failed. miserably failed I also have that same blazer in a size 12 which is a tad bit snug, but wearable.

I have a Burda pattern for an unlined blazer - 8201 that has my measurements also. Are they considered one of the Big 4? Seems that I've heard good things about Burda but never sewed one of their patterns.

One thing I did notice about the Burda pattern was the neck to bust point. Their pattern says 12-3/4, but I think (if I measured right) I'm 12". I guess I'm not sure how to measure that area. Over the bust? middle of the shoulder to the bust point over the bust?

I'm tall - 5'10+ so I was surprised that any measurement was shorter than me. The sleeves will have to be lengthened by 2.25", the jacket back to waist needs 1" added. Everything else seems to be pretty much what I am in the size 22.

Everyone on this site seems to be so small. I usualy wear a size 12 pants, and a medium to large blouse. XL in lower end stuff. I feel huge compared to everyone else who has posted about their patterns.

any suggestions are greatly appreciated. For now I am hoping to take a huge muslin pair of pants I started a long time ago and see if I can redraw and recut, but perhaps add fabric at the front for a fly front which I prefer to pull-on. hmmm? is that possible?

thanks,
-susie

JEF


Intermediate
Virginia USA
Member since 7/27/05
Posts: 2604
Board Moderator





1 member likes this.



Date: 9/23/12 10:11 AM

Funny you mentioned Peggy Sagers b/c I saw your other post and looked at her patterns for you... you're right, she doesn't have one that is really like the Simplicity one. Sure, maybe you could combine various elements of her jackets to get there but I'm one of the lazy sewers who doesn't want to do too much combining.

Since you have a jacket pattern you like, why not just measure it. Let's say the armhole measures 19". Go measure that pattern you have and find the armhole that measures 19" (taking seam allowances into account on the pattern but not the garment since on the garment you are measuring the seam itself). Trace off that armhole regardless of what size it is. Trace off the sleeve that fits in that armhole. Maybe you'll need to make the sleeve wider or narrower but if the armhole fits you nicely, the sleeve will fit into that armhole and that's the one you want.

Do the same for circumference at the high bust, full bust, ribcage and trace off the pattern size that best corresponds to the size of your RTW jacket. Check the vertical measurements - on the jacket you like how far is the bust point from the shoulder?

This is, of course, a ton of work but (after you tape all your traced bits together and smooth out the lines) you might have a much better starting point than you do now for the style that you really like.

Best of luck.

JEF

------
"The trouble with quotes on the Internet is that you can never know if they are genuine." --Abraham Lincoln

KathySews


Advanced
Michigan USA
Member since 10/1/06
Posts: 3967



Date: 9/23/12 10:21 AM

great info from JEF
I don't know anyone who can sew something straight from a pattern and get a great fit. We all have body differences, even if the numbers are the same. If you are larger than a B bust then buy by the upper bust measurement and learn about full bust adjustments. I also think patterns are made for 5'6" but might be wrong there. The info is somewhere on patterns, I think.

I agree, measure a similar garment that fits and use it to verify your pattern. Then, make muslins - particularly for things like jackets. Muslins are tests of a pattern made from inexpensive fabric. I buy muslin so I can mark changes on the fabric, but that is personal choice.

If you can, get a copy of Fit For Real People - I learned a ton about fitting from that book
-- Edited on 9/23/12 10:23 AM --

avatrx


Advanced Beginner
Illinois USA
Member since 12/16/05
Posts: 567







Date: 9/23/12 10:27 AM

Is there a good reference sheet for tracing a RTW? I'm not sure I'd know where to start. The length of the shoulder would be easy as would probably be the bust and maybe shoulder to bust, but not quite sure how to measure the rest. lay them flat? armhole from the inside? would the curve be the same. On the sleeve how does one allow for easing?

How about Burda? never used one but maybe it would be better? at least a starting point. the one I have is unlined and doesn't look too difficult.

Wish I knew someone around here who sews, but I'm in the middle of nowhere. the local JoAnns store only offer classes on basic stuff like pajama pants. those I can do.

Silk Challis


Advanced
International UNITED KINGDOM
Member since 10/15/08
Posts: 136





1 member likes this.



Date: 9/23/12 10:46 AM

Quote: avatrx
I used the amazing fit Simplicity 2446. once I reduced the side seams, the jacket body fit great, but the armholes were huge, the shoulders were wayt too broad, on and on. I didn't go thru the sew, then tear out and resew because I don't have anyone to help fit me here and my measurements should have worked. waist and hips were fine but everything above the waist was horrible.


It sounds like you need an FBA. Try to choose the size using your high bust measurement and perform an FBA. This should fit your shoulders and arms better.
JEF


Intermediate
Virginia USA
Member since 7/27/05
Posts: 2604
Board Moderator





Date: 9/23/12 10:56 AM

You could probably just measure most stuff with it on the hanger. I kind of like hanger measuring versus flat because I don't seem to have the wrinkles/folds that I worry might throw the measurements off. Just lay your tape measure onto the fabric.

When I do this, I'm not aiming for absolutely perfection but just a really good ballpark. For example, measuring around the armhole (just laying the tape measure against the seam line and going around the whole thing), I'm not really worried about it if I measure it at 18.75 or 19.25 and it's actually 19. What measuring shows me is that it clearly is not 24. When I get to the pattern, my choices might be 18.5, 19, or 21.25. If I'd measured somewhere between 18.75 and 19.25, I'd choose the 19. Again, for something like this, I'm not a perfectionist and I'm just trying to get a pattern that will closer to fitting than the original. I know I will still have to adjust it somewhat once the muslin is made. (Or not... there is plenty that I have discovered I can live with but that is just me; you might be more particular.)

Specifically, the curve of the armhole may be different b/w pattern and RTW but if you use the pattern armhole with the pattern sleeve, the sleeve will fit in the armhole. THEN if you realize after a muslin that it somehow just doesn't feel as good as your RTW, then it's time to start checking curves. Oh, I'd just measure the seam on the outside since then you're not avoiding seam allowances.

There are ways to trace off a RTW item to create a pattern based on your RTW without taking it apart. That's not what I'm talking about doing since you want to use the Simplicity pattern but it is another option.

HTH,

JEF

------
"The trouble with quotes on the Internet is that you can never know if they are genuine." --Abraham Lincoln

jadamo00


Advanced
New York USA
Member since 3/13/06
Posts: 1264





Date: 9/23/12 12:59 PM

((use my full bust measurement, but compare that to the actual pattern. would I need to do that with the waist and hips also?))

Y'know, it depends on the pattern. I always check that bust for any top (shirt, dress, jacket, coat) but if it's a non-fitted shirt or shirtdress pattern, I don't bother measuring the waist. For bottoms -- skirts and pants -- right, I measure the hips on the tissue.

Now, if you are doing a fitted jacket that nips in at the waist, then you may want to check the waist, too.

((I don't know how to measure that from something I own to a pattern))

Well, you could actually take the garment that fits you well in the shoulders, lay it down flat on a table and then pin the pattern tissue over it and get an idea of what you have to do.

Big 4: Simplicity, McCalls, Vogue, Butterick (McVoguerick!)

Neck to bust measurement: on this, I'd pin the pattern together and see where things land on you.

Post again if we missed any of your questions!

j

-- Edited on 9/23/12 1:01 PM --

Elona


Advanced
Member since 8/24/02
Posts: 8467





Date: 9/23/12 1:51 PM

Quote: avatrx

How about Burda? never used one but maybe it would be better? at least a starting point. the one I have is unlined and doesn't look too difficult.



Years ago, a lovely lady named Roberta Carr used to teach sewing students how to use Burda (she also did videos and books). She was in fact a Burda maven, and her motto was 'believe Burda.' By that, she meant, "Just follow the instructions."

She taught me how to fit myself using Burda, and said the key is to use the Burda fitting charts. According to Bobbie, you take every measurement shown on the chart--including the all-important neck measurement at the base of the neck--and circle the closest size number at each point.

Bobbie told me that that neck base measurement is not only your neck size, but the size of your shoulder and the sleeve cap. Even though I am a C to D cup, she had me trace along the size line for my full bust ('believe Burda' again), not the high bust, and this measurement also determined the size line of the sleeve underarm. I did the same thing at the waist and hip, which were also not the same size. The result of all this was that I was gradually tapering my tracing line between sizes.

This took care of my circumferences. I am not as tall as the Burda standard, so next I had to shorten my pattern pieces. The result was a garment that fit--and without a FBA in spite of my bustiness.

I'd recommend you try a Burda, using these suggestions, especially the ones about using the measurement chart exactly, including circling all those numbers.


-- Edited on 9/23/12 1:52 PM --
Printable Version
* Advertising and soliciting is strictly prohibited on PatternReview.com. If you find a post which is not in agreement with our Terms and Conditions, please click on the Report Post button to report it.
Clone Your Favorite Garment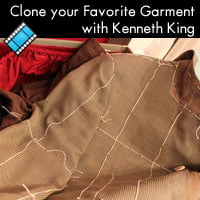 Leather 101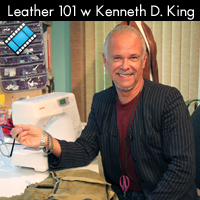 New Look 6569

by: Sheila457
Review
BurdaStyle Magazine 10-2012-134

by: squirrelly...
Review
Islander Sewing Systems Women's Classic Sport Shirt Pattern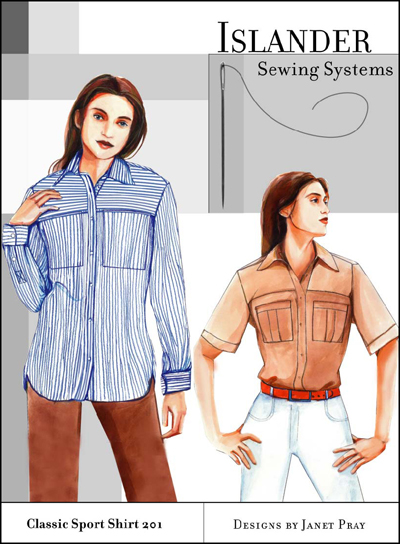 Buy Now
Sew Chic Clara Bow Apron Pattern (ln102)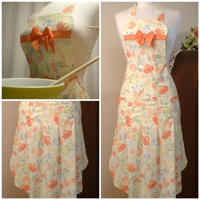 Buy Now