natemoore

Member since 9/22/12
Posts: 8



Date: 9/23/12 9:12 AM

I bought this machine on eBay for a boat reupholstery project. When I'm done with the boat, I'm done with sewing for the foreseeable future.

I'm using 18 Singer needles and No. 69 polyester thread. What I'm sewing is a layer of vinyl, a pre-made welting, and another layer of vinyl for seat cushions.

I got a third of the way around the first cushion with no problems. After a turned the first tight radius corner, I started having problems with the thread fraying and breaking. I called my local sewing center and they said it could be a worn shuttle or needle timing that is off.

I did some research and set the needle timing. The two lines on my needle holder shaft are at the top on this model. I watched the interaction of the shuttle and needle while I hand turned the machine. Here's what I saw: the shuttle needle would miss the loop of thread totally sometimes. Sometimes the shuttle needle just snags the thread, which causes it to break after a cycle. I've also noticed that if the shuttle needle cleanly grabs the loop and successfully takes it around the bobbin, the thread will get hung up on the opposite side of the shuttle, although I think this is a problem of not enough tension on the thread.

I inspected the shuttle for scratches. I don't really know what a worn shuttle would look like because I have nothing to compare it to.

Here's the kicker. If I hand start the first couple of stitches, then hit the gas, it will sew flawlessly for four or five inches, then the thread starts to fray. If I go at a slow speed, like I was when I was sewing around that small radius corner, it will only go a few cycles before the thread breaks.

Any ideas? One person on my other thread said that this machine should handle this task just fine.
Thanks
Nate

Marie367

Intermediate
OH USA
Member since 5/28/11
Posts: 2336





Date: 9/23/12 9:26 AM

I am no expert on this machine although I am pretty sure this is what I learned on. If it is my mom had all kinds of problems with the tension. I don't remember having problems but I was young and probably just fixed it without getting upset by it. It should be able to handle it. I would look at two things that is if you think the timing is ok now. Look at the needle and the thread. That Singer 18 might not be the best needle. On another thread someone said that the Singer needles were a tiny bit longer than other brands. I checked and they are. I have stopped using them on my newer machines. I don't know if that is an issue here. Someone else might speak to that. I use Schemtz that I get on sale at JAs or Hancocks. Schemtz makes a "sharp" which might be more helpful than a universal. Schemtz makes several kinds of needles so if not a sharp then something else might work better on that vinyl. The needle size might also be an issue-the machine might want a smaller needle-a 16 or even a 14. I was sewing bags on my old Kenmore. I started with a big needle and it didn't like it; I was getting stitching errors etc. It liked a 14 which was very surprising. The other thing is the thread. Are you using a good quality newer thread? Old thread will break. It sounds like it could be catching somewhere-you might have a burr somewhere or a piece of thread hung up somewhere. Check for rough places everywhere the thread goes-up from the bobbin, the throat plate, the top thread path. Alot of people are more familiar with these old Singers so someone will jump in here. I hope you figure it out because it should do this project without a problem. HTH

natemoore

Member since 9/22/12
Posts: 8





Date: 9/23/12 9:35 AM

The thread is Dabond upholstery thread. Brand new. It is No. 69 size, so I wonder if it will go through a 14.

I did check all parts down below for snags. I wonder if I should just preemptively buy a new shuttle. They're only $15.

pknord

Intermediate
TX USA
Member since 9/1/11
Posts: 513



Date: 9/23/12 11:03 AM

The 15-91 was made to do normal household sewing, to make garments, draperies, bed linens, etc. It wasn't made to handle that size thread, and is probably choking on it. You might try loosening the bobbin tension a bit, but the clearance in the hook area might be just too tight.

------
Pat in Rockport, TX
"As ye sew, so shall ye rip."
http://community.webshots.com/user/pknord
http://www.quiltingthoughts.blogspot.com/

beauturbo

Advanced
CA USA
Member since 5/2/09
Posts: 3316





Date: 9/23/12 1:26 PM

I think the 15-91 could sew though two layers of the upholstery fabric at it's longest stitch length occasionally, (if everything done right and careful) probably; and without trashing and breaking the machine right away, but your problem is all that piping that adds another two layers into the mix to make it 4, and also if any seams crossing other seams then you got at least 8 there.

It might be able sew to sew 4 or 8 layers of it, (without trashing the machine) for a while, (a while is a unknown amount of stitches and time though) especially if you only carefully turn the fly wheel by hand to do that, and never pull and tug the fabric through the machine, and only let it's own feed dogs carry it though there and just don't even use your foot pedal at all. Probably can't around the corners of something like that with piping in it though, especially not with a foot pedal, just because then not feeding though good, and of course even if on your longest stitch length , your stitches are going to get all stacked up into each other and shorter and shorter there, the way you are trying to sew, and stack up, and then cause a mess and a tangle and all that thread wedged into a real small pace, will break and fray your thread, even by just that.

Also thread may break and fray because by now, you probably have lots of needle hits on your hook, and even the stitch plate hole, and maybe not even a good point on your hook anymore either, so all those other things are not all that conductive to good sewing either, and can all catch and break and fray thread, even if the machine can still make stitches.

So machine is not really the right/optimal one for the job at all, a machine with compound feed and walking foot and a big separate motor under the table and longer stitch length and made for that kind of stuff would be much better. I actually don't see anything like that on either of those two web sites you mentioned at all though.

No, a size 14 needle's eye would be way to small for big. thick #69 thread, and the thread would not even be in or laying protected in the groove of the needle at all, plus could not move though eye of needle very good either. Needle can't get way too big, or it would slam into your hook. Also maybe thread cannot flow through the bobbin case good, even if you open up that bobbin case screw a lot. Also probably is a top thread tension problem too, as with that huge synthetic #69 thread in the top, no matter how tight you try to turn your top tension knob, on that thick synthetic thread that was not made for the machine, and though all that boat vinyl you may not ever be able to get enough top tension on it to pull up the bottom thread and meet in the middle on a bunch of boat upholstery fabric with self made piping in it.

So I personally don't think the machine can handle that task just fine at all. That is why people whom do boat/auto upholstery for a living, would never use that machine to do that. It could handle it maybe a bit better though, if you gave up on, and just got rid of all the piping and just left all that out, (so way less layers to even try to sew through) and had the work supported a bit better, (maybe sit cross legged on the floor with it spread out there and sew by turning the fly wheel only by hand) real slow on the corners, so your stitches would not get shorter and shorter there, and get stuck and stack up on one another.

So you got multiple problems going on at the same time. Some is bad sewing technique, and such, and some is the kind of machine you are trying to use, and a lot of that is just made way worse by your piping too.

So probably not what you are hoping to hear, but just my opinion.



loti


Advanced
FL USA
Member since 5/27/04
Posts: 3634





Date: 9/23/12 1:33 PM

I just had an issue with a 15-91, check to see if the bobbin is wound tightly and evenly. My issue was a loosely wound bobbin, the thread would feed for a few stitches then tighten around bobbin shaft and break.

------
"A girl should be two things: classy and fabulous."
Coco Chanel

Stash Sewn in 2011 148.5 Yds
Stash Sewn in 2012.... counting...

http://adonising.blogspot.com

lisalu


Advanced Beginner
GA USA
Member since 10/5/08
Posts: 2175



Date: 9/23/12 2:11 PM

I have used a 15-91 all my life and although I can't address your specific problem (having never done the kind of sewing you are doing) I'll add my observations about this machine.

1. I don't think it is common for the timing to be off on these machines, at least mine has never been repaired or re-timed in 56 years of use. Not to say it can't happen, but it's probably not the first thing I'd suspect.

2. Not having used the type of thread you are talking about, I'd guess that in general if the thread is fraying then the tension or presser foot pressure is too tight. Possible?

3. You probably know this - but since the issue crops up from time to time with new users of this machine I'll remind you to be sure the needle is inserted with the FLAT side facing to your LEFT. The needle is then threaded from RIGHT to LEFT.

4. I wonder if sewing through vinyl is creating a drag on the needle and creating some of your problems. I have noticed that sometimes when sewing with vinyl, but I'm not sure what the solution is (Teflon needles? )

Although not an "industrial" machine or intended for constant heavy use, the 15-91 is probably among the toughest domestic sewing machines you can get, so you were well advised. You couldn't touch another sewing machine in that price range that can outperform it.

Wish I could help with your problem, I hope you figure it out. If any home sewing machine can do this for you, the 15-91 is your best bet!

PS...you didn't say whether you have done this, but it might be a good idea to switch out your needle and thread and try sewing on some medium weight fabric. If you are able to get a good stitch that way, then your problem probably ISN'T the timing or the threading path, but more likely a tension issue or the type of thread you are using. HTH
-- Edited on 9/23/12 2:17 PM --

------
Jim (Singer 301), Margaret (Singer 201-2), Betty (Singer 15-91), Bud (Singer 503), Kathy (Singer 221), Liz (Singer 221 Centennial Edition)
http://runningstitches-mkb.blogspot.com/

Soolip


Advanced
CA USA
Member since 6/18/08
Posts: 2229

1 member likes this.




Date: 9/23/12 2:53 PM

The 15-91 is a very fine DOMESTIC sewing machine. It was not designed to handle continuous sewing of upholstery, leather or other heavy fabrics. Please stop, and get yourself an industrial machine for a few hundred bucks on craigslist.

natemoore

Member since 9/22/12
Posts: 8





Date: 9/23/12 2:59 PM

Quote: pknord
The 15-91 was made to do normal household sewing, to make garments, draperies, bed linens, etc. It wasn't made to handle that size thread, and is probably choking on it. You might try loosening the bobbin tension a bit, but the clearance in the hook area might be just too tight.


Loosening the bobbin tension is something I haven't tried yet. I'll let you know.
lisalu


Advanced Beginner
GA USA
Member since 10/5/08
Posts: 2175





1 member likes this.



Date: 9/23/12 3:38 PM

Soolip, you're right about this not being an industrial machine intended for continuous heavy use on leather, upholstery, etc.

But as you have surely noticed on eBay, the sellers insist on showing these machines sewing through tin cans or eight layers of denim or saddle leather or what-have-you. Purposefully misleading because first of all, who sews tin cans - that is irrelevant to what we are actually going to do with the machine (not to mention it will probably damage the machine, so I don't want it after you used it to sew metal!)

And secondly, just because the machine CAN stitch through 1/4" thick stack of fabric or leather doesn't mean it will effortlessly sail through entire seams without choking up - and maybe even burning out the motor at some point.

The sellers have a field day with these stupid demonstrations intended to sell a machine as "Industrial Strength" when it is nothing of the kind.

I've done some light upholstery work with mine, no problems. It might be worth trying if this machine only cost $50-$75 to begin with because it is still a good machine useful for other purposes even if it doesn't work out.

------
Jim (Singer 301), Margaret (Singer 201-2), Betty (Singer 15-91), Bud (Singer 503), Kathy (Singer 221), Liz (Singer 221 Centennial Edition)
http://runningstitches-mkb.blogspot.com/
Printable Version
* Advertising and soliciting is strictly prohibited on PatternReview.com. If you find a post which is not in agreement with our Terms and Conditions, please click on the Report Post button to report it.
Beginners Guide to Dyeing Fabrics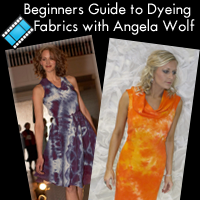 Sewing with Slippery & Drapey Fabrics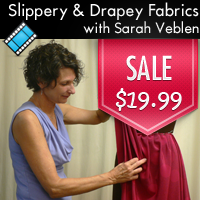 Simplicity 2977

by: twotoast
Review
Islander Sewing Systems Baja Shirt Pattern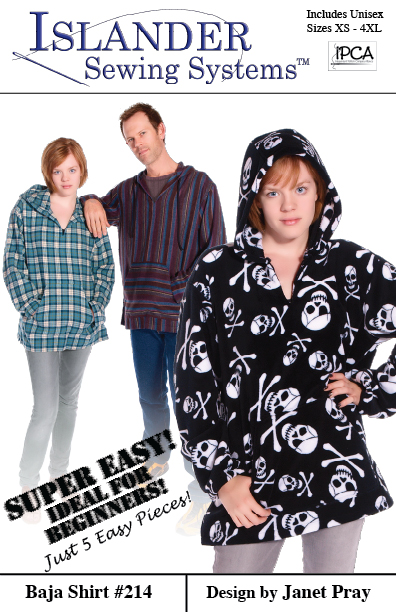 Buy Now
Christine Jonson Swing Shirt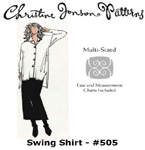 Buy Now
Jalie 2792

by: cindysewsa...
Review