westmoon


United Kingdom
Member since 9/7/11
Posts: 803
Skill: Advanced Beginner





Date: 9/23/12 9:57 AM

I've been merrily making skirts for the last few weeks, but now I've moved on to tops I've hit a snag: my very large bust. (By very large I mean 14cm (5.5") difference between high bust and full bust and 21cm (8.25") between full bust and my ribcage below the bust. This is an H cup.) In size terms, most patterns are telling me to take a 16 if I use high bust measurement and a 22 by full bust measurement. (My hips, if you care, the same width as my full bust, which is exactly halfway between an 18 and a 20. I generally make a 20 as my waist is proportionally wide, and skim a little off the hips when I sew my seams.)

I hoped sizing for knit tops would be easier than for woven where the 5.5" FBA I need has thus far utterly defeated me. I thought I would start with sizing by looking at some more shaped (i.e. not true rectangle-with-sleeves t-shirts) RTW knit tops I own and getting finished garment measurements to help me get my size right for knits.

However, it turns out there's a reason knit tops have never been any part of my professional wardrobe as a visible layer. Nothing I own could really said to fit well. The tops I have are always either fine at the shoulders/hips but obscenely tight across the bust with horizontal stretch lines, in which case I wear them as a base layer and never ever take the top layer off. Or else fit they comfortably over my bust but the neck and shoulders are insanely wide, my bra straps show constantly and if I lean forward everyone gets a show because the neckline is so baggy, plus the waist and hips are very loose, in which case I wear a base layer underneath.

In other words, the fit is JUST AS BAD for knits as it was in my woven tops, only less obviously so, because buttons don't actually ping off across the room under the strain they way they do on woven blouses. I'm starting to think my upper body is just unfittable and I should resign myself to wearing sacks or being uncomfortable forever :(

Can anyone in a similar situation or with more sewing knowledge than me (not difficult) suggest anything? Am I really going to end up sewing darts into knits or are there any particular knit top types that are more friendly to less obtrusive adjustments for large busts? I was thinking about

this knit top in the most recent Ottobre

(sorry about the tiny photo) because it seems like it might be possible to put more fullness into those gathers. Are there knit top patterns/pattern types that other G/H/I cup women recommend and/or suggest that I avoid? I own a few patterns (HP Sunshine top, many in back issues of Ottobre) but have not made anything because I don't even know what size to pick (or really how to use my overlocker, but that's a separate problem).

------
http://sewingnovice.blogspot.co.uk/
One woman. One sewing machine. One giant stack of fabric. What could possibly go wrong?

KathySews


Michigan USA
Member since 10/1/06
Posts: 4269
Skill: Intermediate
Body Type:


2 members like this.




Date: 9/23/12 10:10 AM

I have similar measurements. The best thing I learned was to add a bust dart to knit tops. So start with a knit top that fits your shoulders, back, etc and do a full bust adjustment to get the better fit for your bust. It looks fine. I used Pamela's Patterns perfect tee, but any top would work.

Variations I have done to the top in an attempt to work in the bust fullness:
- replaced dart with gathers on the side seam
- small pleats replacing the dart
- 2 darts instead of the one larger one

Now that I have the basic top fitting well, I use other patterns to change the neckline, sleeves, etc by making a copy of my tee pattern and adding the features from the other pattern that I want.

Hope this helps
-- Edited on 9/23/12 10:11 AM --

Silk Challis


International UNITED KINGDOM
Member since 10/15/08
Posts: 136
Skill: Advanced

1 member likes this.




Date: 9/23/12 10:24 AM

I completely agree with KatySews: FBA and some dart manipulation -transform them into gathers or pleats or multiple darts.

You may find helpful the DVD "Full busted? Sew clothes that fit". It shows how to proceed with FBA on different styles.

Quote:

By very large I mean 14cm (5.5") difference between high bust and full bust


Quote:

I hoped sizing for knit tops would be easier than for woven where the 5.5" FBA I need has thus far utterly defeated me.


You only need half of that amount since you are working on a half front pattern piece, i.e. 2.75". And that's doable, it just require some practice (I need 2.5" myself).

Perform an FBA and then rotate the newly created dart into the front gathers.

Quote:

I don't even know what size to pick


Go with your high bust, this should fit your shoulders and it is easier to add fullness to the bust rather than to reduce the shoulders to fit.

Quote:

(or really how to use my overlocker, but that's a separate problem).


You can simply use the zigzag stitch of your sewing machine.

-- Edited on

9/23/12 10:39 AM

--

SheBear0320


Manitoba Canada
Member since 4/8/08
Posts: 5581
Skill: Advanced



In reply to westmoon

2 members like this.



Date: 9/23/12 10:36 AM

I can sympathize completely -- I have an 8.5" difference between upper and full bust and a 9" difference between full and rib cage. In the big 4 patterns I start with a 14 for the shoulders/above bust, properly position the bust point and then do the FBA. I usually rotate the darts out and then make circumference adjustments which means I usually have to take out some of the circumference below the bust as my waist is about the same size as my upper bust.

I have had some success with fitting princess seam knit tops --

McCalls 5890

comes to mind -- I managed to get a good fit on this one through the bust and waist and have made both the top and the dress (still need to do a review).

I have also had luck with Kwik Sew patterns -- I start with between a medium and large and then work from there.

I consider it a success when I can get a knit top that doesn't gape at the neck and armholes and doesn't pull across the bust.

You might want to check out

Sham's Blog - Communing with Fabric

-- she has a lot of tips for the "uber-busty" (her words). She also has several reviews here on PR under

sfshaza

It will take a while to get the FBA and other alterations figured out (I had to make several muslins for both the Kwik Sew and Princess Seam tops) but it was well worth it in the end.

------
Sheila
"sewing very slowly to fill an empty closet"
Stash Tally: net +38.5 yds (2014)
2015 Stash Tally: 106.5 yds out/122.875 yds in (net +16.375 yds)

2016 Stash Busting:
43.0 yds sewn/donated (as of 09/21/16)
53.25 yds purchased (as of 09/21/16)


shermarama


NETHERLANDS
Member since 1/19/10
Posts: 40
Skill: Advanced Beginner



Date: 9/23/12 11:00 AM

Another sympathiser here, as an F/G cup... As others have said above, it's amazing what you can do with alterations. There won't be a size that you can buy where you can just make it and then grade out the rest of the size elsewhere, but once you get familiar with the various ways to do an FBA, you can decide which one is best for any given pattern and do it.

Judy Kski


Florida USA
Member since 10/26/08
Posts: 2128
Skill: Intermediate
Body Type:


1 member likes this.




Date: 9/23/12 1:14 PM

I echo

KathySews

recommendation for Pamela Leggett's

The Perfect T-Shirt, #104.

A companion pattern with alternate necklines and sleeves is

#107.

If you're interested, I've done a

review.

This is my TNT T-Shirt that I've made five times already. I highly recommend it.

As mentioned by

Silk Challis

, the Palmer/Pletsch DVD,

"Full Busted? Sew CLothes That FIt!"

can be a great help to anyone who needs to do an FBA for various styles of patterns.

You're not alone in your frustration about doing so many alterations, but it's all part of the process.

-- Edited on

9/23/12 1:19 PM

--

------
Judy

westmoon


United Kingdom
Member since 9/7/11
Posts: 803
Skill: Advanced Beginner





In reply to Judy Kski

Date: 9/23/12 1:34 PM

Thank you (and everyone else who suggested similar things!) for the recs. I actually have the Full Busted DVD (and Fit for Real People, and three other fitting books) but I guess it just hasn't quite clicked for me yet. I probably just need to practice more, as the muslins I've tried for wovens just come out as deformed monstrosities that don't even remotely fit, no matter how carefully I think I've followed the steps!

I've heard about Pamela's patterns before, but while they may be good she's chosen to charge $17.95 per pattern (and it's $12 to start with!) to post them to the UK. $30 for a t-shirt pattern I'm not even sure if I like is too rich for me!

------
http://sewingnovice.blogspot.co.uk/
One woman. One sewing machine. One giant stack of fabric. What could possibly go wrong?

sewsally


Washington USA
Member since 8/18/02
Posts: 1431
Skill: Intermediate



Date: 9/23/12 1:38 PM

I use Pattern Master Knits program and am vey happy with the draft of the knit tops and variation.

DDD cup.

hazelnut


USA
Member since 1/7/09
Posts: 2310
Skill: Beginner



In reply to westmoon

Date: 9/23/12 2:55 PM

Quote:
I guess it just hasn't quite clicked for me yet

It has taken me a *long* time to get to the point where I feel more confident in doing an FBA on any fabric. I have the DVD and book too, and the DVD is great. I find that each new pattern is a brand new fitting experience. I have at least 1/2 dozen tops that have never made it through the FBA fitting stage for one reason or another, and are waiting until I get better at it. The larger the FBA, the more difficult the dart is (for me). It has been suggested to make 2 small darts instead of one if the dart is over 3 inches, but I haven't tried that yet, I'm still working on the other fitting issues.

I'm starting to get an idea of what size to start with too, in a couple of pattern companies, and that's helping to eliminate some of the extra fuss. What helped me was sticking to one pattern until I got the FBA and dart size to look decent. My first pattern, KS2900, was a t-shirt with no dart, which gave me great angst. ! I didn't know where to start, but after 2 yrs., a lot of help from people here and a dozen muslins, I now have several decently sewn and fitted tops from it.

Until now I've been only using knits too - I'm currently working on a woven (dolman sleeve) top and was able to make the FBA in this type of pattern after reading and watching the DVD again (and again - lol) to understand the directions without them feeling foreign. One day it will finally all click and you'll have your ah-ha" moment! It gets better from there on in, and a lot of the help and suggestions that the members give(gave) you will make more sense!

I've even printed out most of the specific information, so I can refer to it when I need to (and when I go back to the patterns that I haven't finished). Hang in there! You're not alone!

wendyrb

California USA
Member since 12/30/11
Posts: 4182
Skill: Advanced
Body Type:




Date: 9/23/12 3:00 PM

Hi westmoon, I recently learned I'm actually a 34 H and can relate to your post!

Shams of Communing with Fabrics is self-described as uber busty. If she can fit a knit top minus a dart we all can. See her Style Arc Debra Zebra Top (close-fitting, crushed-turtle neck) with pattern alteration details.

Debra Zebra knit top review- full bust

Be sure to click on the link here/in her review that shows her pattern alterations clearly

Debra Zebra Pattern altered- FBA knit no dart

If you're not familiar with the FBA method, refer to Palmer Pletsche for the classic method. Sham's way for knits presumes that you have tried the basic steps and understand what you are doing and why. Or, you can just jump in and give it a go.

The way I find my FBA amount is to make it in a cheapo knit. I add a

CF seam line drawn in

, even if the pattern doesn't call for it.

Plus

add about 2 inch beyond the CF almost like an on-the-fold front facing. I try on the sample and pin the front closed. Then I can see how much the spread is beyond the CF line. Use

half

the total across the entire front. If the spread across your CF is 3 inches, on both the right and left fronts, you need 1 and a half inches for your FBA spread on the paper pattern. HTH.

Some people have good luck with tissue fitting, but with knits, I can't tell much. Wovens so-so. I find the quick-and-dirty 1st sample the way to go.

I'm about to try this method on the knit Style Arc Marita Dress with draped front. It's assymetric, so wish me luck!

------
Always keep your words soft and sweet, just in case you have to eat them. Andy Rooney

Pfonzie- my honey Pfaff Creative Performance and Pfaff Passport, Bernina 930 and 830, Evolution and Enlighten sergers
Printable Version
* Advertising and soliciting is strictly prohibited on PatternReview.com. If you find a post which is not in agreement with our Terms and Conditions, please click on the Report Post button to report it.
Online Class
Sew a Designer Unlined Jacket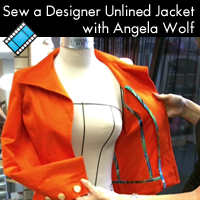 Online Class
Beginners Guide to Dyeing Fabrics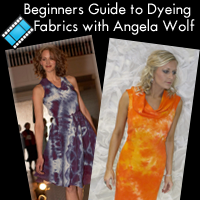 Kwik Sew 3578

by: grays08
Review
Petite Plus 603 Pattern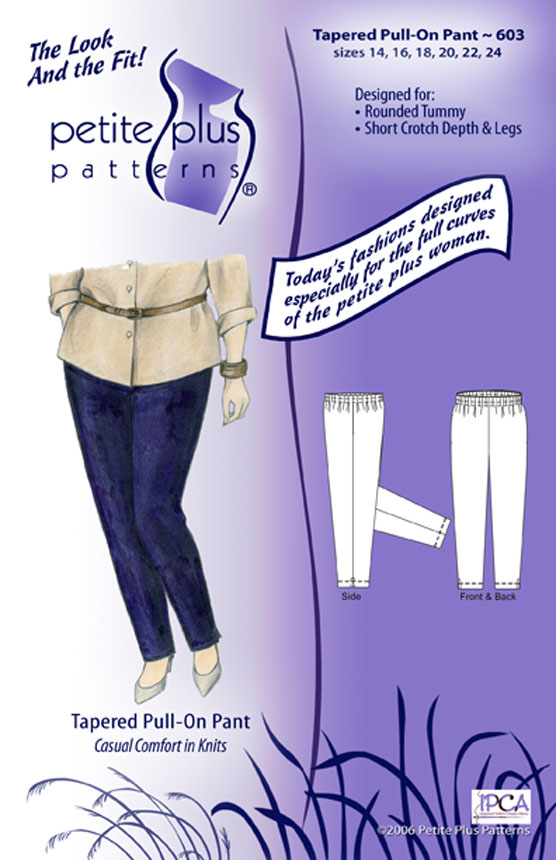 Pattern Details
Fit For Art Sporty Details Expansion Pattern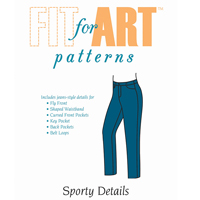 Pattern Details
Butterick 5925

by: Helen near...
Review