rmusic1


Advanced Beginner
UNITED KINGDOM
Member since 7/3/10
Posts: 1014



Date: 9/24/12 5:38 PM

I've just started a level 3 dressmaking city and guilds course. I finished the level 2 in July and have been told I passed (still awaiting to find out the grade through).

As part of the level 3 course I have to choose a "theme" through which I will view everything I do, samples, designing my own dress pattern etc.

I like the the 1940's and 50's. I think the New look era would be good to settle on as it is fairly well defined time wise and lets face it, its not hard to be enraptured by the gorgeous dresses.

Before I get lost in looking at pretty pictures though, what do you think are the key things to consider for this era? I am fairly new to the world of fashion, and am only slightly now more aware after researching 6 designers for the level 2 course.

In grateful appreciation of any insights......

Changma


Advanced Beginner
New York USA
Member since 2/20/12
Posts: 842





2 members like this.



Date: 9/24/12 6:39 PM

The change in fashions from the early forties through the fifties was in a large part a reflection of the socio-economics of the times. Post-war fashions were generally more upbeat, and skirts were shorter, as society became more financially stable. (There is substantial history of hemlines rising and falling with the stock market.) Fashion was also more dependent on man-made rather than natural fibers (nylon vs. silk, anyone?-silk being used for parachute) New products, a result of wartime R&D, began being used in civilian society even after the war-think velcro. And by the fifties, wearing pants was no longer taboo...having worn them in factories, women decided this could become a larger part of their wardrobe. Some fabulous history here.

ChickenFreak

Advanced Beginner
Oregon USA
Member since 12/10/11
Posts: 145



Subject: researching the New Look era Date: 9/30/12 11:12 PM

The Thoughtful Dresser by Linda Grant discusses the New Look (along with many other topics). The extravagant use of fabric after - and in fact during - a time that fabric was rationed, the resumption of fashion for pleasure, the banning of news coverage of the line in Britain, and so on.
-- Edited on 9/30/12 11:13 PM --
-- Edited on 9/30/12 11:14 PM --

------
ChickenFreak
Blogness: http://chickenfreaksobsessions.blogspot.com/

rmusic1


Advanced Beginner
UNITED KINGDOM
Member since 7/3/10
Posts: 1014



Date: 10/6/12 11:35 AM

thank you both for your thoughts on how to get me started. I always get a little bit struck by "blank page" fear when first tackling a project.

I've just started on creating some mood boards using clothing designs from the new look era. Christian Dior had one collection inspired by flowers, so I have decided to use all of the photos from my holidays (which I dont do much with at the moment!) to illustrate texture, colour, shape and construction. I love taking photos of flowers so it has not been that hard finding inspiration.

I'd love to have some feedback as these are the first mood boards I've ever done. Thank you!

jacket mood board

dress 1

dress 2

tlmck3


Advanced Beginner
Illinois USA
Member since 7/11/05
Posts: 3782



Date: 10/6/12 1:27 PM

See if you can find a copy of this book:


The New Look by Nigel Cawthorne

Here it is on Amazon UK:

New Look by Nigel Cawthorne

It's a great book for pictures but also for the social history of wartime and post wartime fashion.

------
I am going for a level of perfection that is only mine... Most of the pleasure is in getting that last little piece perfect...Inspiration is for amateurs. The rest of us just keep showing up and doing the work.

Chuck Close, painter, printmaker, photographer

Hope has two lovely daughters: Anger and Courage

St. Augustine


andye

Beginner
Virginia USA
Member since 5/9/09
Posts: 1909



Date: 10/6/12 3:57 PM

The Victoria and Albert Museaum put on a exhibition devoted to Dior's New Look and other contemporaneous artistic movements.The Golden Age of Couture--Paris and London 1947-1957

------
Bernina B330
Feet: 1,2,3,3A,4,5,7,8,10,13,16,18,20, 29,32,35,37,50,64,70,71,82,85,86, 92



andye

Beginner
Virginia USA
Member since 5/9/09
Posts: 1909





Date: 10/7/12 0:27 AM

Quote: Changma
And by the fifties, wearing pants was no longer taboo...having worn them in factories, women decided this could become a larger part of their wardrobe. Some fabulous history here.


I don't know about that-- Yves Saint Laurent has has downplayed the originality of his trousers, but Dior, Fath, and Balmain might well had different ideas.

I get the impression that Dior was trying to make a clean break with the war.

------
Bernina B330
Feet: 1,2,3,3A,4,5,7,8,10,13,16,18,20, 29,32,35,37,50,64,70,71,82,85,86, 92



Changma


Advanced Beginner
New York USA
Member since 2/20/12
Posts: 842





Date: 10/7/12 1:09 AM

The "New Look" can't be investigated without looking at the average look...teen girls were more often found in jeans in the fifties than in previous decades. TV shows such as I Love Lucy showed 'average' women with beautiful wardrobes that included hostess pants and trousers. Even the iconic Barbie doll had fashionable pant outfits in the late fifties. It was a matter of degree...more average women than trendsetters were wearing pants by this time. High fashion was glamorous, but was not necessarily a reflection of the middle class and what it required on a daily basis.

rmusic1


Advanced Beginner
UNITED KINGDOM
Member since 7/3/10
Posts: 1014



Date: 1/17/13 6:22 PM

well, my ideas have been developing a bit and I have learned a LOT more about what made the New Look so controversial. Really quite an interesting era but cant imagine it was easy to actually live in. My moodboard has changed a bit.

This is what it looks like now. All your thoughts have really helped!

carry

Member since 10/26/07
Posts: 318

1 member likes this.




Subject: researching the New Look era Date: 1/18/13 5:24 PM

One thing to remember ,there was a paucity of fabric available in Europe and the U.S. Although from Paris,The New Look signaled the new industrialization practices in the US.turning towards peacetime endevors. Europe was pretty wiped out and hungry for everything including a re-definition of female clothing which had become utilitarian.So once again the the shape defines the waist and hip. Rosie the Riveter with her shoulder pads becomes fragile and diminutive surrounded by petticoats or nipped in and hourglass shaped..Women were not content I think with this and returned to a more practical shape by the end of the 50's as they continued in the work force. Twiggy was on the horizon,with La Sacque and Pants as everyday wear. Then you have a rejection of this in the Bohemian 70's loose fit, crazy colors ect.The 50's was a real imposition of style whereas the other eras after were not universally accepted and personal choice seemed more operative.Personal wealth in the U.S. grew after the war,media grew from radio to T.V. people were moving to suburbs and had more money and time to spend on fashion.so its a hot topic.But it changes so frequently its never as big a revolution as the 50's. Today's fascination with the retro fashion comes again of dressing utilitarian.Polyester pants suits for the business professional does little to inspire a sense of fashion,style or art. The 50's clothes are so feminine they reflect I think,a sea change in what women are longing for in expressing their image. Having lived in the 50's this surprises me because women 's status has changed so much since then. Hope this helps
Printable Version
* Advertising and soliciting is strictly prohibited on PatternReview.com. If you find a post which is not in agreement with our Terms and Conditions, please click on the Report Post button to report it.
Altering Jackets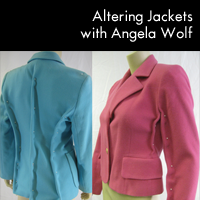 Fun with Fitting - PANTS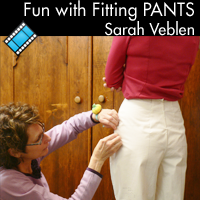 New Look 6658

by: Achallengi...
Review
No Pattern Used 0000

by: MayenDesig...
Review
Stitch 'n' Flip Jacket Construction - A downloadable Book by Shannon Gifford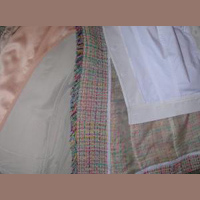 Buy Now
SewBaby More Animal Wrappers Pattern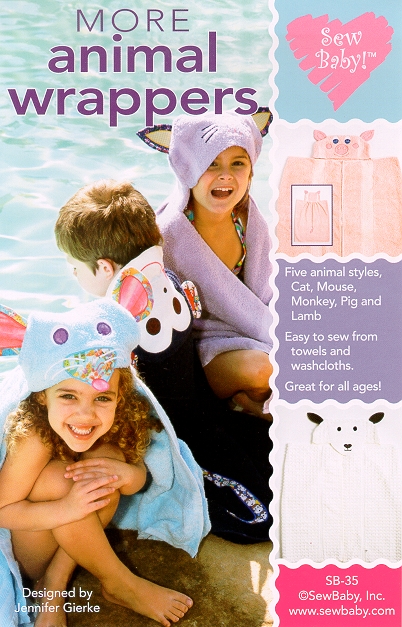 Buy Now