stirwatersblue


Kansas USA
Member since 12/13/08
Posts: 5235
Skill: Intermediate
Body Type:




Date: 10/3/12 8:33 PM

I've really struggled with the rolled hem function on my Brother 1034d. At first it was because I wasn't sure what it was supposed to look like. Happily, I found a great online tutorial with closeup photos that clarified that, and managed with some experimentation (settings/threads) to get something that looked more or less right. I assumed with time and practice, I'd figure it out and perfect my technique. Unfortunately, I seem to be getting WORSE at it, instead of better!

I'm trying to make some ruffles out of muslin with brown edging (to match some embroidered muslin used elsewhere in the project). I was having gads of trouble with the upper looper threads being very loopy, no matter what combination of threads and tensions I used. I finally managed to get an almost perfect test sample using the following combinations of thread and tensions (note how the UL and LL tensions are strangely the *reverse* of what they're supposed to be--tighter and looser instead of vice versa):

RN: 4, standard sewing thread

UL: 9, Guttermann Toldi-Lock serger thread (but in black)

LL: not quite 7, machine embroidery thread

That serger cone was the only thread I could find that wouldn't end up allover loops. But it was black, and JoAnn didn't have a brown that was remotely close. So another PR member suggested I try Maxi-Lock, so I ordered a couple of cones in the right shade of brown... and my serger hates it. (bigsigh.)

Since switching out the UL thread from Toldi-Lock to Maxi-Lock, I can't seem to get *anything* right. The (already-threaded) embroidery thread kept snapping, so I replaced that (with regular sewing thread). Then the UL threads kept coming out of the looper! (How does that even happen? They weren't breaking, just coming unthreaded; it's a *hole,* for heaven's sake! How does it come out of the hole?!)

I started from scratch several times, then had what I hoped was an "Aha!" Moment when I (looked online and) realized that the LOWER looper is the one that's supposed to be tighter... Nope. Wouldn't work. Loops from the UL, thread coming out of the looper, a big mess...

Finally, I rethreaded it ENTIRELY with regular sewing machine thread and set it back to the tensions that had been working before (RN 4, UL 9, LL almost 7), and am able to now get an acceptable (if not perfect) rolled hem. I'm calling it good!! Whew! (I'm almost afraid to turn my back on it, lest it change its mind again! Thank goodness I have stocked up on brown thread!!)

But... I'M SO CONFUSED!!! What in the heck is going on? Am I sewing in an alternate universe? Why does my machine hate the nice serger thread and want to make the rolled hem upside-down? I frankly don't *mind* that it rolls up instead of down... but I *would* like to understand what's going on here!

Anyone?! Anything?!

Thanks!!!

------
~Gem in the prairie

hazelnut


USA
Member since 1/7/09
Posts: 2310
Skill: Beginner



In reply to stirwatersblue

Date: 10/3/12 8:49 PM

Wow!

I don't know what to tell you. I use maxi-lock in my Brother with no problems. However, I've found that I cannot use the settings from the manual for a rolled hem without breaking the lower looper thread. My Brother will snap that LL thread any time the tension is higher than 7. For a quilting cotton, my settings were: RN 4, UL 5, LL 7, stitch length set to "R", stitch width (knife) set to between 6-7 and differential set at 1.0. (and of course the stitch finger is removed).

HTH's

Miss Fairchild


USA
Member since 8/24/02
Posts: 7936
Skill: Advanced



In reply to stirwatersblue

Date: 10/3/12 9:01 PM

I don't have a Brother, I have a Singer, but I can say that I've found the Maxi lock black thread to be a real PITA. Have you changed the adjustment on the cutting width? I believe that dial is on the left side, near the base of the machine. Try using a lower number. I had this problem with some chiffon I was hemming, rolled hem too, and when I changed my cutting width, you could have "slapped me upside the head"!

Your thread settings looked right to me, so my guess it's the thread itself. I not only use regular sewing machine thread in my serger, but I also use cotton thread and Gutermann polyester thread; that works so much better than that Maxilock. Funny, huh?

------
"Play the cards you are dealt, but choose who is sitting at the table"..AARP magazine

SEE MY ETSY SHOP HERE: http://www.etsy.com/shop/AuntMaymesAttic
My blog: http://auntmaymesattic.wordpress.com/

heathergwo

California USA
Member since 11/14/11
Posts: 958
Skill: Advanced Beginner



Date: 10/3/12 10:32 PM

I have the brother 1034d as well and have definitely had some issues with a rolled hem.

I mainly use the Gutermann reg sewing thread for the needles and the toldi-lock (the gutermann cone thread) for the loopers. I have also used wooly nylon (again, the gutermann brand version of it) in teh upper AND lower loopers at times to achieve my desired look.

One of the main probs I had with my brother serger was not realizing that i had to rethread FROM THE BEGINNING anytime that a looper thread broke or came unthreaded. I fought with the machine for a couple of hours one day and finally read through the forum on this board and realized that I wasn't re-threading from left to right and that's why my thread kept breaking or not catching, so for me, that is really a key component is remembering to re-thread the entire machine when replacing one thread... although sometimes if it's just the needle thread I can get away with only changing that one, but not the loopers.

Thanks for the setting tips, I'll definitely refer to them again!!

------
Brother Innovis 1250D
Babylock Enlighten
Singer Curvy 8763
Brother 1034D
Janome 385.19606
Brother 2340CV

goodworks1


PR Weekend '16 Volunteer
Going to PR Weekend!

Member since 7/19/03
Posts: 3879
Skill: Intermediate
Body Type:




Date: 10/3/12 11:51 PM

try wooly nylon to tighten the roll.

------
blog: goodworks1.wordpress.com


stirwatersblue


Kansas USA
Member since 12/13/08
Posts: 5235
Skill: Intermediate
Body Type:




In reply to Miss Fairchild

Date: 10/4/12 0:25 AM

Thanks, everyone! I'm glad to hear that I'm not alone in my general rolled-hem frustrations, even if my particular issues are strange!

Quote:
Have you changed the adjustment on the cutting width? I believe that dial is on the left side, near the base of the machine. Try using a lower number. I had this problem with some chiffon I was hemming, rolled hem too, and when I changed my cutting width, you could have "slapped me upside the head"!

Um, I'm kind of embarrassed to admit that I don't have the slightest idea how to change the cutting width. I've seen this mentioned before on PR, but I haven't really understood what it means, let alone how to do it. Clearly there is an element to this equation I am missing completely, however! I will definitely check this out further.

I did my two sleeve ruffles tonight, and they turned out acceptably, although not as nearly-perfect as my original test sample. I think I'll finish the collar piece, and then perhaps do a little more experimenting. Happily, I have plenty of the muslin to play with!

------
~Gem in the prairie

hazelnut


USA
Member since 1/7/09
Posts: 2310
Skill: Beginner



In reply to stirwatersblue

Date: 10/4/12 1:15 AM

Quote:
Um, I'm kind of embarrassed to admit that I don't have the slightest idea how to change the cutting width. I've seen this mentioned before on PR, but I haven't really understood what it means, let alone how to do it

Please don't feel embarrassed. I not only didn't know that the knife actually MOVED but if you look a the now tiny pic in the Brother thread, I even had the width and length adjusters labelled incorrectly on the serger with the dyna tape.

It wasn't very long ago that I caught this mistake and finally realized that the *width* regulated the knife moving over and not the needles and the stitch width somehow, like a regular sewing machine does. Sometimes I can be quick to pick up things, and other times I can be dense. (Remember how I kept using the term rolled hem *foot* back in the other topic? In fact, I think it was you that corrected me on that, thank goodnessl. lol I'm going to correct the photo in the other topic now too.

Brother settings

I've marked as close as I could with the dynamo tape to each knob adjustment with what it does, adding the stretch and thin tapes to instantly remind which way to adjust the differential feed for the special fabrics. I had to keep referring to the manual and that got old after I while. HTH's The knife cutting adj. is the one I have marked "width" and is closet to the front of the serger. It's the setting that I finally found that fixed my looper threads from coming off the edge with a particular fabric - I had it to change the knife width instead of playing around with tensions, which wasn't working. I'm still learning all the time.

ETA: Looking back at that older topic, I see I listed different settings than what I just posted above. RN 4, UL 5, LL 4. Now I'm confused myself. I'm wondering if the 4-5-7 was the manuals suggested settings, or if I may have possibly jotted those down for doing the lettuce edge rolled hem on cotton interlock, or if I'm changed the settings because of something else....sigh.... I should probably go to bed and quit trying to be helpful tonight.

-- Edited on

10/4/12 1:27 AM

--

Betakin


Arizona USA
Member since 4/22/04
Posts: 7282
Skill: Advanced



In reply to stirwatersblue

1 member likes this.



Date: 10/4/12 1:34 AM

I have never used your model serger and I don't know what your manual suggests for a rolled hem setting but just looking at the settings that you are using compared to different sergers I have used in other brands, I suggest to lower your needle tension quite a bit, and also lower your upper looper tension. The lower looper should be the highest tension of all even if to the max..because that is what gives the roll on your hem.
On some sergers for a rolled hem I have the upper looper tension at about half the tension of the lower looper. The needle tension can be set low even below 2. Fabric can surely make a difference as to settings as well as different brands of sergers but every brand I have used..the lower looper is the highest setting for a rolled hem. I hope you get it worked out ok.

-- Edited on 10/4/12 1:36 AM --

beauturbo

California USA
Member since 5/2/09
Posts: 5196
Skill: Advanced



In reply to stirwatersblue

Date: 10/4/12 4:14 AM

Are you sure you are even actually trying to make a rolled hem over a tiny round on purpose for you to do that with, rolled hem pin and not your bigger wider flat serger pin?

since you say your rolled hem is rolling, upwards instead of downwards, that is why I'm asking that.

Most times you have to do something, and change something on the serger to make it so the rolled hem is happening over that tiny rolled hem pin, and the pin under the fabric there, is what the fabric gets rolled around, that and the thread pulling on it, to make it roll around it. In a downwards direction. Old sergers often had no rolled hem pin in the regular stitch plate, and you would have to switch stitch plates, to a different plate with the smaller in diameter rolled hem pin. Now on newer ones, you don't, but even there, you still need to do something different to set it up to use that smaller pin, like move a lever or push a button or such. If you have not done anything like that, and also have not switched out stitch plates either, then I think you are trying to make a rolled hem, not over the rolled hem pin possibly. Maybe go back to the book, and see if you missed a step in setting up?


A rolled hem pin, would look like a needle or pin and be round not flat and about as wide as a pin or a needle, if trying to watch it to see.
-- Edited on 10/4/12 4:25 AM --

stirwatersblue


Kansas USA
Member since 12/13/08
Posts: 5235
Skill: Intermediate
Body Type:




Date: 10/4/12 8:24 AM

Hazelnut

, OK, thank you! I have those same labels on my machine! LOL And I had the same confusion--was never sure if there was a difference between

stitch

width and

cutting

width, and I think I'm seeing from your explanation that there is only ONE width adjustment, and it's for the knife. Yes?

At any rate, mine is set to

R

, which is the only thing I *am* fairly confident about--R = Rolled. Right?

Beauturbo

, I think I understand what you're saying. To set up the rolled hem on the Brother, you actually remove one of the stitch fingers, and the manual explains that the stitch is formed by one of the looper tensions (the lower looper, as another poster mentioned) being very high, to pull the edge of the fabric round. It's kind of ingenious. Strangely, the settings given in the manual are actually quite a bit lower than my machine seems to prefer (?), not to mention the reverse of what's actually working for me.

It turned out that I ran out of needle thread (?!), so I'm thinking Betakin is correct and my needle tension is probably too high. It was uncooperative when I went to rethread last night, though, so I'll have another go at it later today!

-- Edited on

10/4/12 8:28 AM

--

------
~Gem in the prairie
Printable Version
* Advertising and soliciting is strictly prohibited on PatternReview.com. If you find a post which is not in agreement with our Terms and Conditions, please click on the Report Post button to report it.
Online Class
Sew a Designer Unlined Jacket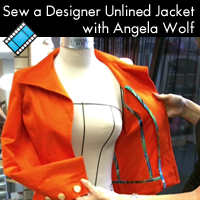 Online Class
Serging Ahead with your 5 Thread Serger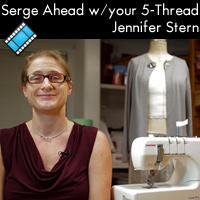 McCall's 6752

by: ntpolite
Review
Eagle's View PM/54

by: BADBamaBun...
Review
Victory Satsuki Paper Pattern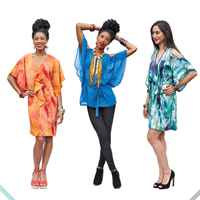 Pattern Details
SewBaby Totpacks Pattern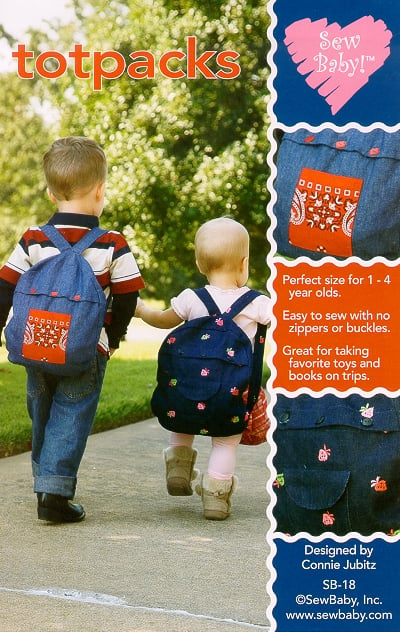 Pattern Details