stirwatersblue


Kansas USA
Member since 12/13/08
Posts: 5317
Skill: Intermediate
Body Type:




Date: 10/15/12 3:41 PM

A Burda pattern I've been hunting has come up for auction on ebay, but I have no idea what my maximum bid should be. I've never bought a Burda pattern before, so I don't know what they run normally at retail, or a good price on the secondary market.

Please advise? (FWIW, the listing ends in two days, and there are currently no other bids. The minimum bid is $3.99.)

Thanks!!

------
~Gem in the prairie

justgail


Member since 1/19/06
Posts: 853
Skill: Intermediate



Date: 10/15/12 4:05 PM

I think the last Burda pattern I bought at Joann was $8-9 area, and they don't normally go on sale (always 40% off list price) like the big 4. I'd say if you like it enough, go for it. Too often I find the same thing for a couple dollars less elsewhere, but then they want way more for shipping. Or I don't find it again for a very long time.

------
justgail.wordpress.com

Elona


USA
Member since 8/24/02
Posts: 9857
Skill: Advanced
Body Type:






In reply to stirwatersblue

Date: 10/15/12 4:12 PM

When I run into this kind of situation on ebay--finding a pattern I've sought for a long time--its worth is what it is worth

to me.

So, my maximum bid is what I'd actually be willing to pay to have it in my possession. No pattern is worth a hundred bucks to me, but I have paid thirty dollars for one I'd long coveted, and I don't regret that.

So, decide what you're willing to pay in order not to spend the next few years kicking yourself in the rump for not springing for the bucks this time, and set your limit at that point.

By the way, I wouldn't put in a bid until pretty close to the end of the auction. Sometimes a pattern will fly under the radar if there are no visible bids, and of course, your actual maximum bid is not visible to others; all that shows is that someone has bid the minimum or slightly above.

If I'm planning on being around the house during the last hour before the ending, I keep an eye on the item, and put my maximum bid in about ten or fifteen minutes before the closing.

If I have to be away, though, I post the max I am sure I'd pay, and then just put it out of my mind.

------
Elona

stirwatersblue


Kansas USA
Member since 12/13/08
Posts: 5317
Skill: Intermediate
Body Type:




In reply to Elona

Date: 10/15/12 4:34 PM

Quote: Elona
By the way, I wouldn't put in a bid until pretty close to the end of the auction.

Thanks! Elona, my DH belongs to a snipe service, which is actually what prompted my question. He's asking me what to set it for.

Having never bought a used pattern, or a Burda, I can't really decide what it's worth to me, hence my question about what the rest of the sewing world might think was fair!

Also, auctions make me nervous. I'm really good at seeing a buy-it-now (or retail) price, and saying yes or no, but ask ME what *I* want to pay for something, and I panic.

Gail

, thanks for the pricing reality check. I wasn't really sure what they normally went for. Now I just need to decide if I want to pay more or less than retail.

------
~Gem in the prairie

ChristineX


California USA
Member since 11/28/05
Posts: 264
Skill: Advanced Beginner



Date: 10/15/12 7:56 PM

I paid $34 for a 1992 Burda World of Fashion issue on eBay about 4 years ago. I don't regret it. There were a couple of awesome patterns in it, and 1992 issues are not easy to come by anymore.

But I only paid that much once lol
-- Edited on 10/15/12 7:57 PM --

aisling

Member since 1/27/07
Posts: 112



Date: 10/15/12 10:16 PM

How much I'd pay is also decided by the overall costs of the project. If it was the perfect pattern for a project that is one or more of the following:
- one I would use over and over again
- would take a considerable amount of time to make
- complicated design that would drive drive me insane to either draft from scratch or to try and mash patterns together
- very expensive materials involved
- for a very special occasion

I'm more likely to pay more for the pattern as I would feel that I would get my value out of the pattern.

Don't forget to include shipping when deciding your max bid. I'm on international shipping rates most of the time but you may not be in this case. I have one or two burdas on my ebay saved search list that I get one search result returned every 6 or 8 months. I'm getting to the point were I'm just going to have to pay the $30-$40 if I want those patterns. That price range includes shipping and for some odd reason the sellers who have the burda patterns I'm after are the ones that charge in the $10-$20 range for shipping one pattern to Australia.

lakaribane


Haiti
Member since 7/23/07
Posts: 3196
Skill: Advanced Beginner
Body Type:




Date: 10/16/12 2:24 PM

I discovered last month, while visiting my family in Qc, that there are pretty dramatic price differences between the US and CA. They vary by color code and some patterns are half price in CA vs USA.

I don't have the photos with me here (at work) but I will try to get them online tonight or tomorrow morning.

------
Morphology: Petite at 1m53 (5'), Burda size altered 19 or altered 38, Big 4 size 10 or 12 depending on ease;
Alterations: Petite, Narrow Shoulders, Slim Arms, Narrow waist, Increase Back Crotch Depth. Considering: Forward Neck/Rounded Upper Back, Slight Swayback;
Style: Feminine, Colorful, Fitted, Clean lines;
Favorite Garment type: Dress;
Favorite Colors: Purple, Navy, Brown, Shocking Pink, Coral, Aqua;
Favorite Fibers, Weaves or Patterns: Cotton, Linen, Cotton Silk blend, Seersucker, Swiss Dot, Lawn, Denim, Stripes, Chevron, Window pane Plaid, Bias;
Blog : http://fashionmate.blogspot.com
Pinterest : http://pinterest.com/lakaribane/

LauraTS


California USA
Member since 7/10/06
Posts: 2257
Skill: Advanced Beginner

1 member likes this.




Date: 10/17/12 0:37 AM

I, personally, would probably choose to bid a maximum of something like $10 including shipping. But if it's something you really want and doesn't come up that often, you might want to go higher.

If you check at Lanetz Living, I think her OOP Burdas are usually priced around the $6 mark. Of course, they aren't the really old ones or anything, generally.

------
I've moved! Visit my new sewing blog at http://chiralcraft.wordpress.com

Do you sew from KnipMode? Join us at http://groups.yahoo.com/group/knipmode_english/


lakaribane


Haiti
Member since 7/23/07
Posts: 3196
Skill: Advanced Beginner
Body Type:




Date: 10/18/12 1:28 PM

Sorry, I had power problems and forgot my card reader. Here is, finally, the info for the pattern prices from the Burda Autumn/Winter Catalog I looked up in Montréal, Qc last month:

(I think our AUS and NZ friends need US or CA pattern pen pals!!!)

Sorry for the poor shot, the counter was very high and I couldn't get a good angle.

Hope this helps!

Edited for clarity

-- Edited on

10/18/12 1:34 PM

--

-- Edited on

10/18/12 1:37 PM

--

------
Morphology: Petite at 1m53 (5'), Burda size altered 19 or altered 38, Big 4 size 10 or 12 depending on ease;
Alterations: Petite, Narrow Shoulders, Slim Arms, Narrow waist, Increase Back Crotch Depth. Considering: Forward Neck/Rounded Upper Back, Slight Swayback;
Style: Feminine, Colorful, Fitted, Clean lines;
Favorite Garment type: Dress;
Favorite Colors: Purple, Navy, Brown, Shocking Pink, Coral, Aqua;
Favorite Fibers, Weaves or Patterns: Cotton, Linen, Cotton Silk blend, Seersucker, Swiss Dot, Lawn, Denim, Stripes, Chevron, Window pane Plaid, Bias;
Blog : http://fashionmate.blogspot.com
Pinterest : http://pinterest.com/lakaribane/

stirwatersblue


Kansas USA
Member since 12/13/08
Posts: 5317
Skill: Intermediate
Body Type:




In reply to lakaribane

Date: 10/18/12 2:24 PM

Quote: lakaribane
Here is, finally, the info for the pattern prices from the Burda Autumn/Winter Catalog I looked up in Montréal, Qc last month:

You are so sweet to post that! Thank you!!

And I am pleased to announce that I am now the proud owner of

Burda 8461

! I was the only bidder, so I got it for $3.99 + $1.99 s/h.

But, thanks to your input and pointed questioning by DH ("Would you pay $10? Would you pay $20? Would you be mad if you only bid $15 and it went for $16? LOL), we decided that $15 would be a fair bid. Knowing that they run $8-9 retail and $6-and up resale was very helpful.

I've looked up Burda World of Fashion before, and those thicker pattern magazines always seem to run a little higher--I can totally see going that high for something I'd been stalking for a while. I have been trying to talk myself into some back issues of Inspirations (which is a needlework magazine) but the resale prices make me kind of breathless.

------
~Gem in the prairie
Printable Version
* Advertising and soliciting is strictly prohibited on PatternReview.com. If you find a post which is not in agreement with our Terms and Conditions, please click on the Report Post button to report it.
Online Class
Beginners Guide to Sewing Jackets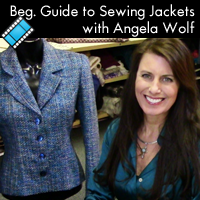 Online Class
Fun with Fitting - BODICE w Darts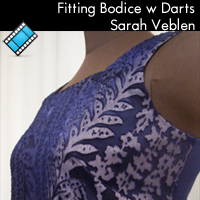 Kwik Sew 3703

by: grays08
Review
Simplicity 1696

by: knitmachin...
Review
Islander Sewing Systems Cape D Elegance Paper Pattern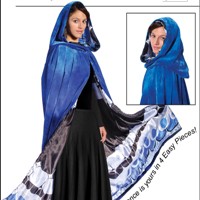 Pattern Details
Sew Chic Ehlen blouse Paper Pattern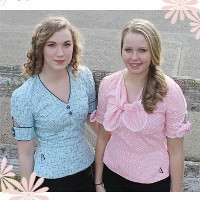 Pattern Details