avatrx


Member since 12/16/05
Posts: 614
Skill: Advanced Beginner
Body Type:




Date: 10/16/12 3:03 PM

has anyone had this issue with KwikSew patterns? I made KS2926, an older blazer pattern no longer sold. I measured myself, then I measured the FINISHED size as stated on the pattern. I also, using Peggy Sagers' suggestions - measured several jackets that I own. Almost all of my jackets that are RTW measure approx 45-46 inches at the bust.

I sewed up this pattern all but the sleeves and lining. tried it on only to find it fit snugly. I then measured it as I had my other jackets (RTW). I found the circumference to be approx 44. The pattern tissue said 49.5. A difference of almost 6 inches around. It does state FINISHED size.

It has a back seam, princess seam etc. When finished size is mentioned I can't imagine they are referring to finished size but then subtract all of the seam allowances.

I was extremely meticulous in my cutting and sewing.

any thoughts?

-ss

beauturbo

California USA
Member since 5/2/09
Posts: 5497
Skill: Advanced



Date: 10/16/12 4:47 PM

Have not tried that old pattern, but when sewing things go awry, and even if they are in front of you and you can see them, sometimes it's still hard to figure out what went wrong.

But my guess is there was probably some kind of sewing mistake. And maybe in the cutting of it. Since Kwik Sew has multiple sizes printed on the paper, probably the most easy mistake would be to cut on a wrong sized line some or a few places maybe. Also if it was a old and used pattern, and some one else had already cut all or part of it, it might be kind of hard to just even see what they had even cut off prior and make a guess even? Also make sure you really sewed it out at the seam allowance width they though you were going to do, not just maybe the only 5/8 of an inch one, that might be more always on some other Butterick, McCalls, Vouge or Simplicty pattern instead if it seems to small for you now.

If you got a lot of seams, being a bit off on some seam, multiplied by a bunch of them, could make a big difference. Good news is I think that it looks like it has lots of seams, (even though I can't see the back of it) so I think if you let each one out a bit, in the body of it, you might be able to "make up" the difference you need there now, no matter what happened. Maybe you can try that?

avatrx


Member since 12/16/05
Posts: 614
Skill: Advanced Beginner
Body Type:




In reply to beauturbo

Date: 10/16/12 5:40 PM

I ultimately emailed Kwik Sew since I was so careful cutting and measuring. this is what their response was:

Thank you for your email concerning Kwik Sew Patterns. Whenever possible we try to provide our home sewers with the information they request. You cannot use the finished measurements to size a pattern. When you do this, you eliminate any ease. Both wearing and design. You need to use the body measurements listed on the pattern envelope back to determine what size to cut. Not the finished measurements[QUOTE]

does this make any sense?

Courtney Ostaff

West Virginia USA
Member since 11/23/10
Posts: 664
Skill: Intermediate



In reply to avatrx

Date: 10/16/12 6:12 PM

Yes, that does make sense. Their finished size allows for lots of ease. So you need to by your body measurements for the correct size, not your jackets.

avatrx


Member since 12/16/05
Posts: 614
Skill: Advanced Beginner
Body Type:




In reply to Courtney Ostaff

Date: 10/16/12 6:15 PM

I get that but almost 8 inches of ease? I guess my question goes more to the fact that the finished size was NOT 49.5. It was more like 44. Isn't finished size, finished size?

SheBear0320


Manitoba Canada
Member since 4/8/08
Posts: 5456
Skill: Advanced



In reply to avatrx

1 member likes this.



Date: 10/16/12 7:23 PM

I just checked the pattern -- it is listed as a semi-fitted jacket with side panels.

Looking at my trusty ease guide the ease for a semi fitted jacket is generally 4 3/8" to 5 3/4"; for coats 6 7/8" to 8".

What size seam allowance did you use on this pattern? Kwik Sew patterns vary -- they are not a standard seam allowance -- I've sewn some that were 1/4", others that are 3/8" and still others that are 5/8". If you have 6 or 8 seams the difference can indeed add up to 5.5" very, very easily.

When I make a jacket I take my body measurement, add the amount of ease I want (I usually prefer a lower amount of ease) and then compare that number to the finished measurements -- I do measure the pattern, I don't take the finished measurements given on the pattern. When measuring the pattern be sure to measure from seam line to seam line and not cut edge to cut edge.

Don't know if that helps at all.

------
Sheila
"sewing very slowly to fill an empty closet"
Stash Tally: net +38.5 yds (2014)
2015 Stash Tally: 106.5 yds out/122.875 yds in (net +16.375 yds)

2016 Stash Busting:
34.125 yds sewn (as of 08/26/16)
15.375 yds purchased (as of 08/26/16)


beauturbo

California USA
Member since 5/2/09
Posts: 5497
Skill: Advanced



In reply to avatrx

Date: 10/16/12 8:24 PM

No that does not make a whole lot of sense to me, but that is just because I think they were miss miss-understanding and taking your question wrong possibly?

I "think" that you, I and them, all know you should not normally or at least most people, most times do not, pick a pattern size by the finished size of a garment there, and that when they give the bust hips and waist measurement of a size on a back of a pattern, that is "supposed to be your body size" a lot of sewers just go by that, and not the actual finished garment size at all. Just because the actual finished garment size would change each time, by each garment, and yes wearing ease, which you got to have some always unless it's a very stretchy item and also just by whomever designed it, wanted it to hang and be around your body.

So discussion by words is never as good as a two way one, with actual visuals instead, but I "got" from what I read on your post, that you picked the size to cut out there, by their listed body measurements for the size ranges and tried to cut out the pattern lines that corresponded to those by your actual body measurements and really only afterwards, when it ended up being so much smaller than what you were expecting, did you actually start measuring the pattern pieces to try to come up with a total circumference measurement, that kind of very much surprised you in the end! Not sure if I understood you right on that or not, but that is what I felt you were saying. If that is what you actually ment, then I think they did not understand you maybe.

If it was a current pattern of theirs, that they were still selling, I think you would have a way better chance of talking them into re-checking the pattern to see if maybe there was some kind of printing mistake on it, just because it would be in their best interest to do that. But since it's not, I think it's not. Also, since company was sold out, to maybe McCalls, since I think that old pattern was even made, they may not even have an archive copy of it at all, they could even have anyone go back and even check?

Occasionally I have seen some printing mistakes or such on all companies patterns, or the instructions or such- I think that just happens sometimes. Probably no way to avoid it. Maybe it was that, and maybe not?

GlButterfly


California USA
Member since 8/28/08
Posts: 4117
Skill: Intermediate



In reply to avatrx

Date: 10/17/12 2:03 AM

It seems as if you measured everything, but the pattern itself. I don't trust what is written so I measure the pattern, just to be sure.

------
"TOL machines = Too (much) Operator Learning"--poorpigling, January, 2016

GlButterfly


California USA
Member since 8/28/08
Posts: 4117
Skill: Intermediate



In reply to avatrx

Date: 10/17/12 2:03 AM

Duplicate

-- Edited on

10/17/12 2:04 AM

--

------
"TOL machines = Too (much) Operator Learning"--poorpigling, January, 2016

avatrx


Member since 12/16/05
Posts: 614
Skill: Advanced Beginner
Body Type:




In reply to beauturbo

Date: 10/17/12 7:28 AM

Thanks for the info. It must have been a misunderstanding between myself and KwikSew.

I measured myself and that is how I determined which size to cut. Since I have had issues with the bust on Kwik Sew I also read the finished pattern size as listed on the pattern tissue.

Kwik Sew patterns are always S-M-L-XL. which allows for a range as opposed to being more specific on their sizing. That is why I not only measured myself, I took into consideration what was listed on the pattern as finished size. The s/a were 5/8" on all pieces. What I did NOT do was the actually measure the pattern pieces from seam to seam to come up with a finished measurement. I took their word for it that the 49.5 listed on the tissue was accurate.

The problem came in when I tried on the jacket and it seemed to be more snug than I thought it should be for a circumference of 49.5. it was at that point I measured the jacket - only to find that the finished was NOT 49.5 but rather approx 44.

I have been trying to make a jacket for a couple of months. I tried Simplicity 2446 and had issues with that one since its a 'fitting' pattern'. I decided to try this one and we know how that came out.

I have a Peggy Sagers pattern #1900 which I would like to make, but I want to make a shorter version and not quite sure how to do it. She'll be discussing altering in her next webcast.

I also have the Sagers Pattern 1750 which I decided to try next, but just found out that the instruction sheet was misplaced when I had a large amount of company last weekend. I had been reading thru it and put it on the counter with some other misc papers. I fear it got tossed into the fireplace, so now I don't know how to put THAT one together.

think someone is trying to send me a message about NOT making a jacket? I would try it since it's unlined and a shawl collar, but I'm not confident in my abilities. I did email them and ask about the cost of purchasing another instruction sheet. hopefully it won't be much.

Sagers patterns, - Silhouette patterns - are cut out based on FINISHED measurements. You find something that fits you the way you like, measure it, then pick your size based on that. That is how I determined that the 49.5 on the KS pattern would have given me plenty of room even though I cut out the size based on MY body measurements. I was just trying to ensure I'd have plenty of room.

I really did not like the way the collar went together on the KS. I may finish it anyway.
Printable Version
* Advertising and soliciting is strictly prohibited on PatternReview.com. If you find a post which is not in agreement with our Terms and Conditions, please click on the Report Post button to report it.
Online Class
Beginners Guide to Sewing Jackets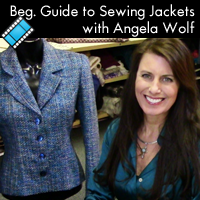 Online Class
All About Buttons and Buttonholes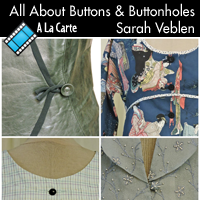 Butterick 5754

by: BlueSkysAh...
Review
Ottobre Design Magazine 01-2014-25

by: michalklim...
Review
Sewing Workshop Fillmore Duster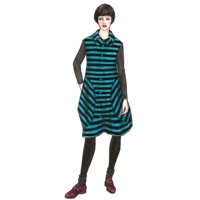 Pattern Details
Paradiso Designs Everyday Bag Pattern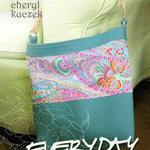 Pattern Details