Melita69

Beginner
Member since 9/11/12
Posts: 13



Date: 10/21/12 7:16 PM

I just bought my first embroidery machine, Dreamweaver XE, and I have never embroidered. Home do I start? Is there a good website to learn how to do it? I can go back to the shop but its 45 miles away and I won't have time till at least a week and I want to start today. :)

Grandma52


Intermediate
USA
Member since 4/24/02
Posts: 167



Date: 10/21/12 10:33 PM

You really do need to go back for a lesson if you need help, but in the meantime, read the manual and play with it. I would first start with designs that are built into the machine and become familiar with things. You can go to youtube and check out videos there. I have done that. Also, Babylock has some fun videos to watch on their site. Good Luck

------
Janome 12,000
Bernina 1530
Elna Carina
Elna 704

speattle

Expert/Couture
Member since 2/10/11
Posts: 347





Date: 10/21/12 11:51 PM

That is a super high end machine and will have quite a learning curve. If you have never ever done machine embroidery before, you will need lessons. There is really nothing to substitute for that. You won't be able to learn what you need to know without it.

------
Elna Lotus TSP, Singer 503a-Rocketeer, Brother Innovis 1250D, Pfaff Passport 2.0, Kenmore 10-Stitch, Centennial Singer Featherweight from 1950

SandiMacD


Intermediate
Florida USA
Member since 2/8/09
Posts: 2564



Date: 10/22/12 6:18 AM

I took the PR EMB classes and they helped me so much. Also watched you tube- lots of tutorials. I got Nancy Z's DVD set and booklet as a great resource. Oh and picked up a few issues of Creative Embroidery magazine at JoAnnes.

------
sewing brings joy and meaning to my life...

gneebee

Advanced Beginner
South Carolina USA
Member since 8/30/11
Posts: 119



Date: 10/22/12 9:37 AM

Congratulations! I bought a babylock sewing/emb machine last year and I'm addicted! My dealer had me come for training, but I've learned a LOT from various forums, you tube videos, etc. Even though it's a Babylock, the Brother Youtube videos have been just as helpful, if not more so. Embroidery Library .com, as well as many other sites, have tutorials on them. Did you purchase stabilizer? I bought a Bernina combo machine back in the late 90's and the dealer sent me home without any supplies. I didn't know to use specific stabilizers and honestly didn't even know what thread to use! Also... be aware that you need specific lightweight bobbin fill thread to balance stitching. I like the pre-filled bobbins and purchased a few from my dealer, but them ordered a box full from the web. If you want to download designs from the internet, you'll also need some type of software. Babylock has pricey software but you can find other software that is much less expensive (Embird, Embrilliance Essentials, etc.). There is a LOT to learn and a lot of supplies needed for this fun, but expensive hobby.

I think there is a thread in the Machine Embroidery section with "tips and tricks" as well as a thread with favorite embroidery sites. Check them out.

There are also several yahoo groups that I've found helpful to belong to, as well.

I imagine your machine came with designs built into it, so try stitching out some of them as samples before you begin purchasing designs. You'll be amazed how easy it becomes with practice and learning from others!
Jeanie in SC

------
wife, mom, nurse, grandmother, sewing/embroidery hobbiest from SC with a BL Ellisimo, BL Enterprise, Babylock Evolve, Bernina 180 & 1090.

Lucy in Virginia


Advanced Beginner
Virginia USA
Member since 12/20/07
Posts: 273



Date: 10/22/12 9:59 AM

Congratulations on your new machine! Don't get discouraged!!

Hopefully, you bought lots of different stabilizers and embroidery thread. If not, you can buy a stabilizer sampler pack at Nancy's Notions and SewForLess.com. Both are great sites for all embroidery needs. Be careful with thread. Embroidery machines can be picky. Brother's don't like certain threads--maybe Madeira, but I can't remember.

There is a significant learning curve for embroidery. You need to learn what types of designs (high vs. low stitch counts, etc.) are good for different types of fabrics (towels and knits are harder). You also need to learn what types of stabilizers work best, what needs a topper as well as the bottom.

Start out by reading your manual. Then look for YouTube videos on how-to. Stick to Brother machine videos at first, then branch into others. The concepts are the same, even if the machines are not. Join some Yahoo groups. I belong to quite a few excellent ones for Brother/Baby Lock.

Then start practicing on easy fabrics (cottons).

Take every class (ASG sponsored, dealer sponsored, PatternReview or Craftsy sponsored) you can to learn new techniques.

With the caveat that I'm a garment sewer and spend so much time on this that I don't spend enough on embroidery, it has taken me about two years to get comfortable with embroidery (you can do it quicker, if you concentrate more on it), and I'm still no expert. I started out with a Janome 350E--excellent embroidery-only machine!, by the way. Now have a Baby Lock Ellissimo, which is equivalent to the Brother Quattro. Both these machines are wonderful. If I had two, one could embroider while I sewed.

Keep at it. You'll love it!!

------
Total Stash at end of 2013 -- about 750 yards.
2014 Total Items Sewn -- 1
2014 Total Stash Used -- 2.5
2014 Total Items Embroidered -- 2
2014 Goal: Sew 1 garment per month. Less stash at end of 2014 than at end of 2013.

Machines: Babylock Ellisimo; Viking Platinum 770; Brother 900D
Serger: Baby Lock Evolve

quiltingwolf


Intermediate
Member since 12/15/02
Posts: 6645





1 member likes this.



Date: 10/22/12 10:19 AM

On an embroidery newbie you have so much fun ahead of you. I would suggest also taking a class with the dealer but if that isn't an option, or you just can't wait, start by reading the posts here under the machine embroidery section. And this place, link below, will show you everything you need to know. It will also keep you in designs for years to come lol. EL also have great tutorials. Have fun!

Embroidery library

If you have a specific tech question there is a wealth of knowledge here just ask.
-- Edited on 10/22/12 10:49 AM --
-- Edited on 10/22/12 10:51 AM --

------
quiltingwolf.blogspot.com

PattiAnnJ


Advanced
Ohio USA
Member since 12/3/06
Posts: 7380





1 member likes this.



Date: 10/22/12 10:43 AM

Bought my first EM (embroidery machine) from Walmart about 10 years ago and as everyone knows, big box and discount stores sell merchandise and not lessons.

Manuals provide the basics for learning how to operate the machine.

I bought books by Jeannie Twigg and that is how I learned to use the machne. The books come with a free cd, so you have the designs that are discussed within the book.

Probably the best site for techniques and tips is Embroidery Library.

Go with the manual first and learn from that. What is the format and what is the largest embroidery area? Format is what the machine's computer brain can read. Embroidery area is the largest area the machine's computer bran can handle.

Once that is down pat, you can start collecting machine embroidery designs (design files) that are the correct format and size for your EM.

However, before you begin downloading create a folder on your computer and give it a name that can be easily found....like EM Downloads.

As you collect downloads, they will probably be zipped/compressed. The EM can't read a zipped file. You will have to open/unzipped/extract the design file and save it with your name of choice in the folder you first created.

Embroidery Library

Jeannie Twigg

Buy thread only as the color is needed. Large collections can go unused. You can start with the basics: black, white, red, blue for use during the learning curve. I discourage Sulky or Coats & Clark for the dark, especially black. Unless they have changed their dying process, this color shreds.

Polyester machine embroidery thread holds up to bleach and wear much better than rayon.

Stabilizer; you can start with tear away and cut away and then add as needed.

Now, I bet the first thing you want to do is stitch out a name or monogram. This is best done via software, such as Embird.

You can't even look at the design without ME software.

Get the software from the Internet if you can. It will be less expensive and sewing machine dealers and staff know little about such things. I found one.

45 miles is about how far I have to drive to a JoAnn and Hancock fabric store. Twice that far and over the river to my nearest sewing machine dealer.

BTW, the EM I bought so long ago (Singer PE 150) was upgraded to a BL and the Singer went off to Latin American via eBay.


------
"I don't give them Hell, I just tell the truth about them and they think it's Hell." — Harry Truman

"Improvise, adapt and overcome." - Clint Eastwood/Heartbreak Ridge

Melita69

Beginner
Member since 9/11/12
Posts: 13



Date: 10/27/12 3:51 PM

Thank you everyone. I managed to sew and then I did embroider my daughters name as practice.

The book helped alot and I will get back to the dealer soon. I think it helps since I do know how to sew read instructions well.

My only question is which stablizers do I use for the different types of materials.

I did buy enough starter supplies to start and practice. So I will be doing my childrens names on their stuff but I want to make a few halloween treat bags too. Any suggestions what sites to go to so I can get ideas?


PattiAnnJ


Advanced
Ohio USA
Member since 12/3/06
Posts: 7380

1 member likes this.




Date: 10/27/12 4:07 PM

I posted an entire spiel on this when you first posted with regard to the purchase of your embroidery machine.

This included, thread, stabilizers, books, software and sites with tutorials for anything you might want to embroider.

click and read

------
"I don't give them Hell, I just tell the truth about them and they think it's Hell." — Harry Truman

"Improvise, adapt and overcome." - Clint Eastwood/Heartbreak Ridge
Printable Version
* Advertising and soliciting is strictly prohibited on PatternReview.com. If you find a post which is not in agreement with our Terms and Conditions, please click on the Report Post button to report it.
The Contemporary Couture Jacket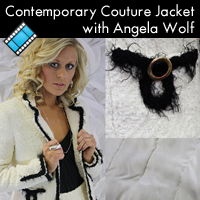 Clone Your Favorite Garment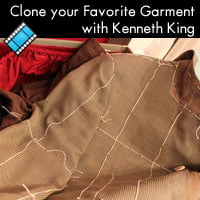 Keyka Lou Zip Clutches

by: pajamapart...
Review
Oliver + S Messenger Bag

by: SilverBrum...
Review
You Sew Girl 75mm Purse Frame Purse Pattern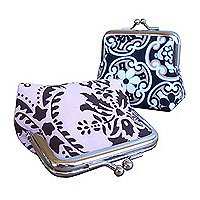 Buy Now
Fit For Art Sleeve & Cuff Variations for Tabula Rasa Jacket Pattern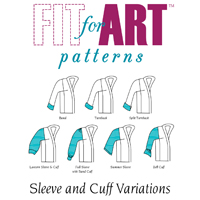 Buy Now