knitstitcher


Intermediate
NC
Member since 8/17/10
Posts: 442



Date: 10/28/12 12:20 PM

I just received my November issue last week and want to make 2 of the patterns. I figured with the storm brewing up outside that this would be a good day to trace patterns. I want to make 110(waistcoat) and 114 (blouse). Little did I know that 110 is talls (yipee! I'm tall) and 114 is short . First off...I can't seem to find the tall sizes listed in the magazine anywhere so I have no idea what size to trace for #110. My measurements are between an 8 and 10, but I figured I make the 10.
As for the 114 blouse...I would guess that I would need to trace the 12P?? I'm a 35 bust. Also just figured I would lengthen it. Am I asking for trouble by making/lengthening this one??? It's such a pretty top.
This will be my very first attempt at actually sewing one of these patterns.
Also...is there a lot of ease built into these patterns?

------
Lorri
Bernina Artista 730,Babylock Journey, Babylock Evolution, Singer 201-2

MichelleE


Intermediate
CA USA
Member since 2/7/03
Posts: 42



Date: 10/28/12 1:18 PM

Hi Lorri,
I checked this issue and the tall size chart is deceptively on page 19 of the newsprint section.
Regular sizes are for 5'6 - eek, I'm 5'9 and I've been using regular sizes with some occasional adjustments, usually to length. Since this is your first time making a BurdaStyle pattern, trace off what is closest to your size in tall and make a muslin to get the fit perfect. With this waistcoat, I don't think it will be too difficult because it is not too fitted. With the petite, you definitely want to make a muslin because the length, waist, darts, arms may need adjusting.

------
Sewing With Attitude
http://www.kissmystitch.com

knitstitcher


Intermediate
NC
Member since 8/17/10
Posts: 442



Date: 10/28/12 1:32 PM

Thanks MichelleE. I'm 5'10. Maybe I will hold off on the blouse for now....just until I get familiar with working with Burda. Is there a lot of ease built in to these patterns?? I refuse to work with the big 4 because of the "tons" of ease in them. They never fit well.

------
Lorri
Bernina Artista 730,Babylock Journey, Babylock Evolution, Singer 201-2

MichelleE


Intermediate
CA USA
Member since 2/7/03
Posts: 42



Date: 10/28/12 1:54 PM

Hi Lorri,
I think you picked a good, simple pattern for your first BurdaStyle.
I would say that compared to the Big 4, there is not a lot of ease, but it really depends on your body shape. Also, keep in mind that there is no seam allowance in the patterns so you need to cut 3/8 - 3/4 inch wider than the pattern piece. Also, copy all the tiny numbers on the pattern pieces and any line marks. It will help when putting pieces together! The biggest problem I have is usually the instructions - they are sparse and without pictures, you can sometimes feel blind! Read them through carefully before you sew. Good luck!

------
Sewing With Attitude
http://www.kissmystitch.com

knitstitcher


Intermediate
NC
Member since 8/17/10
Posts: 442



Date: 10/28/12 2:06 PM

Thanks again MicheleE. I traced the first 2 pieces really close and forgot to leave space for the SA. Oops. Good thing there are only 4 pattern pieces.

------
Lorri
Bernina Artista 730,Babylock Journey, Babylock Evolution, Singer 201-2

Elona


Advanced
Member since 8/24/02
Posts: 8339





In reply to knitstitcher <<

1 member likes this.



Date: 10/28/12 2:06 PM

Regarding ease, in general Burdas do not have a lot of ease--unless that is built into the design, of course. Burda does have the advantage that their size gradations are MUCH more subtle than you will see with the Big Four: In certain places, the difference in sizes is the width of a pencil lead, rather than a quarter of an inch, for example.

But as to sizing, the first thing is not to choose a 'size' with Burda, be it an envelope or magazine pattern. As you have noted for yourself, you are not one size, but a blend of sizes. This sounds trite, but is true for almost every one of us.

So here is the way get a good fit when using Burda--and it does not involve guesswork:

All Burda patterns, envelope or magazine, have a measurement chart with lots of numbers to record. I cannot emphasize strongly enough that it's in your best interests to exactly follow the instructions printed next to that chart. You will even be including the neck measurement, which will determine your neck and shoulder sizes.

Circle or write down your measurements in the columns just as directed. It will keep you organized and precise. Then get out your tracing paper and--using the numbers you circled--you will find yourself tracing off a customized pattern. You will be slowly grading from one size line to another (sometimes between lines) as you trace, so your bust will be one size, your waist another, your hips another. Your tracing will thus reflect your own personal dimensions, not an arbitrary 10 or 12, for example.

Your length adjustments--long waist, long legs or arms, etc--will be done after tracing. Bear in mind that Burdas are designed for a woman 5' 7".

As always, with a new pattern, it's a good idea to make a quick muslin before cutting into your good fabric.



knitstitcher


Intermediate
NC
Member since 8/17/10
Posts: 442





Date: 10/28/12 2:22 PM

Thanks for the pointers. Although I've been sewing for years, I have never had any real training....it's all been trial and error and most of what I made I didn't like how it turned out mostly because of fit. I am self taught, so any advice is greatly appreciated. I've always had a hard time fitting myself. I've learned more in the past 3 years just from friends on PR than I ever did before.

------
Lorri
Bernina Artista 730,Babylock Journey, Babylock Evolution, Singer 201-2

knitstitcher


Intermediate
NC
Member since 8/17/10
Posts: 442





Date: 10/28/12 7:28 PM

Sooo.....I knew that SA's were not included on these patterns, but as I'm reading the instructions for the actual pattern there's a "seam and hem allowance" section stating a 5/8 SA for seams and edges and 1 5/8 SA for hems. Is this just a suggestion?? Yet on page 1 of the instructions (general how to directions) I do see where it's telling me to add my own SA.

------
Lorri
Bernina Artista 730,Babylock Journey, Babylock Evolution, Singer 201-2

stirwatersblue


Intermediate
KS USA
Member since 12/13/08
Posts: 3187





In reply to knitstitcher <<



Date: 10/28/12 8:25 PM

I've never used Burda, but I do draft my own patterns, and I'm afraid I have no rhyme or reason about when I put S/As on the pattern pieces or not! I DO, however, make VERY GOOD NOTES on the pattern pieces saying whether the S/As is included, and if it's not, how much I need to add when tracing out my muslin or fabric. :D

I know there are some different fun gadgets for marking/cutting seam allowances, but I've just marked off 5/8" on my most-used rulers and tape measures with Sharpie or masking tape. Makes it nice and simple to mark when tracing.

If you're not done tracing the pattern yet, I'd probably go ahead and leave off the rest of the S/As on the other pieces, and add them back in when you trace off your muslin. I think it would be less confusing than trying to keep track of which pieces had them and which didn't. But if you've cut out some with and some without, I'd just mark them really well so you know!

Good luck! I'm about to start my first Burda envelope pattern, and I'm looking forward to it. I may have to grade up a size (it's for DH), but reading PR assures me that it's a simple process.

------
~Gem in the prairie

knitstitcher


Intermediate
NC
Member since 8/17/10
Posts: 442



Date: 10/28/12 8:37 PM

Well..I traced my pattern and added my SA, stitched up my muslin, and it was ginormous!!! looks like its back to the drawing board.

------
Lorri
Bernina Artista 730,Babylock Journey, Babylock Evolution, Singer 201-2
Printable Version
* Advertising and soliciting is strictly prohibited on PatternReview.com. If you find a post which is not in agreement with our Terms and Conditions, please click on the Report Post button to report it.
Restyling with Exposed Zippers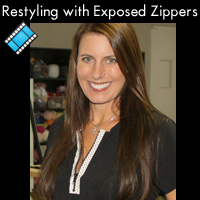 Sew a Designer Unlined Jacket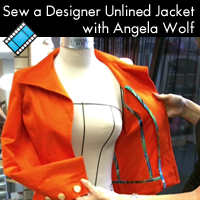 Brensan Studios BSS155

by: marycds
Review
Stitch Magazine 12-2011-dahliapurse

by: the thread...
Review
Islander Sewing Systems Women's City Western Blouse Pattern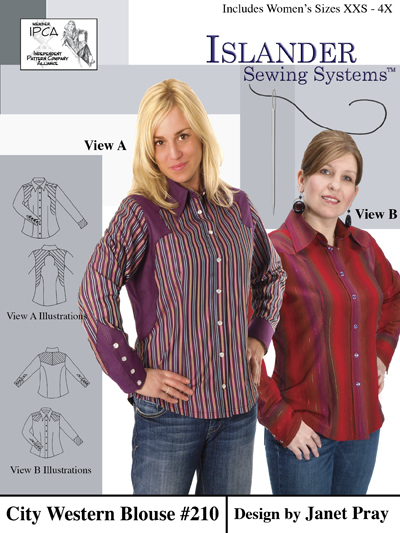 Buy Now
Sew Chic Fantasia Dress Pattern (ln9005)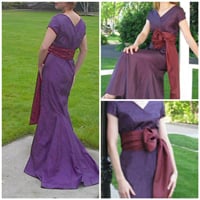 Buy Now