DOGLOVER389

Member since 1/11/12
Posts: 395
Skill: Advanced Beginner



Date: 11/1/12 10:55 PM

Hi All,

I am having a terrible time with top stitching, and I do not know what I am doing wrong.

I meticulously pin everything in place. I use the magnetic seam guide when possible. If I can't use that, I use either the inside or outside edge of the presser foot as a guide. I try to go slow, yet things go awry.

Sometimes it seems like I have to actually feed the material in crooked to get a straight top stitch. This usually happens when I am top stitching a flat felled seam.

What am I doing wrong?

I am tired of crooked stitches and I am sick and tired of ripping them out. Nothing cheapens the look of a garment faster than terrible top stitching.

Thank you in advance for your assitance.




DogLover389

------
Cut my teeth on a Kenmore 117.58

http://pages.sewing-machine-manuals.com/173/PictPage/1922064294.html

Singer Merritt 9612
Singer 99-13
Singer 15-91; 1955

DreinPA


Pennsylvania USA
Member since 4/5/06
Posts: 333
Skill: Intermediate
Body Type:




Date: 11/2/12 0:16 AM

Are your seam stitches straight? Some machines actually lay a stitch that appears twisted. Symmetric but not 'straight'.
Have you adjusted the pressure of the presser foot? You may need to change this when feeding fabrics of different densities. I believe both machines in your signature have this capability.

------
Don't confuse accessibility with ease; just because anybody can pick up a needle and thread doesn't mean sewing quality garments is easy.

GlButterfly


California USA
Member since 8/28/08
Posts: 3610
Skill: Intermediate



Date: 11/2/12 3:29 AM

Same thoughts here. If the top layer is "bunching up", it may be because the pressure needs to be adjusted.

------
That's Gl = for Gloria, not G. I.

cocosloft


Florida USA
Member since 3/17/12
Posts: 432
Skill: Advanced
Body Type:


2 members like this.




Date: 11/2/12 5:28 AM

Hi. I love to topstitch! Things that work for me...I use my walking foot with a longer stitch, usually 3.0. I test with several layers of fabric to set my tension so the stitches look good from either side.
Using a waking foot might make a huge difference for you. Also, try to work in front of and behind your foot, guiding the fabric out with your left hand and in with your right, helping the fabric to stay straight. Hope this helps!

------
Coco

Juki HZL-F600
Singer Quantum Stylist II
Juki MO-654DE
Janome 8002D
IKEA SY

SandiMacD


USA
Member since 2/8/09
Posts: 2563
Skill: Intermediate



Date: 11/2/12 6:06 AM

I also love the top stitching process. It is different for fine and heavy fabrics. Some machine brands tend to be more difficult to feed the fabric in a straight line. For denim and duck fabrics, your machine needs to be powerful enough to pull it through and push the needle through without effort on your part. Ocassonaly you may have to assist in over a crotch seam intersection but not often.
Give us a bit more information on fabric type and needle type and thread type and stitch length.
Heavy fabric needs 100-110 needle, jeans or heavier thread, & stitch length 3.5 to 4.5 and heavier presser foot pressure (like jeans pants or canvas home dec). Ligher cottons need 80-90 needle, garment thread, 3.0 to 3.5 stitch length and normal pressure (for pockets or cuffs on a blouse). Knits need a special technique. Use a stretch needle, 2.5 stitch length and 0.2 stitch width, garment or lightweight thread and lighter presser foot pressure.
What machine are you using? If all else fails you may want to pop into a dealer with a fabric sample to top stitch and try out another model. If it works then you know it is not your technique but the machine.
-- Edited on 11/2/12 6:09 AM --
-- Edited on 11/2/12 6:11 AM --

------
sewing brings joy and meaning to my life...

DOGLOVER389

Member since 1/11/12
Posts: 395
Skill: Advanced Beginner



Date: 11/2/12 12:53 PM

Hi All,

Thank you for your replies.

I am using a Singer Merritt 9612.

The only feet I have are the general purpose presser foot and an adjustable position zipper foot.

I am using Singer 90/14 needles. The stitch length is 4. The thread varies according to the colors that are available in my friend's mother's stash. She was a professional sewer and her mother worked for a sewing company. There are many industrial sized spools of thread.

The garments I am making are dog coats for shelter dogs. I am using a variety of materials including cotton flannel, cotton knit, cotton terry cloth and some cotton blends as well as 100% synthetic. I do have denim, and denim needles, but I haven't used that material yet. Other than the terry cloth and the denim, the other materials are light weight.

I have been practicing flat felled seams so I will have more experience when I use them to make my shirts (cottong shirting and cotton flannel). Other top stitching is around the neck, arms and body seams to keep the double layers flat as well as to be decorative.

When I sew a seam, the machine is sewing straight. I didn't know there was an adjustment that could be made to the presser foot. I will have to check the repair manual for information about making that adjustment.


Many thanx,



DogLover389

------
Cut my teeth on a Kenmore 117.58

http://pages.sewing-machine-manuals.com/173/PictPage/1922064294.html

Singer Merritt 9612
Singer 99-13
Singer 15-91; 1955

lgrande


Montana USA
Member since 1/18/12
Posts: 2364
Skill: Advanced Beginner





1 member likes this.



Date: 11/2/12 2:20 PM

Bless you for doing so much for our wonderful four-footed friends, they ask so little and give so much.

------
Linda
Funny, I don't remember being absentminded.

Bernina 830LE - Brother Dreamweaver VQ3000 - Bernina B530 - Janome 6600P - Pfaff 1209 - Babylock Evolution - Janome 644 - Babylock Sashiko2 - Babylock BLCS-2

Sewandwrite


Maryland USA
Member since 5/16/08
Posts: 942
Skill: Advanced Beginner





Date: 11/2/12 4:20 PM

Quote: DOGLOVER389
I am using Singer 90/14 needles. The stitch length is 4.


I had cruddy topstitching until I switched to a sharp or Microtex needle. Even topstitching needles don't work well for me.

The Singer needles are probably universal needles, which have a slightly rounded tip. They can push the fabric aside a bit. Sharp or Microtex needles punch right through the fabric.

I also depend on my walking foot for a lot of topstitching.

Good luck!
idahodogs


Idaho USA
Member since 4/22/08
Posts: 432
Skill: Advanced Beginner



Date: 11/2/12 4:25 PM

I do a lot of flat-felled topstitching, and I could not live without my seam guide foot!! It has a little rudder that sticks out of the bottom, and you line the rudder up against the seam line. Then you move your needle to get the topstitching where you want it. I do two rows of single-needle, and with this foot you seriously cannot tell that I didn't use a twin needle/coverstitch.

**PS - Make sure you get the foot with the rudder on the SIDE (seam guide foot), not in the middle (stitch-in-the-ditch-foot), or you won't be able to get your topstitching far enough away from your seam to look like an industrial flat-fell.

beauturbo

California USA
Member since 5/2/09
Posts: 4424
Skill: Advanced





Date: 11/2/12 4:57 PM

Some of the issues could even be some of that thread on the big industrial spools that your friends Mother, had collected over the years. Especially you are just choosing thread from it for color choices only. And especially if some of that thread has a S or a right twist to it, instead of a Z or a left twist to it. Because home sewing machines need to have thread in the top of them with the Z or to the left twist, if they don't. the thread gets untwisted as it goes through the sewing machine, instead of tighter twisted as it goes though the top of the sewing machine. But, some commercial machines/serger loopers and such, can and do use the S or right twist thread. So if you find someone's huge life long stash of commercial coned thread, some of that thread could actually be either twist. And made for just anything sometimes.

Maybe if you are lucky the labels on the bottom of it, are still there, and they might say what kind of twist it is, and also the thread weight, and also the fiber, and even how many strands twisted together some of it is comprised of. All that stuff makes a difference sometimes. Also if you ever get a hold of any thread made for hand quilting, and it says hand quilting thread, and glaced on it, that will work with and sew good in just no home sewing machines anyplace, the glaced part of it and the twist is wrong for that.That is just for hand sewing instead. So again, check all your thread labels if you can.

Also when it's on a big cone like that, and with your particular machine, it has to feed upwards off those big cones. So you need a tall metal thread stand with a tall hook on the top of it, set to the right side of your machine, and thread going over your fly wheel area (not too low down and close to it though) then you thread the rest of the machine more as normal. You don't say if you have that or not.

If you are choosing big in diameter thread from that pile of old commercial cones, then you have to make sure it can go through your needle good too. Maybe a top stitching needle for that might be better, just because the eye of the needle would then be bigger than the normal one for the needle shaft size. To find out if your thread each time will fit though any needle good, thread the thread through the needle eye, with just the sewing machine needle held in your hand and not in the machine. Then hold both ends of whatever thread it is, out in the air, and tip your hands back and forth to let the needle slide back and forth on that thread. The smallest needle/needle eye that still lets the needle slide very freely along that thread, and still has a deep enough groove in the needle shaft to carry and protect that particular thread each time, is most times the best one to use.

I do get much better straight stitching, when I use the smallest needle I can to sew anything, that still is right for the thread, just because then the thread is not jumping around in the needle eye when I'm trying to sew.

Also since your old Merritt does straight straight stitch, and zig zag, maybe it's a bit sticky and getting a bit siezed up in there in a fe places, and still slightly zig zagging, when even in straight stitch. So clean out and oil your machine just everyplace too.
-- Edited on 11/2/12 5:04 PM --
Printable Version
* Advertising and soliciting is strictly prohibited on PatternReview.com. If you find a post which is not in agreement with our Terms and Conditions, please click on the Report Post button to report it.
Online Class
Beginners Guide to Sewing Jackets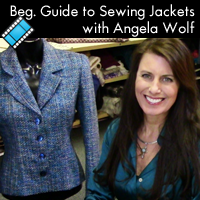 Online Class
Serging Ahead with your 5 Thread Serger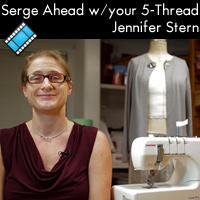 Simplicity 2398

by: MaidenJane
Review
Ottobre Design Magazine 03-2011-21

by: A Beginner...
Review
Favorite Things The Wrap Dress Pattern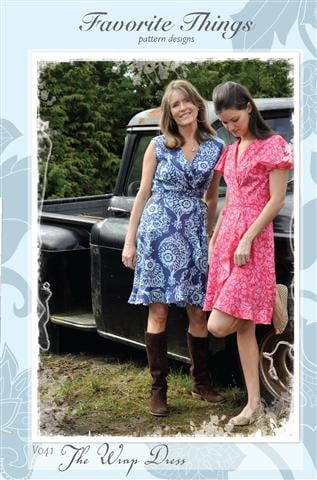 Pattern Details
Sewing Workshop Tamari Apron Pattern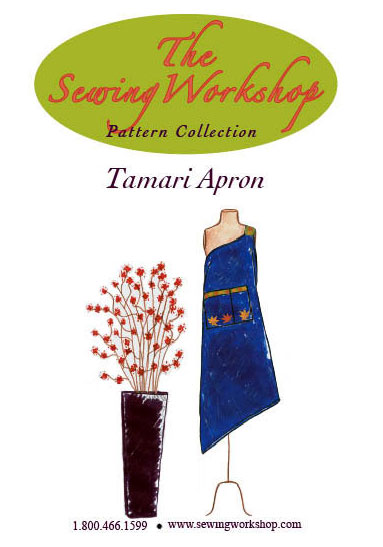 Pattern Details