rivergum


Advanced
AUSTRALIA
Member since 12/17/06
Posts: 1530

3 members like this.




Date: 11/2/12 4:52 PM

Lagenlook has been around for a long time in Europe and Japan in various variations, but is just starting to make an impact in the Anglo
world. At least I have become more aware of it recently, starting with Blue Mooney drawing my attention to it on another sewing site

Lagenlook is layering of garments, usually in natural fibres, generally loose and comfortable. Where LL is different from mainstream is that the rule ''wide top, fitted skirt or pants, and vice versa'' does not apply. Lagenlook is loose all over, i.e. oversized tunics over gathered skirts or palazzo pants.

If you like Lagenlook, it is very suitable for plus as well as smaller sizes and for mature women as well as younger ones. LL is not mainstream, and generally quite pricey. To me it has arty and ethnic overtones and colour is used sparingly in all but the Scandinavian variant.

I am by no means an expert, but I have an interest in LL and have done quite a bit of research. I also owe a lot of my knowledge to the Lagenlook thread at Artisan Square.

As far as I can tell, there are different styles roughly aligned with different geographical locations, although not always. In the US the Edwardian style as represented by Ivey Abitz and Magnolia Pearl seem to be the most prominent. This style typically has lots of ruffles, peplums, lace and tucks.

The European style is more geometric and minimalist. My favourite is Amalthee Creations. Amalthee is French. There is a lot of LL in Germany, but I have not found a specific designer. LL in Germany seems to be more mainstream and much lower priced. If you Google Lagenlook you will find lots of German sites. In the UK I like Terry Macey

Kaliyana is a Canadian designer who does a stunning version of Lagenlook.

The Scandinavian variant of LL is much more colourful than some of the other varients. As far as I can tell from living with a Swedish girl when I was in my teens, there is a long tradition of peasant style clothing which is brightly coloured, simple and layered. I like Gudrun Sjoden, although her look book is a bit out there. I am not sure I can get away with a tulle skirt! But when you browse her shop there are many very wearable garments, quite a few modelled by older women. Olars Ulla is a bit more frilly and feminine, although their current winter collection is possibly less so than their last summer one.

In Japan there is a very minimalist variant, as seen in many of the Japanese sewing magazines. It is very much constrained in colour, mostly neutrals with only very few subtle colours.

If you are interested in Lagenlook you can have a look at my pinboard, which will give you links to other designers.

If anyone has any favourite LL designers or collections, I'd love you to add a link and share.


-- Edited on 11/5/12 1:50 AM --

------
Taking in is happier than letting out.

Sydney, Australia

jannw


Intermediate
WA USA
Member since 9/3/06
Posts: 8552



Date: 11/2/12 5:03 PM

There is a German pattern company that specializes in this look for those interested.
RS Design24

My main problem is getting the proportions correct. My first top was too large..falling off of the shoulders almost...using a knit didn't help there! My second is too small, I feel.

Does anyone know of a basic rule, such as width x length or width should equal ? times the body circumference??

------
2009-113.25 yds
2010-115.5
2011-80.25+30+donated
2012 86.3 yds..
2013 21.0
Everyone who sews seriously has a stockpile of fabrics, because it is natural to purchase more than can be sewn in any one season" Singer, Timesaving Sewing, 1987



DonnaH


Intermediate
TX
Member since 10/1/03
Posts: 1175

6 members like this.




Date: 11/2/12 5:23 PM

You have to be very careful w/ that look though - get it right and you look "arty"; get it wrong and you look homeless. And frumpy homeless at that.

I am short and wide - some of those pieces would look and feel nice on me, others would make me look even shorter and wider! Especially if they were even the teeniest bit too big.

I suppose any look has pieces that are dangerous that way, though - a fitted T that's a bit too fitted can make someone like me (a bit bulge-y around the middle) look even worse.

kkkkaty


Intermediate
UT USA
Member since 12/7/05
Posts: 2620





Date: 11/2/12 6:02 PM

I love this look, but agree with Donna that there's a fine line between arty and frumpy. I'd love some advice about how to carry it off gracefully...

------
Viking Lily 545
Viking Ruby
Bernina Activa 210
Brother 1034d


kkkkaty


Intermediate
UT USA
Member since 12/7/05
Posts: 2620





1 member likes this.



Date: 11/2/12 6:04 PM

here's a tip that seems sensible, copied from ebay



Quote:
If you are a "curvy" girl, be careful, it can add many pounds to your frame.Using lighter weight fabrics to layer & making the inner tunic an asymmetrical hem style elongates/slims the body.Most Lagenlook devotees love just the long tunics over pants or skirt, just like the Blue Fish styles. Its a "Look",not a uniform!

------
Viking Lily 545
Viking Ruby
Bernina Activa 210
Brother 1034d


westmoon


Advanced Beginner
Member since 9/7/11
Posts: 635



Date: 11/2/12 6:20 PM

I quite like some of the individual pieces in theory, especially some of the dramatic coats and jackets. I don't think in practice the total look is something I would ever go for. There's just too much bulk of fabric going on. It does look incredibly comfortable though, I have to say.

(I also LOVE this jacket. Anyone want to lend me $230+p&p? :D?)



------
http://sewingnovice.blogspot.co.uk/
One woman. One sewing machine. One giant stack of fabric. What could possibly go wrong?

n45

Intermediate
MD USA
Member since 6/26/03
Posts: 253

1 member likes this.




Date: 11/2/12 6:28 PM

You have a pin from one of my favorite sites- Totokaelo.
Alabama Chanin also uses some elements of this. She layers shorter skirts over longer skirts, etc. I enjoy Japanese pattern books immensely but since I'm a tad busty I can't do "boxy" and I don't like dresses. I do like the minimalist approach to layering illustrated in a lot of Japanese fashions. I just finished a draped cardigan from the Japanese pattern book "She Has a Mannish Style". Thanks for posting. I think it's always interesting to see different points of style view. I see a lot of this look, but I work in an area where there are a lot of schools and artsy people.

If you look beyond the styling, there are always some great pieces to be found even if a total look is not your style.


-- Edited on 11/2/12 6:32 PM --
-- Edited on 11/2/12 6:33 PM --

rivergum


Advanced
AUSTRALIA
Member since 12/17/06
Posts: 1530



Date: 11/2/12 7:24 PM

I think there are various angles to LL looking good. First of all, there us the 'acclimatisation factor'. To those unused to Lagenlook, wearing a dress over a skirt will look quite outlandish. Most fashion styles require you to get used to them, at least initially. I remember when ruffles first came into the mainstream a few years ago, DD bought me a couple of ruffled blouses. My reaction was 'what was she thinking, I'll never wear ruffles', but as the fashion became ubiquitous, I got desensitised and wore them quite a lot.

Of course you don't want to become desensitised to ugly fashion, but alhough I could easily think in 15 years "what was I thinking', right now quite a bit of LL feels right to me and more importantly, I feel good wearing it. That said I don't like the Edwardian styles, but that is my personal taste, which is more geometric.

You need to find a style that suits your tastes and body shape, not all of LL is for everyone. A good illustration of this is 2 collections from the same designer. The Barcellona collection is emphatically not for me, while I absolutely love lots of things in her other collections.

jannw, unfortunately I don't have a recipe of what works and what doesn't. By far the best tool for me has been pinterest. I pin things I like as I come across them, then analyse and reproduce or develop an idea further. Thankfully, once I have a LL pattern that works, I can use it multiple times, plus they are usually quick and simple. If you have a look at my pinboard (link in my first post) there are a few line drawings there of very simple dresses/tunic which should be easy to find a pattern for. Teamed with leggins or slim pants they are barely Lagenlook and really quite mainstream. Teamed with wide pants, wide skirts or harem style pants they are much more extreme and take some getting used to for the uninitiated.

I am a pear and am developing a LL style based on small bust and big bum and hips. If you are a different body shape you would be developing quite a different style I would think.

Here is one pic that is one of my favourites. Mature age model, not slim, wearing comfortable and stylish clothes. Very LL! Sorry I can't link to it directly because the pic has gone from the site. (A huge advantage of pinterest, that I can keep pics that would otherwise be gone once fashion sites are updated.)

Blue Fish

There are other interesting fashions on the site if you click the picture on my pinboard, like the pic below. Others of their offerings I don't like at all. And one of their coats is too huge even for my liking of the oversized, and giant sense of drama!




Westmoon, that jacket is gorgeous! I love totokaelo too. Pity the models are so much thinner than I am, that is posing a few challenges when I try to reproduce their things.
-- Edited on 11/2/12 7:33 PM --

------
Taking in is happier than letting out.

Sydney, Australia

mmcp

Advanced Beginner
MD USA
Member since 5/31/09
Posts: 260



Date: 11/2/12 7:28 PM

I wear this stuff a lot, but you-all are right, proportion is critical. I'm short, short-waisted, thin, and small boned-- so I can end up looking like I'm wearing my mother's clothes (and since I' in my 50's it's not a good look). I go for something fairly fitted on top, then fuller and usually quite long (just above the ankle) on the bottom then something longish and funky as an overlayer, but it has to be a fabric with weight and not too much bulk, so it hangs down rather than poofing out. I think it works better if it's all relatively monochrome, so it looks like I meant it and not that I reached into the bin.

Sana

Intermediate
Member since 9/26/05
Posts: 153

2 members like this.




Date: 11/2/12 9:13 PM

It reminds me of the second half of the eighties. If you have a copy of the Threads collection, Techniques for Casual Clothes, take a look at the articles "Straight Line Design" by Suzen Hahn and "Clothes to Live In" by Jeanne Engelhart. Those articles were both published in 1991, but those types of clothes were around in the eighties.

There's also some overlap with the Japanese mori girl aesthetic.

------
"Once abolish the God, and the government becomes the God." (G. K. Chesterton)
Printable Version
* Advertising and soliciting is strictly prohibited on PatternReview.com. If you find a post which is not in agreement with our Terms and Conditions, please click on the Report Post button to report it.
Sewing with Slippery & Drapey Fabrics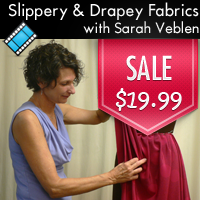 Create a Jacket Muslin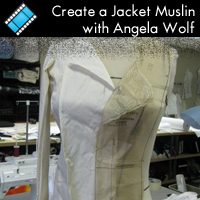 New Look 6723

by: Chickey17
Review
Gracie Handbag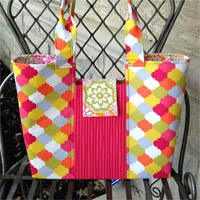 Buy Now
Jamie Christina Lark Paper Pattern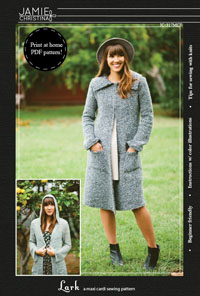 Buy Now
Simplicity 2308

by: HermionesE...
Review