kayakpeak

Washington USA
Member since 11/2/12
Posts: 58
Skill: Beginner



Date: 11/2/12 10:41 PM

I'm a retired 70 year old male. My wife is a full time flight attendant away more than twenty days a month. Decided to spend some of daughters inheritance for Bernina 330 and BabyLock Imagine . To date have not taken any classes but but made quilted table runners, placemats, aprons, bags of various types. Tried a Vogue long sleeve shirt. All went slow but acceptable until I got to the 2 piece yoke. I know I need help to understand patterns so I put aside. Kwik Sew pattern mens jeans #K3504. Finished with mistakes but I'll try again. Should not have used 11 Oz. stretch denim and I'll change that next. My specific question is would I be wise to serge all raw edges and what stitch should I use. New to this site but I may become a pain. Lots of questions and need for advice.

------
kayakpeak

heathergwo

California USA
Member since 11/14/11
Posts: 958
Skill: Advanced Beginner



Date: 11/2/12 11:03 PM

I think it depends on the pattern.

I wouldn't say that you should *always* serge all raw edges and then sew together, several reasons. Mainly the serging should BE the seam, not the edge of the garment. So if you're going to serge it, just serge the pieces together and have that be the seam. Sometimes it's a good idea to serge an edge before sewing, especially hems & facings.

If you want to try serging your raw edges, you certainly can, it's not like anyone will really see them. If you wanted to do that, I would use a 3 thread narrow stitch and keep in mind that if you do that your seam allowance will need to be shortened significantly (depending on how much you cut off on the serger) OR you will need to add an additional SA to your edges before cutting.

HTH!

------
Brother Innovis 1250D
Babylock Enlighten
Singer Curvy 8763
Brother 1034D
Janome 385.19606
Brother 2340CV

Sharon48


Washington USA
Member since 5/17/12
Posts: 329
Skill: Intermediate
Body Type:




Date: 11/3/12 10:11 AM

Welcome! I love to see guys getting into the creative world of sewing!!
FYI - try putting in your search engine "serging tips or tutorials" and or going to youtube.com and putting in same thing. You will be amazed at how many little lessons you will get for free.
When I got both my new BL machines (Ellisimo and Evolution), I spent many hours searching and reading (also watching free videos) - helps alot!!
Good luck!

------
Sewing is a passion, so calming and rewarding

Baby Lock Ellisimo Gold
Baby Lock Ovation
Baby Lock Melody (travel machine)
Baby Lock Coverstitch
Baby Lock Embellisher
Viking Husqvarna 190 Electronic
Singer 401A



tourist


British Columbia CANADA
Member since 7/23/07
Posts: 6576
Skill: Intermediate



Date: 11/3/12 10:32 AM

Welcome, welcome, welcome! You will find a lot of great info here and people who are willing to answer pretty much any question. One nice thing about serging before sewing is that you can press the seams open after you have sewed them up. There is a lot of good to be said about a beautifully pressed sewn seam as opposed to a serged one. One drawback is that on light weight fabric, you will get the impressions of the serger threads when you do the pressing unless you us e a seam roll or other tool.

I am vastly impressed that you have already tackled jeans. Jeans and t shirts are on my "some day" gotta try list. Have fun!

------
http://bgballroom.wordpress.com to follow the progress on my next ballgown.

WTG

Member since 3/18/03
Posts: 59
Skill: Intermediate





Date: 11/3/12 10:33 AM

Yes, it would be wise to serge the raw edges. The general procedure in garment sewing is: match and pin the raw edges & notches of a seam together, sew a 5/8 (usually) inch seam with the sewing machine, press the seam open with the iron, and, finally, serge the two raw seam allowances with the serger using a 3 thread overlock stitch. (You serge each seam allowance individually, not together). Then you move on to the next step in the sewing instruction and sew the next seam with the same procedure (match raw edges, sew seam, press open, serge raw edges).

There are exceptions to this, but I think as a beginner, this is the best way to start. You can combine the sewing machine step and the serger step in one operation, a 4 thread overlock stitch, which seams and finished the raw edges in one operation. However, sewing an accurate 5/8 inch seam is tricky on the serger. If you are sewing garments, it would be best to learn to sew an accurate seam on the sewing machine and then finish the raw edges separately on the serger.

If you are asking about serging the raw edges of garments you have already made, then yes they should be serged. But the seam intersections will get in the way. Just do the best you can in this case. Next time, serge the seam allownaces as you go to avoid the intersection problem.

You may be tempted to serge all your raw edges at the very beginning, before you even begin sewing seams. The problem with this is losing accuracy when trying to match raw edges and notches, which have now been serged off. I would not do this until you get a little more experience.



avatrx


Illinois USA
Member since 12/16/05
Posts: 601
Skill: Advanced Beginner





Date: 11/3/12 10:54 AM

I found your post very helpful. I always thought that when serging, you either did that alone, as with knits or something or after sewing a seam together, serge next to the sewn seam to finish the edges.

As for sergiing BEFORE sewing seams together, I could never figure out how you would keep your seam properly aligned to sew it together since you'd be serging off the notches and don't always get the serged seam perfectly straight (at least I don't)

So to clarify? sew your seam, then press flat and then serge EACH side separately? That does make sense.

I've been sewing for years without knowing what the right methods are. lol

SandiMacD


USA
Member since 2/8/09
Posts: 2563
Skill: Intermediate



Date: 11/3/12 11:04 AM

I serge most of my seams before sewing the garment. I sew the darts before I clean finish those pieces with serging. That way I didn't distort where my dart needs to be placed. I also mark notches with a marking pen or snip them so they can be seen after serging.
When clean finishing a pattern fabric piece you never want to let your serger blade cut away any fabric. You may notice it trims protruding threads and that's OK. If it trims any fabric away then your seam allowance will be shifted and that creates other problems.
I took the PR classes on how to serge and basic sewing skills. Found them informative and well worth the nominal cost. Best part is the class instructors who are willing and able to answer all manner of questions.
Craftsy.com also has reasonable class prices. StyleArc.com tutorials (http://www.stylearc.com.au/stylearc/index.php?option=com_content&view=article&id=43&Itemid=52) has some good pattern instruction sheets that you can print out.
And there are some great PBS TV shows like Sew It All, It's Sew Easy, and Sewing with Nancy.
Your story is so inspiring. Have fun and glad you found PR. Keep us posted on your progress.
-- Edited on 11/3/12 11:24 AM --

------
sewing brings joy and meaning to my life...

PattiAnnJ


Ohio USA
Member since 12/3/06
Posts: 8166
Skill: Advanced





Date: 11/3/12 11:13 AM

Near the back of the manual for the Imagine is a chart for the different stitches and settings. I keep the manual next to my Imagine with it opened to this page.

Personally, I only serge raw edges when the fabric is prone to extreme fraying.

You may find "Serge With Confidence" a helpful addition to your sewing/serging library.

Here is a link where you can look at sections of the book before making a purchase.


-- Edited on 11/3/12 11:22 AM --

------
"Improvise, adapt and overcome." - Clint Eastwood/Heartbreak Ridge

"Isnít it a shame in todayís world you canít tell the truth. If you tell the truth youíre abrasive. If you lie youíre charming." - Bob Huggins/College Basketball Coach

LynnRowe


Member since 3/9/09
Posts: 11120
Skill: Advanced





Date: 11/3/12 11:15 AM

You can serge the edges first, and then sew...or sew and then serge both seams together as one...or sew and serge each seam edge separately...

Whatever way works the best for that particular item and fabric, is the best way to do it.

When you want to serge edges first, it's important to mark the seam lines and pattern markings onto the garment piece first, via thread tracing, marking pen, chalk, etc.

On most of my garments, (other than suit jackets, which I do mostly by hand), I sew first and then serge, knit garments included. The sewing is my "basting". It's easy to rip out and redo sewn seams...not so much with serged ones!

If you plan to serge each seam edge separately, first sew the seam, press the stitching flat as sewn on each side, then press the seam open. Then serge each edge. To set the serged stitching, you want to press it, but you don't want to just press over top of the serging, as the thread will leave impressions on the right side of your garment.

You can insert strips of paper (paper bag, adding machine tape, etc) between the serged seam and the garment, then press, or you can try to arrange the seam allowance so that it's flat on the pressing board with the garment itself to the left or right, out of the way. Then you're only pressing the seam edges themselves.

This isn't always easy or even possible to do, so it's handy to have a roll of adding machine tape in the sewing room.

Welcome to PR!
-- Edited on 11/3/12 11:19 AM --

------
I heart Woo (HimmyCat). Until we meet again, my beautiful little boy. I love you.

PattyE


Michigan USA
Member since 9/7/10
Posts: 2238
Skill: Intermediate
Body Type:




Date: 11/3/12 11:29 AM

Everyone has their own technique for seams...your fabric will dictate what method you use.
When I'm using a ravelly fabric all pieces get edges serged after cutting out. Then I will sew seams with usually a 3/8" seam allowance and press open. I snip at the notches and can still see the snippings underneath the serging. Sometimes I will mark with chalk if I think the snips will be too hard to see.
Knits, for the most part, get constructed on the serger except for any seams needing special attention. If an intersection will be too bulky with 2 serged seams then I will sew it with regular seams on the sewing machine.
I try to go through the pattern instructions beforehand and then decide how my seams will be handled depending on the fabric I'm using.
For pants I will usually serge edges and then sew normal seams just so I get flatter seams with nicely finished edges. Denim serged seams can be quite bulky at the intersections.
Good luck with your sewing...it's really a great thing to learn.

------
Stash: 175 yds. @ 07.26.15
Printable Version
* Advertising and soliciting is strictly prohibited on PatternReview.com. If you find a post which is not in agreement with our Terms and Conditions, please click on the Report Post button to report it.
Online Class
Leather 101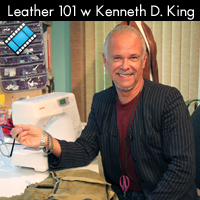 Online Class
Expert Sewing Techniques for Jackets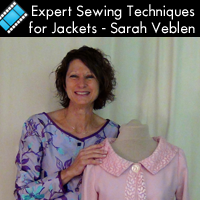 BurdaStyle Magazine 02-2015-107

by: MrsCharism...
Review
Sewing Workshop Hudson Top & Pants Pattern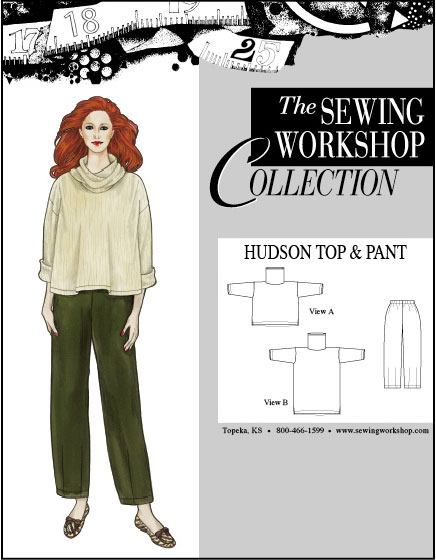 Pattern Details
Runaround Bag Paper Pattern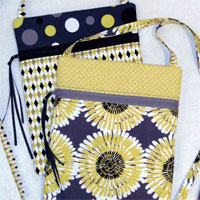 Pattern Details
Pin-up Girls 2901

by: EmeraldEri...
Review