cowgirlcreates

Manitoba CANADA
Member since 6/30/12
Posts: 16
Skill: Intermediate



Date: 11/10/12 12:03 PM

I'm trying to decide/save up for a computerized machine, and I keep coming back to the Pfaff - specifically the ambition 1.0. A great lady I know brought me her Pfaff Expression 2.0 to try out for the weekend (we're having a blizzard - good time to sit and sew!!) - and so far, although I like it, there are a few things that I'm not so sure about and wondered if anyone can shine light on how it would compare to the Ambition. Firstly, I feel like the machine has a rather slow top speed - is this normal among the Pfaff machines? Is the expression 2.0 known to be slower than others or is it just my perception? I want to try out the ambition again and try it at top speed to compare, but wondered if anyone has experience on both or thoughts on the speed of the expression.

After using my Singer 675G, it seems the visibility of the needle is hampered by it being lower/further back on the machine...of course I will likely get used to many of these things, but I'm just trying to really give it an objective trial

I definitely do like the IDT - I sewed some PUL and velor together last night which I really struggled with stretching/creeping of the two fabrics on my old machine and even on the first try it seemed to work quite well with the IDT. Besides putting it through its paces on things that I normally sew, are there any specific things I should try, in order to get a good feel of the machine? Thanks for your thoughts!

beauturbo

California USA
Member since 5/2/09
Posts: 5551
Skill: Advanced



In reply to cowgirlcreates

Date: 11/10/12 4:29 PM

Yes I think so, bring your own fabric and test sew on your own stuff, and just put anything through all its paces, and see how it feels to you, not some one else and not only on some stiff startched demo cloth.

I think it's just like driving a car, just depending on the person, some cars and some sewing machines are a "good person fit"to some people, more than some others. I think it has a lot to do with what you are used to, in prior sewing, and just where the controls are on a machine, and how you like to sew. It is hard to tell in just a few moments. Sometimes something that seems new or awkward or different than what you are used to, you would get used to and really like later, sometimes not so much.

If just because of your own body though, or your height or whatever, if you feel you don't have good visability some place, (like at your needle area, and top of machine is blocking your view or some place you need to get your hands into, a lot, is too small and tight there, for you, then I think not a good fit, as I don't think that is ever going to change later, even with more sewing on something.

For regular sewing some top speed number in some advertisement or a print out someplace, means almost nothing to me, just because I can't sew any kind of garment at top speed or even enjoy sewing it that way, or even get up to top speed on some small pattern piece shape that has curves or needle down pivoting on it. At least not the way I like to sew. If I was sewing long drapes all day or free motioning huge quilts then that might actually be different. Good control on slow sewing is actually something I would test and like even better and would be more useful to me.

Also speed per minute as in how many times a needle would go up down and in a minute, if forced to the most, to get some # out of it, means sort of nil to me as I never sew as fast as I can with no fabric and thread in there anyways. To me, that is not even sewing!

Also I think you could just get all sorts of counts on that, as the needle goes up and down, related to your feed dogs moving. If I have a sewing machine set to make a really small stitch length or sew in one place- no stitch length, my needle is going to be going up and down, a lot more in a minute, no matter what, than if I had a machine set for the longest stitch length instead of maybe 5 or 6 mm or even on some machines I have that I can even get a 20 mm basting stitch. So of course the needle is going to go up and down different times per minute depending on all that other stuff, each time.

Never seen a machine yet that advertises a certain speed and needle moving by the exact length setting of the straight stitch each time, and I would want to see that, for a "speed #" to mean anything to me at all. Also, just no matter how fast a machine is, it's going to get a lot slower, and travel over less fabric in the same amount of time, if your particular stitch has any sideways needle swing to it, or backwards and forwards feed dog movement.

So to me, it's all perception (as in just my personal perception and how it just "feels to me" when I sew on something) and if I like it a lot or not, and how it "feels" to me, is all that really counts, to me.

Sort of just like in a computer how fast just your CPU is, or how much hard disk space you have or your exact amount of memory on some memory chip in there, all those things just by #, taken individual out of context all by themselves, don't always really mean all that much, (as only fast or slow as the weakest link in a whole system of anything) and only the final performance of something when you use it counts, just because they do really have to all work together, and your whole system (sewing or car or computer or whatever) and everything you use there, and how you use it together, and that you are only as fast, or ease of use of the whole thing, all together instead, is what counts more there,. So your perception of something and just how it feels to you, when you use something, is actually what I think is the most important thing, and everyone is just different.


PortlandMaine


Maine USA
Member since 1/29/11
Posts: 2280
Skill: Advanced Beginner



Date: 11/10/12 8:46 PM

I had the Ambition 1.0 - I really loved that machine.

I am a person who loves to sew fast - and it was not fast enough for me to enjoy FMQ with it.

I also did not like the top speed of the Creatives -- but again - I am a speed demon. Many people never use high speed. I do.

I also did not like the sound of the Expression machine when they were sewing fast.

I love Pfaff machines. The Smarter sews fast - but, after also having that machine I dont know if I would tell anyone to buy it.

------
Quilting up a storm!


Pam in Amsterdam


Member since 5/5/05
Posts: 28
Skill: Advanced Beginner

1 member likes this.




Date: 11/11/12 9:28 AM

Well there are very technically superb machines, but there is also a method proved for a long time now, pins and a basting thread, it goes slowly, but holds a fabric on its place like IDT does. I have just having a couple of sewing lessons for 4 months now I only will drow your attention to this: my theatcher said, there is about 60 pct of a beatiful haute couture pieces made BY HAND did you noticed that? It means a simple SM can manage every garment, even the BEST one without an elite piece of machine.

Mufffet


Vermont USA
Member since 8/14/05
Posts: 13742
Skill: Intermediate



In reply to Pam in Amsterdam

Date: 11/11/12 10:22 AM

So true. The vintage Berninas, Pfaffs and Singers and Vikings etc. can sew and quilt and have a nice solid feel to them as well. One thing I am afraid of with my new Janome is that when I have a large quilt the very weight of it will make it more difficult to quilt than it would be on the Pfaff. I mean since my Pfaff weighs about a ton, nothing...moves...it...ever.

BUT, I too like speed - probably more than is good for me. So we'll see. ALL the machines appeal to me, just all of them. Old, new, intermediate etc. But there is no place to go play with machines, so we just have to buy them.

------
"Be kind whenever possible. It is always possible."
--Dalai Lama

I have sewing machines

andye

Virginia USA
Member since 5/9/09
Posts: 2065
Skill: Beginner



Date: 11/11/12 11:22 AM

I was browsing through the Pfaff website, and came across the "PowerQuilter P3", which is speced at 3000 stitches per minute-- so if you're a real speed demon... Freehand only, I should think.

------
Bernina B330
Feet: 1,2,3,3A,4,5,7,8,10,13,16,18,20, 29,32,35,37,50,64,70,71,82,85,86, 92



Gilraen Surion


Member since 6/6/04
Posts: 1042
Skill: Intermediate



Date: 11/11/12 11:41 AM

I am not sure of the experessions 2.0, but on my expressions 3.0 I can adjust the speed from slow to fast and anything in between. Found it in the intrstruction manual. I have mine onf fast, but the one in class they have it set to a slower speed.

Gilraen

Karlyn M.

Missouri USA
Member since 12/8/02
Posts: 354
Skill: Intermediate



In reply to Mufffet

Date: 11/11/12 11:53 AM

I love your comment that "All the machines appeal to me, just all of them,"and about just having to buy them. I LOL when I read that, since it so describes me.

Usually if I start sewing extremely fast, my accuracy suffers, and I actually end up finding it stressful. The only Pfaff's I have sewn on are the Pfaff 7510, Pfaff 7570, and Pfaff Select 4.0, and their top speed is fast enough for me.

Leoladysw


Kansas USA
Member since 6/14/12
Posts: 160
Skill: Intermediate



Date: 11/11/12 2:53 PM

I would rather have accuracy than speed, so a super fast machine is more of a detriment than a help to me.

My vintage machines go plenty fast for this old lady!

------
Six Elna Lotus/Stella sm [kid's sewing classes]
Elna 33C SP sm, Pfaff 1473 CD sm, Viking 6030 sm, Singer Sphinx 127 sm, Singer Lotus 127 sm, Bernina 830 Record, Nelco J A-38 sm, Necchi Lelia 515 sm
http://leoladyshousecollectiblesandgardens.blogspot

PortlandMaine


Maine USA
Member since 1/29/11
Posts: 2280
Skill: Advanced Beginner



Date: 11/11/12 3:23 PM

I love that so many of the long arm machines DO sew so fast - I think I would love that kind of speed -- But, I am not very good at using my fingers for some precise things. Its hard to describe but I cant really hand sew and had a really hard time even getting used to being able to pin baste a quilt sandwich. I have watched a bunch of videos that show how to load a quilt on a quilt frame for long arm quilting - and then how to roll it on the frame -- I dont know if I could do that. -- I might be able to learn -- but honestly (HONESTLY) it took my fingers a year and a half to learn to pin baste.

There are some very cool videos on youtube that show a guy quilting with a blacklight and glow in the dark thread -- he quilts fast and with precision -- precision is diff for everyone.

------
Quilting up a storm!

Printable Version
* Advertising and soliciting is strictly prohibited on PatternReview.com. If you find a post which is not in agreement with our Terms and Conditions, please click on the Report Post button to report it.
Online Class
Fit the Tee to a T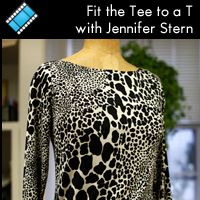 Online Class
Restyling with Exposed Zippers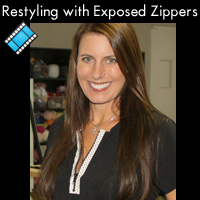 New Look 6122

by: grays08
Review
New Look 6197

by: Sixtiesgir...
Review
SewBaby Comfy-Alls and Knit Shirt Pattern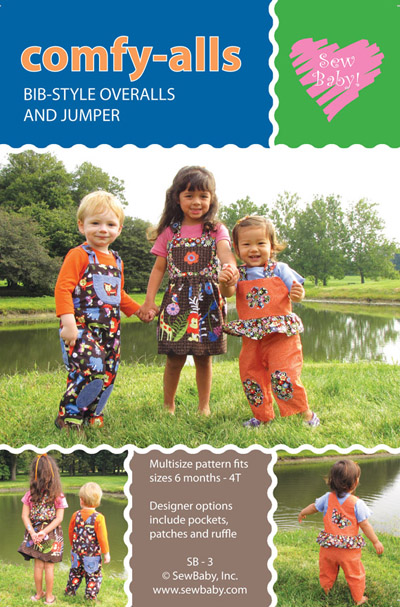 Pattern Details
SewBaby Terrific Teepees Pattern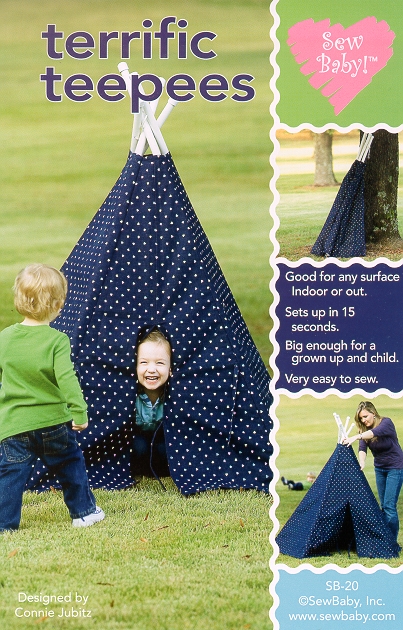 Pattern Details